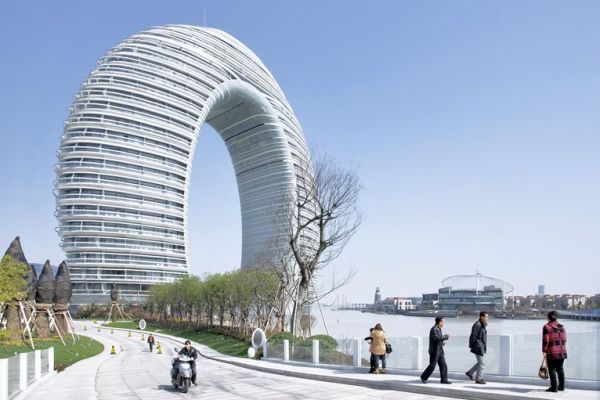 Surrealism meets post-modernism in the imposing design of China's Sheraton Moon Hotel by MAD Architects. Located near Lake Tai Nan in Huzhou, the conception exhibits the fusion both the traditional and contemporary style, which is symbolic of Huzhou's historically cosmopolitan importance, as the 'the house of silk' and 'the land of plenty'. In this regard, a crucial part of the Sheraton Moon Hotel's essence is borne out of the intangible relation of nature and architecture. Being situated near a water body, it is wondrous effect of the waterscape that shimmers off the glass facade of the upright ring patterned building.
This visual advantage goes much deeper than just the aesthetics of a glistening, imposing structure. It is also about the artistic play of what is real and what is just ephemeral; all of which is translated by the surrealism of the shifting reflection of water, sunlight and glass. And, when night comes, these visual factors give way to an old fashioned lighting spectacle, which is aided by both interior and exterior mechanisms.
Coming to its structural attributes, the 'ring' of China's Sheraton Moon Hotel is constructed from a reinforced concrete core-tube with low carbon, light weight and seismic resistant credentials. And, since we are talking about the structural integrity, the specially contrived mesh curved surface imparts solidity to the building, which is further enhanced by a bridge-like steel brace that sturdily connects the structure at the top level. Finally, as for the hotel's exterior skin, it is made from a composite of finely detailed white aluminum rings and glass.
Via: StarwoodHotels