This recipe for delicious chocolate Easter eggs is an amazing treat for kids and adults alike. Besides, a homemade chocolate egg makes a wonderful, thoughtful holiday gift. This 45-minute recipe is easy, requires a handful of ingredients, and the outcome is mouthwatering and beautiful.
These tasty treats can be stuffed in Easter baskets, added to egg hunts, and served as dessert. Check out my recipe and surprise the kids with chocolate Easter eggs filled with candies and other goodies.
Ingredients:
10-ounce Dark chocolate (or any chocolate of your preference)
3-ounce White chocolate
Silicone mold with 6 half Easter egg containers
A handful of candies and sweet treats
Colorful sprinkles
Recipe:
The first step is to melt the chocolate with steam. To do that, boil some water in a deep pan. As the water is heating, break and chop down dark chocolate into pieces.
Then put the chocolate in a bowl and place the bowl over the pan of boiling water. Make sure the water isn't touching the bowl. Keep stirring the chocolate as it melts.
Once you have a thick paste, remove the bowl from the pan.
Now, apply a thin coat of chocolate onto the silicone Easter egg mold using a brush. Place the mold in the fridge and let it dry.
Remove it from the fridge and repeat the process two more times.
Once fully dry, peel off the half egg shells from the silicone mold. Now is the time to join the pieces together.
Take a hot plate or a flat pan, and rub the opening of the shells on the hot surface to melt the edges. Then put the candies and other treats inside the eggs and join the pieces.
Once all eggs are filled with delicious treats, place them onto a basket, and drizzle melted white chocolate onto them. Top it off with colorful sprinkles. I used tiny sour candies.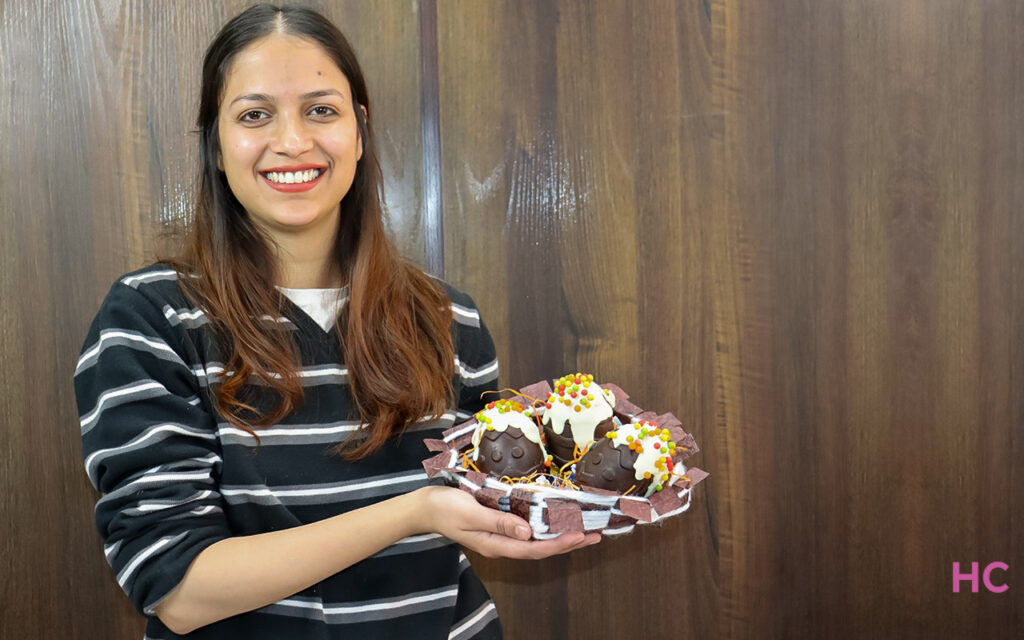 Your delicious chocolate Easter eggs are ready. Surprise the kids or adults with these sweetness-filled treats. Enjoy!