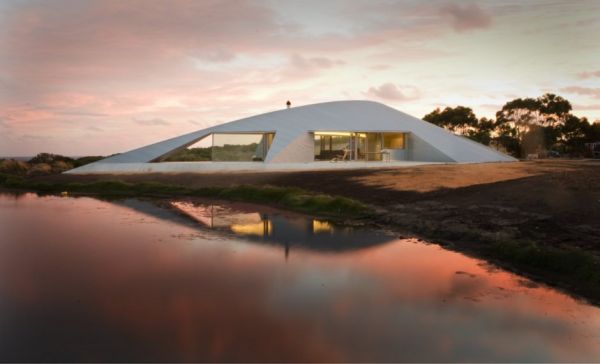 With sweeping facades and a unique form, the Croft House designed by architect James Stockwell is envisaged as a contemporary shelter nestled in a natural environment. Located in South coast of Victoria (Australia) near Inverloch, the heavily slanted structure is the culmination of distorted mathematical and structural curves. The adopted geometry and the sine curves in fact allowed the designer to use two-dimensional planes and radii for all the post-modernist detailing. However, the two-dimensional facades were achieved by the application of conventional elements, like – laminated timber beams, battens, rafters and corrugated metal.
Beyond the attributes of the curved form, the Croft House is also an apt example of a contemporary home with a rustic essence, made from locally available energy efficient materials. According to the architect –
The design looks at the core idea of shelter in an exposed environment, and that shelter may contain all the necessary activities of domestic life in an uncompromised way but that the activities are enhanced by participating in the whole and each yields to the other to a much greater extent. It is shielding, robust and embracing. It (also) reinforces the language of the rural context of corrugated iron and purposefulness and has been widely embraced.
Coming to the materials used for the innovative skin of the Croft House, the shell is crafted from just grey metal and concrete blends, the fusion which endows an effect of shale like geology. This exterior facade is supported internally by compressed sand thermal mass walls, which are highly reminiscent of sand dune structures. Finally, the interior of the Croft House exhibits panels and joinery from Vic ash timber, while the wet areas are covered in bluestone. The building also utilizes various cost effective techniques like – 'double glazing, isolated thermal mass and passive solar design.'
Via: TheDesignHome