Italian designing studio AMeBE designed a beautiful chandelier for Seletti, an Italian design brand. The Cupolone lamp pays tribute to the architectural icon, the dome of St. Peter's Basilica in Rome. This exquisite sculpture turned into a suspension lamp is a hyper-realistic reproduction of the dome of Italian Renaissance church, turning one of the icons of the Eternal City into light.
Seletti is known for its unconventional designs and creative characteristics of Italian excellence. The brand has worked with many renowned designers and now it has collaborated with Alessandra Mantovani and Eleonora Barbareschi of AMeBE to create Seletti Cupolone.
Also Read: Luzy Lamps by Ingo Maurer Shed Light by Index Finger or Whole Hand
Originally designed over two years ago, AMeBE studio's sculpture was hand-painted and was illuminated by LED lights controlled through iPod or iPhone. The original design was a surreal replica of San Pietro's dome with 100cm diameter. It was a complex over-sized structure, although a perfect blend of design and pop-art.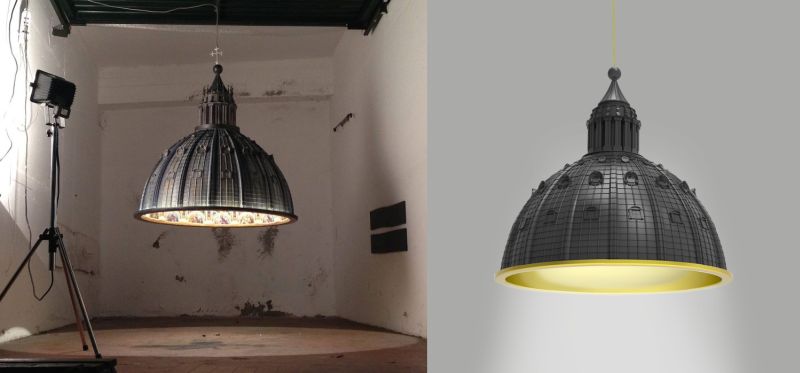 Modifying their previous design, the Italian designer duo recreated this lamp into a simplified version. The 70cm diameter ceiling lamp is crafted out of resin and is available in gray and white hues, signed by AMeBE. The white lamp has gray insides, while the other is with anthracite outer surface and golden insides.
This stunning Cupolone is a blend of fine Italian craftsmanship and technology. It pays homage to Michelangelo's famous creation specifically and to the rich art and beauty of Italian culture in general. The gorgeous suspension lamp would look marvelous hanging over your dining table.