Cats are beloved pets that always keep owners entertained with their sneaky activities. In return, cat parents like to gift their feline friends different things to keep them happy and comfy. Cincinnati-based cat owner Melissa Krieger has done something unbelievable for her cat's love! She has gifted her cat Jasper a customized aquarium with a special observatory window in the bottom.
Melissa in an interview with BoredPanda informed that she got the idea after seeing her cat sit and enjoy the purdy play of fishes in an old fish tank in her home. The new aquarium featuring a special window for Jasper to observe the fishes is made by a local company Aquatics and Exotics.
The aquarium is placed on a wooden cabinet with a sneak hole for Jasper and other house cats to get right in and under the fish tank and pop the head up into the observation window. This one-of-a-kind furniture unit has been questioned for viability and friendliness on social media. People have questioned how the fishes feel having a cat watching them from up close.
Melissa believes the cats and fishes get along well. In fact, she says, there are some fishes in the aquarium that are even older than Jasper.
Also Read: 10 Best Smart Pet Accessories to Monitor Their Health and Behavior in 2022
Melissa says Jasper is finely interested in gazing at fishes and it can be seen in videos she has shared on various social media platforms. Melissa is definitely one of those pet parents who are willing to do whatever it takes to keep their feline friends entertained and happy.
View this post on Instagram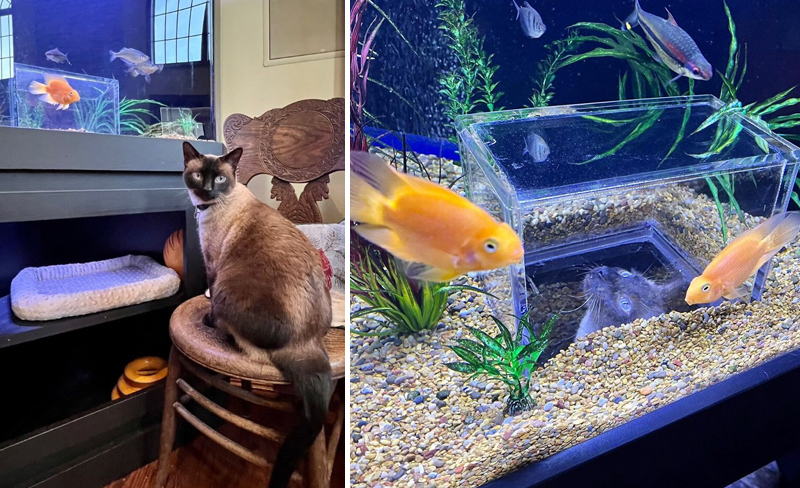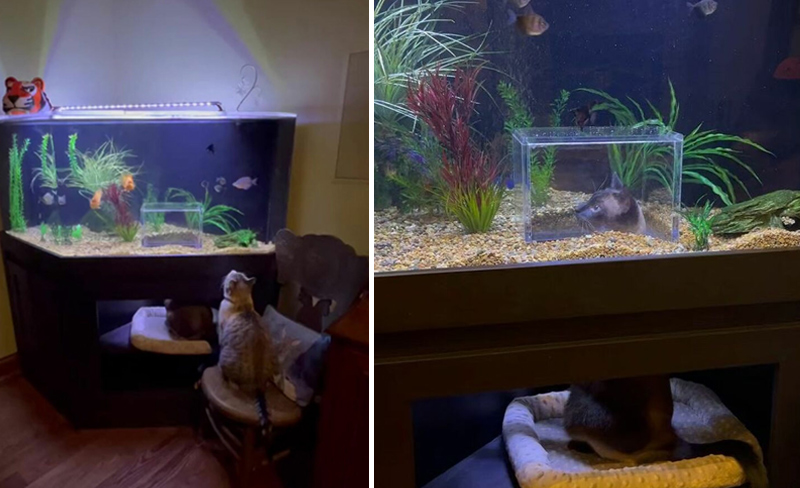 Via: BoredPanda