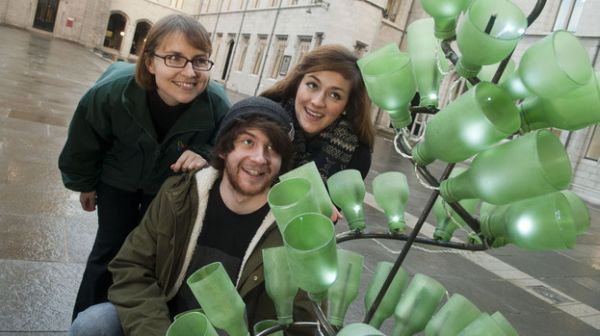 It seems that this year's spirit of Christmas has finally caught on with many of the ingenious designers around the world. Two Aberdeen based design students Grant Anderson and Megan Wood from RGU's Gray's School of Art certainly stuck by this precept of conscientiousness, as they crafted a full fledged Christmas tree from used glass bottles.
Conceived as a sustainable present to the Waste Aware team, the bottled Christmas tree is sure to make some head turns during the festive recycling campaign. According to the young designer duo, they wanted to contrive a recycled conception which would honorably allude to the ways that designers can apply their skills in serving the local community.
However, beyond the scope of just recycling, it is the genuine degree of workmanship put into the conception that really holds our fancy. In this regard, the designers had to painstakingly salvage different kinds of glass bottles from around the city of Aberdeen. Then these bottles were sandblasted to give a uniformly frosted look, and then fixed in a spiraling manner to a winding metallic branch. The tree design was then topped off with the ubiquitous star, this time carved from reclaimed wood. Finally, as if to it was possible to improve upon this essence of 'greenness', the designers even converted the remaining cut pieces from the glass bottles into candle holders for Christmas decorations.
Via: AberdeenCity