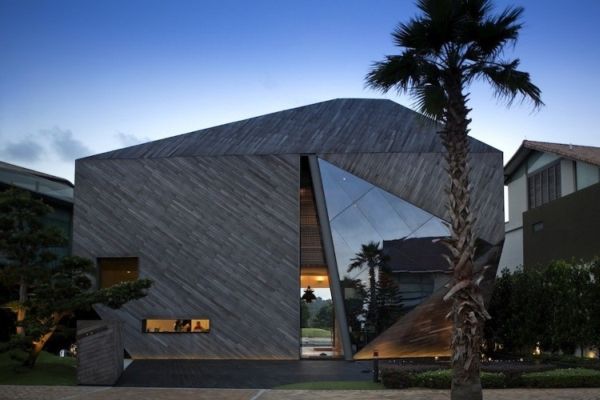 Rising up as a stunning monolithic structure amidst a conventional suburban neighborhood, the Diamond House in Cove Drive, Sentosa (Singapore) is surely an impressive sight to behold. Designed by Formwerkz Architects, the house was conceived for a small family who likes their privacy. Consequently, the architects have opted for a single faceted bearing, with the primary alignment towards an adjacent waterway. So, basically the design focuses on this unique landscape feature, while the house is 'strategically' shielded from the other neighbors in close proximity. Of course, all of these features are very well hidden by the irregular, post-modernist form of the aptly named Diamond House.
Coming to the circulation credentials of the residence, the main entrance opens directly into the central space of the house, which in turn connects to dining and living rooms on the side. The upper floors on the other hand are limited to private quarters by having the bedrooms of the Diamond House. However, the best (and spatially efficient) feature of the house must be the basement that is utilized as the guest room, service entry and garage, while its is completely lit and ventilated by the effective adaptation of sunken courtyards.
As for the asymmetrical and impenetrable scope of the building, it is not limited to some 'avant-garde' visual purpose. The architects intentionally used such opaque facades to allow optimal day lighting without sacrificing the element of privacy. In this regard, the outer facades are draped in iron wood, while the lighter interior panels comprise of oak and travertine. And, finally as a reduced footprint measure, the angular bearing of the Diamond House actually helps in expanding the living space (with lower expending of resources).
Via: Formwerkz