As you know, a door is essential in the architecture and design of a house as it sets up the first impression of your home. It not only controls access to a building but also enhances its aesthetic appeal, separates indoor and outdoor spaces, and provides privacy and security. Like any other investment in your house, you want to get value from your door as well, for which, you need to be sure of what you are investing in.
In the article below, we discuss the various types of doors available, including their materials, styles, and opening mechanisms. Reading through, you should be able to identify the advantages of wood, fiberglass, and metal doors and should also be able to learn about the different door styles you can invest in, depending on where you think of installing them within the house.
Things to Know When Installing a New Door
Types of Doors by Material
Doors are made using a variety of materials, each with its own unique characteristics and benefits. Each material has different properties, which more or less determine the durability as well as the price of a door. Your choice of door material depends on many factors like the location of your door. The choice of door material is also dependent on maintenance needs.
A door material like wood is durable and requires less maintenance while fiberglass doors are affordable and attractive. So it's important to know what material your door is made of. Here are some common types of materials that you can consider for your door.
Wood: Wooden doors are the most popular type of doors known for their great insulation properties, minimal maintenance, and versatile design options. There are various types of wood such as mahogany, oak, maple, or cherry one can choose from. They are the right option for those wanting to enhance their home's look on a budget. They are sturdy enough and can last for a long time.
Wood doesn't react well to moisture exposure hence it is not ideal for external doors; wood can rot and warp, reducing the door's longevity. Nonetheless, it doesn't mean you can't use wood for external doors. You just have to find a door made from hardwood such as teak.
Another good thing about wood or timber doors is that they can complement any home's interior design. For instance, they can be painted or stained to create a vintage appearance. Nonetheless, installing a wooden door means more maintenance since it's prone to termites and rotting.
Fiberglass: Fiberglass doors are better than most materials in terms of dents, scratches, and rust. They are a perfect choice when it comes to durability, security, and appearance. They're also water-resistant and more resilient to harsh natural elements.
Fiberglass doors are available in various styles that can match your home design. But you should note that they're costly and require the assistance of an expert installer to get the job done. Installing fiberglass doors on smaller-size frames is quite difficult.
Steel: Choosing a steel door can be great if you're looking for a cost-efficient option. Doors made from steel are durable and energy-efficient because they stop outdoor air and sound from seeping into your home. These doors are also considered the most resistant to fire. Unfortunately, steel doors are prone to dents and they also have a tendency to rust over time. They create an industrial style look and may not fit in all architectural styles.
Aluminum: Doors made from aluminum are popular for their durability, low maintenance, and sound-insulating properties. They can also protect your home against harsh weather conditions. However, aluminum doors are prone to dents, costly to install, and difficult to customize.
Types of Doors by Opening Mechanism
Apart from choosing the right material, you also need to consider the opening mechanism for the door of your home. There are mainly four types of opening mechanisms for doors, which we have listed below:
Hinged Door: As the name implies, this door swings open on hinges and is the standard type found in homes and commercial buildings. A hinged door can be used for both interior and exterior applications.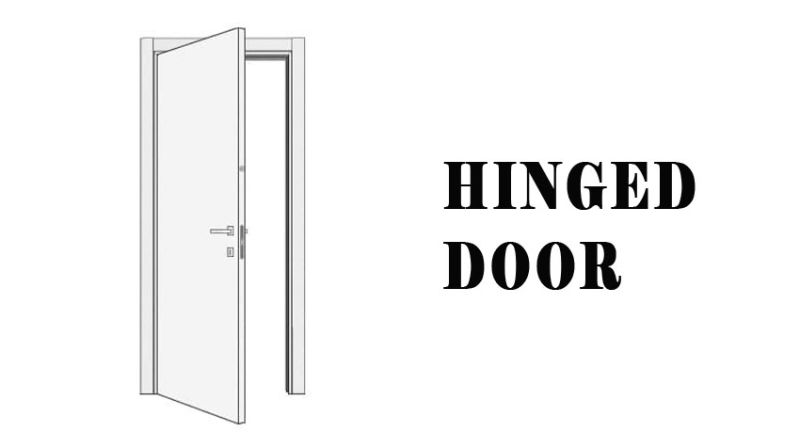 Sliding Door: This type of door mechanism uses a sliding track for opening and closing. A sliding door is useful in smaller areas and interior spaces. There are further a few types of sliding doors such as a barn, pocket, and bypass door that allow one door to slide in front of the door next to it.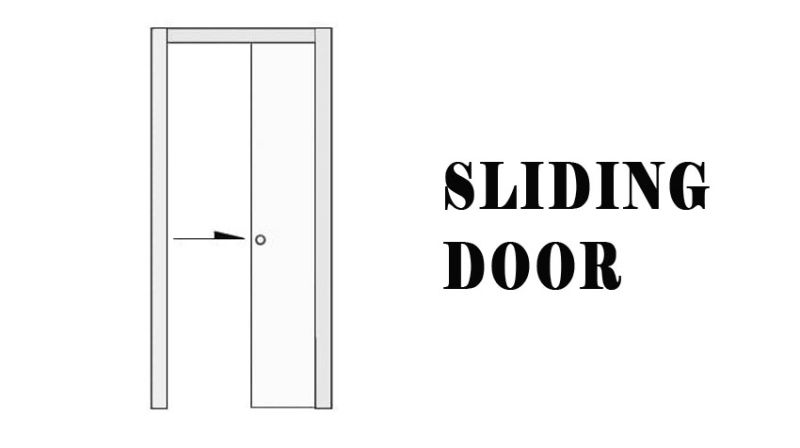 Swinging door: It is a kind of door that can be opened in either direction and then closes automatically with a built-in spring mechanism.
Pivot door: Pivot doors have hinges at the bottom and top of a door instead of on the side. It works like a central point on which the door turns or swivels.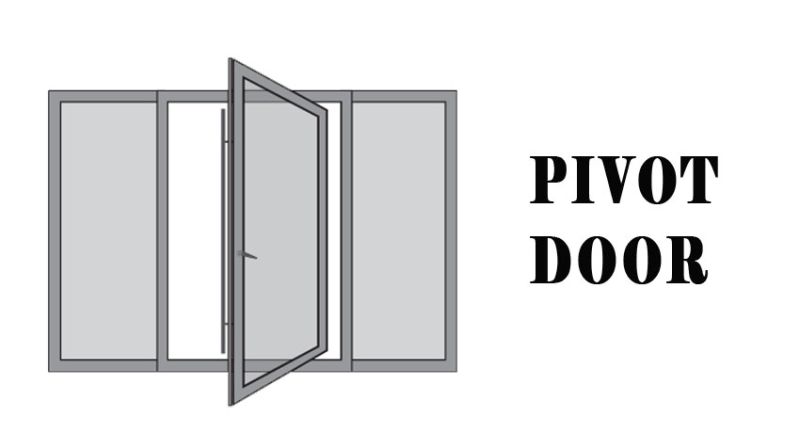 Folding door: A folding door is composed of hinged panels that can fold or unfold to either open or close the door.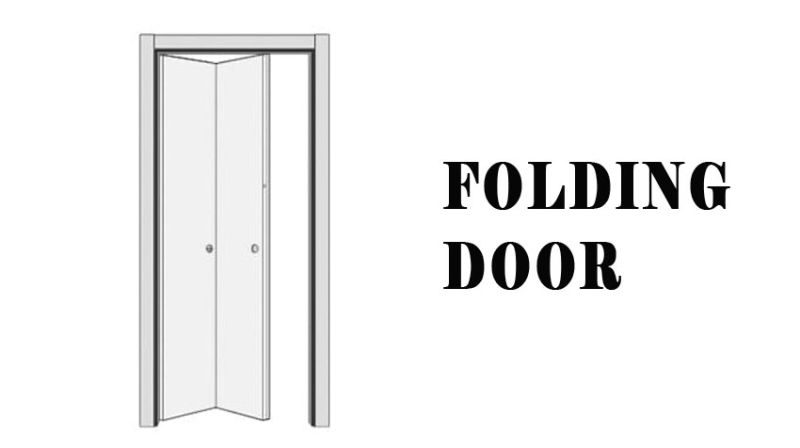 Types of Doors by Style
The right door style helps you add to your property's curb appeal. You must know the trendy door designs and choose accordingly. For your help, here are some popular door styles available in the market:
Panel door: It is the most popular door style used by people all over the world for a long time. The number of panels in each door decides the final look. The Panel doors are further divided into Colonial and Roman types.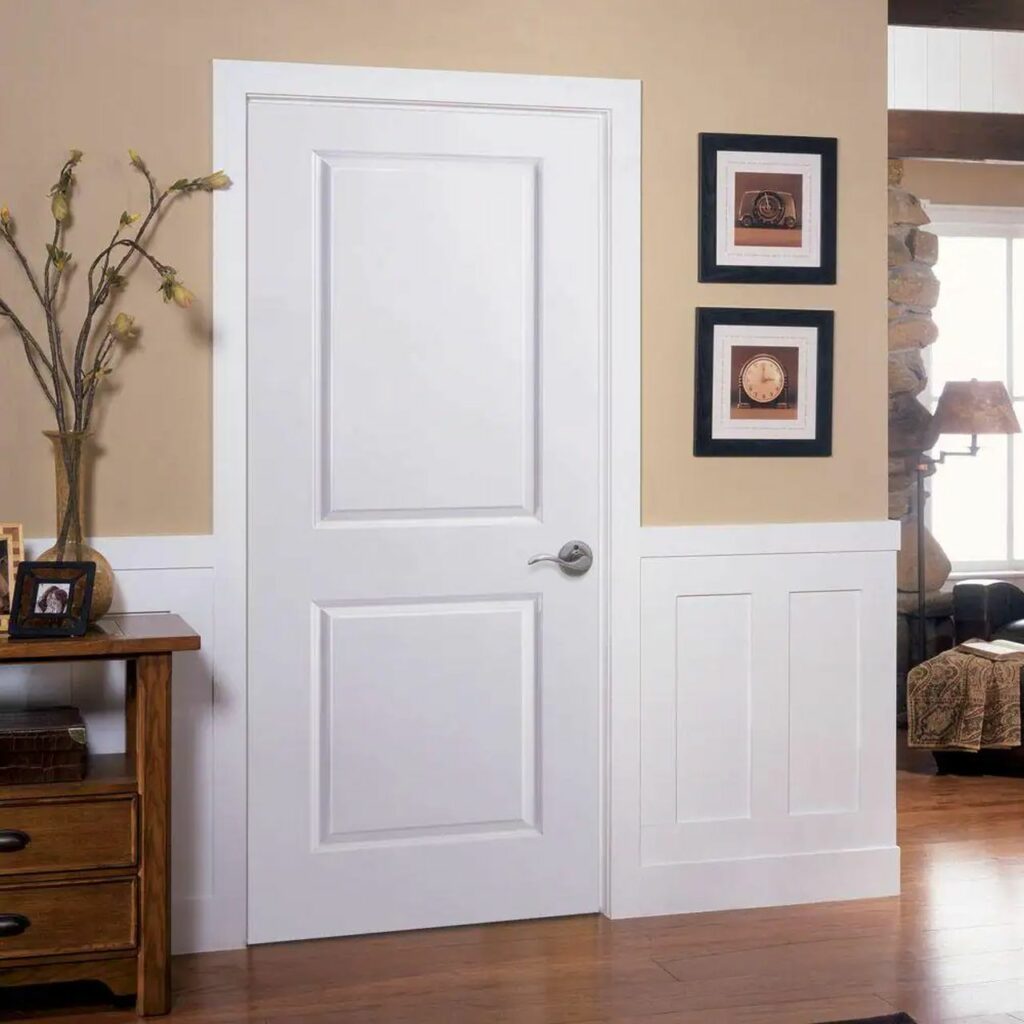 French door: It is a common type of hinged door. A French door has glass panes or panels extending for most of its length. The doors typically swing inward or outward and are usually hinged on opposite sides of a door frame.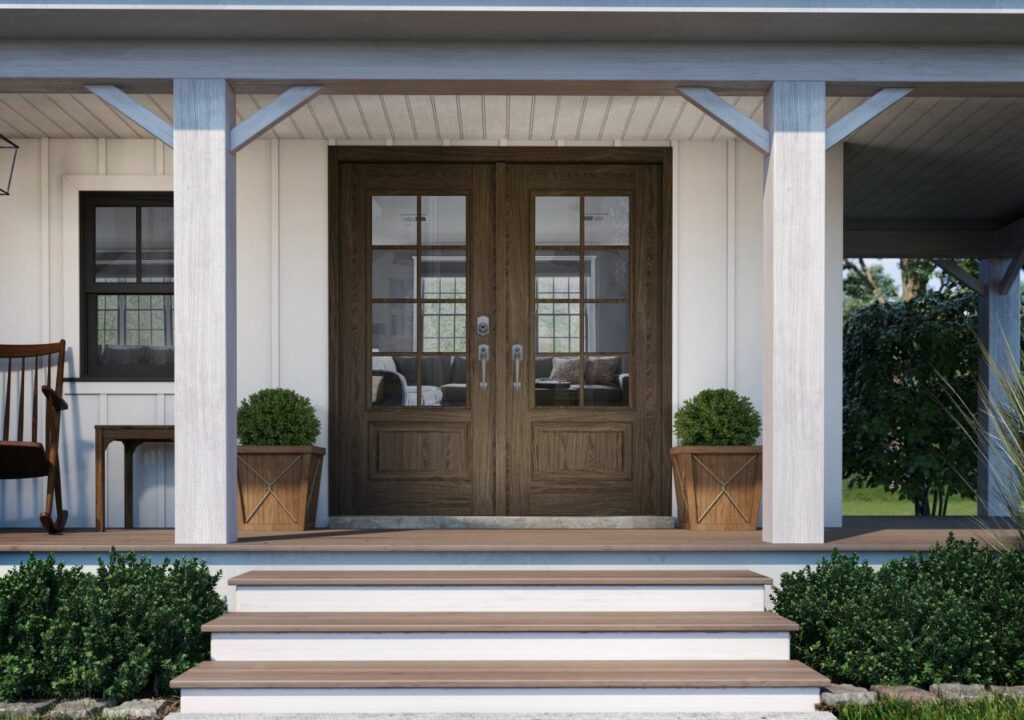 Dutch door: Also known as a split door, this type of door is divided horizontally into two separate parts. Both parts can be opened separately.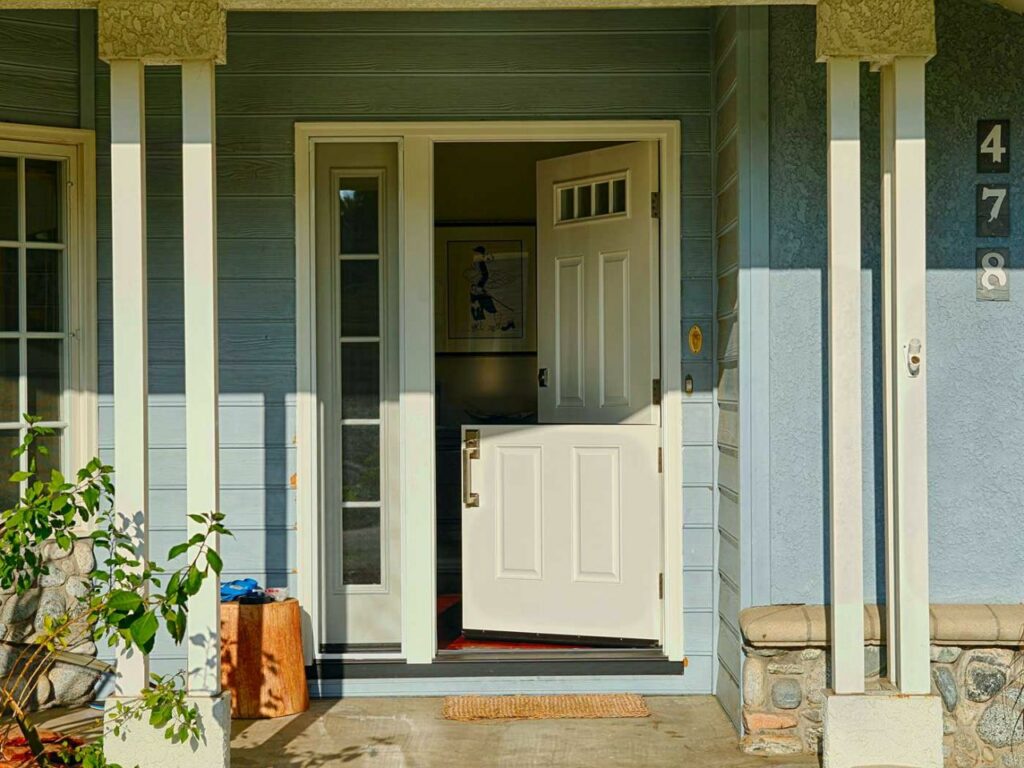 Flush door: It is a new type of door popular among design lovers. It comprises a single piece of wood veneer that will fit flush against the wall, creating a clean look.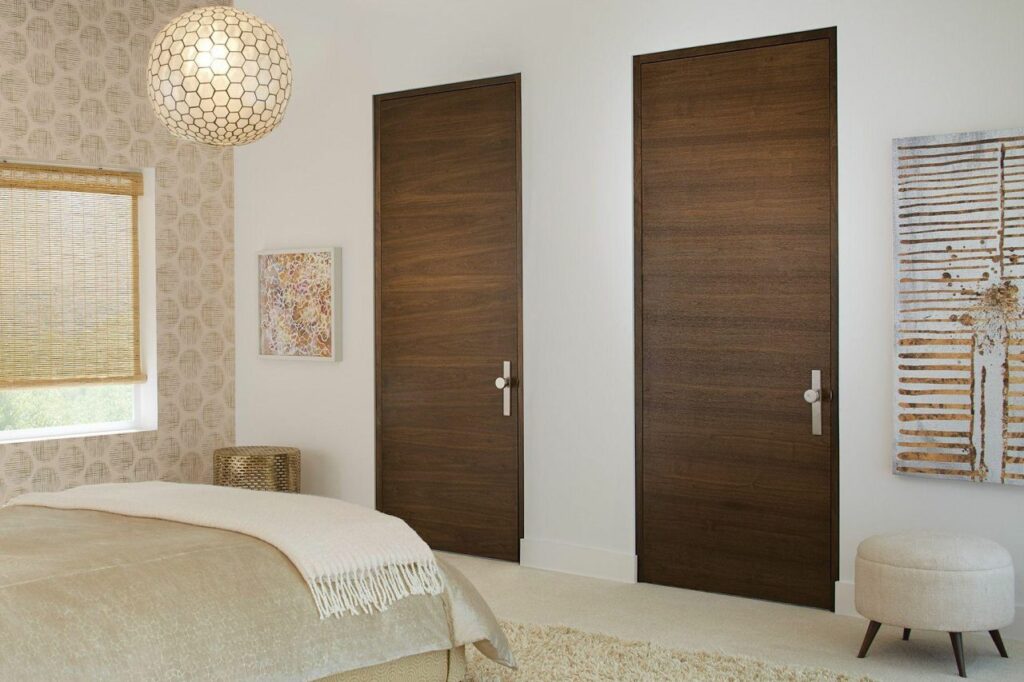 Louvered doors: These interior doors are made from an arrangement of horizontal blades of wood, glass, or additional materials called Louvres. These angled slats allow fresh air and light.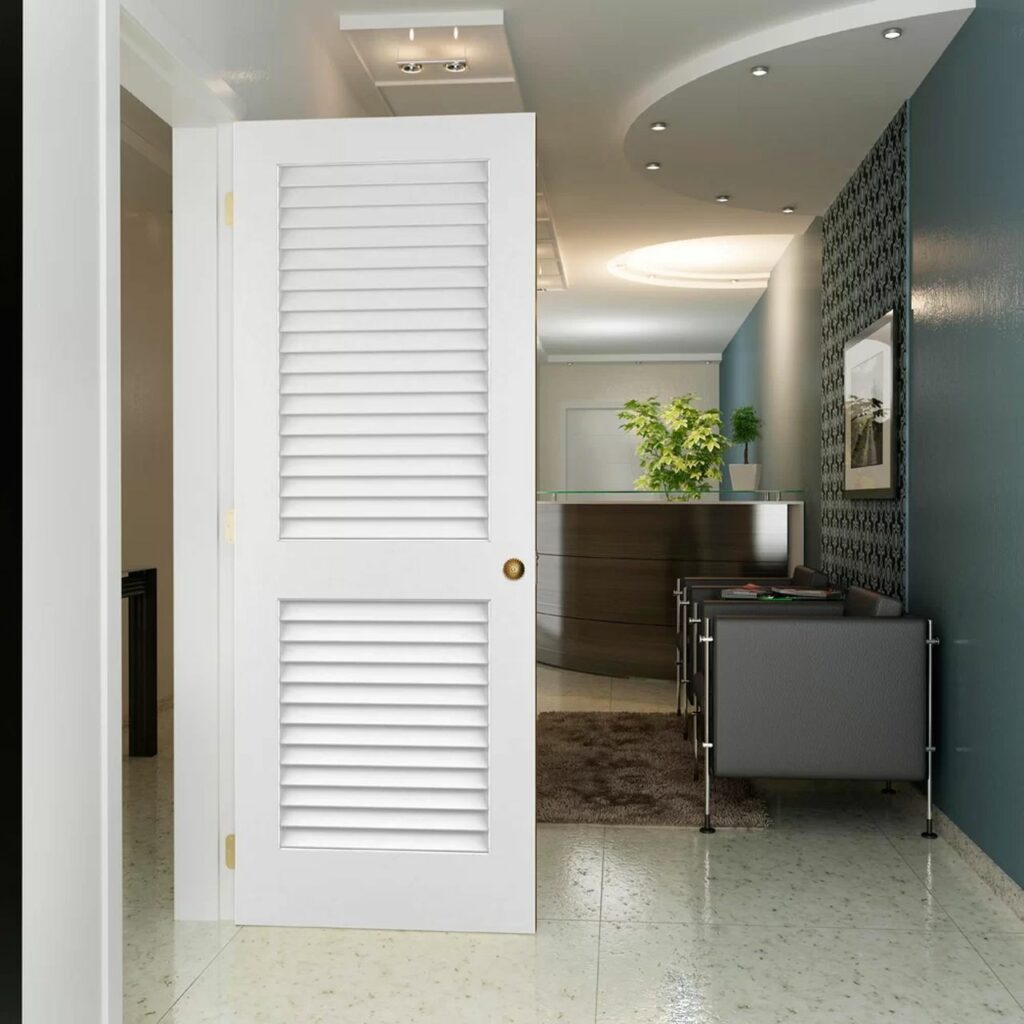 Door for Safety and Security
It is important to consider safety and security when picking a new door. One of the primary reasons is the amount of protection it provides against unauthorized access and increased privacy.
You should think about the material and thickness of the door when considering the security it provides. When looking for a new exterior door, you should choose a door that is strong, durable, and can be equipped with additional security features like a deadbolt lock, a door viewer, and security alarms and cameras. If you want a glass door, purchase hurricane-rated doors, as they can protect your home from break-ins and intense weather.
Door Size and Frame Measurements
Another crucial point to keep in mind when installing a door is taking proper measurements of the door size and frame. Even if you have the best door material and style, your door will only work correctly if you get one with the right size and frame measurements. So, it is always ideal to use a tape measure.
Remember, a door that doesn't fit well will make it easy for unwanted visitors to break in, as well as cause air leaks. So, before going all out, do you research, read more about taking the right measurements. If not sure, get professional help. A professional installer can measure your door size and frame fittings precisely to ensure it fits properly, creating an energy-efficient living space. 
Also Read: Different Window Designs and Types for Home
Other Preferences
Finally, you should pick the right door based on your preferences, placement, and geographical location of your home. You can consider the interior design style and energy efficiency. For example, if you want a traditional door to match your conventional home, you can go for a wooden door due to its vintage look when stained or painted.
If you live in an area with a colder climate, you should pick an energy-efficient door to prevent the cold from entering your home and avoid paying higher monthly utility bills. Steel and fiberglass doors are the right options due to their vital insulation properties.
Final Thoughts
Installing a new door or replacing an old one in your home can be a challenging and complicated task. The abovementioned things need to be considered carefully to ensure you choose the right door. A wrong decision can pose a security threat, increase utility bills, and even affect your home's overall appearance.