I used to dislike stereotypical remarks like 'girls can never have enough clothes.' But as I grew up, I seemed to run out of closet space pretty quickly, which made me realize that some people really can't have enough when it comes to shoes and clothes. So I decided to get a new wardrobe but uncertainty ensued. A perfect closet accommodates all your needs and complements the layout and theme of the room, both functionally and visually. But there are so many different types of wardrobe designs, which one to choose?
We have seen closets evolving from a mere functional piece of furniture to something that can be used from an aesthetic perspective as well. A well-built closet can serve dual purpose of organizing and storing your clothes and other accessories, and making a style statement simultaneously. Moreover, it becomes a reflection of your personality and style, which is why it is important to take different kinds of wardrobe designs into consideration before making a choice.
However, you can get overwhelmed while picking a new wardrobe. Before making a decision, let's discuss eight different types of wardrobe designs that cater to a wide variety of needs and help decorate the bedroom for a refreshing look.
Hinge Door Wardrobe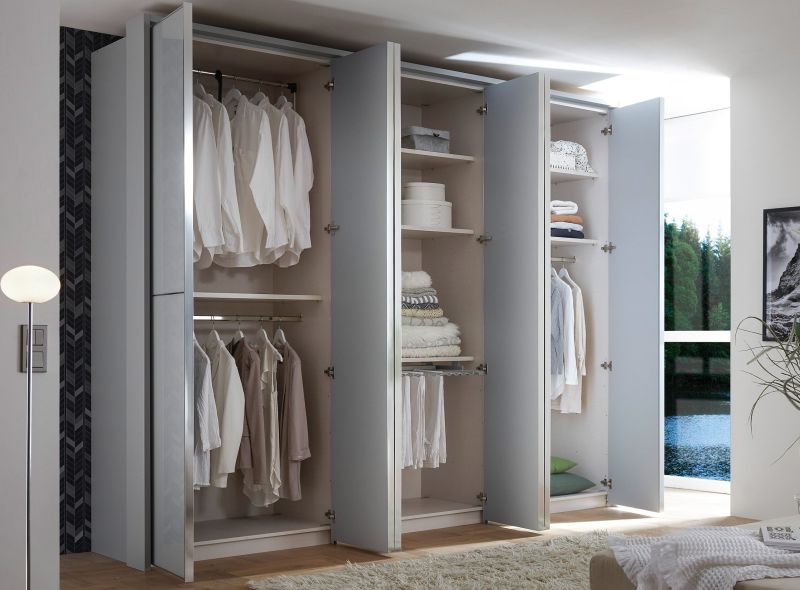 Also known as the standing wardrobe and swing door wardrobe, hinge door closets are the most common and traditional. Plain in appearance and opens with a hinged door, this type of closet comes in a variety of colors in several textures and finishes.
It is suitable for both large and small areas, and can be installed in any exposed shell space. It is easy to install and simple to move around without any difficulty. Moreover, it is affordable for every budget.
As bedrooms are getting smaller, opening hinged doors in a constrict space has created some challenges for the design, resulting in a reduced popularity. Even so, hinge door closets are among the best types of wardrobe designs.
Sliding Door Wardrobe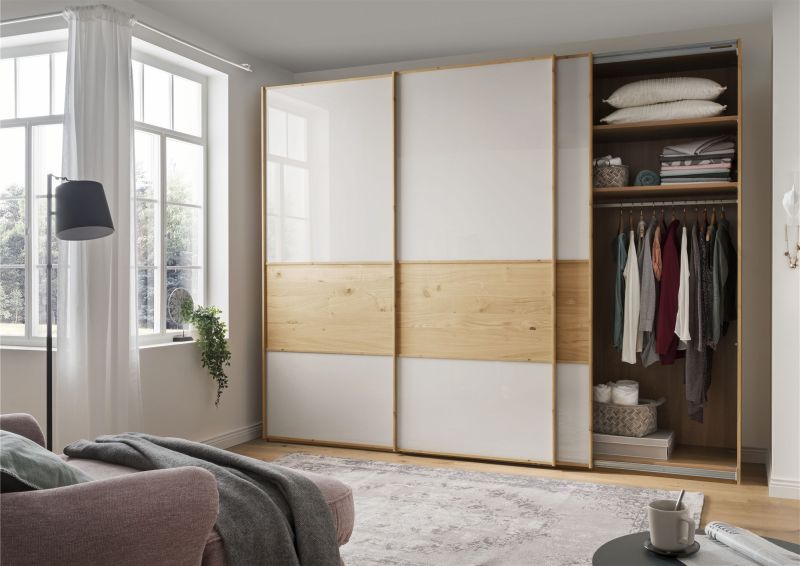 A modern take on conventional and classic hinge door closets, sliding door wardrobe has emerged as a non-fussy style with a contemporary appeal. As per your convenience, these closets can be designed with two or more doors that slide smoothly on a metal track. Sliding door closet is increasingly preferred over hinge door wardrobe.
This kind of closet can save precious space in your bedroom and you can also customize an overhanging loft to stash your bedding and suitcases. This wardrobe style will give your home an urban look and a cool factor.
However, you should know what kind of sliding mechanism you want with your sliding doors as there is a wide variety and assortment of materials to pick from. You also have to be mindful of your budget constraints, if any, as these wardrobe can be a bit expensive than the traditional ones.
Walk-in-Wardrobe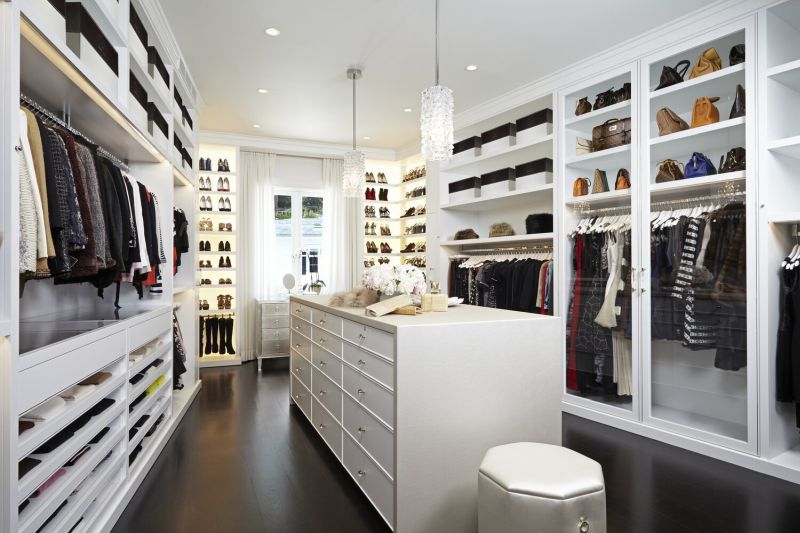 I would love to have a walk-in-closet; unfortunately, I don't have the space or the budget. It is the fantasy of the greater part of us, but a few get to live it. Walk-in-wardrobe is the epitome of luxury with huge storage space for all your clothes and a wide variety of accessories.
These closets offer an incredibly well-organized storage option for everything from your shoes to jewelry to clothes and everything else in between. It is an ideal choice for people with a fashion flair who enjoy collecting extravagant and luxurious items.
A typical walk-in-closet will have hanging and extra storage space on three sides. It works best if you have a spare room or a good amount of extra space that can be isolated with a set of doors to make a perfect closet. They are definitely expensive, but if you've got the space and money, go for it.
Customized Wardrobe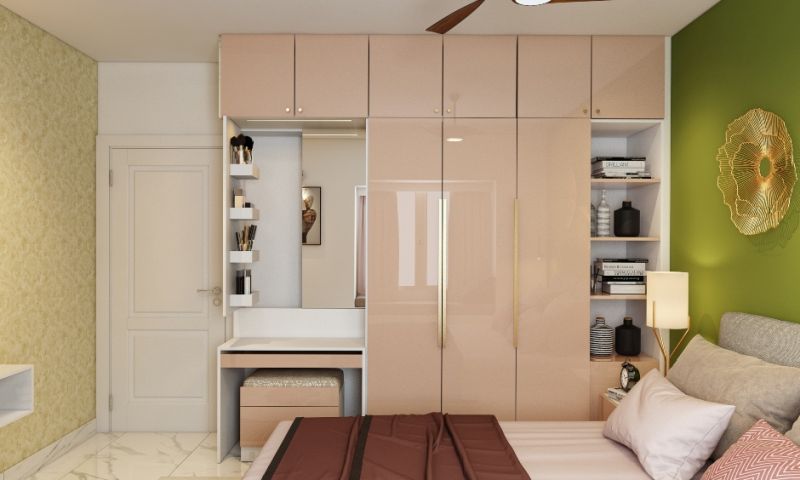 It often happens that when you are looking for a wardrobe, even a single disappointing factor can ruin the piece, be it the number of shelves inside or the outer appearance. Customized wardrobe seem like the best option when other types of wardrobe designs don't appeal much to you.
You can have a made to order, color-coordinated wardrobe that can complement the décor of your room. It gives you full control over what color scheme or what kind of doors you want.
You can make a combination of a free-standing wardrobe with a desired number of drawers and shelves. Tailor-made closets are a brilliant way to turn unused nooks and crannies into functional spaces.
Freestanding or Standalone Wardrobe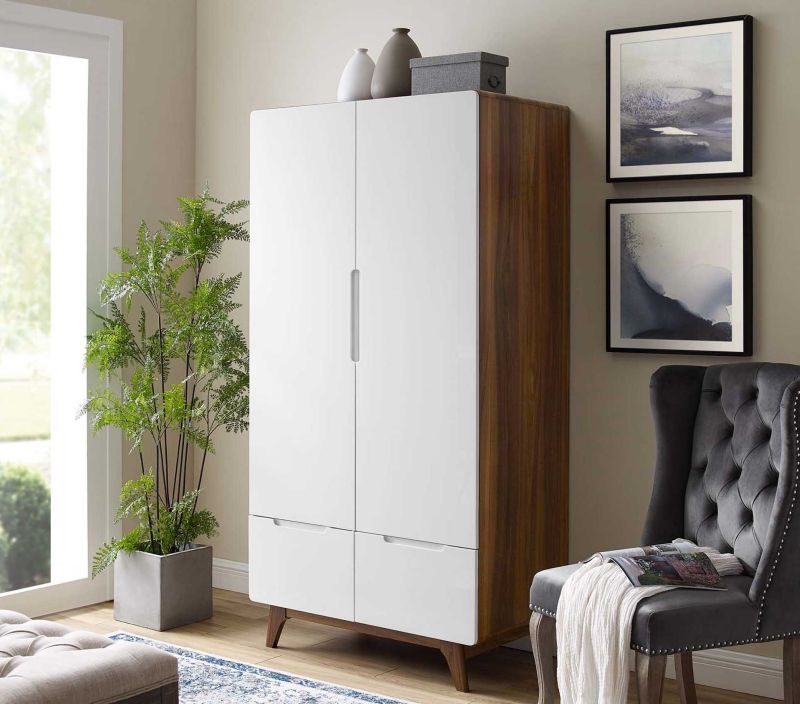 The freestanding wardrobe is one of the most basic types and have been around for a long time. They are available in wood, metal and plastic models. If you are looking for something retro-inspired, a wood or metal freestanding wardrobe is the right pick.
Also known as standalone wardrobe, they are traditional, inexpensive and classic. They are a good choice if you don't want to invest much and want something with distinct character. If you often change your home layout or shift frequently due to work or travel life, standalone closets are perfect for you.
They not only offer storage solution inside of the wardrobe but also above it. Moreover, they offer an immense amount of flexibility in terms of colors, finishes, and door types. However, they have one big drawback as they occupy quite a lot of space.
Wall-Mounted Wardrobe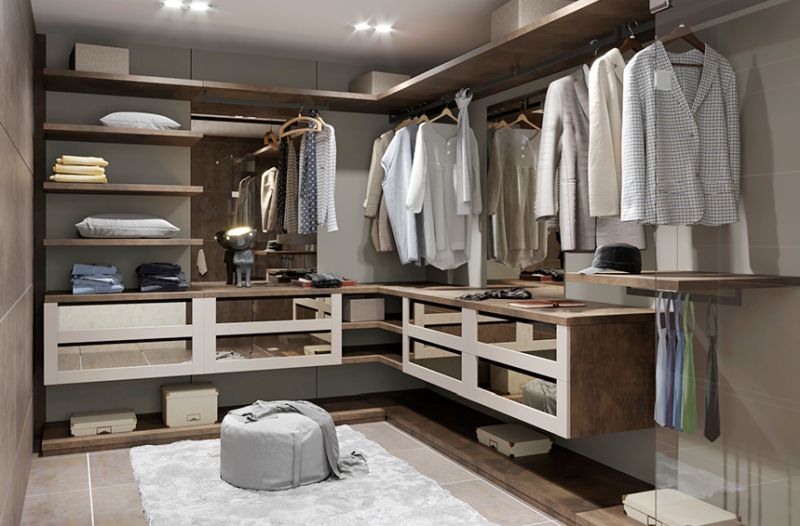 If you want a modern design to style your home, I suggest you choose a wall-mounted wardrobe. This kind of wardrobe design is mounted to the wall and occupies much less space than its counterparts and looks elegant as well.
It offers homeowners what they most crave for, which is extra storage for your clothing and shoes without comprising on space. You can have built-in wall-to-wall, floor-to-ceiling wardrobes to save floor space.
They not only maximize your storage, but make your room seem more light and airy. There is a wide variety of colors, finishes, and materials that can complement your current décor while helping with organizational skills.
Also Read: Smart Wardrobe Dispenses Clothes on Demand
Corner or L-Shaped Wardrobe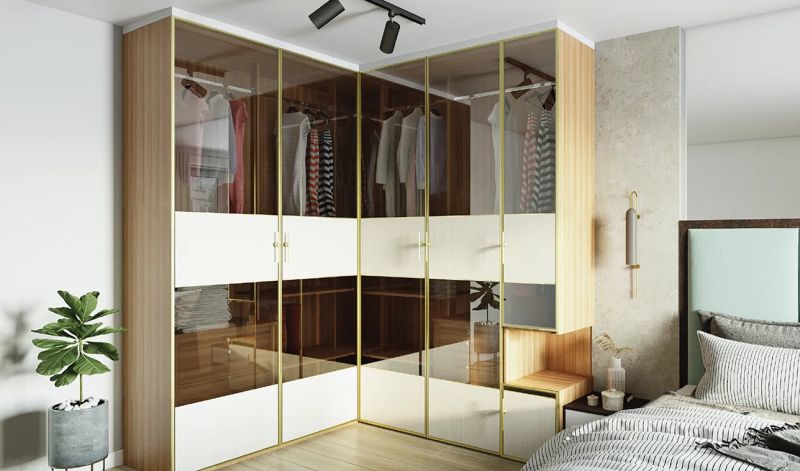 L-shaped wardrobe, also known as corner wardrobe, is the perfect solution to maximize utilization of a bedroom corner. This design type uses the corners of the room that are usually unemployed and saves precious space.
The sliding doors are most preferred for the fitted L-shaped wardrobe as they provide great style as well as storage solutions, making it a prevalent choice. They are perfectly made to fit into these angled recesses.
You can have one hanging section running all the way into the corner and use the door space to increase the storage. By employing corner shelves, you can utilize crucial space.
Modular Wardrobe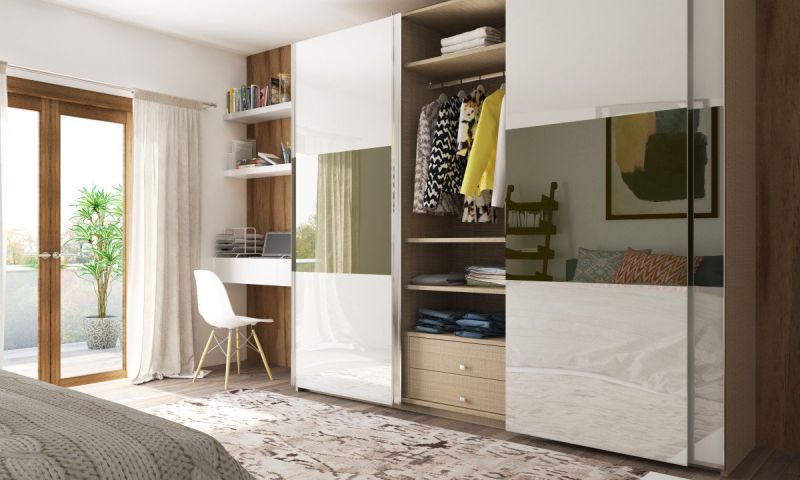 Modular closets are designed to cater to your needs and optimize the available space smartly. Every aspect of modular wardrobe, including the layout of shelving, drawers, and hanging rails, can often be customized to suit the individual.
It has become a trendy, long-lasting, and space-savvy storage option for modern homes. It brilliantly suits small apartments where every inch of space is essential. You can customize modular wardrobe to suit your needs, which means you can keep all your things organized in one place.
They are easy to install and can be pulled apart and put together if you want to shake things up a bit or are moving someplace else. Moreover, the vast variety of colors and finishes match various décor themes.