Reclaimed wood has many uses, you just need to think broader. Youtuber Darbin Orvar has created a rustic DIY chandelier using string lights and some reclaimed wood. A small flat wooden base has been made for attaching string slights, so that it can be used a cool DIY chandelier. If you like this DIY chandelier and want to make one for yourself, and the project could be completed within the mere budget of $40.
Darbin has used 10-bolt string lights and barn wood for making this DIY reclaimed wood chandelier. She connected two boards and drilled some holes to attach string lights in a random pattern. The wooden pieces are attached using pocket screws and glue, while corner pieces are connected to the base board with a nail gun. The wooden base is colored with water-based polyurethane for a cool look. A white-colored wood board for ceiling mount is connected using steel cables and eye hooks on the corners of the light fixture.
Also Read: 20+ Ways to Get Creative with Reclaimed Wood
Next, she added strip sockets to the drilled holes on the wooden base and finally attached the bulbs. It can be used as lighting fixture over the dining table, reading desk or any space you like. To power the ceiling light fixture, it can be fastened to ceiling outlet or use an extension cord for plugging into a wall outlet.
The rustic chandelier looks pretty, and it is a great idea to bring rustic flair and light up homes with substantial DIY works. This DIY lighting project does not require much crafting knowledge, and you can create it using simple tools.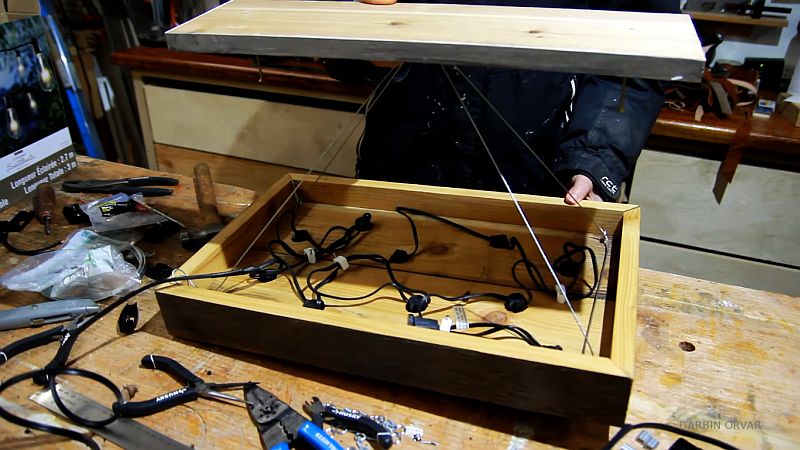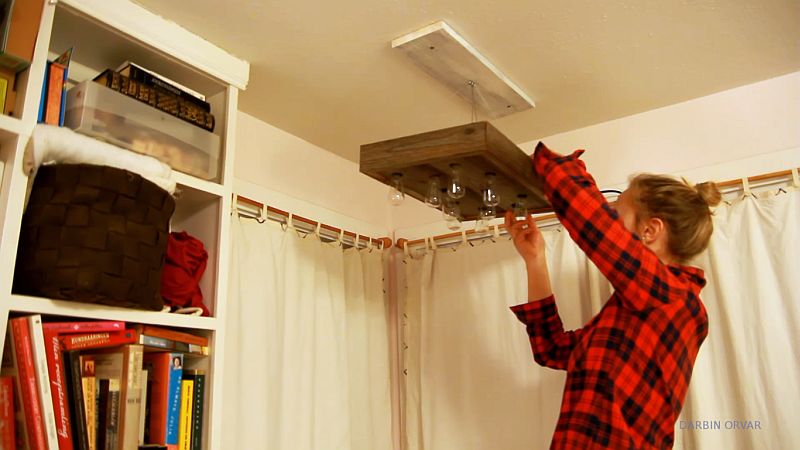 Via: Lifehacker