There are a number of raised dog feeding stations available in the market, but you can also make one without much effort. The DIY Creators, a famous YouTube channel recently uploaded a video in which the whole process to make a raised dog feeding station is described. As you pull out the integrated drawer of this DIY pet feeding station, a light turns on and you can easily fill the raised food bowl with dog food stored in the plastic container inside the cabinet.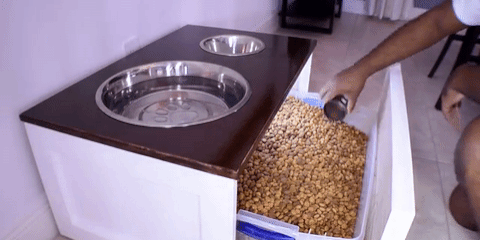 Anyone with a DIY perspective can make this dog feeding station as there are no special requirements, but you still need some basic equipment and materials such as ply board slides, screws, Taylor saw, jig saw, router, drill machine and nail gun to materialize the project. First of all, you need five cut slides of plyboard to form the outer structure of the Feeding station. Then these slides need to be screwed together through pocket hole joineries to shape it like a box.
Thereafter, cut a drawer base and fix channel slides inside the box to make a functional sliding drawer. Cutting the front panel of the drawer is a bit tricky, so before cutting the front slide you need to mark it according to the size of the box and channel slides. Pocket hole joinery is preferred to join the base of the drawer with door panel. You can add L-brackets on corners to keep the drawer door and base stable.
Then, you need to trace food and water bowls on top of the outer box. Once this is done, trace a smaller circle and then cut it, so that the bowls can rest on the lip. You can add some trims in the structure of the box and drawer door to give a better look to the overall design. Round off the corners of these trims through router to prevent any mishap.
The DIY Creators used small rubber bumpers as feet for the dog feeding station which worked fine so you can also try them out or use any other alternative. You need to add a pull handle to the door of the drawer, but the designer preferred to add it after the final finish for preventing any smudges of stain. Finally, pack all holes in the structure through wood filler, and thereafter do a complete sanding to make all surfaces even.
Also Read: DIY Build – Dog feeding station made from recycled old wooden chair
The designer says that when working with soft wood, you should use wood conditioner before staining or painting to bring out real color of the wood. After painting it in desired color, sand off top corners of the outer box with sand paper to show up a white line as a unique touch. You can also use water-resistant finish to protect its top from water spillage and scratches.
Furthermore, a battery-powered light along with a limit switch have to be installed on one side of the drawer, so that light turns on or off with its movement. For making this raised dog feeding station you need patience and keen observance. By having this DIY Build at home you can keep dog food in an easy to access location, so that you can easily feed your dog and comfort him in the best possible way.
Via: PopularMechanics