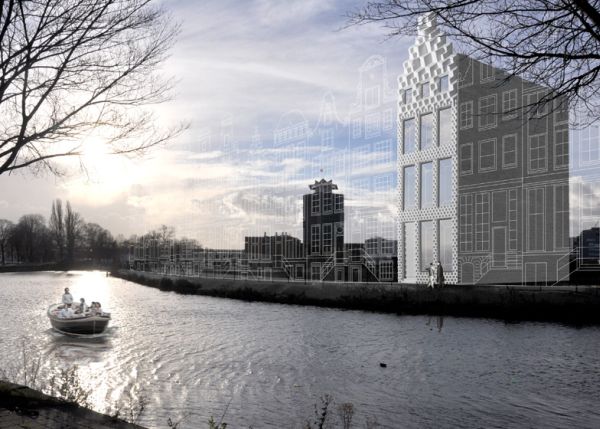 3D printing up till now might have just been 'dandy' with its scope of lamps and showerheads. However, Dutch studio DUS Architects have embarked on an endeavor which is not only wildly bold but also previously thought to be nigh impossible – they have taken up the project of constructing a whole canal house in Amsterdam by just 3D printing! This of course won't be achieved by your typical cup or jewellery concocting 3D printer. The architects have in fact designed the mighty 'KamerMaker' (or room maker in Dutch), a gigantic 6 m tall printer having its shiny exterior built from salvaged shipping containers. This boisterous printing contraption will utilize materials like polypropylene, recycled plastic and even bio-plastic for making the facades (like walls, windows and ceilings) and then the furniture of the house.
Structurally, the printed components of the house would be arranged and assembled on-site much like a modular scope (analogous to a puzzle). And as the rooms are arranged individually, the architects would proceed with the next spatial element that is to be printed by the KamerMaker. Techniques like steel cabling will be used to hold these elements together in a sturdy manner.
However, the ambit doesn't stop with just the step-by-step construction of the house. According to the designers, as each room is created, it will be assigned a crucial function. For example, when the first room is created, it will be used as a 'welcoming room' where the architects could print further rooms. And, as the process goes on, other rooms will be associated with specific purposes like researches, experiments and recycling. So, finally, the overall house would function as a research center as well as an event space, where deftly crafted specimens of 3D printed components would be showcased to enthusiasts.
All images are courtesy of DUS Architects.
Via: BBC