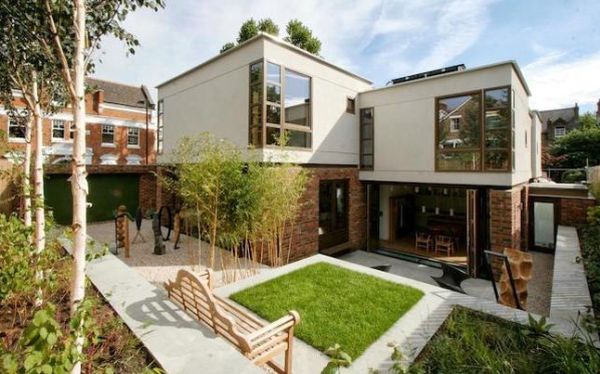 All new example of high tech contemporary architecture influenced by green credentials is the Springbank and Paddock home – twin homes in Camberwell Grove Conversation Area in South East London. Designed and constructed by architect couple Liz and Niki Borowiecki along with their children Tom and Sarah (also architects), the Springbank and Paddock House are two stunning eco-friendly homes. The family of architects have together transformed their semi-detached historical home (bought back in 1990) into architecturally pleasing homes, spread out on the underused garden of the old house.
The Borowiecki family has received architectural inputs from Niki's architect mother and brother Magda and Matthew respectively.  The end result of the architectural brilliance of six architects from the same family is Niki and Liz six-bedroom Victorian family home, and two five-bedroom semi-detached eco-friendly homes – Springbank House and Paddock House. While the Springbank home is designed as eco-home for Niki and Liz, the similar-looking Paddock House is up for sale through GJM Property for £2,000,000 (approximately USD 3.3 million).
Paddock House is spacious 307 m² (3305 ft2) home, with five bedrooms, four bathrooms and three living/recreation rooms. The house is graced with gardens on three sides, providing each room in the ground floor with its own outdoor space. Most exciting things about the Paddock House is the large Iroko-framed windows and top-lit atrium which allow ample sunlight into the house and make it look spacious and luxurious. Built from stainless steel, glass and oak the Paddock House is a complete eco-home.
For its environmental consciousness, the Paddock House features rainwater harvesting and recycling system, solar thermal panels and solar panels. The house also has a carbon-negative timber panel superstructure low-power consuming lighting fixture, underfloor heating, mechanical ventilation and lightfalls. Complete with an off-street parking for two cars, the Paddock House (identical twin of the Springbank House built by the architects for themselves) is worth every bit of its asking price.
Via: ThePropertyForums