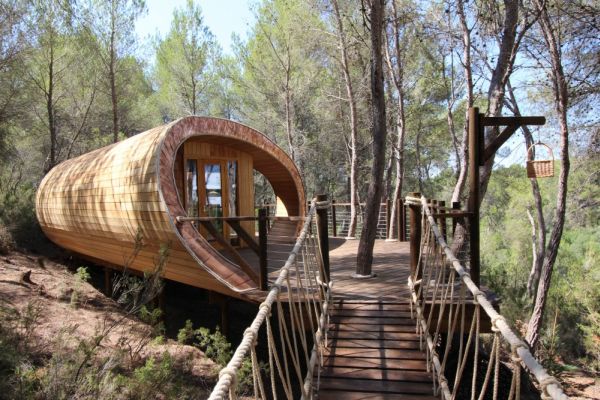 The essence of geometry was never purer than exhibited in the case of the Fibonacci Tree House in Spain. Inspired by the Fibonacci spiral, which in itself is a derivative of the golden spiral (a logarithmic spiral whose growth factor is the golden ratio), the tree house designed by Blue Forest showcases a uniquely curvaceous form. This shape follows a certain mathematical ratio which according to the architects is often found in nature, like the pattern of a snail's shell. In other words, the entire geometric set-up alludes to a rare scope that 'allows the organism to grow without changing shape.'
Beyond its symbolic organic pattern, the Fibonacci Tree House does have its fair share of practicality. In this regard, the house acts as a 'natural' reclusive haven that is sheltered within the cooler regions of a woodland. It also has a host of specific user-oriented zones, including a contemporary kitchenette integrated with its own drinks fridge and wine cooler, a large external deck with adequate space for furnishings like chairs and table, a 20 m (66 ft) long convoluted slide for kids and adults and finally a web of rope-walks that connect all these unique spatial zones.
As for other architectural credentials of the Fibonacci Tree House, the outer skin is finished with Larch boards complemented by aesthetic elements like handcrafted copper fascia and rope detailing. This rustic nature of the building translates in a physical manner with a huge 4 m (13 ft) wide sliding door that acts the flexible boundary between the interiors and the serene outdoors. Furthermore, the house also showcases energy efficiency by incorporating glazed facades that improve upon the core level of insulation (for micro-climate control).
Via: BlueForest