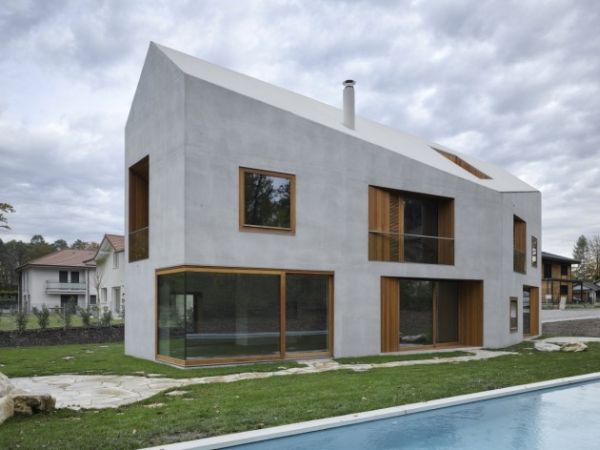 Now, if we ask – what strikes you about the above pictured building, the bulk of the answers would relate to the oddly minimalist facades of the structure. However, in truth, the most unique feature of the building is its circulation credentials as opposed to its post-modernist aesthetics. Christened as the 'Two in One house', the structure (designed by Clavienrossier Architectes) is located in the outskirts of Geneva, Switzerland. And, as can be somewhat comprehended from its name, the house remarkably integrates two separate apartments of differing size, segregated by a large contiguous wall.
In relation to this novel circulation pattern, the pitched angle of the roof (covering a diamond-shaped plan) varies, thus allowing each apartment to have its own degree of orientation. The significant alteration in geometry also creates an effective scope of privacy for the residents of two separate 'entities'. In fact, this geometric transition hides the true scale of the Two in One house, thus endowing a sense of personal space on the inside, but exhibiting a collective space from outside.
Other features of the Two in One house includes a swimming pool, which is conveniently located between the large area of the apartments and an adjacent forest. And, finally, as for the minimalist outer skin, the walls of the building are entirely composed of integrally-colored concrete, punctuated by glass facades lined with wood. Loggias (built from larch) also run through the upper floor, starting from the balcony and ending in an upward perforation of the roof.
Via: Contemporist