FIMA Carlo Frattini a leading tap manufacturers in Italy in collaboration with Meneghello Paolelli Associati has added new and exclusive finishes to their award winning Texture Collection.  The Texture Collection, which has won the prestigious Designer Award 2015 in the category of Innovation in Material features washbasin mixer, wall mounted washbasin mixer, bath and shower mixer.
The collection that offers freedom to create different look is giving bathroom a contemporary taste that will renew the ambiance of bathroom and will bestow it with more luxurious feel. Supporting minimalism, the collection satisfies both classical and modern style. The new finishes featuring white, black and gold along with traditional chrome is creating an unusual combination, thus producing more sophisticated bathroom.
To tender customization and richness, the finishes of the knobs are made available in three variants, which portray a three-dimensional surface texture: (Texture V) Vertical, distinguished by the geometric rigor of a polygon with 19 sides; (Texture X) Inspired by the precious stone diamond for sophisticated environment; (Texture H) Serves a three-dimensional effect with horizontal stripes creating a high-tech mood.
Offering maximum customization, the six different tops like chrome, black, matt black, white carrara marble, marble portoro black and gold, bestow bathroom with an elegant look. Made in Italy, the complete collection combines accessories like towel holder, paper holder and tower holder hook.
Supporting highest quality materials and meticulous attention, the new finishes in Texture Collection is a beautiful combination of aesthetics and functionality.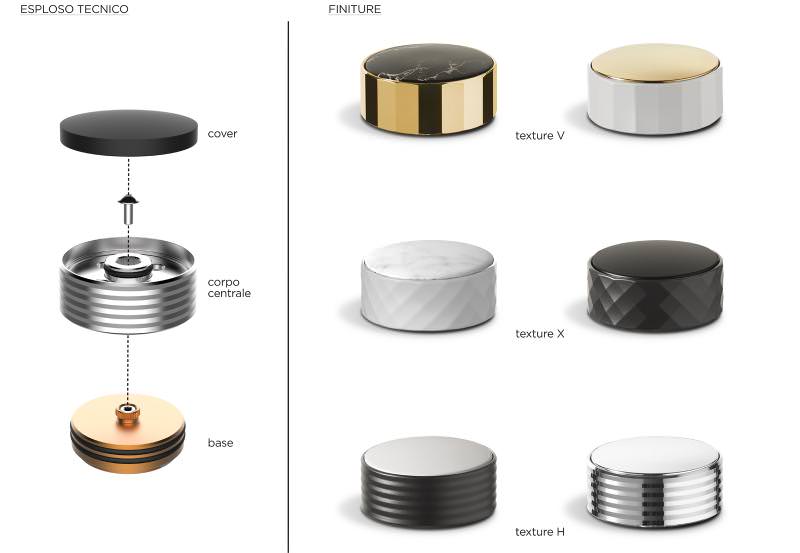 Via: DomiMagazine