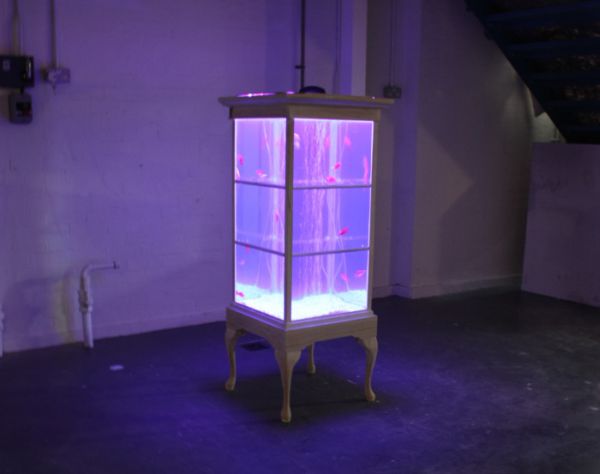 While it might not match the eccentricity of the aquarium fence, the above pictured Fish Tank Cabinet more than makes up for it by its sheer style. Conceived by furniture and product designer Dobromila Kruszynska, the aquarium as the name nonchalantly suggests, is actually made from a cabinet that has been re-purposed. What's more; the storage unit is actually an antique 16th-century Queen Anne display cabinet, whose original purpose was to showcase fine pieces of porcelain for exalted guests. The antique piece has since been transformed into a modernistic art piece with technological augmentations such as integrated LED lighting and a sealed water mechanism.
The revived degree of design is quite evident from the unobtrusive aesthetics of the Fish Tank Cabinet.  The designer has in fact preserved the vintage nature of the old cabinet, without any modernistic intrusions that might have ruined the elegant visual scope. However these fundamental features are enhanced in a more 'passive' manner by utilization of the vibrant lighting. For this the designer used waterproof LED dimmer that can change its hue with the help of a remote control. As we can see from gallery images, the colors gorgeously alternate between light blue, red and purple.
Finally, coming to Fish Tank Cabinet's functionality, the sealed water cabinet is conducive to only keeping smaller varieties of fish. Of course, this shouldn't be actually counted as a disadvantage, given the finesse of the antediluvian aquarium. Moreover, the smaller fishes actually play their part in the whole seamless scope with their inherently inconspicuous nature.
Via: Dobrusiak