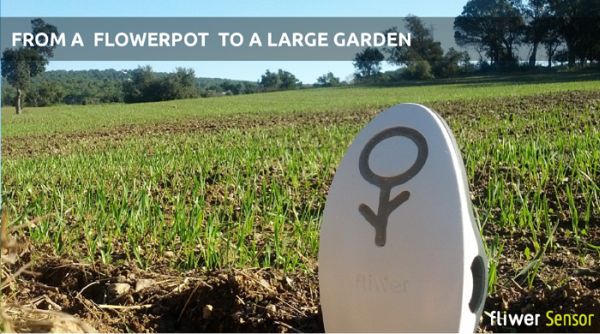 Previously, we have talked about smartphone controlled homes, locks and even beer brewing machines. However, we daresay this is the first time we have come across an internet based electronic device that takes care of our plants. Christened as the Fliwer, the contraption is a bit different from other plant sensors, as it incorporates a more collective approach to nourishing the plants. The concerted scope entails a group of devices that can monitor and control the crucial factors that directly affect the plant's vitality. These include parameters like – soil moisture, light, temperature, air humidity and the even optimum amount of fertilizer. The Fliwer also takes into account the plant database along with the weather forecast, and then decides on the time we need to water our plants.
In other words, the core function of the Fliwer alludes to the conservation of water. According to the designers, their contrivance may replace older garden irrigation systems that are normally depended upon a fixed time period (which is however completely unrelated to the moisture requirement of the plant). In fact, this is where the advantage of Fliwer really shows with its ability to 'communicate' with the plants by monitoring their vital data. This data in turn can be accessed by the user in real time from Fliwer Online Platforms (which also display alerts, advice and warnings relating to the plant life).
The working scope of the Fliwer is however not just limited to the monitoring function. The sensor based device also takes part actively as your personal gardener by integrating an irrigation valve that can readily water a specified garden area. Additionally, the product comes with a separate Fliwer Link device that serves as the wireless connection modem between the Fliwer Online Platforms and the individual sensors. So, at the end of the day, the scope goes beyond the ambit of just taking care of plants; by doing so conveniently in a cloud based remote controlled manner.
For more details, please refer to the product's Kickstarter page.