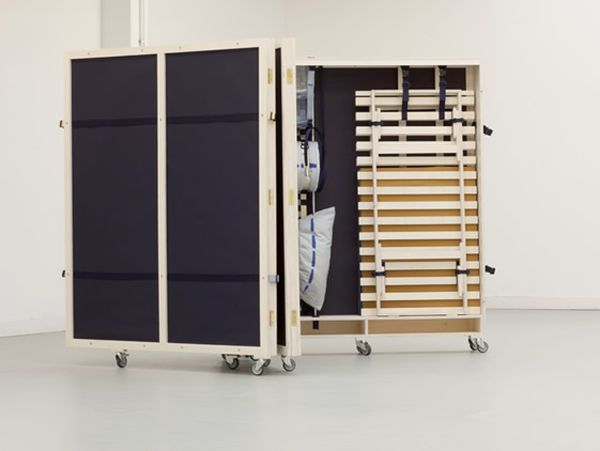 Whenever the scope of spatial flexibility crops up, we have been witness to designs that go a long way in their innovation scope. However, the above pictured Fold Inn changes the entire game with its ridiculous level of portability. Basically comprising of a mobile box, the entire conception remarkably transforms into a usable bedroom (yes, an entire bedroom; not just any furniture!). In other words, the Fold Inn offers temporary habitable solution with larger spaces or more importantly vacant spaces. Such type of spaces are usually associated with work-spaces and conference zones, where employees or business attendees (travelling from long distances) might want to retire for the night instead of opting for a hotel.
In terms of design, the modular Fold Inn displays a pretty simple arrangement which can be set up easily and quickly when the situation demands. The assembly entails rectangular facades of the box-like form that can be opened up in 'layers'. These layers double up as storage spaces (for the detachable bed, mattress and bed sheets) and as privacy screens for the user resting on the bed.
This flexible form factor of the Fold Inn also comes in handy for utility spaces, such as fitting inside elevators. And, moreover the ambit is not just limited to overnight work-space habitation. In fact, the application of the 'mobile bedroom' can be effective in various scenarios, ranging from staying over from large scale events or festivals to even a small scale private partition within one's apartment.
Via: Fold-Inn