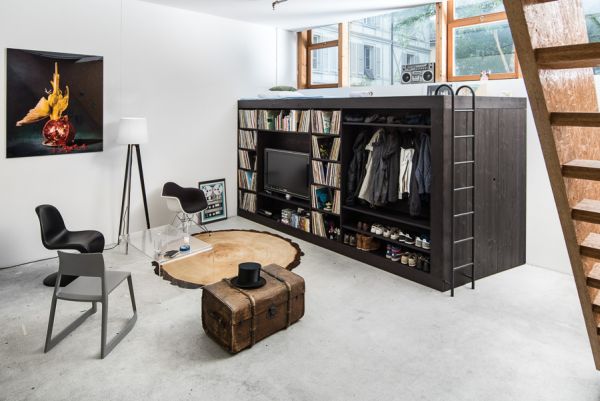 The essence of a multi-purpose furniture is obviously defined by its namesake prefix. However, it is the scope of the design that determines its effectiveness. In other words, we have come across customizable sofas and cloth drying tables. But Swiss designer Till Könneker notched it up a whole new level by creating the Living Cube – a collective design that incorporates a loft bed (for guests), an entertainment center, shelves for books and vinyl records, cloth rack, shoe rack and a completely hidden walk-in closet. Envisaged as the ultimate space saving storage area cum sleeping area, the entire contrivance can be easily housed in your bachelor apartment's living room.
The good part about the whole Living Cube design is that its visual scale doesn't look a bunch of storage components being hastily arranged together. The conception rather has a more seamless, elegant look to it, which in many ways is accentuated by the dark stained wood used as the core material. The loft bed is also pretty inconspicuous in nature, which totally eschews any kind of conforming 'dormitory' feel to the Living Cube.
However, the feature that seriously tickles our fancy must be the spatial efficacy of the walk-in closet. It is almost like a 'whole new world' behind the facade of the shelves and and the TV counter where one can actually tread and choose his/her hidden items. Now, this is what we would call the ultimate storage mechanism perfectly attuned to the cramped nature of our smaller apartments.
Via: IllDesigns