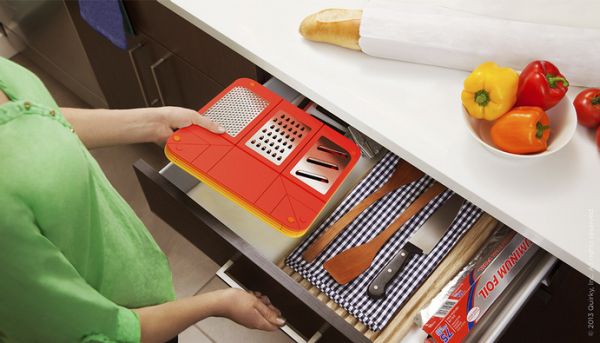 The scope of spatial efficiency is not just related to our cramped apartments and living spaces. The ambit is also equally important when it comes to our utility spaces like kitchens. Well, Quirky's product designers certainly think so, as they have conceived the product line of Formables that entails a set of ultra-compact kitchen tools. These kitchen tools (crafted from materials like plastic, plastic mesh and stainless steel) can be easily 'folded' into flat forms, thus facilitating their storage in smaller areas like a single drawer.
The Formables set comprises of a range of five conventional kitchen items, including – a cutting board, a bowl, a colander, a strainer, and a three-sided grater. The folding mechanism involves the utilization of easy angles that allows the items to be flat packed into a one-inch thick stack. This feature not only makes them spatially efficient for smaller kitchens, but also improves their portability credentials, thus making them handy for outdoor camping and traveling.
The functionality of Formables kitchen set is further accentuated by some of the 'multi-purpose' attributes of the individual items. For example, the aforementioned grater consists of three separate plates – a fine grater, a coarse grater and a mandolin. The strainer and the bowl on the the other hand can be combined to form a steamer (see in the images) suitable for microwave ovens.
Via: Quirky