Garages not only protect your cars and other vehicles from extreme weather changes, theft and any other unwanted damage, but they also serve as workshop where you can store your tools and car gear.
Apart from being a multifunction room, it's also one of the defining features you see as you look at a home's exterior, with the door as the focal point. Garage doors significantly impact your home's curb appeal and overall property value. Therefore, you must consider all the crucial factors as you plan on installing a brand-new garage door.
Choosing the right garage door is tricky. To help you out, here is a brief guide to help you pick the right garage door style for your home.
Understanding different types of garage doors
The first step to finding the appropriate garage door style is to evaluate your home's exterior aesthetic. It should blend seamlessly with exterors and other design elements of you home to maintain or upgrade your property's curb appeal. Designer garage doors can be an excellent choice to achieve this goal.
Another crucial tip is to know your options as a starting point. These are some of the most popular garage door styles that can match various house designs.
Roll-up garage door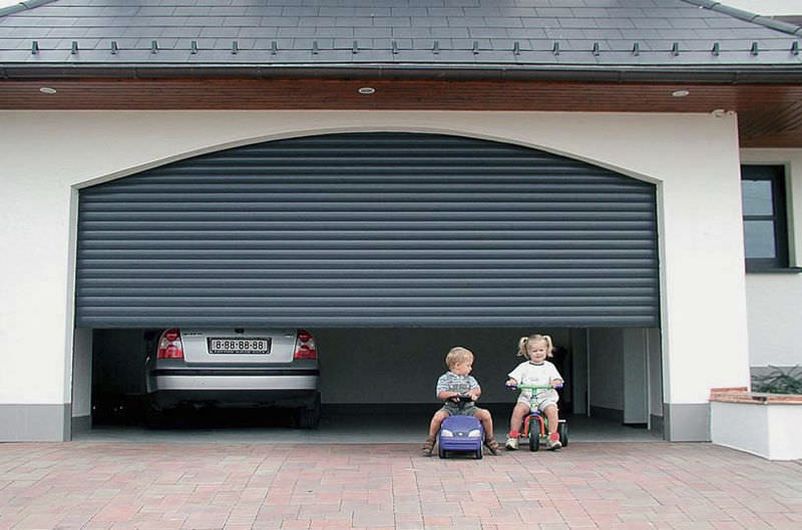 It is a type of garage door that is made of horizontal steel sheets that roll up vertically into a coil in a roll at the top of the inside of the garage. They can be operated manually or automatically with the use of a motorized system.
Roll-up garage doors are a classic option commonly used in commercial or industrial buildings, but can also be installed in residential homes. It's an efficient and space-saver option for smaller garages.
Sectional garage door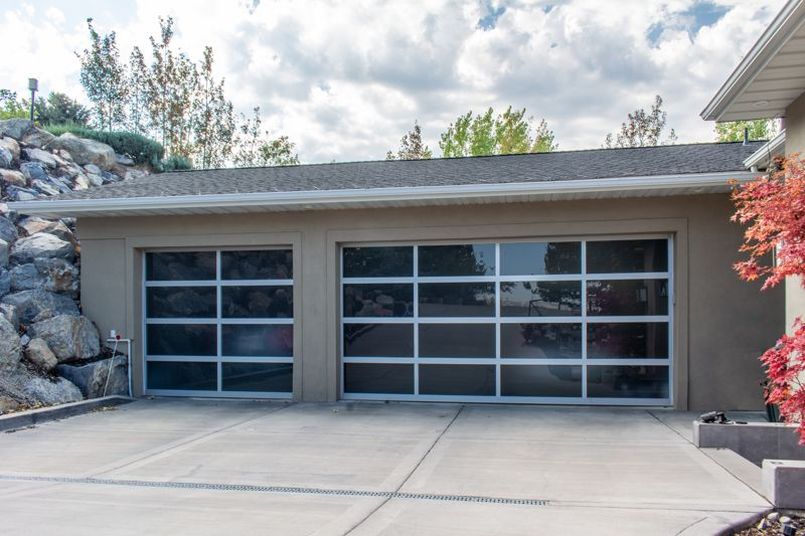 This type of garage door is made of hinged horizontal panels that slide back and forth along the ceiling of the garage. Sectional garage doors are popular for residential homes due to its aesthetic appeal, insulation properties, and ease of use.
These garage doors are perfect for farmhouses, craftsman-style, and other traditional styled houses. This garage door style is sleek and straightforward, but elegant. It's also suitable for limited spaces.
Single panel garage door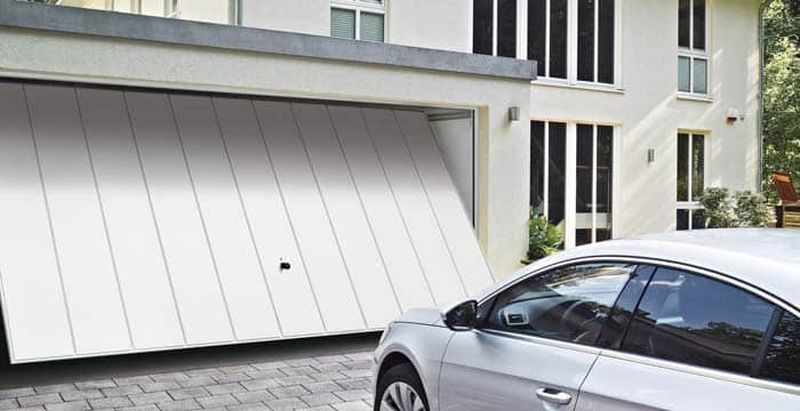 As the name suggests, these doors are made from a single panel that tilts up to open. Therefore, it's suitable for properties with extra driveway space. One of the disadvantages, however, is that it could potentially hit the car when it opens if parked too close.
Side-slide garage door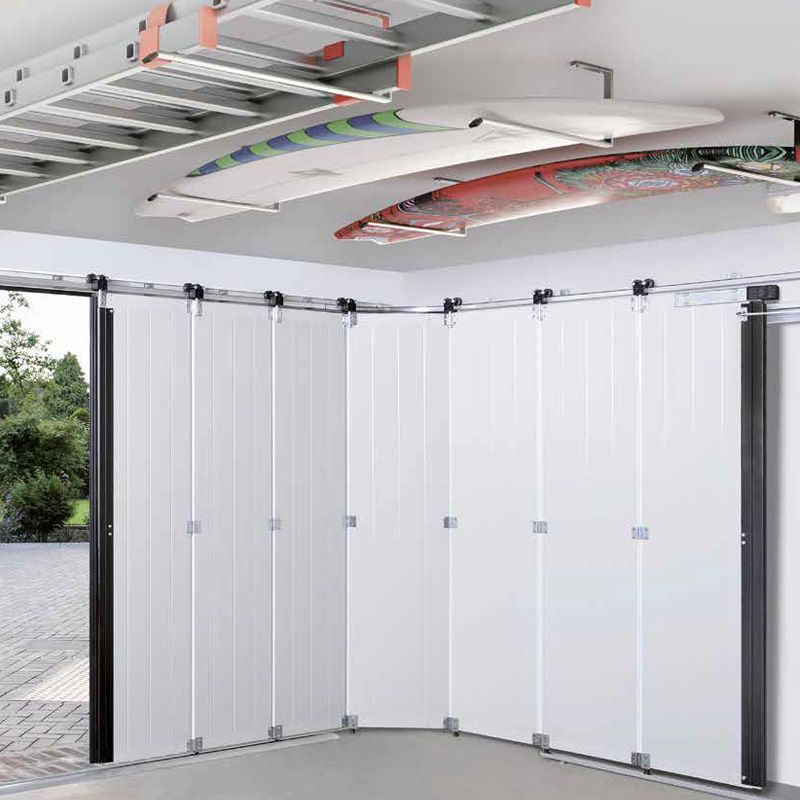 This type of door slides horizontally to open and close. The door panels are mounted on tracks on the side of the garage wall, and the door opens to the side. Side sliding garage doors are versatile in design, allowing better customization to match your house.
These door tend to be a little more expensive than standard garage doors.
Side-hinged garage door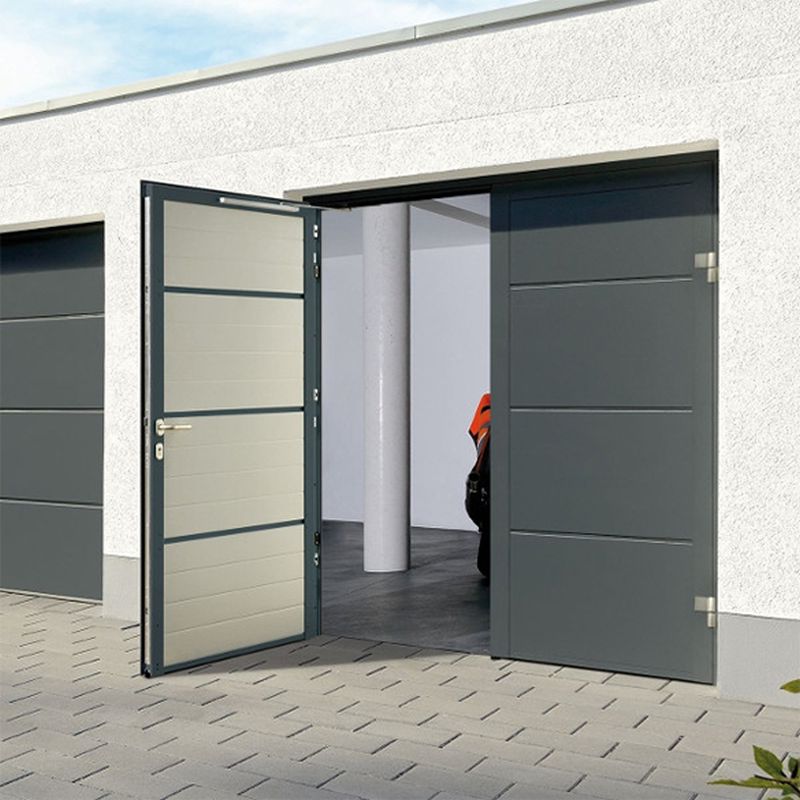 A side-hinged garage door swings open and close like traditional doors. It is made of two panels that are hinged on the sides of the garage opening and swing outward. Side-hinged, or the classic carriage-style garage doors, are an excellent design choice for period properties.
They are often seen in traditional homes, celebrating simplicity and elegance. They are typically operated manually and can be secured with a lock or latch.
Also Read: Guide to Different Types of Doors: Materials, Mechanisms, and Styles
Aside from considering styles and opening mechanism, you can also match the color of your garage door with your home's color palette to maintain harmony.
Specify your budget
Setting a budget will help you save time by narrowing down your options. Installing a new garage door typically costs between $600 and $4,000, including materials and labor. However, these costs may vary depending on your location.
Budgeting also helps in gauging quality and limitations of your project. When setting a budget, always prioritize quality to ensure longevity. Investing on high-quality materials and mechanisms also adds value to your property, offering a good return on investment in the long run.
Choose a Durable Material
The material you choose for your garage door is crucial for its ability to withstand climate conditions and time. Since it's constantly exposed to outdoor environment, it should be highly durable, water-resistant, and weatherproof. These are the most popular material options for garage doors:
Aluminum: Aluminum is lightweight, versatile, and weatherproof. It's perfect for coastal areas and locations with extreme weather conditions. Aluminum garage doors typically last up to 20 years.
Steel: This material is one of the most durable options due to its natural strength. With proper sealing, it can withstand moisture and prevent rusting. Steel garage doors can last more than 20 years.
Wood: Wood is suitable for traditional houses due to its warmth and classic appeal. However, it's prone to weather damage like warping and cracking, due to moisture. With proper re-sanding and resealing, it can last between 15 and 20 years.
Fiberglass: Fiberglass is a practical option due to its affordability and versatile design. It can mimic wood and other materials. However, it can be prone to breakage over time, especially in colder climates. In warmer places, it can last more than 30 years.
Vinyl: Vinyl is another versatile, durable, and weatherproof material. It's also easy to clean and maintain, scratch-resistant, and long-lasting. It typically lasts around 20 years with proper maintenance.
When choosing a garage door material, consider your location and climate to find the most suitable option.
Consider the available space
The right garage door for your home depends on your available space. Your garage and driveway should remain spacious to maintain efficiency.
Most garage doors roll overhead. This style is excellent for garages with ample headspace. On the other hand, sliding and side-hinge doors are ideal for garages with low ceilings.
Considering these factors will help maintain functionality of your garage while keeping your home exteriors aesthetically pleasing.
Insulation
If you live in a place where temperature reaches the extreme ends of the scale, you need to consider the r-value (or insulation) factor of a garage door.  A garage door with a higher r-value is able to maintain a constant temperature inside the garage during winter or summer. It is determined by the thickness of the insulation and the type of material used.
Always hire a professional garage door installer
Hiring professional designers and installers can make everything hassle-free. If you're unsure which style is best fit for your home, you should consult the experts to find the perfect option.
Professional garage door companies can customize your garage door to perfection, guaranteeing durability and quality.
Conclusion
Choosing the right garage door style for your home becomes easier when you know the features to look for. Consult garage door experts in your area to answer your questions and make this project stress-free.