Many people find solace in gardening. The beauty and comfort of greenery allow them to forget the stress and help them navigate through life like it's a walk in the park. It's all about how plants have the power to relax the mind and calm the heart.
Sometimes, you may think about gardening as a hobby. But pay attention: People don't usually discuss other intricate gardening parts. One of these is designing your garden's pathway. Your garden needs to have paths not just for aesthetics but also for accessibility.
Pathways give your garden more life by creating spaces to wander around. When you plan to have your garden, plan for its routes.
Types of garden pathways
Pathways or walkways are very important when it comes to your garden or outdoor home décor. They not only help you walk around the garden but also add aesthetic value to your home. There are different types of garden walkways; while you can work on some ideas as a DIY project, some others might require professional help from a landscape artist or paving contractor.
Stone pathway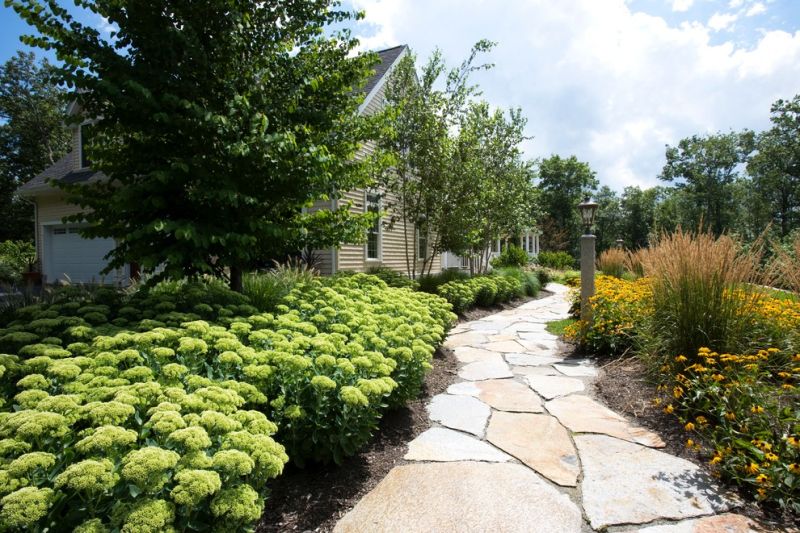 Stone is a great material to build your garden pathways. It can be flagstones (flatstones) or stepping stones. They give a natural look and are quite easy to install. You just need a good design and then lay out the stones according to the design.
Brick pathway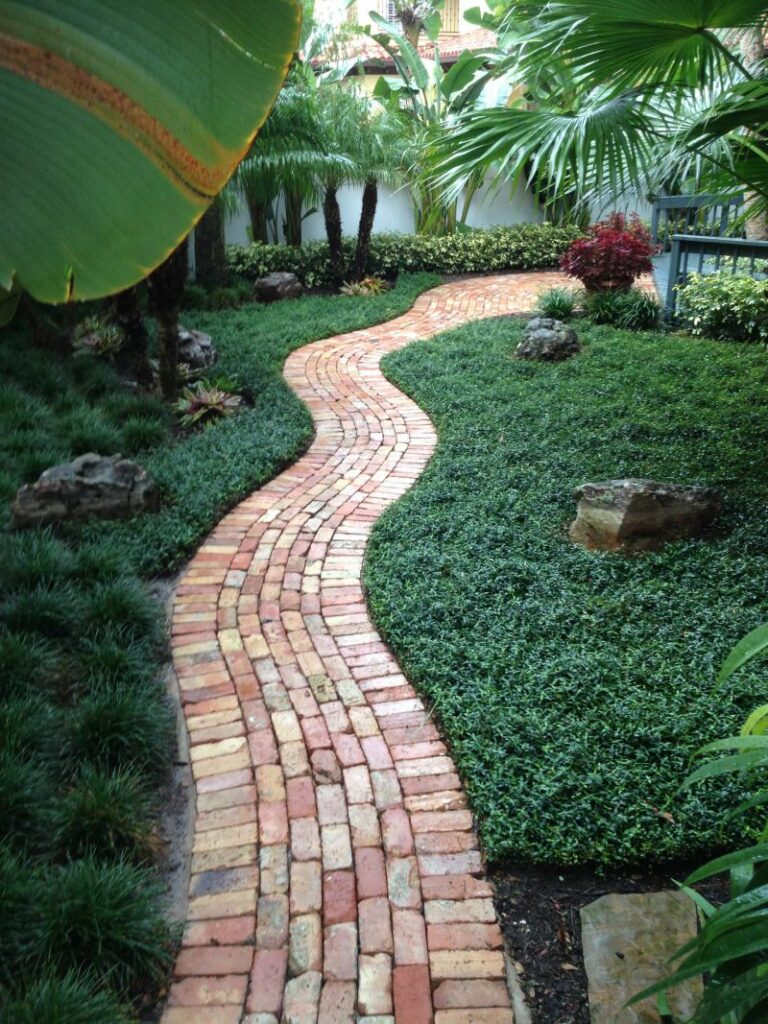 Brick is another viable material that you can use for the garden pathways. They can be installed with much ease and can be done as DIY as well. Bricks are one of the most preferred materials for walkways.
Wood pathway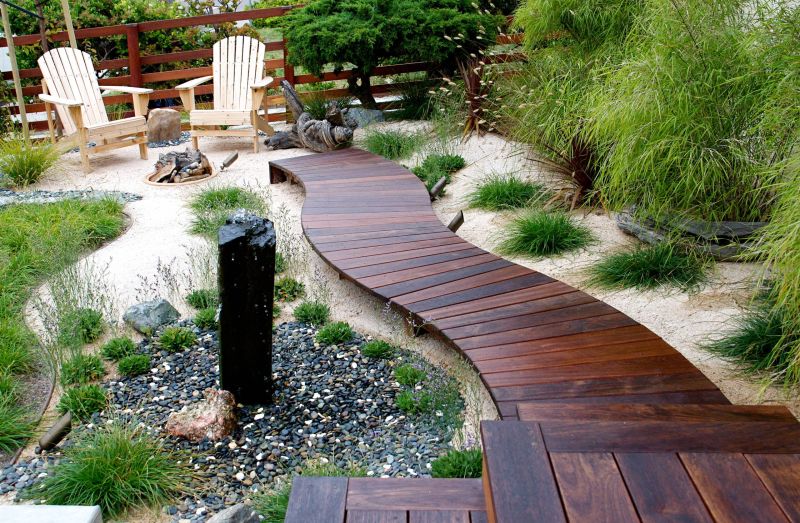 Wooden planks or logs are also used in garden pathways. They look cool and enhance the beauty of the garden. The natural look provided by them is incomparable to any other type of garden walkway.
Paving Slabs
These are one of the most common and known kinds of pathway material. You get various kinds of paving slabs in the market which means you can experiment with the looks and create something that blends well or complements the surrounding garden. There are different kinds of paving slabs such as concrete, porcelain, Indian sandstone, slate, limestone, travertine, and so on. You will find these in different colors, styles, and shapes.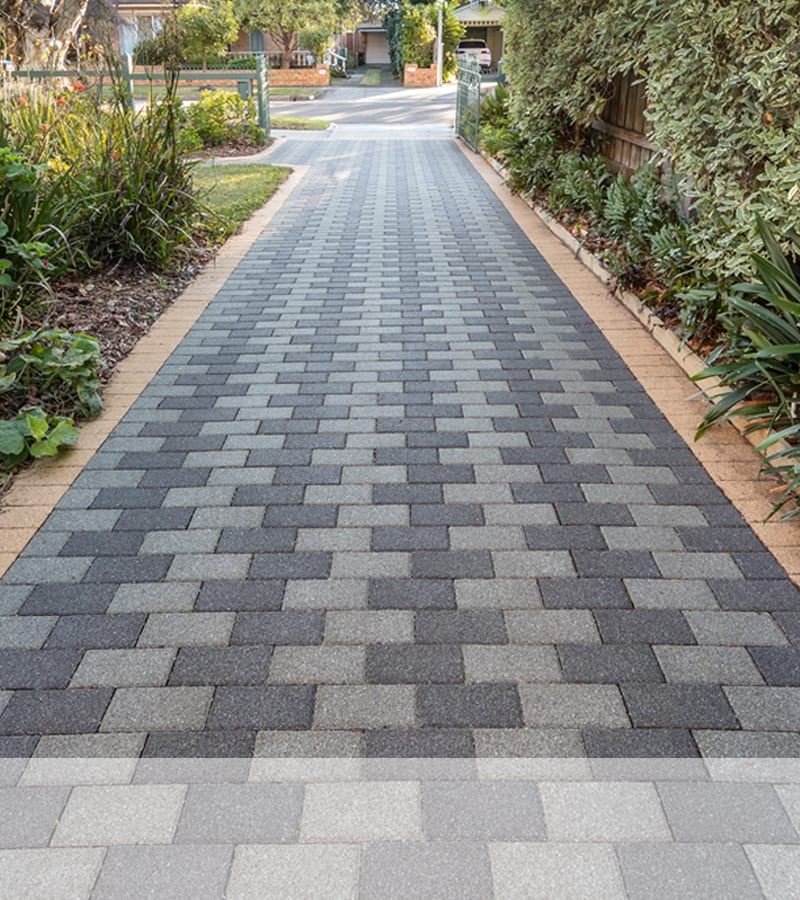 Such paving slabs are laid on a mortar bed and joined using sand and cement. It must be noted that when you construct a slabbed pathway, the sub-base should be properly installed, and then only slabs must be integrated into the design. The paving slabs can be used to design both curved and straight pathways.
Resin Bonded Gravel
This kind of surface has become popular in recent times. In this kind of pathway, the aggregates are mixed together using a UV-stabilized resin adhesive which is applied using a hand trowel. When it sets, the surface can be used as a pathway, patio, or driveway. Resin-bonded surfacing is known to perform better and it lasts for a long duration of time. In the installation process, the entire surface area of the aggregate is coated with resin.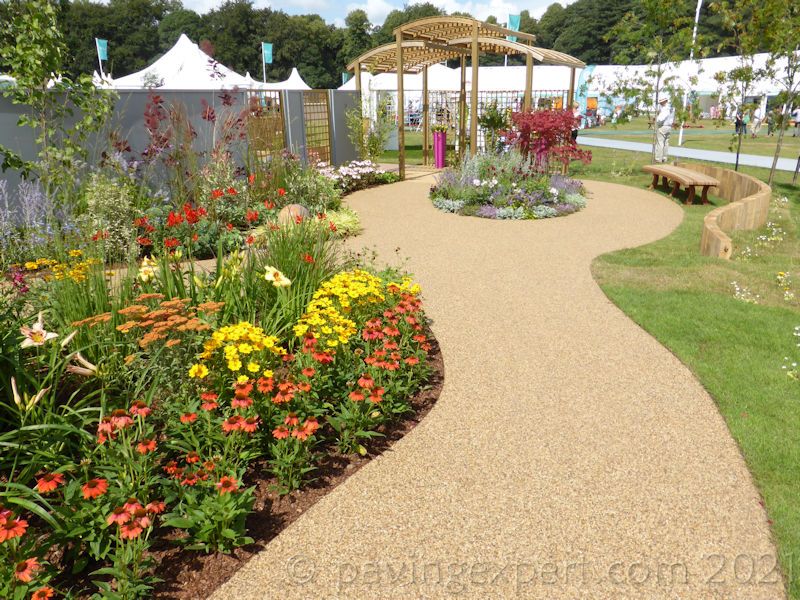 You can use various colors to create this kind of garden pathway, something that matches your garden and the surroundings. It can be expensive if there is a large area to cover. It is not easy to be done on your own so a professional installer must be hired to work with resin.
Block Paving
Block paving is also pretty popular and is mostly used for driveways but it is an interesting option for garden pathways as well. It comes in a huge variety of colors, style, and materials just like paving slabs. The commonly used block paving material is concrete which is available in a variety of shapes and sizes. You can choose various styles from modern to traditional. In order to prevent any weed growth you need to apply weed-free materials on block paving.
Artificial Grass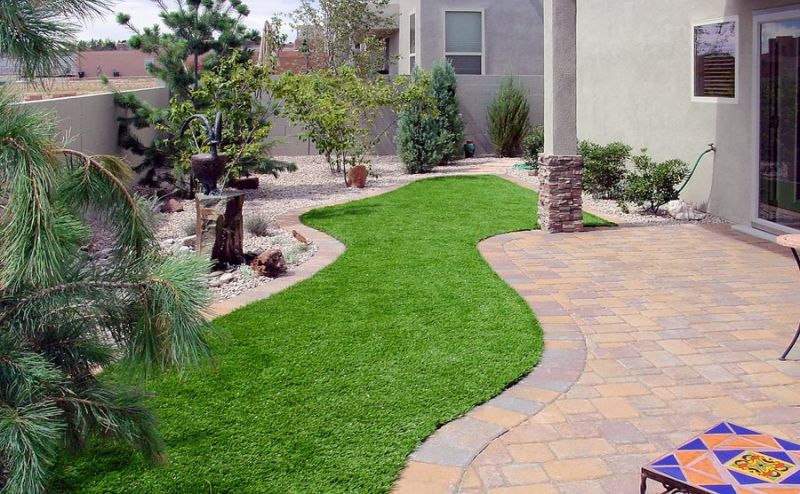 Artificial grass is an interesting choice for a natural pathway. A garden looks more natural with a rightly blending pathway. The artificial grass has been made to look just like real grass; it is thus a good choice for areas where real grass doesn't grow up easily like sheltered areas of the garden which get very little sunlight.
Loose Aggregate
The loose aggregate pathway gives the garden a distinctive look and feel. There are different forms of aggregate that you can choose which include Cotswold, pea shingle, granite, marble chippings, limestone, and even slate chippings. This kind of garden pathway looks great in combination with edging or block paving.
Wood Chippings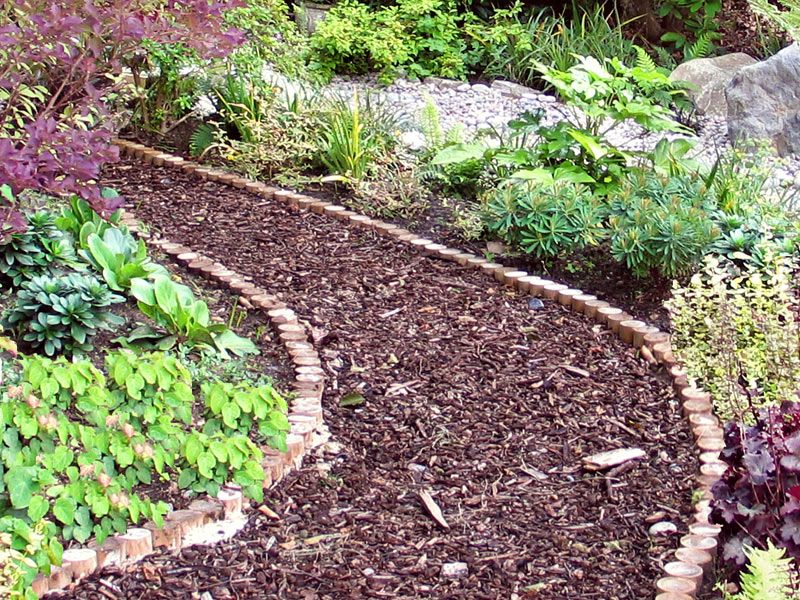 If you are looking for softer and more natural pathway options then bark chippings are a good idea. They are very easy to install and are cost-effective as well. To build such a pathway, you need to remove the existing surface, install a weed membrane, and put bark chippings on the top. One downside is that such a pathway will require re-leveling from time to time. They are best suited for sheltered areas in your garden as places where winds blow the bark chippings can easily blow into shatters.
Concrete pathway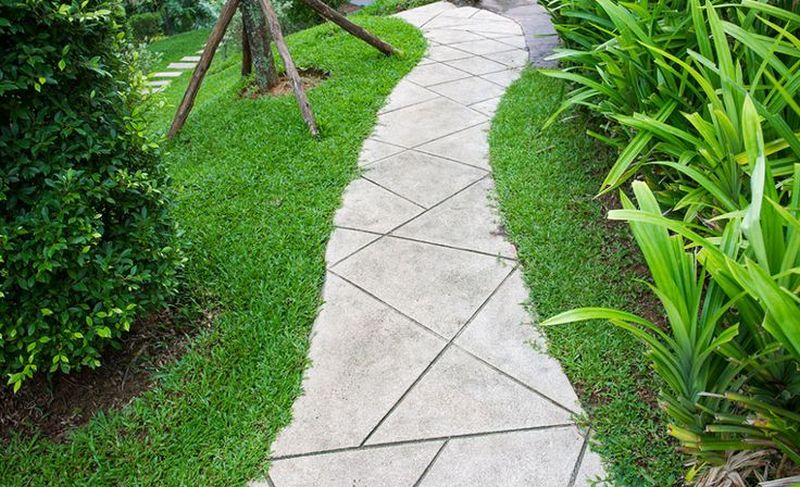 Concrete pathways are cost-effective and they can be created using beautiful patterns. You can create a unique look using concrete by using stencils to make various patterns. The downside of concrete pathways is that they may show cracks and require repair more frequently.
Things to consider before designing walkways
If you are planning to design your garden pathway then there are some things you need to consider before beginning with the project.
Consider the budget
The first thing to consider is the budget. You must know the amount of money that you can spend comfortably or at least have a maximum range in your mind. The materials used for building the pathways are different and so are their costs. Some are cheaper to obtain while others are costly. You need to do a proper estimate according to the needs of your pathway project. If you do not have an idea of how to calculate the budget, then it is better to consult a professional landscaper. The point is to have a realistic idea of the money involved.
Draw out the scale
Walkway installations are different for every project. It can be a walkway in your garden or a pathway from your front door to the driveway. You must scale it properly before starting the project. It must be wide enough so that you can walk comfortably in your garden. It depends upon you whether you like a curved walkway or a straight one but it should have a decent width.
Choose the material
Materials are very important when it comes to pathway design because they are going to decide how good it will look and how durable it is going to be. The material should complement your garden and home. The kind of material you choose also affects the pricing of the overall project. You must choose a material that will last longer and can be easily maintained for better results.
Features of a garden walkway
The design of the garden walkway has different facets to it. Let us understand them one by one.
Base
Every garden walkway has to have a solid base which can be given using gravel or cement. The solid base ensures that it remains in good shape at all times. If you live in a region where you get to see plenty of rain or snow then having a firm base is a good idea.
Paving
Paving could be done by keeping measurements and materials in mind. The more you understand the requirements of your garden pathway easier it is to accomplish the project.
Also Read: Top Gardening Trends of 2022 to Transform the Outdoors
Edging
The edging is equally important. You can have rough edges to your pathway. They must be clearly sorted out. If you think of installing railings for extra caution especially if you have kids at home. This helps protect your garden as well.
Material
The kind of material you use for the pathway defines everything about its design and style. If you want to give natural look then you can use artificial grass, wooden planks, or stones to develop the pathway. Other choices of material have been discussed in length above.
Lights
The garden pathways can be given a better look with the installation of the right kind of illumination. They give a good vibe and feel to your garden in the nighttime. Different styles of lighting can be used as per your preferences.
Garden Pathway Design Ideas
DIY project of a rustic exquisite and easy reclaimed wooden garden pathway by Funky Junk Interiors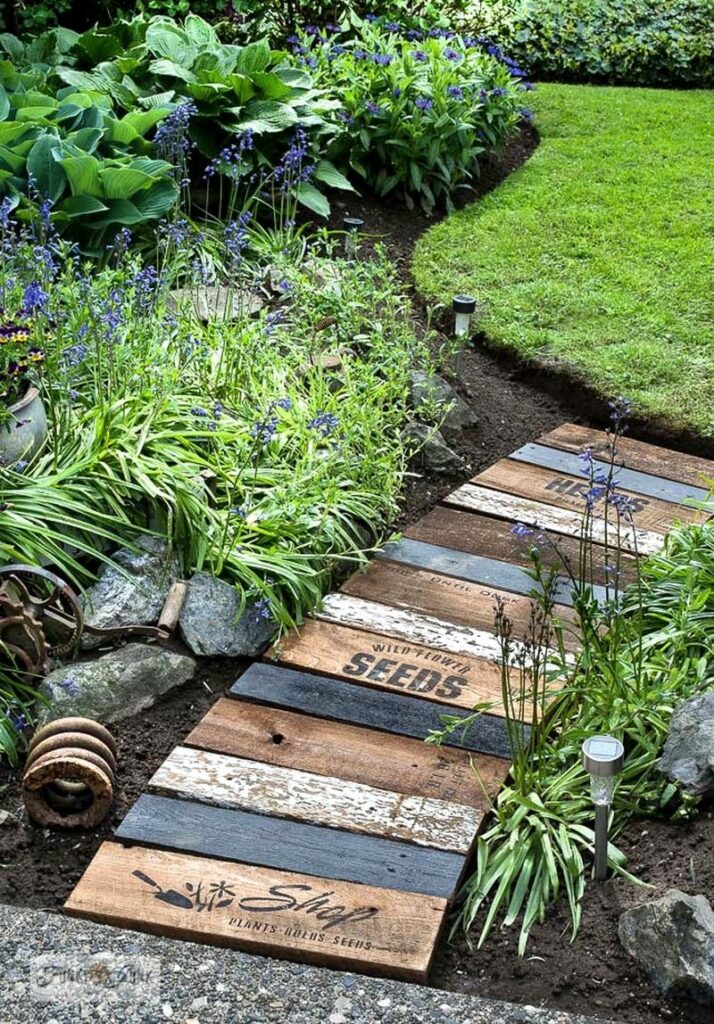 Roll-out cedar wood straight pathway by RELIANCER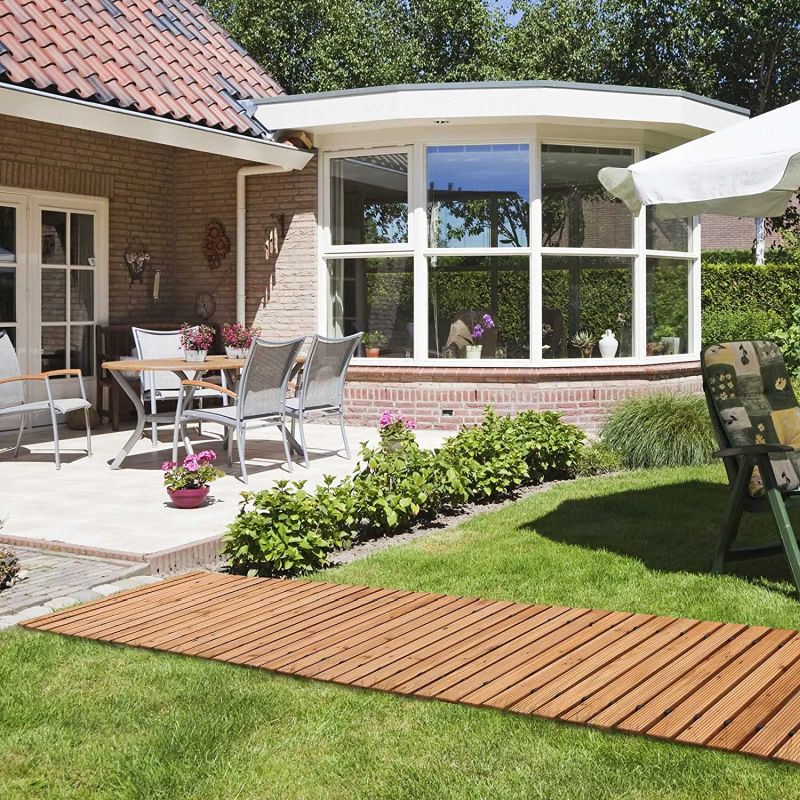 Budget-friendly gravel path in the garden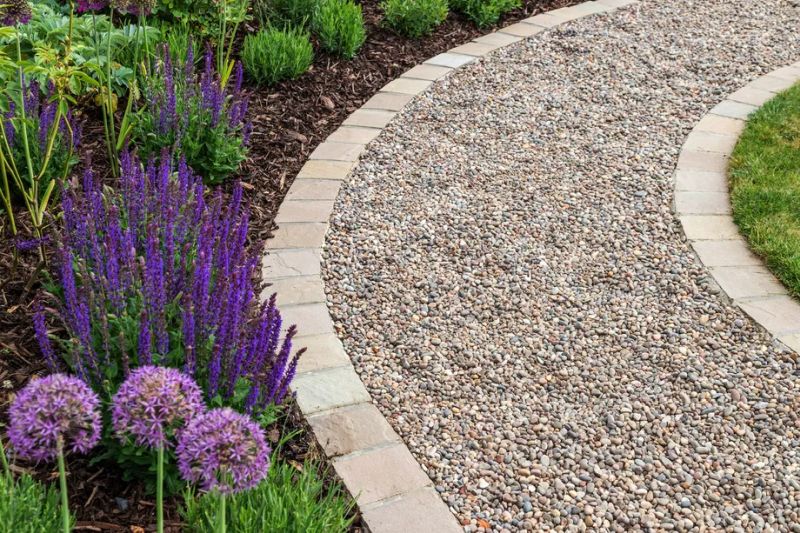 Sturdy DIY concrete garden path made using a stencil by The Owner Builder Network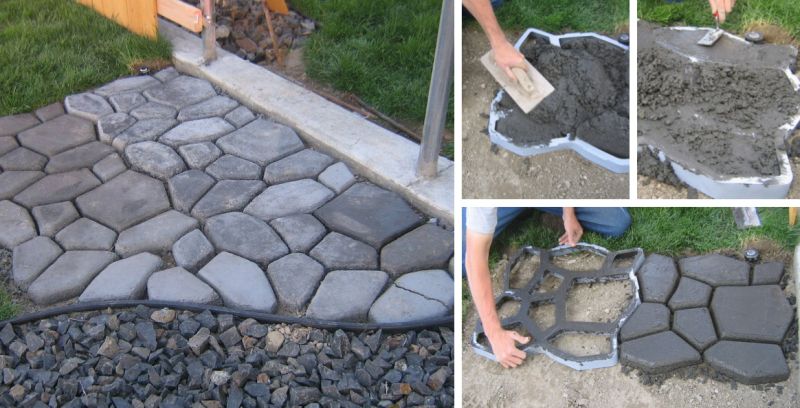 Riverstones paved into a curved pathway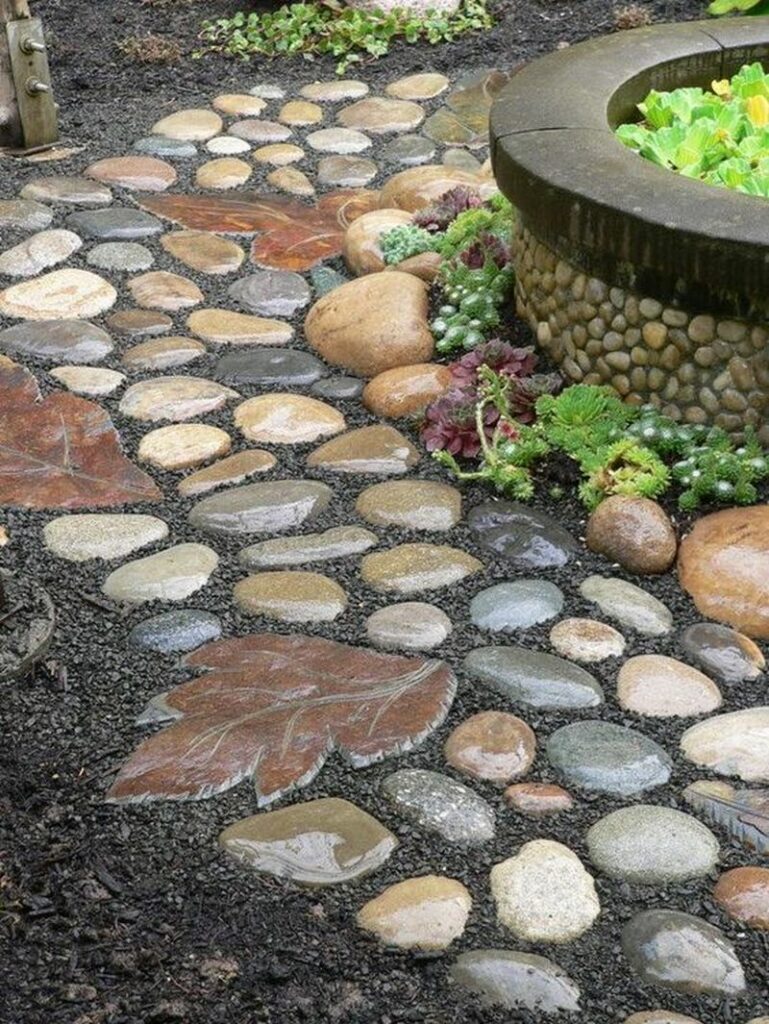 Square-cut flagstone garden walkway by Kiwi Landscapes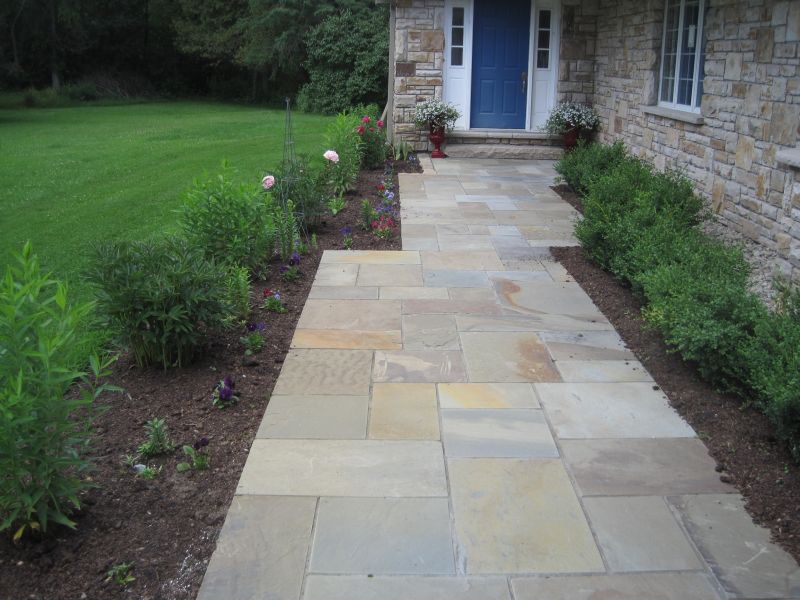 Irregular flagstone walkway by Living Space Landscapes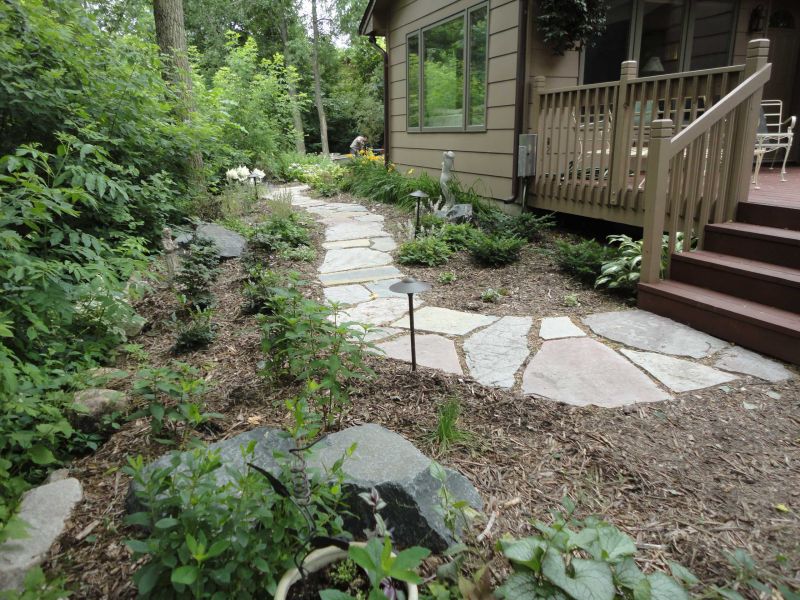 Colonial-style clay brick garden walkway by Stonewood Products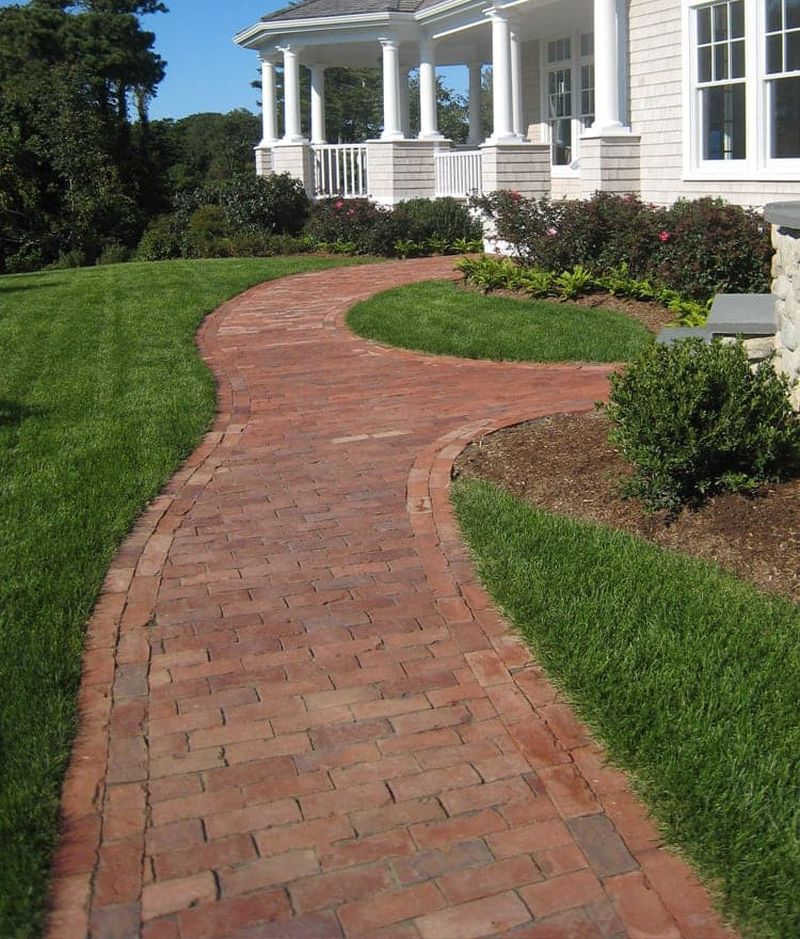 Brittany Bailey created affordable mulch and stone garden pathway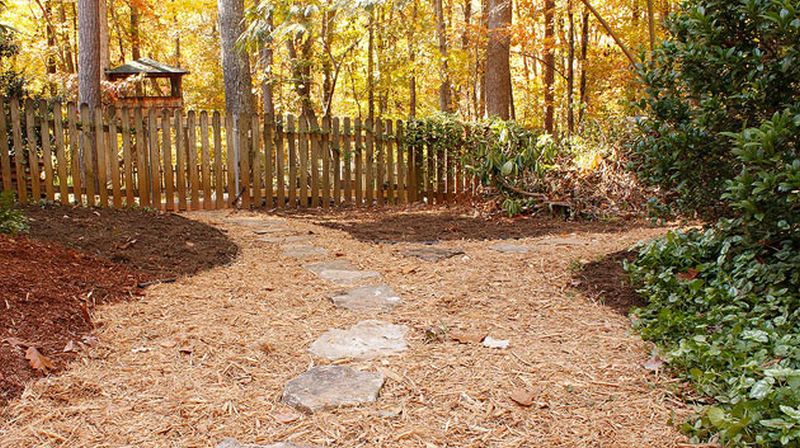 Beautiful garden pathway made using Prima Porcelain's paving slabs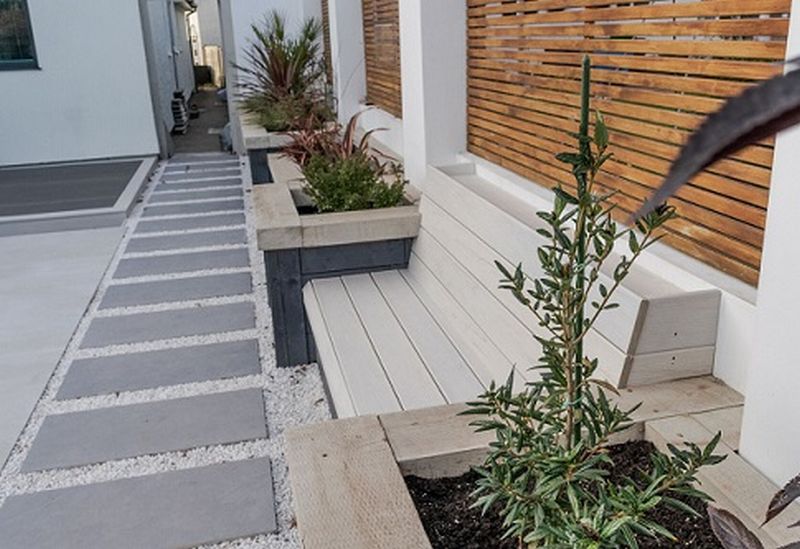 A mesmerizing circular garden pathway by Green Tree Garden Design Ltd.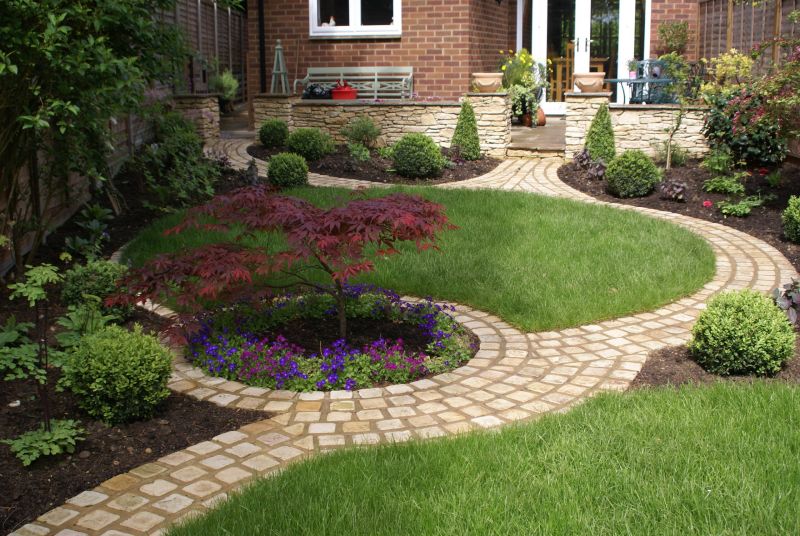 Modern gravel pathway with round stepping stones by Exterior Worlds Landscaping & Design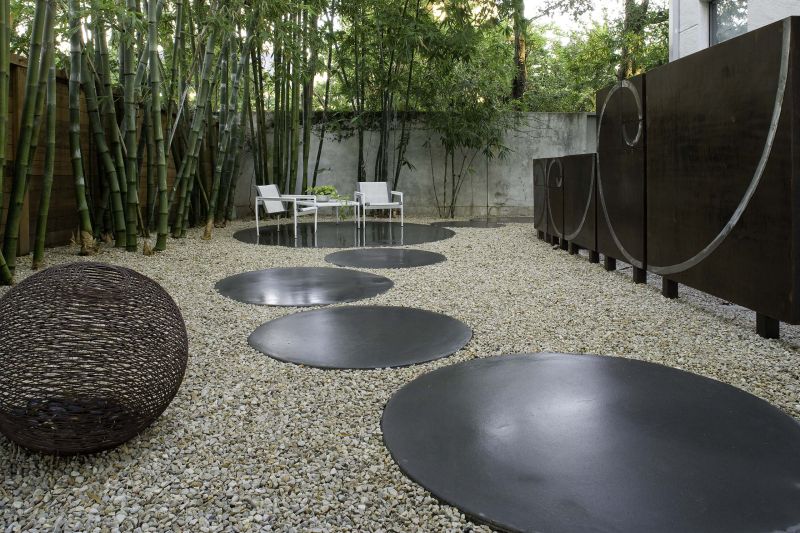 Natural stone walkway by Urban Oasis Complements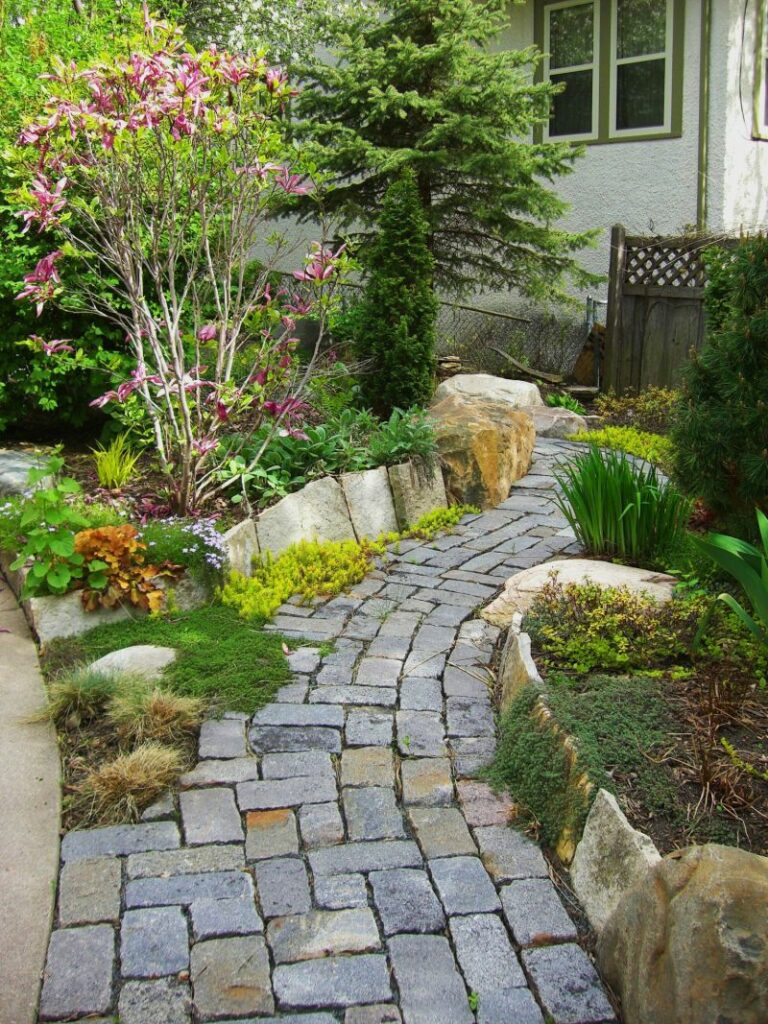 Traditional styled wooden garden walkway by Juxtapose Design Build uplifts home landscape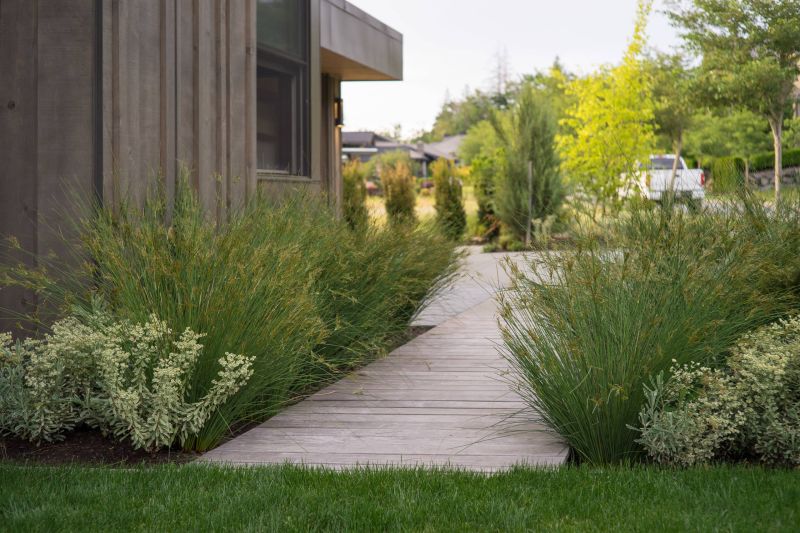 A lovely DIY stone garden pathway by Nursery Live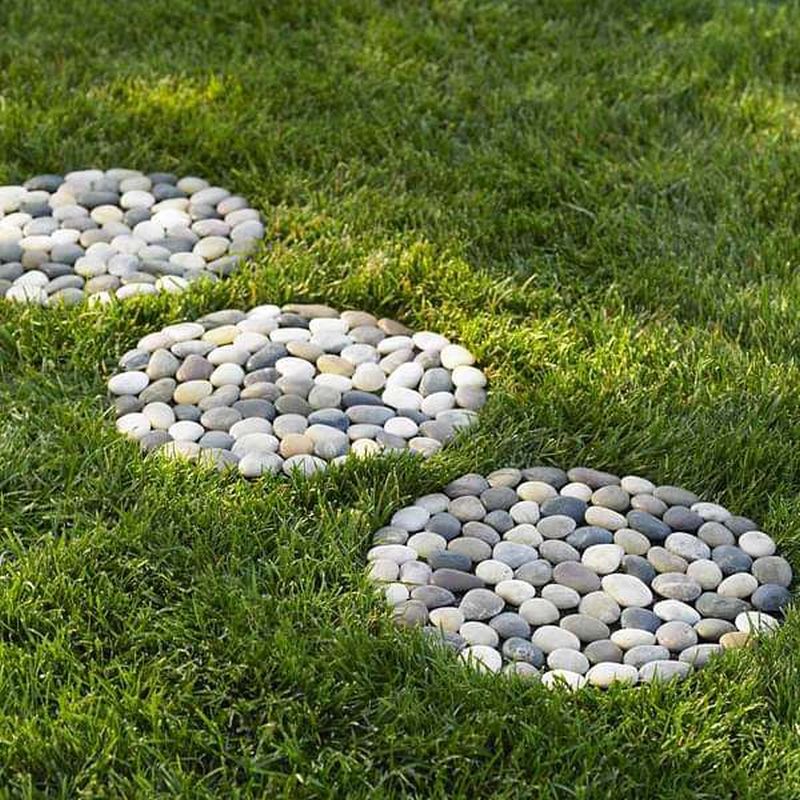 Rustic log pathway for garden decor by Sew Woodsy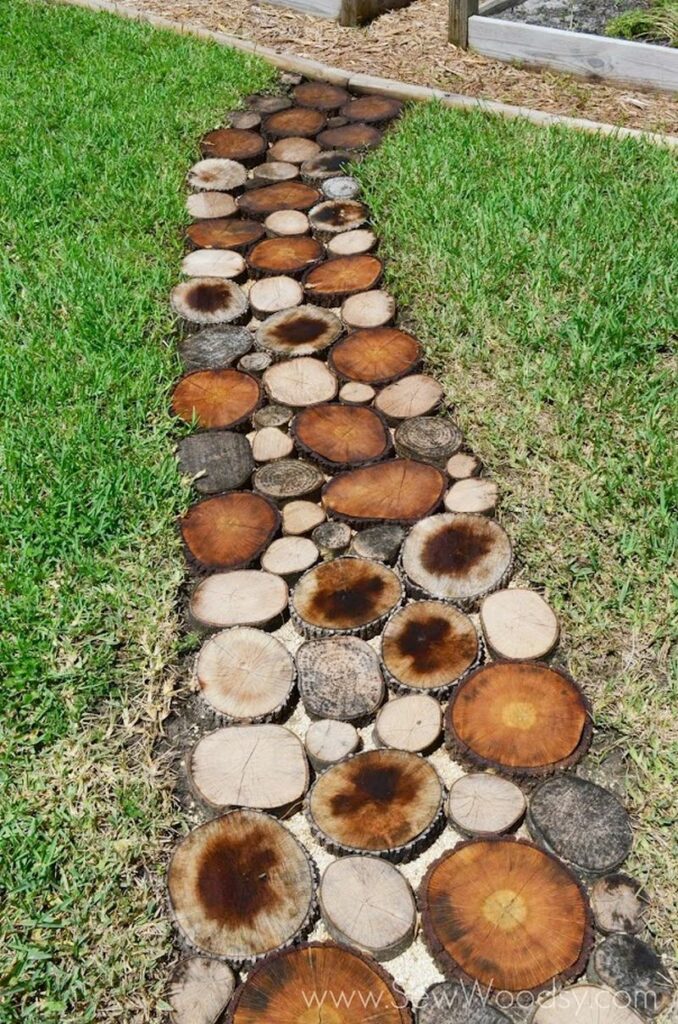 Also Read: Indoor Vertical Garden Ideas, Benefits and Things to Keep in Mind
Easy-to-maintain stepping stones pathway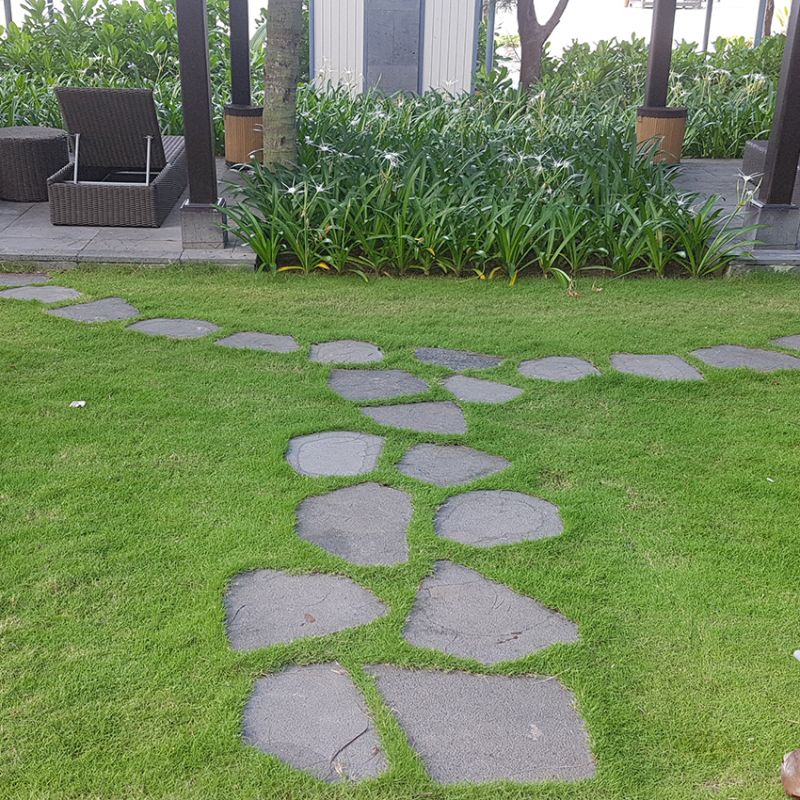 Terracotta concrete pavers to uplift your garden pathway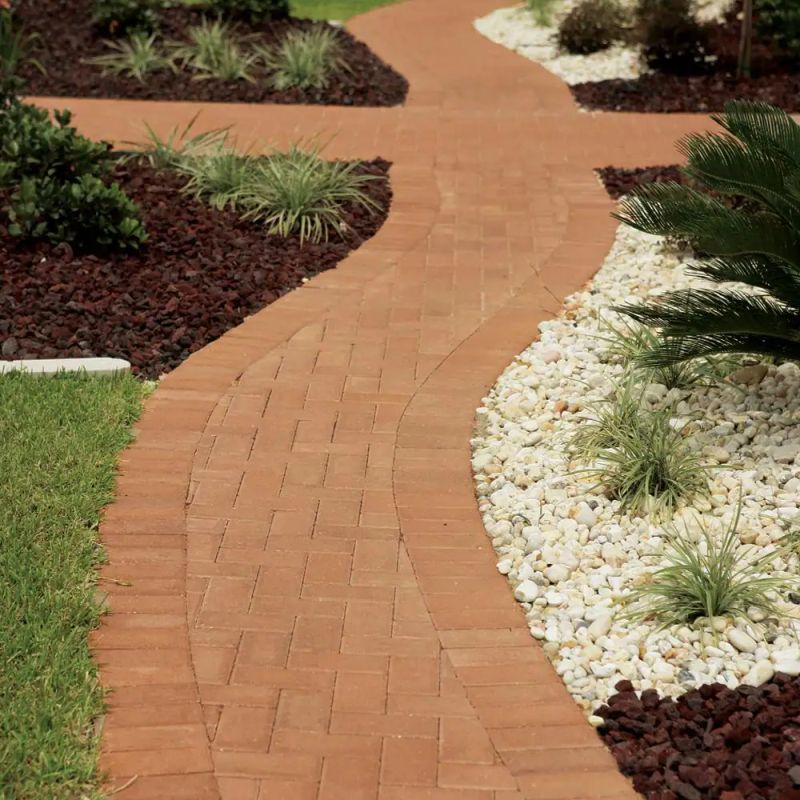 Concrete railway sleepers set in gravel turn out as a beautiful path for garden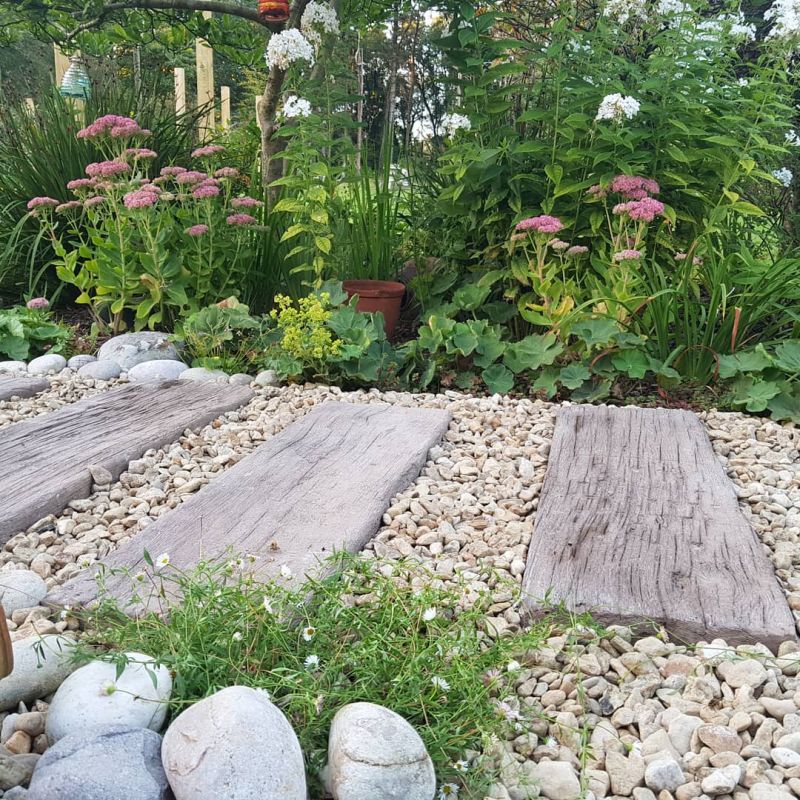 Stylish honeycomb stone garden walkway by The Standard Design Group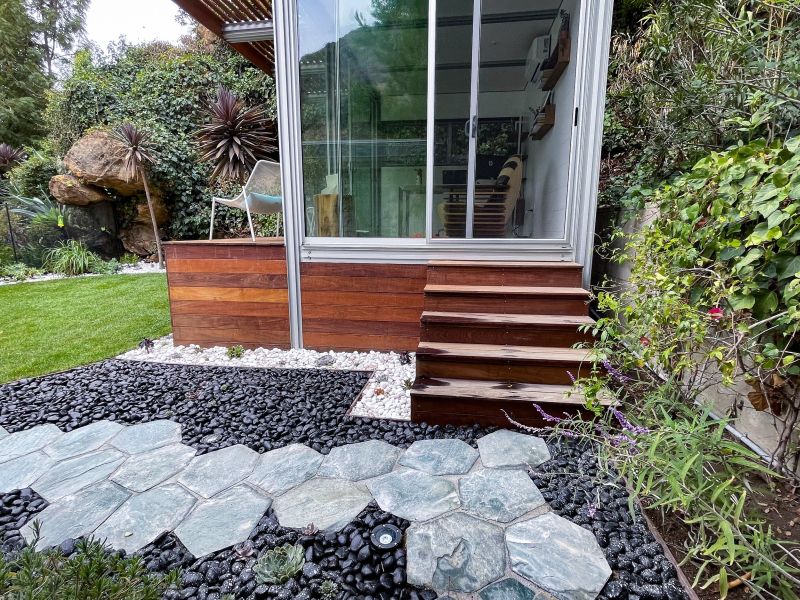 Edging Ideas for Garden Pathways
Edging of garden pathways is very important and you should take extreme care in building the edges. There are many ideas that can be implemented to get beautiful edges integrated with your garden walkway. There can be many materials that can be used for edging such as stone, wood, brick, metal, etc. You can take creative liberty and look for exciting options before designing and choosing the material which you think will be good for edging the pathways in your garden. Here are some exciting ideas you can implement.
Simple garden path edging using stones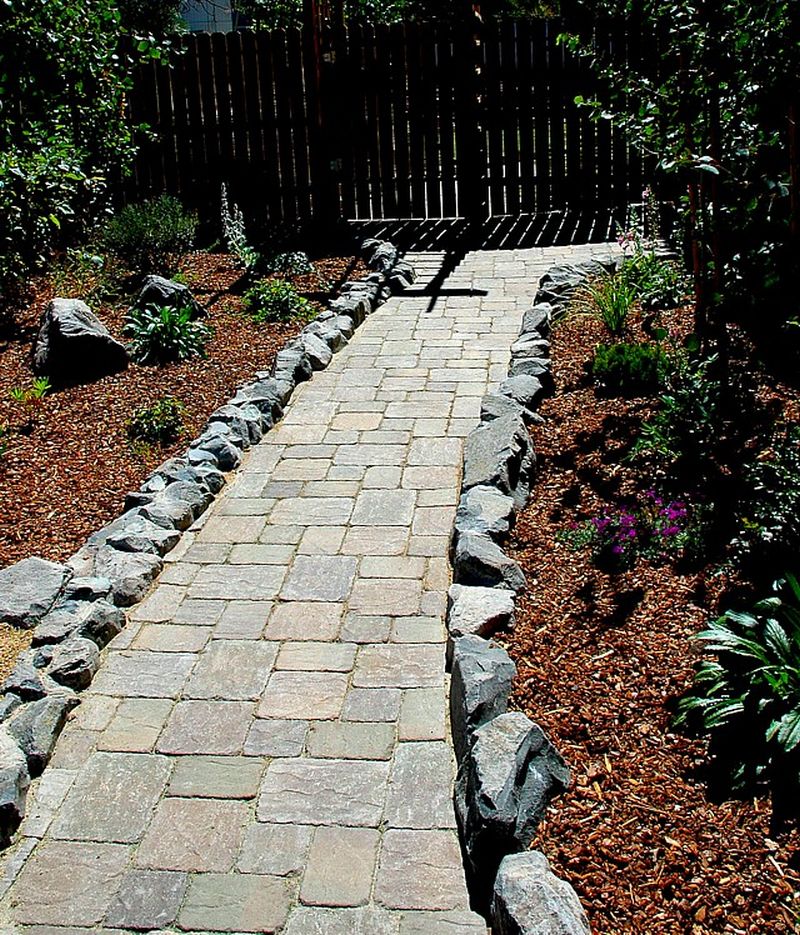 Nature-inspired edging of garden walkway using river stones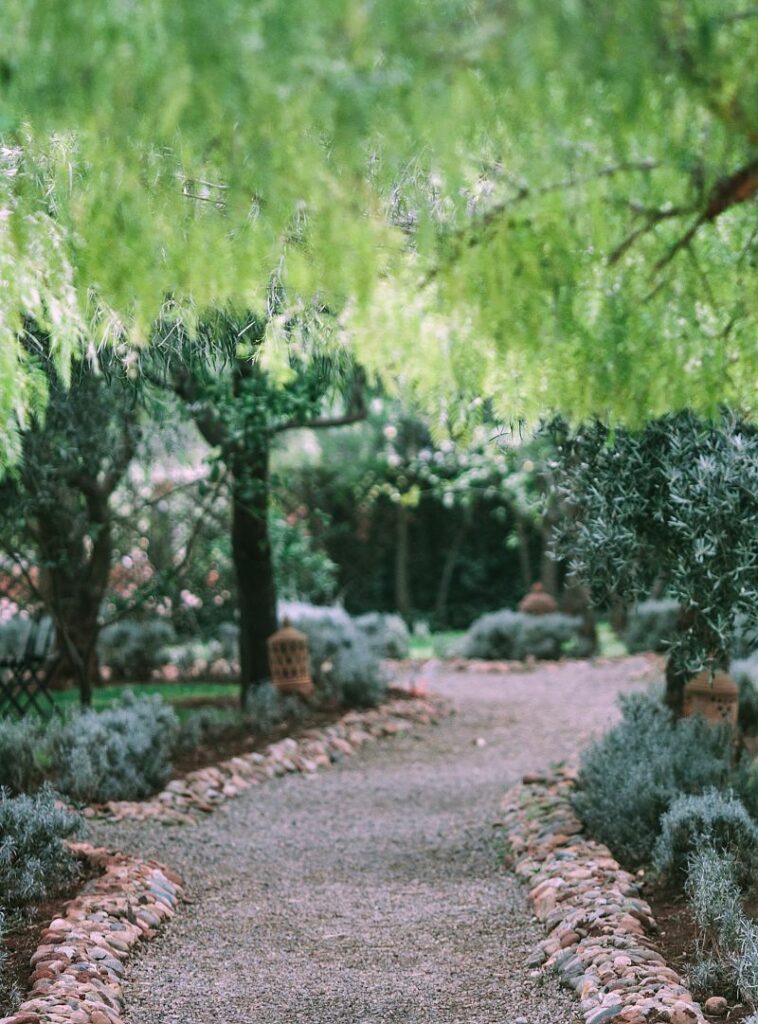 Garden pathway edging with stone bricks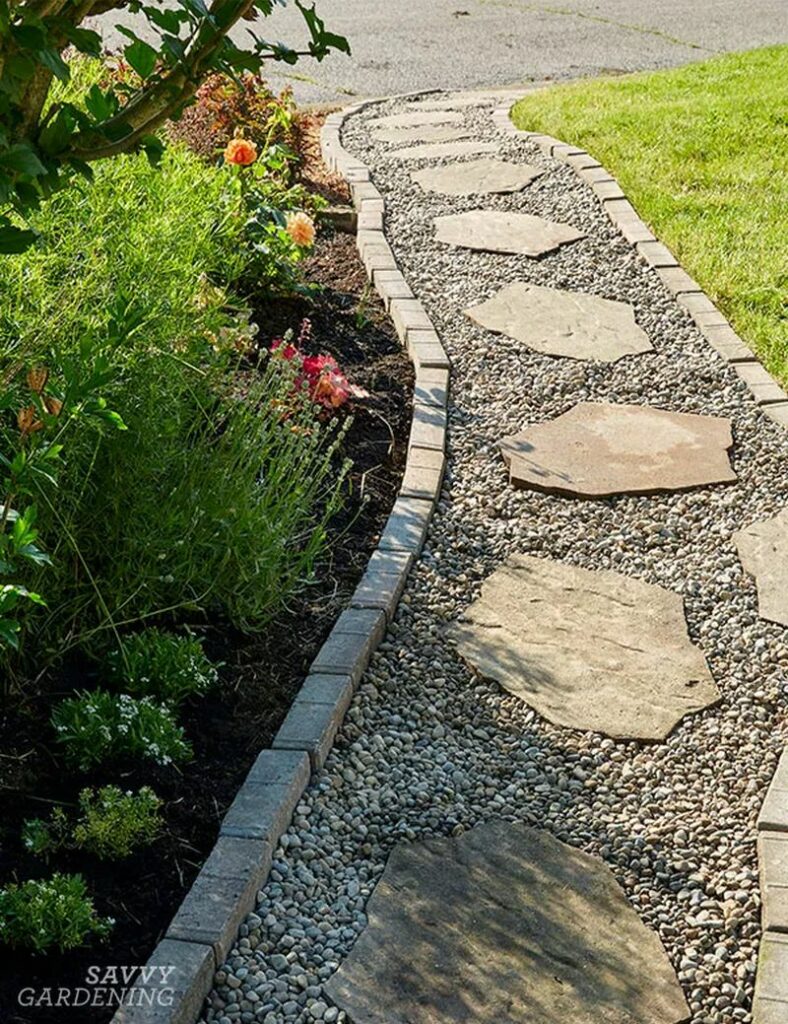 Metal edging gives a unique look to garden pathway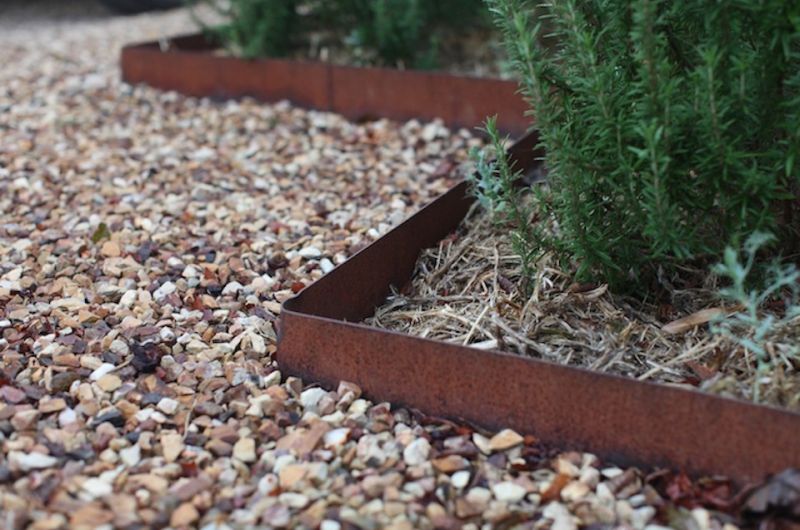 Molded concrete edging for garden walkway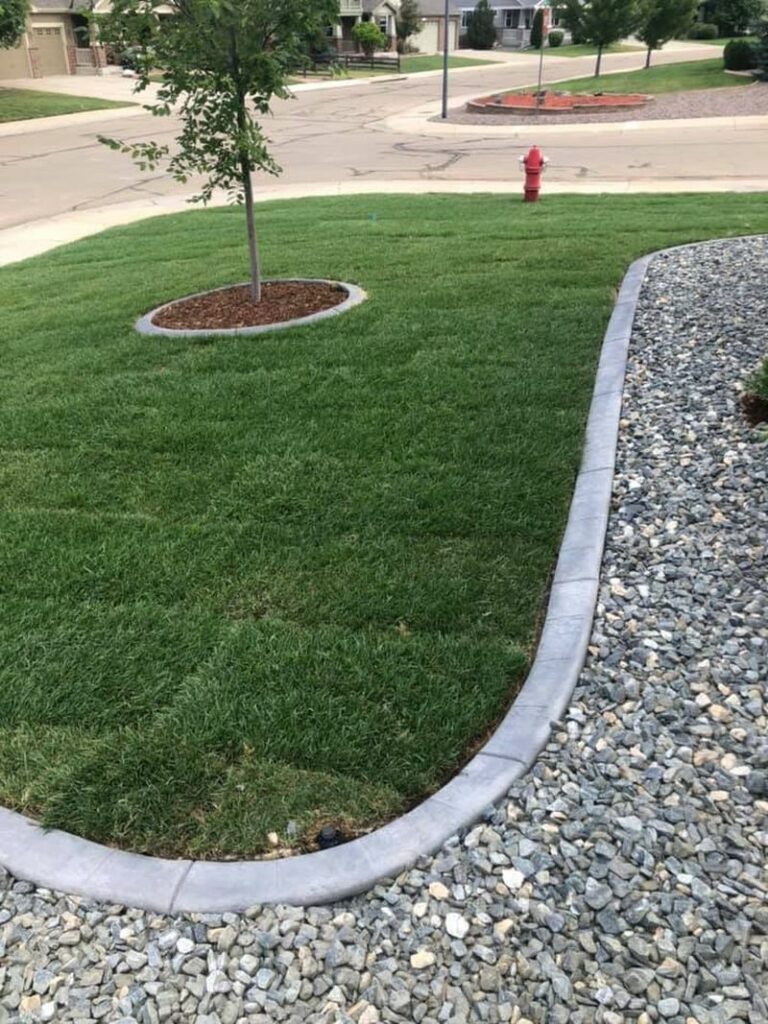 Riverstone edging for an exquisite garden pathway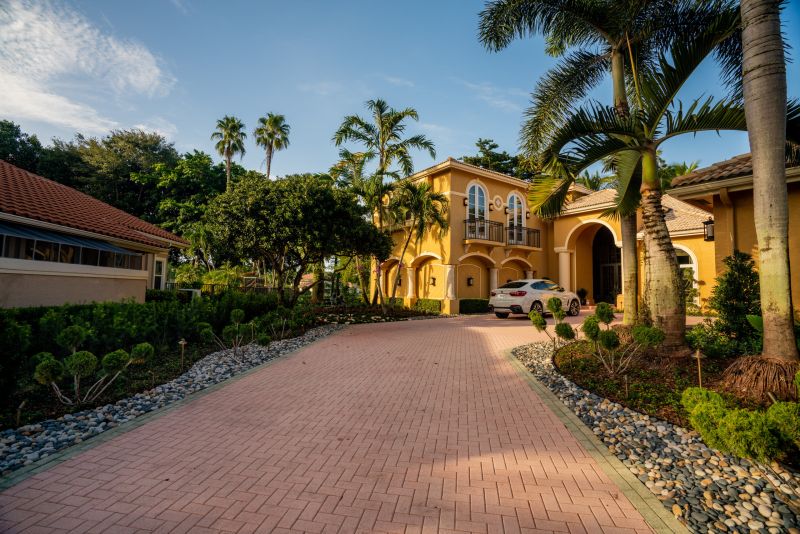 Cut-stone edging provides a natural look to your garden