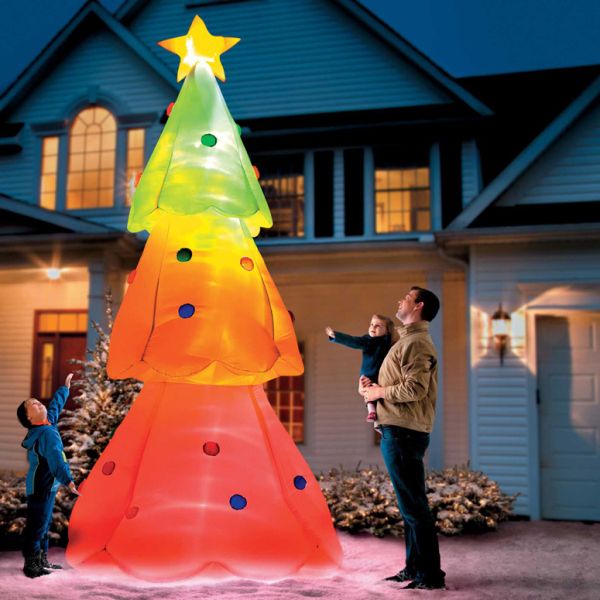 We must admit – while it doesn't really make a perfect substitute to the good ole pine tree, the above pictured Giant Inflatable Christmas Tree does have its fair share of vibrancy. Almost looking like a gargantuan piece of jelly, the allure lies in its range of light colors emanating their soft glows. And, the best part is – these vivacious hues are actually 'controllable' via a discreet handheld remote. In other words, you can change their composition, arrangement and even the tints quite easily by using the battery powered handheld device inside the cozy comfort of your home sweet home.
In terms of its specifications, the Giant Inflatable Christmas Tree is above 10 ft tall, while its color changing lighting effects comprise of 12 different sets. The installation and usability factor is also quite elementary; you will just need to place the contrivance anywhere you prefer, and then fix it securely to the ground with the help of stakes and tethers (that come with the package). Afterwards, you plug in the set-up with a standard outlet, and the tree automatically inflates to emerge as a monstrous Christmas prop of vibrancy.
Now, the seemingly delectable visual scale of the Giant Inflatable Christmas Tree hides its relative toughness. Designed to be used in outdoor conditions, the tree is crafted from weather resistant fabric. Furthermore, when summer arrives, you can safely store away the conception in a special inflatable storage bag (comes with the package) made of heavy-duty woven polyester with a PVC backing.
Price – $240 (for buying details, check this Ebay link).