Decorative, practical, and smack dab in the center of everything, a glass coffee table is likely to be a staple part of the living room. Apart from being the focal point of a room, it's a perfect amalgam of style and functionality.
But with endless options available on the market, it is quite difficult to select the right one for your living room. To help narrow down your search, we have compiled a list of the best glass coffee tables you can buy online. The collection also details in on the essential things you should know about a glass table before making the buying decision.
Things to consider before buying a glass coffee table
What's the purpose?
First and foremost, you need to define the purpose to move forward in the right direction when looking for a glass-topped coffee table. Decide whether you need a decorative center table, an ottoman-style coffee table, or a multi-functional but decorative coffee table. In case you will use it as a makeshift dining table, you can look for something that you can slide your feet under while sitting comfortably.
Do you socialize a lot? Then you require a larger glass coffee table that can hold up snacks and drinks for a group of people. The point is to spend some time thinking about the requirements and purpose you are going to use your coffee table for. Thereafter, making the right choice will be so much easier.
Functionality
If you want your coffee table to draw all the attention in the room, choose a glass table. You can also look for some other interesting features to make the most out of it. Here are some functional features to look for in a glass coffee table:
Extra storage on your mind? You may consider the Ottoman-style glass coffee table or the one with shelves underneath.
If you need to move the table quite often from one room to another, look for a table with wheels and casters for easy movement.
With innovation in design, you can certainly find something well-suited to your and your family's requirements. You get amazing customization options these days. If you can't find a ready-made glass coffee table for your needs, consider getting it customized as per your specific requirements.
Also Read: Best Coffee Tables You can Buy for Under $1000
Measure up
Once you have decided on the exact purpose and function of your glass coffee table, you need to look for the right size that fits well into your living space. You need to check the size and proportions of your sofa too when choosing the table. If you have a single corner sofa, a rectangular or square coffee table would work better.
But if you have many chairs facing toward the center of a room, go for a circular or square coffee table. You also have to ponder over the size of your living room. If it's a larger room, you would require a large coffee table to balance things out. If you have a smaller room, you need to consider a multifunctional yet stylish glass coffee table for making the room appear bigger.
Beautiful and unique designs to choose from
When choosing a glass coffee table, it's fine to consider the shape of the top thoughtfully. Mostly, you can find oval and square glass top tables but there are some other unique styles like curved, mermaid, and teardrop too. Some tables even integrate storage space or two-tiered design.
Material at a good price
Spending more money on a table, won't bring you the best material quality, the global coffee table market research report suggests. It is a subjective thing, which depends on different factors. You can look for the reputed market players offering great material quality at budget-friendly prices.
With online furniture sellers, you cannot inspect the right material quality on your own. But in that case, you can rely on customer reviews and ratings to get the best material possible. In the case of local furniture stores – you can visit personally, inspect the materials in detail, and choose the best one for your living room.
You can opt for a glass coffee table with different material stands or support, such as wood, ceramic, or metal. But the quality of material goes beyond its design or appearance. So, you have to be wise here.
Sturdy and durable construction
You don't want to invest in a coffee table with weak or dwindling construction. It must have sturdy and firm structural support. Some accomplished brands, like IKEA, offer de-assembled coffee table designs that can be topped with a glass tabletop. You can either go with such trusted brands for firmer DIY glass coffee tables or stick to the ones that are already assembled with no play in them. The play can move the screws and joints around, leading to damage after a few months of use. Therefore, sturdy construction must be on your mind, when choosing a glass coffee table on a budget.
Overall, the durability of the furniture piece depends on the thickness and the type of glass used in its making. When you have an all-glass table, you would need something that can handle all kinds of usage. The glass should be shatter-proof and able to bear the weight and impact of anything placed on it.
Also Read: Most Unique River Tables to Buy Right Now
Restore your old glass coffee tables
Who says you need to buy a new table every time your old one is damaged or goes out of fashion? You can get it restored or DIY the old one on a budget. You can make simple design tweaks or a good paint job can infuse new life into your old and dull coffee table. Replace the old top with glass to make it more appealing.
Color and finish
The right color plays a very important role in how your living room feels. You can choose glass tops in different color options or a classic transparent one, depending on whether you want your living room to have a warm and cozy appeal or contemporary touch.
But you must remember that the dark colors help in adding more depth and composition to large interior spaces. On the other hand, light colors or clear glass options are perfect to make a small room appear larger.
Another great tip when selecting the color for your glass coffee table is to consider the hues and tones that are already in your living room. Interior designers often mix and match the colors of coffee tables with small items already present in a room, such as colored vases and cushions or even the furnishings.
Considering these valuable points you can find the right glass coffee table for your living room while taking the interior and functionality to a whole new level.
Best Glass Coffee Tables to Shop Online
1. Round Glass Table by Walker Edison Furniture Company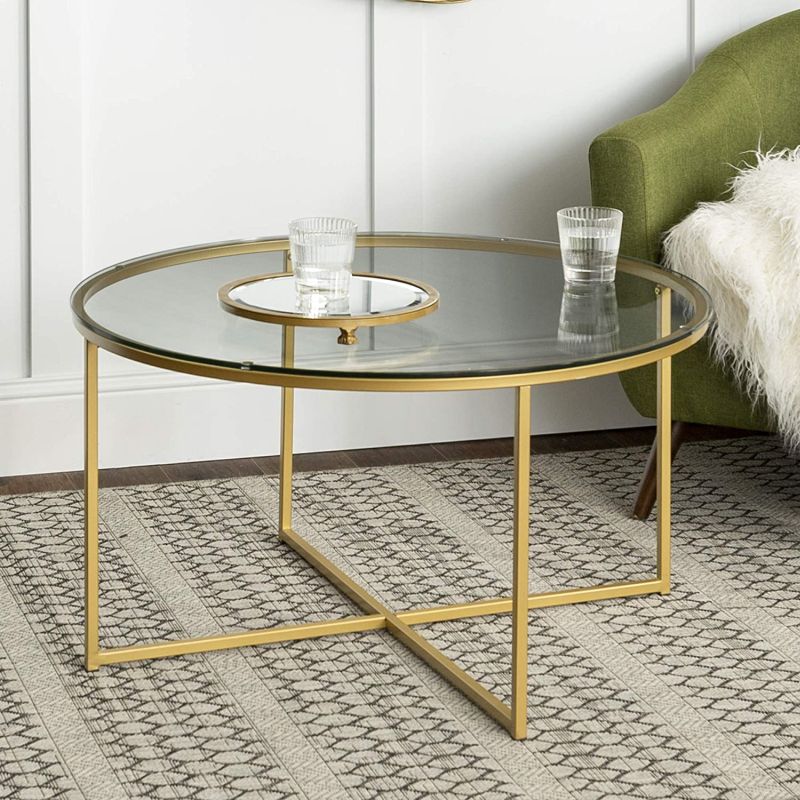 Style meets functionality in this 36-inch circular coffee table. It consists of a powder-coated metal frame and a tempered safety glass top, making it durably constructed furniture. This table is likely to please anyone with its elegance while also complementing any interior style.
Buy: $137
2.
Henn&Hart's Amalie Modern Chic Coffee Table
This coffee table sports a geometric metal base that creates two tops at different heights, making it look like a nesting table. There are three finishes to choose from for a personalized look. It will not only store your TV remote, tea coasters, etc. at arm's reach but also serve as a beautiful centerpiece in the living room.
Buy: $127
3. Aizzaddin Sled Coffee Table by Brayden Studio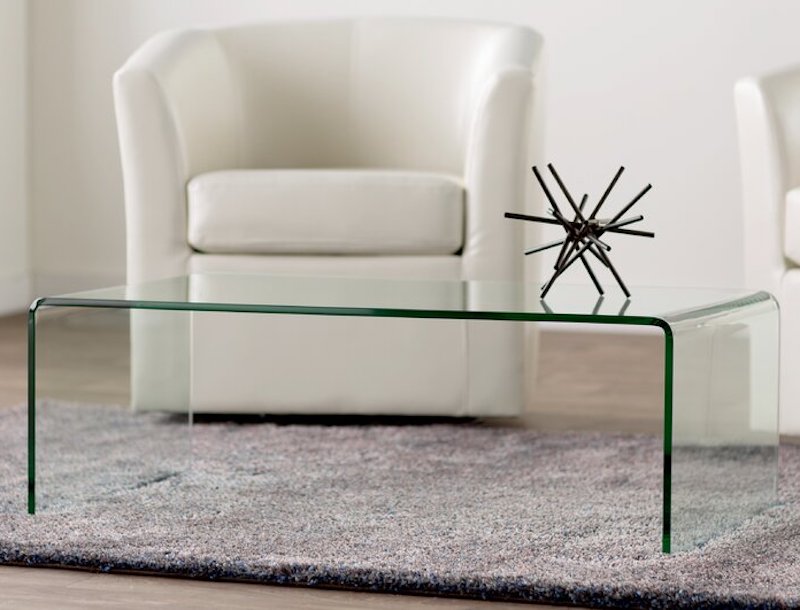 Made from a 12mm clear tempered glass sheet, this all-glass coffee table features contoured waterfall edges that give it a contemporary look. The sleek table also comes with removable plastic feet to prevent any scratches. If you're looking for a curved glass table, it can be a great choice for your interiors.
Buy: $294
4. CosmoLiving Juliette Top Table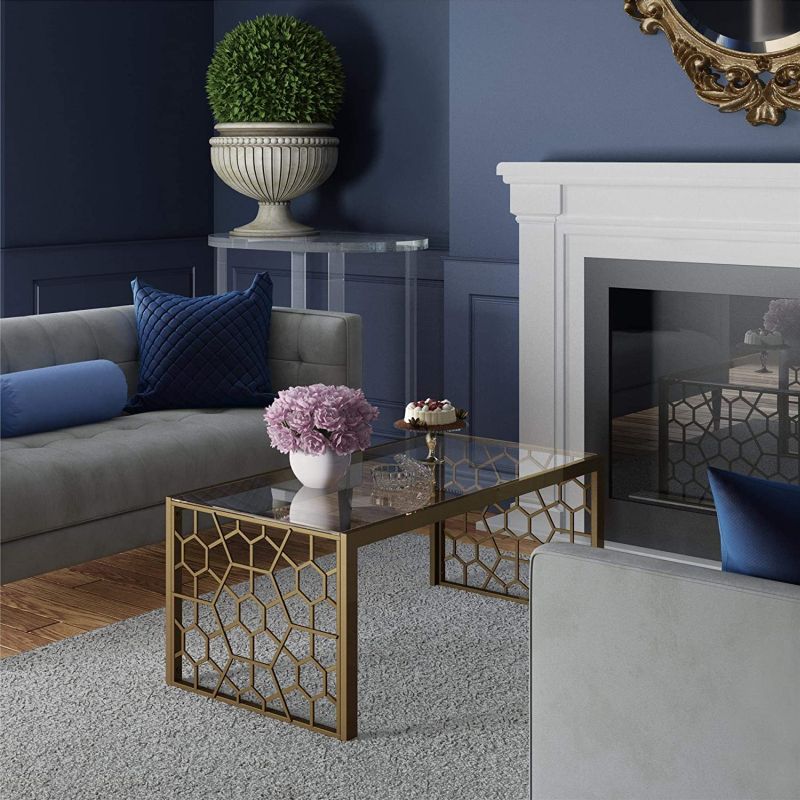 This rectangular clear-tempered glass top coffee table features artistic geometric cut-out detail on its base. The metal base with a gold finish adds charming character to home décor. The top completes the whole look, adding a splash of glam to the design.
Buy: $211
5. Vintage style coffee table by Willy Ballez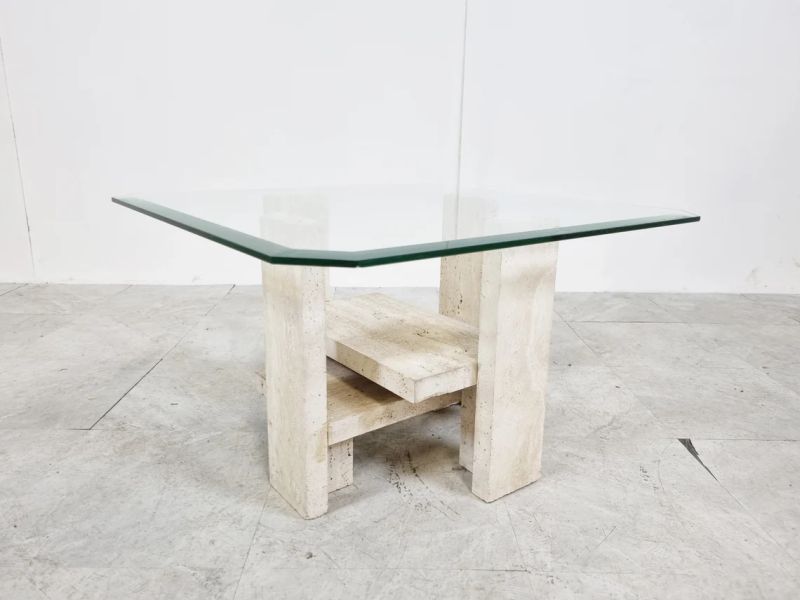 Highlighting the 1970s vintage style, this industrial-style coffee table is made from a light-colored travertine base and a beveled glass top. Designed by Willy Ballez, the table looks pretty unique due to its thick travertine stone base, adding to its naturalistic appearance.
Buy: $796
6. Noguchi Style Glass Table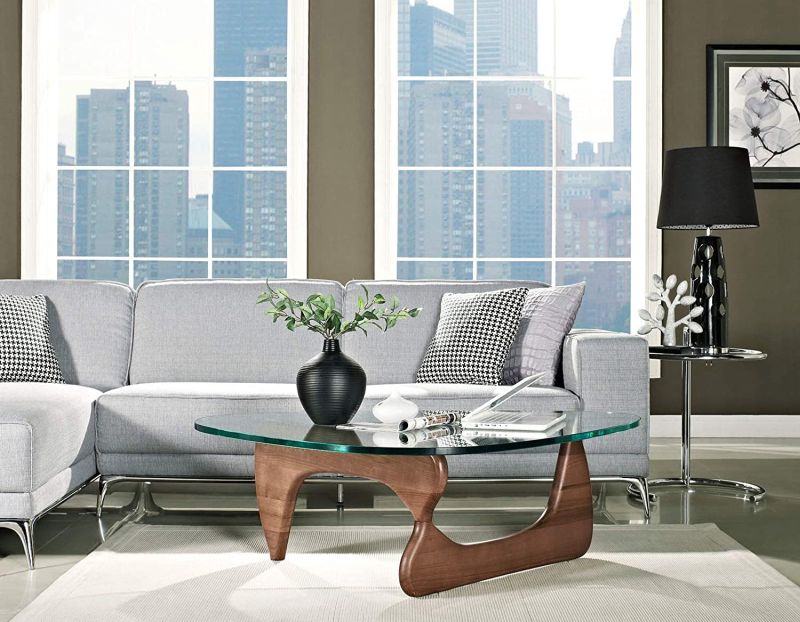 Bring that vintage essence into your home with this chic coffee table in walnut wood and glass. It's definitely a stylish piece of furniture for modern interior spaces. The main highlight here is the sculptured wooden base that makes it a masterpiece worth bragging about.
Buy: $545
7. Braxton Coffee Table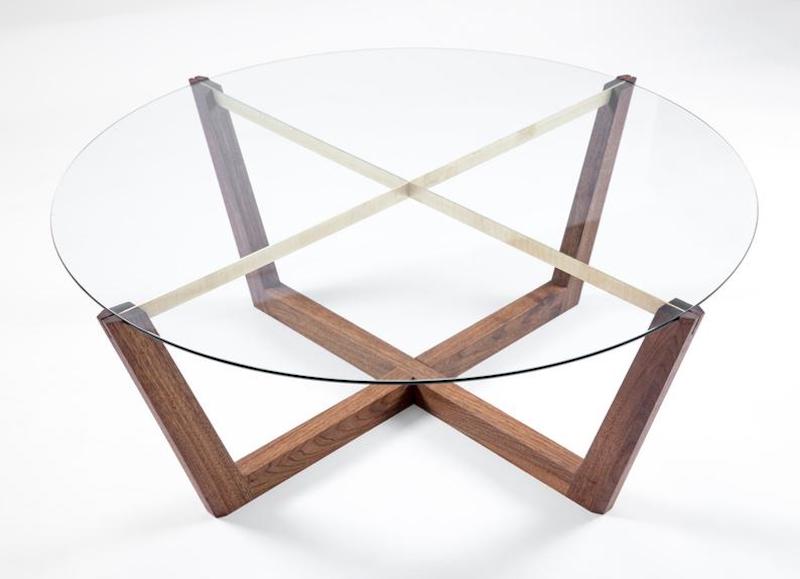 The Braxton Coffee Table is designed to form a perfect harmony between warm wood tones and polished glass elegance. The floating glass top provides the full functionality of a standard table without adding extra visual weight. Unlike other glass tables, the Braxton's glass surface fits snugly into the wooden base grooves, ensuring the glass can't easily be knocked off the base.
Buy: $1,750
8. INLIFE Coffee Table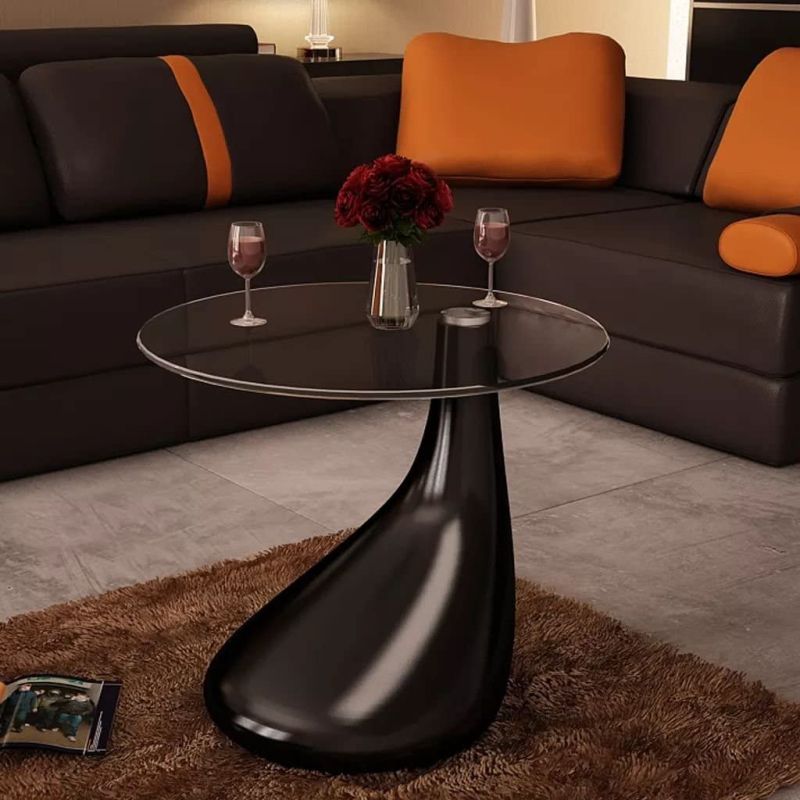 Available in white and black, this coffee table showcases a gorgeous round glass top along with a teardrop-shaped stand that'll enhance your home decor. It will look awesome next to the sofa in your living room, or can even be used as an end table for your bedroom.
Buy: $244
9. Glass Coffee Table with Storage Shelf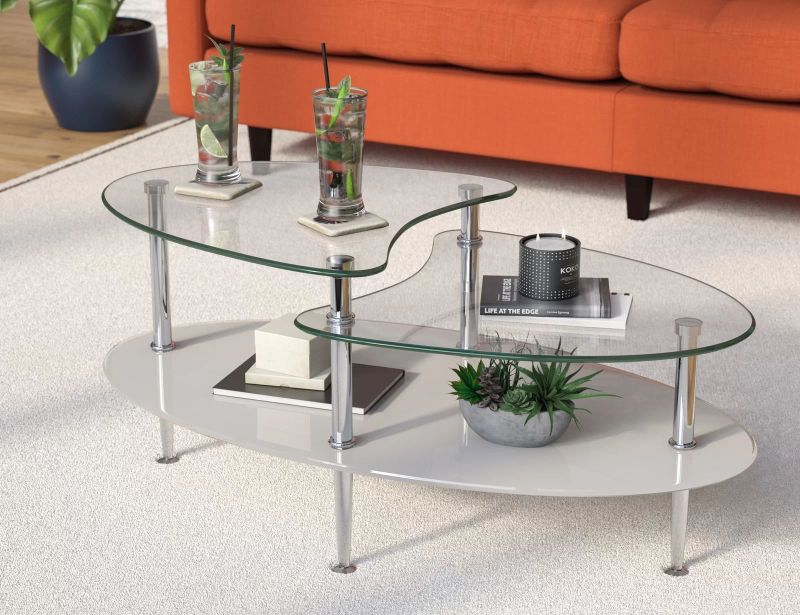 Standing on four chromed legs, this two-tier glass table sporting an oval shape will be an elegant addition to any modern home. It also has a large frosted glass shelf under the glass tops to store magazines, snacks, remote control, laptop, etc.
Buy: $202
10. Modern Glass Coffee Table with Lights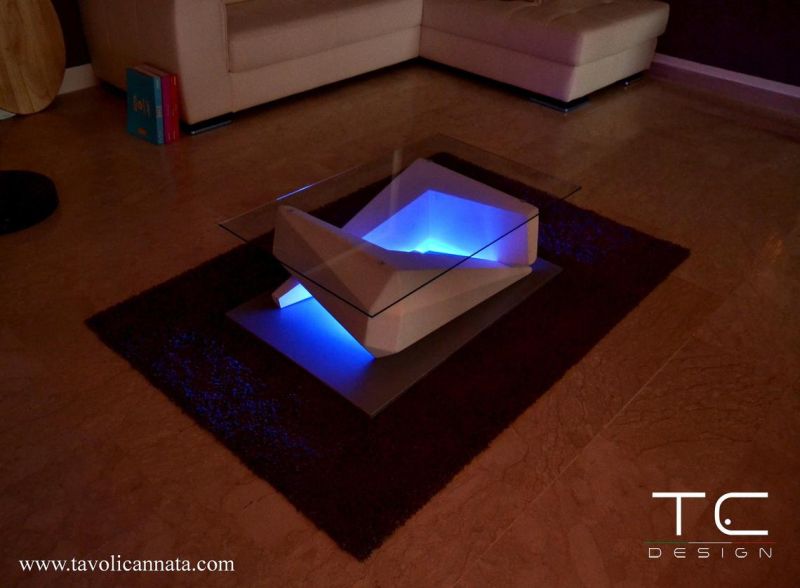 This handcrafted coffee table is distinguished by its uniquely shaped plywood base that is available in two colors. The table top is made up of an 8 mm thick tempered glass sheet. It comes with an LED RGB strip in different colors and a wireless controller.
Buy: $2,326