While decorating your living room, you need to lay down a thorough plan beforehand. From seating furniture and coffee tables to curtains and rugs, you need to plan and choose everything carefully and according to the theme of your interiors.
It is essential to pay heed to every furniture item, especially coffee tables, as they are among the most commonly used but often underestimated pieces in a homeowner's collection. These tables occupy a prominent and visible place in a living room, which is why it's crucial to choose one that complements the living room decor. Additionally, they serve as a functional centerpiece, making them even more crucial to your living room's overall aesthetic.
The right choice has the ability to transform the overall appeal of your living room. Truth be told – variety in design, size, and materials make it difficult to make the right decision. To simplify this, here is a list of the best coffee tables (in no particular order) that are durable, aesthetically pleasing and well in line with the popular interior design trends.
Acrylic Coffee Table
Made of 3/4″ clear thick clear acrylic, this coffee table creates the illusion of open space with transparent silhouette and clean lines. The curved edges add a unique statement, making it completely different from other tables available in the market. Furthermore, its transparent design ensures a dynamic presence without creating a permanent visual residency.
Designer/Manufacturer: SouthEastFlorida
Dimensions: 44L x 16W x 16H inch
Weight: 35 lbs
Price: $389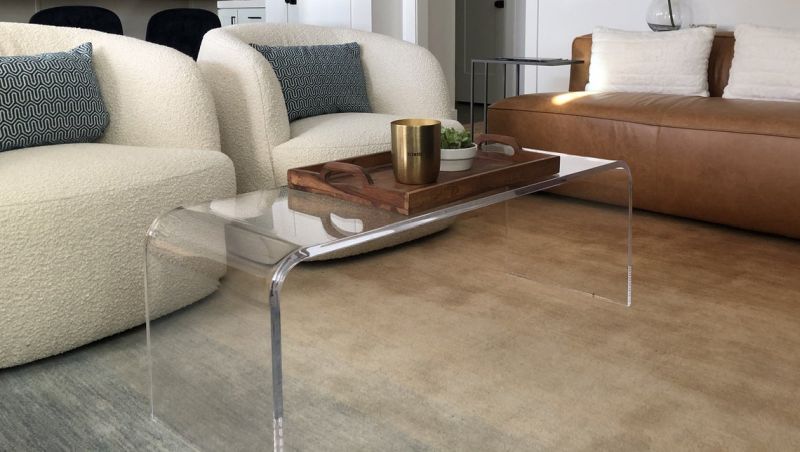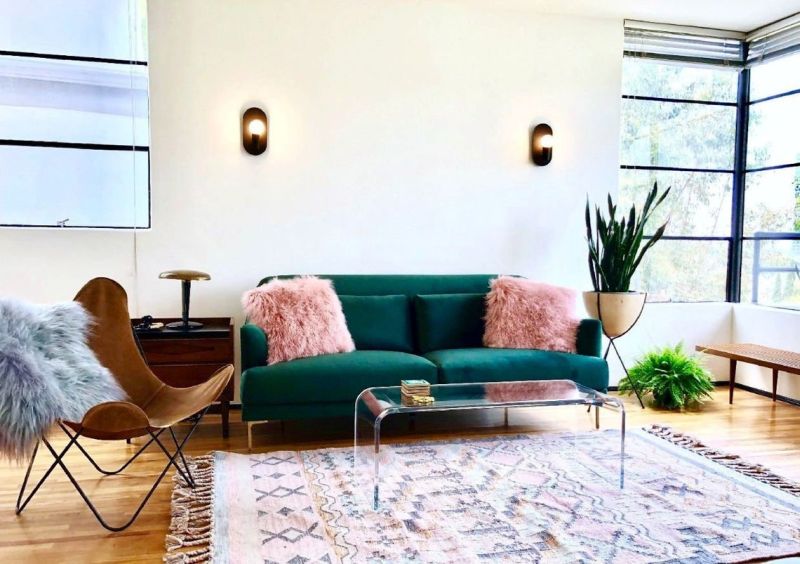 Scandinavian Coffee Table
Simple and modern, this Scandinavian-style coffee table will pair well with both modern and traditional interior styles. With a handcrafted wooden top and legs, the coffee table becomes an attention-grabbing centerpiece for any living room. These tables can be crafted out of walnut, cherry or maple. They are finished with an oil + wax finish.
Designer/Manufacturer: Crafted Glory Design
Dimensions: 40L x 25W x 16H inch
Weight: N/A
Price: $2,100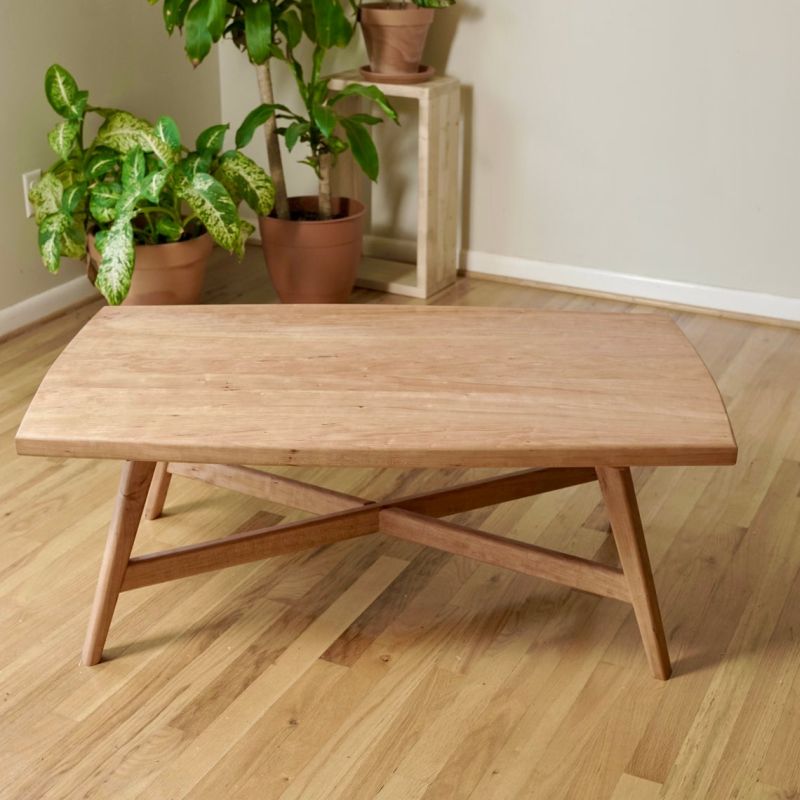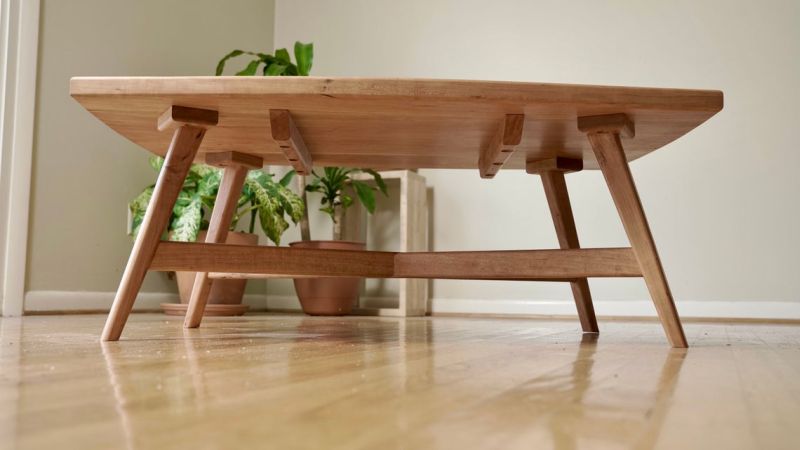 Classic Walnut Coffee Table
This beautiful table is made from reclaimed walnut hardwood that boasts natural grain patterns and color. has tapered legs for a classic mid-century, rustic-modern style. The tabletop is slightly thinner for a streamlined look and airy design. Blending organic and linear forms, it creates a nice relationship between art and furniture.
Designer/Manufacturer: Port Rhombus
Dimensions: 36W x 18D x 16H inch
Weight: N/A
Price: $265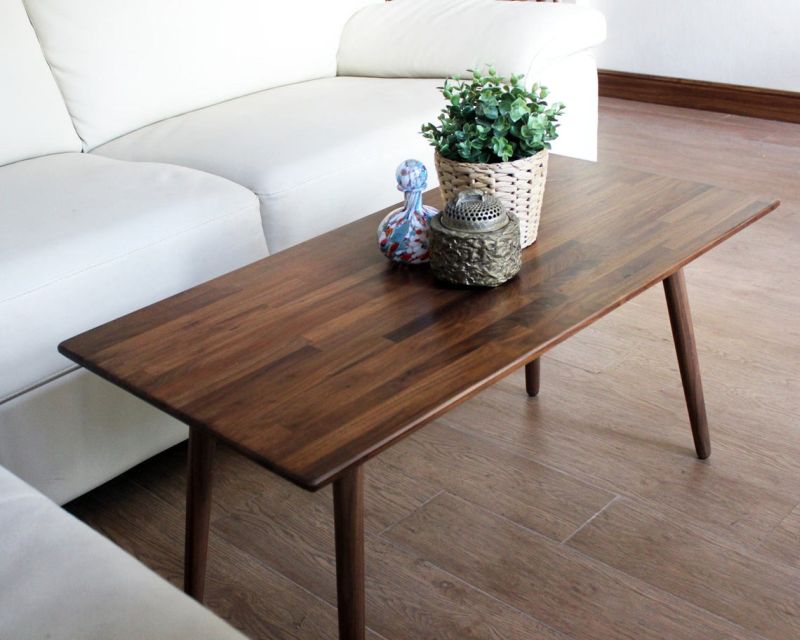 Mid-Century Modern Coffee Table
This Mid-Century Modern coffee table finished with white trim creates a pretty palette that will make it a centerpiece at home. Its angled legs complete the look. The simple appearance and inviting silhouette are some of its creative design elements. If you have a deep obsession with mid-century modern design, this is a fantastic choice.
Designer/Manufacturer: VybeFurniture
Dimensions: 40W x 15D x 18H inch
Weight: N/A
Price: $291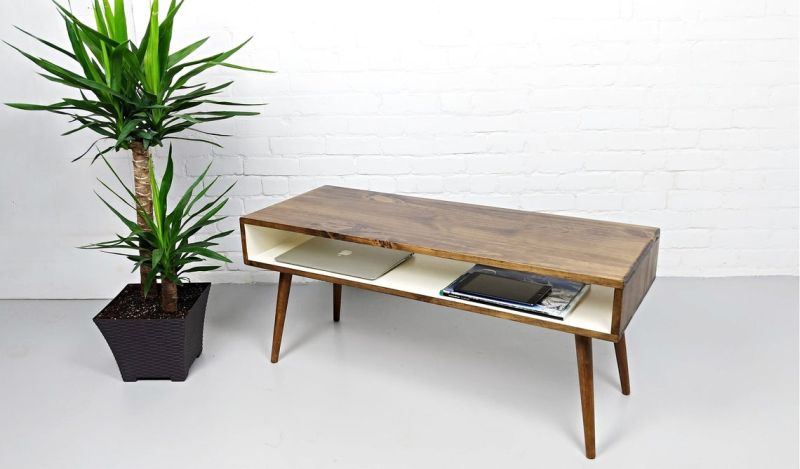 Steel and Pine Wood Coffee Table
This chic rustic coffee table has a pinewood top and black steel pipe legs. This combination offers a rustic industrial vibe that makes it a true statement piece for the living area. It also has a lower shelf for storage, baskets, books, or any other items.
Designer/Manufacturer: SteelandPine
Dimensions: 36L x 22.5W x 18H inch
Weight: N/A
Price: $215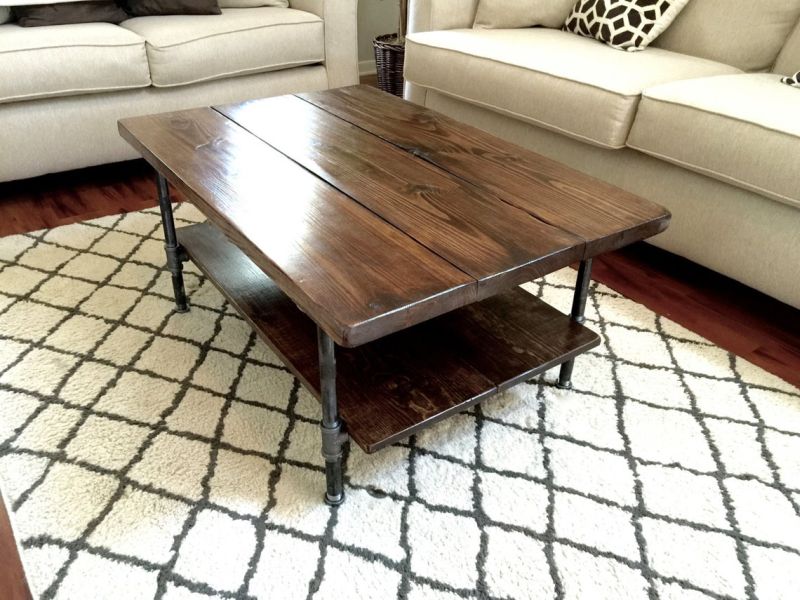 Metal Coffee Table
Made by award-winning furniture and product designers from London, this contemporary coffee table creates a flow of conversation and brings good vibes. It is practical as well as minimalist and caters to your needs. It is ideal for those wanting to add metal accents to the living room.
Designer/Manufacturer: BentDesignFurniture
Dimensions: 23D x 35W x 12H inch
Weight: N/A
Price: $945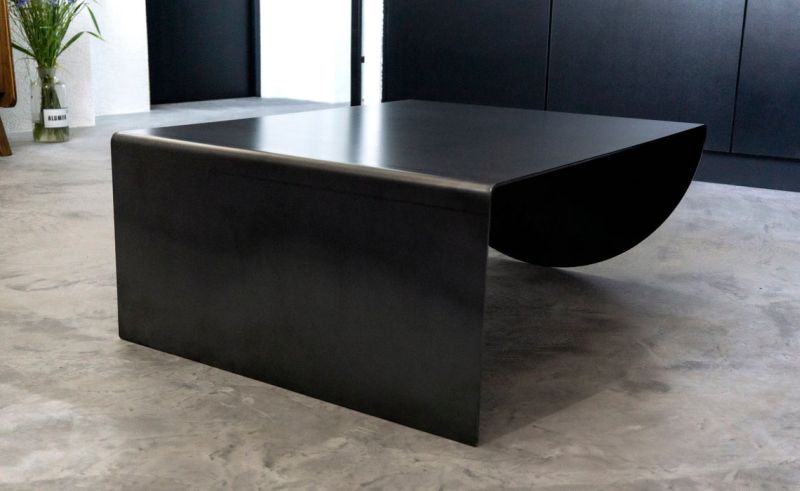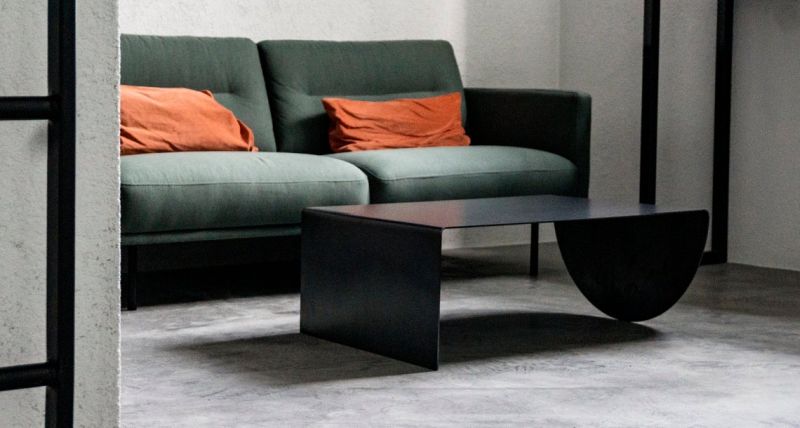 Leather Upholstered Ottoman Coffee Table
It is a multifunctional furniture piece that serves as an ottoman, footstool or stylish coffee table. The nailhead trim and tufting give great detail to the table. Its neutral color pallet would suit any interior space and is safe for a home with kids – owing to its rounded design.
Designer/Manufacturer: Design59Furniture
Dimensions: 30 inches round by 17.5 inches tall
Weight: N/A
Price: $290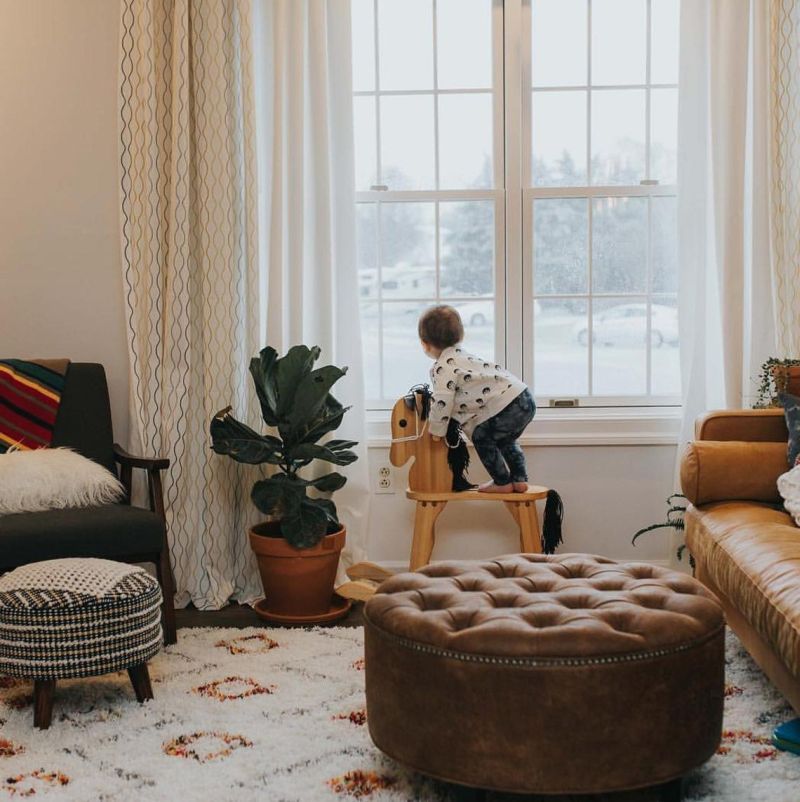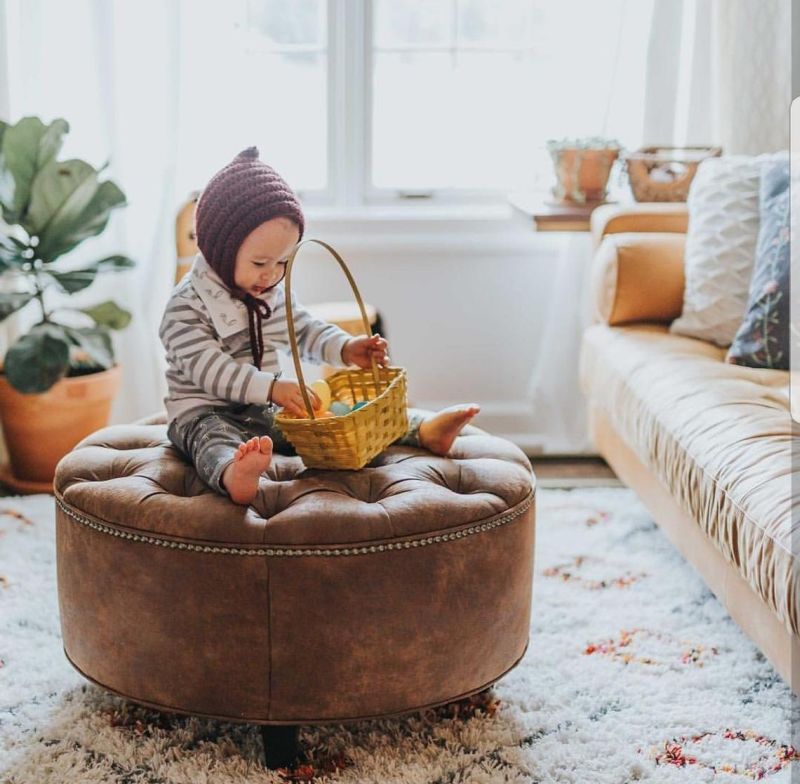 Reclaimed Pallet Wood Table
This unique handmade coffee table standing on cool hairpin legs with a chevron pattern can make any setting pop. Every piece of wood in the tabletop is colored differently to create a quirky charm. It will bring salvage style to any living room.
Designer/Manufacturer: OceanBeachPalletCo
Dimensions: 35L x 19W x 18H inch
Weight: N/A
Price: $325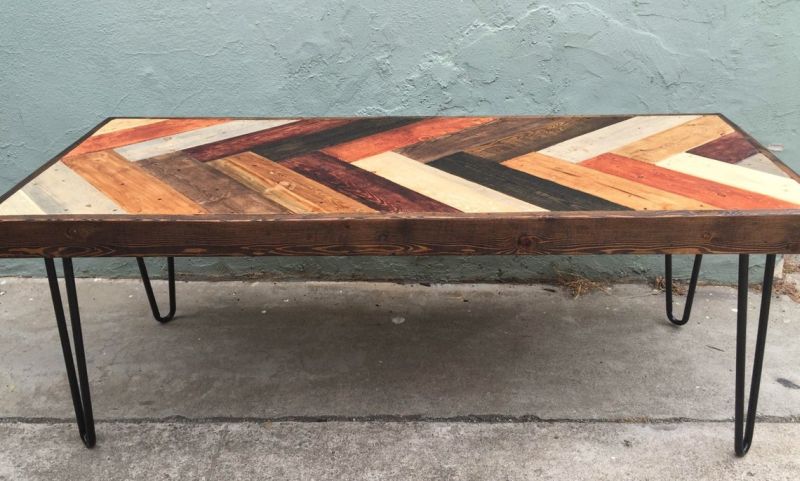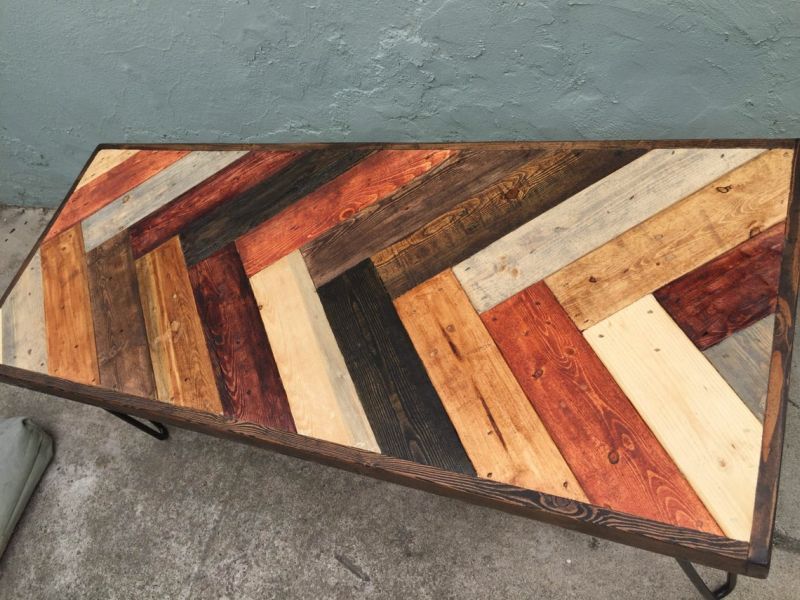 Live Edge Coffee Table
Live edge tables may appear heftier than you expect and if you are looking for a live edge coffee table that does not look big in size, this classic coffee table with a 2″ walnut, live-edge slab top and hairpin steel legs is a great choice for you. It is finished with bio-oils and hand-rubbed beeswax. The wood grain and finish are amazing!
Designer/Manufacturer: OURHOOD
Dimensions: 47L x 12W x 19.7H inch
Weight: N/A
Price: $249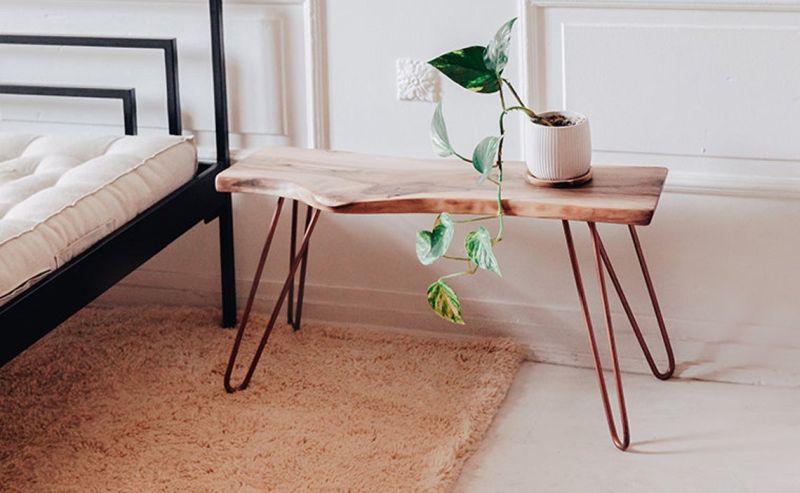 Farmhouse-Style Coffee Table
Made from reclaimed barn wood, this farmhouse coffee table will be a rustic yet sophisticated addition to any living room. The clean lines, muted colors, wood highlights of this bench are reminiscent of Scandinavian design. It would address both the space and the style concerns.
Designer/Manufacturer: GrindstoneDesign
Dimensions: 44L x 16W x 19H inch
Weight: N/A
Price: $496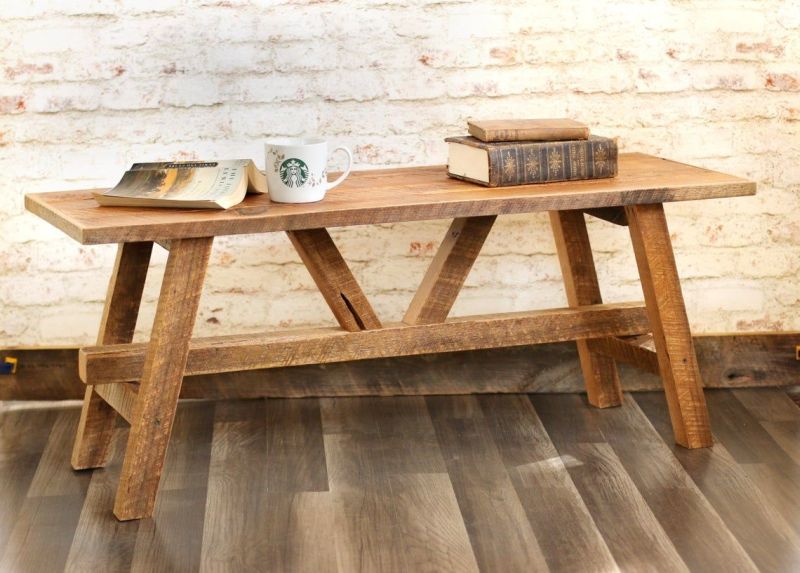 Modern Coffee Table
This stunning modern coffee table with a natural wood top and white legs adds a perfect color mix to the living room. Being made from solid maple wood construction, the table is built to last. It's functional and a piece of art at the same time.
Designer/Manufacturer: TheAppelShop
Dimensions: 35L x 17H inch
Weight: N/A
Price: $360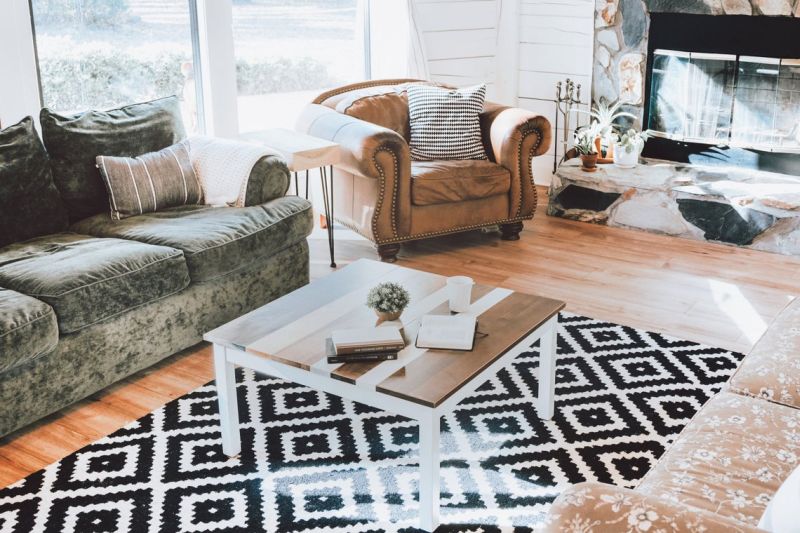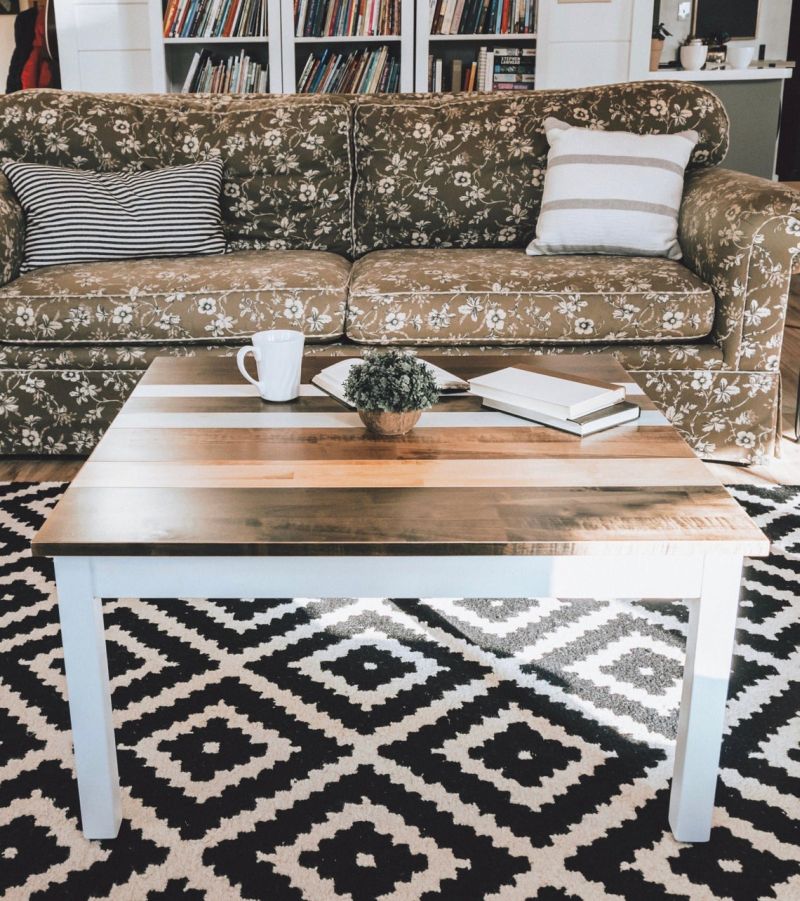 Wooden Coffee Table with LED Lights
Designed by designer Salvatore Cannata, the EVO coffee table is distinguished by a double overlapped top – one made of solid paulownia wood and the other in plywood. There is a wireless controller and LED RGB strip in different colors to elevate the atmosphere. Elegant style with pleasing illumination, this table is as gorgeous as it is functional.
Designer/Manufacturer: TavoliCannata
Dimensions: 39D x 23W x 14H inch
Weight: N/A
Price: $434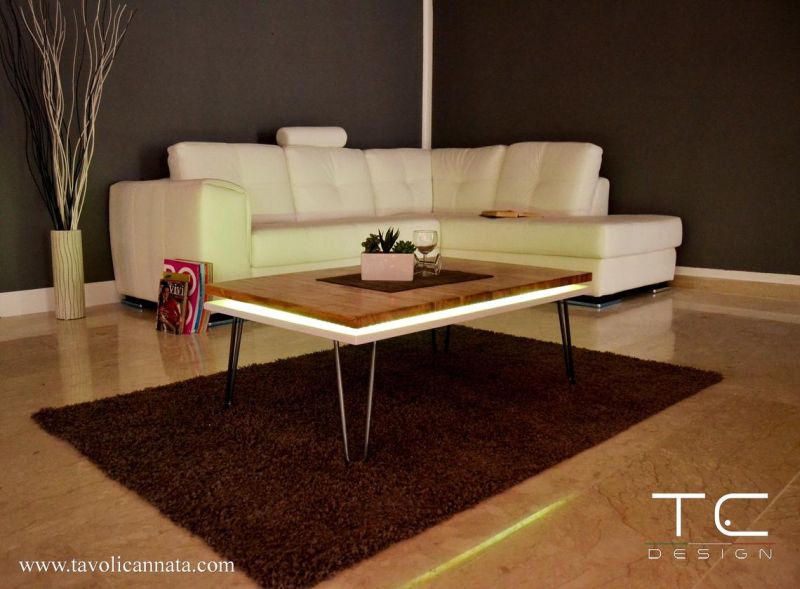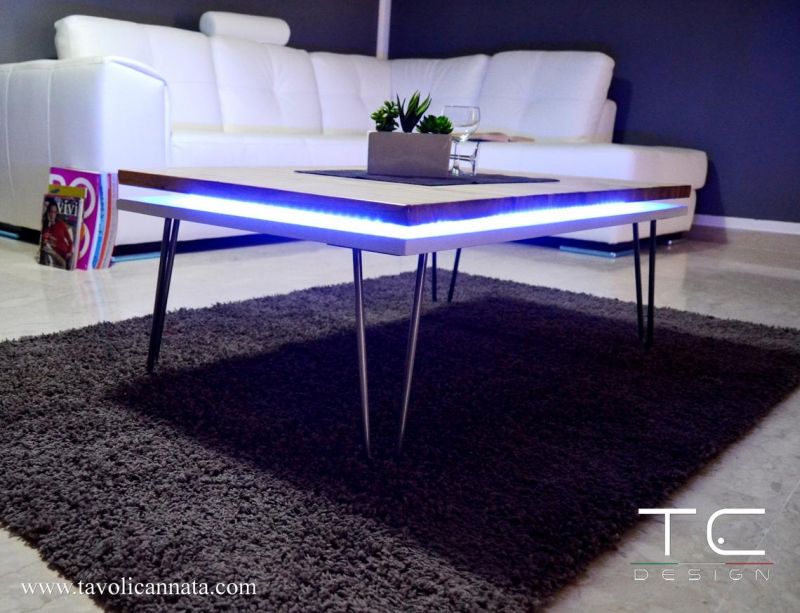 Kinsella Coffee Table with Storage
This industrial-style coffee table combines rustic pine wood with gray-finished metal elements for an industrial style aesthetic. There is also a storage shelf to display trays, magazines, and books, etc. One needs to assemble/attach the legs and bottom shelf of the coffee table before use, which can be done using an Allen wrench and a screwdriver.
Designer/Manufacturer: Coastal Farmhouse
Dimensions: 18H x 48L x 24W inch
Weight: 51.32 lbs
Price: $256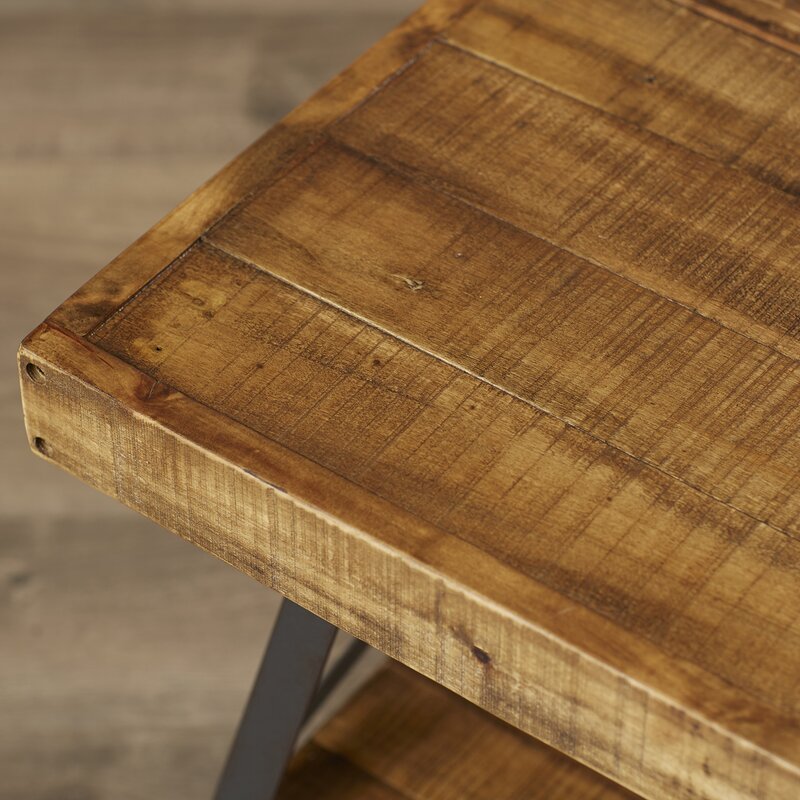 Lamantia Lift-Top Table
Modern and fashionable, this rectangular lift-top coffee table is made of manufactured wood in a classic black finish. It has a hinged top used to lift up the top to create a spacious work surface, while also revealing hidden storage. There's also a partitioned lower shelf ideal for storing your favorite books and other things. Check out more lift-top coffee tables.
Designer/Manufacturer: Three Posts
Dimensions: 19.02H x 41.1W x 19.45D inch
Weight: 69 lbs
Price: Starts at $275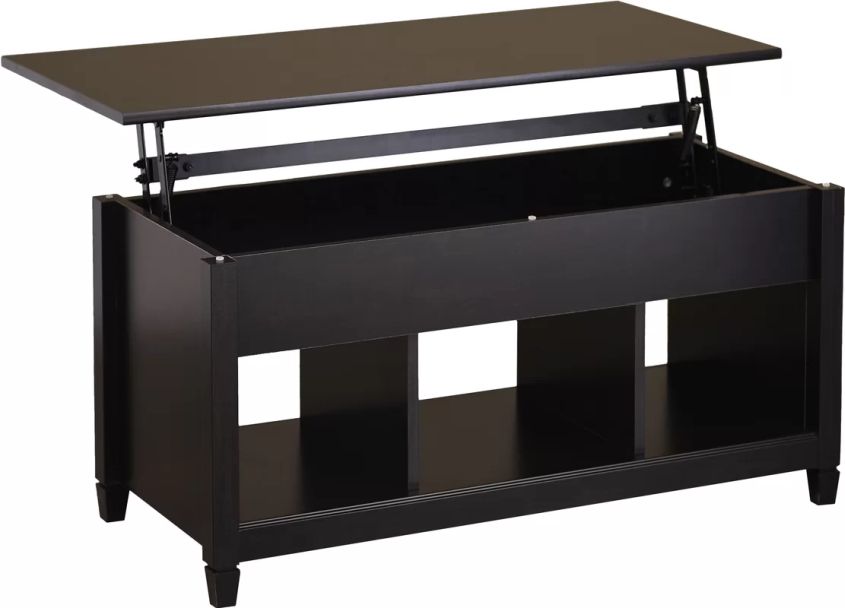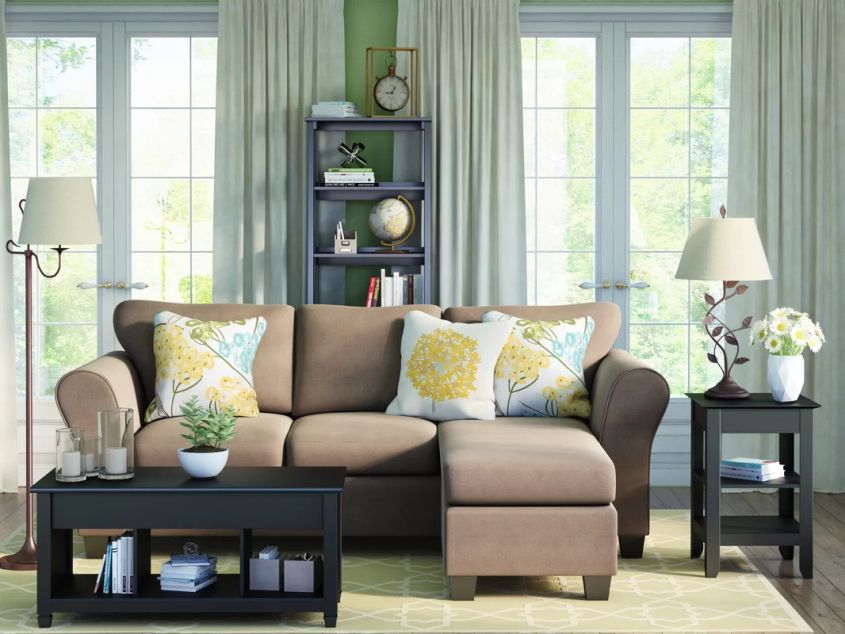 Woven Rattan Coffee Table
If you tend towards nature, this unique coffee table crafted from rattan Kudu and cotton would make a great choice for you. This table boasts a round shape and a rugged natural charm. The natural grey finish is supposed to work well in Oceanside houses and bohemian bungalows. It is a unique piece of furniture perfect to add texture to a living room and will provide additional storage.
Designer/Manufacturer: Safavieh
Dimensions: 28.5D x 28.5W x 17H inches
Weight: Approx. 20 lbs
Price: $175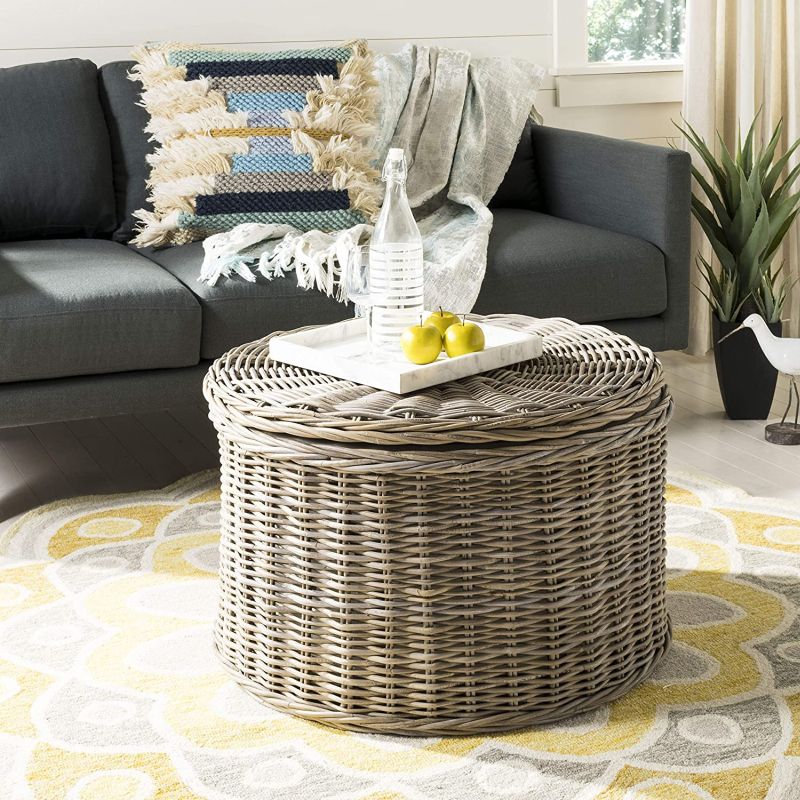 Reclaimed Pallet Wood Coffee Table
This is a gorgeous piece of upcycled furniture, ideal to bring industrial essence into a living space. The patina of the wood is really gorgeous. The pallet wood is cleaned, sanded, and varnished with beeswax for a cool and rustic look. Standing on four vintage-style hairpin legs, it can also be used as a TV stand in no time. There's also a shelf to store things such as magazines and vinyl records.
Designer/Manufacturer: SussexWoodFurniture
Dimensions: 18L x 15W x 12/16H inch
Weight: N/A
Price: $274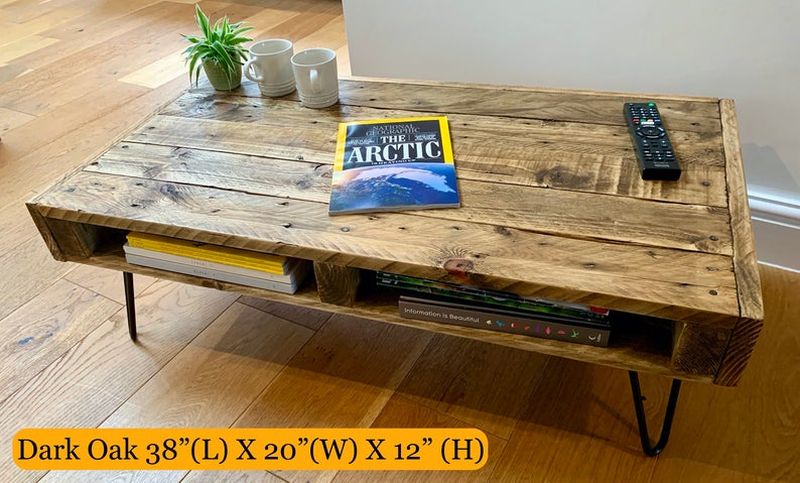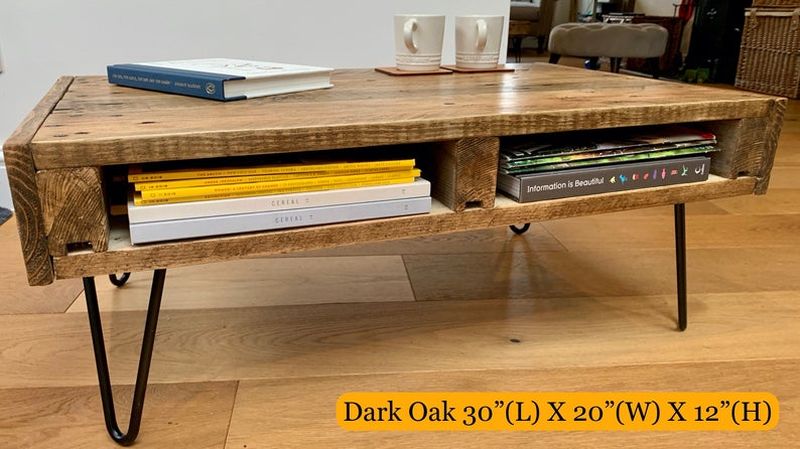 Arkelstorp Coffee Table
Ikea is known for affordable flat-pack furniture and this coffee table from its Arkelstorp collection is great if you want furniture with expanding properties in your living room. It features a pinewood top with hinged edges that can be dropped down to adjust the space according to your needs. There's also a drawer and a separate shelf to store your daily stuff.
Designer/Manufacturer: Ikea
Dimensions: 20.6W x 7H x 28L inch
Weight: 39 lbs
Price: $270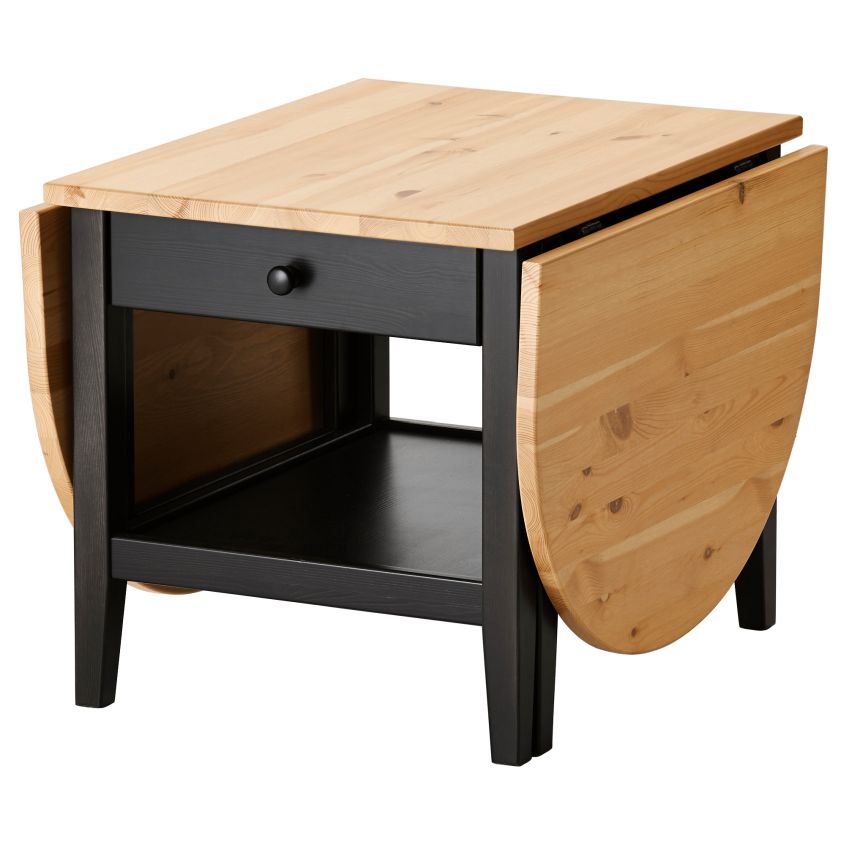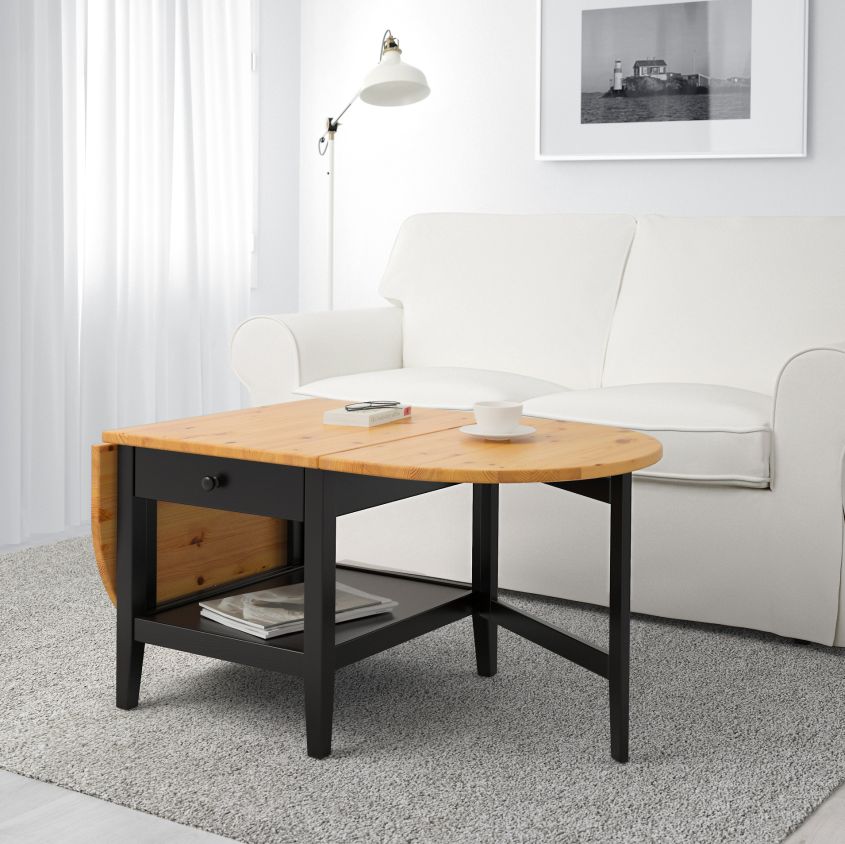 Also Read: 10 Best Glass Coffee Tables You can Buy
Wine Barrel Table with Glass Top
Made out of a solid oak wine barrel, this coffee table features a glass top with space for displaying a collection of corks. The barrel is finished with three coats of furniture lacquer for an eye-catchy look that lasts longer.
Designer/Manufacturer: Alpine Wine Design
Dimensions: 20.5 (tall) x 27 (round) inch (Glass diameter = 30 inch)
Weight: N/A
Price: $675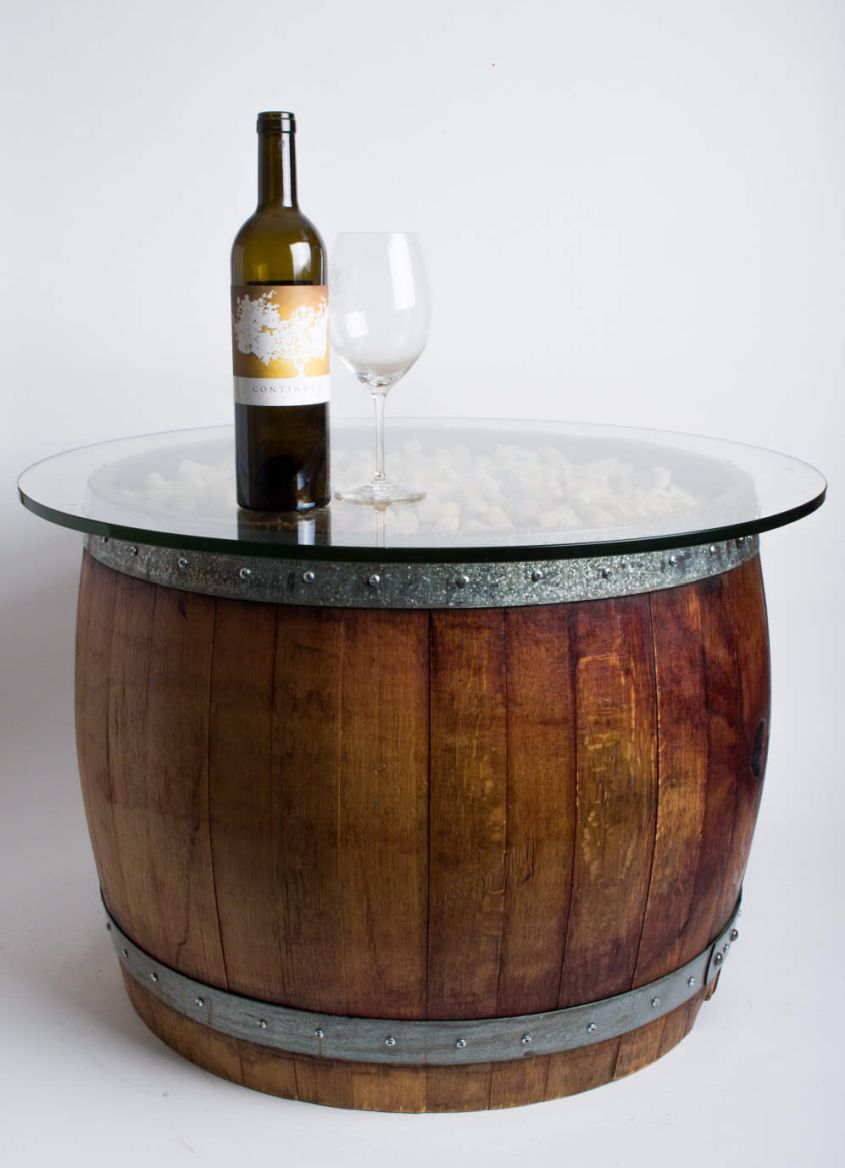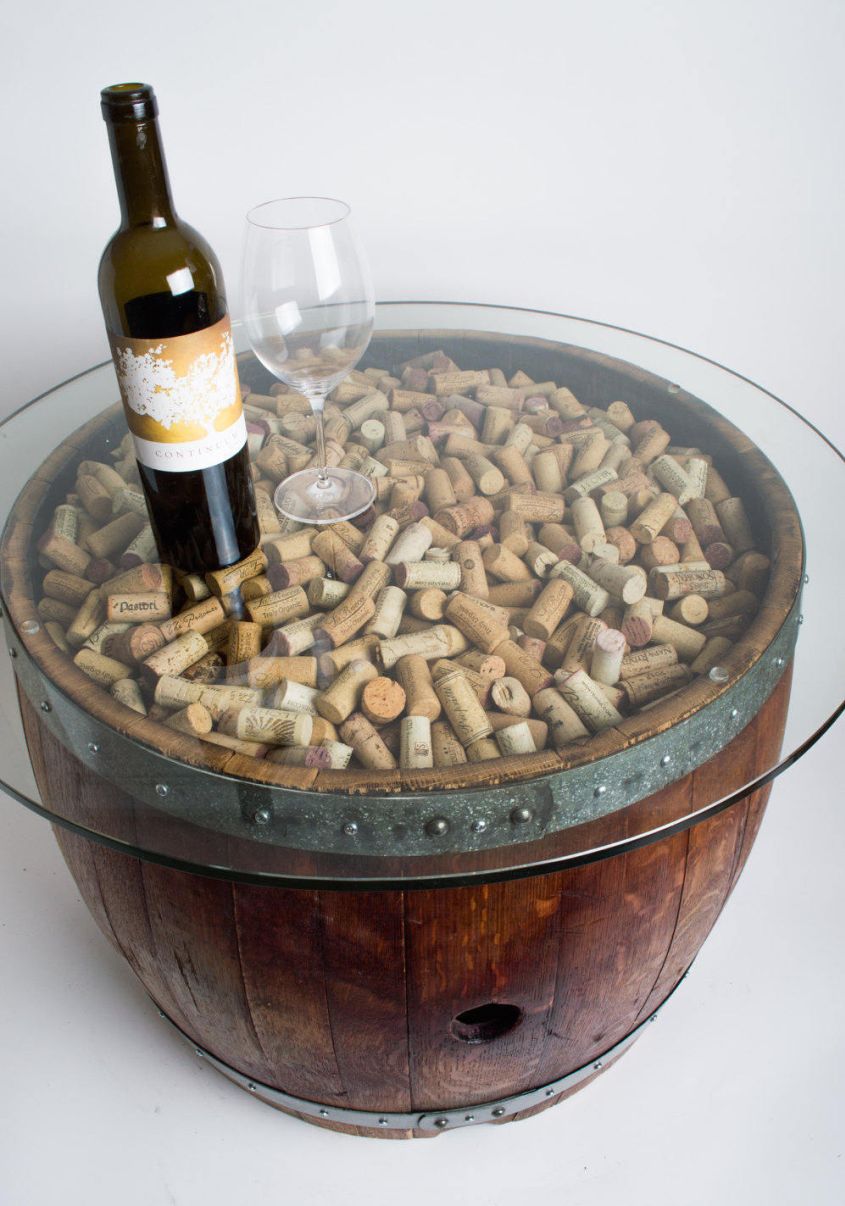 Beckfield Coffee Table
Fusing industrial style with function, the Beckfield coffee table can be an attention-grabbing centerpiece in any home. Set atop a four-wheel caster base, its metal frame in a black finish goes well with the pinewood tabletop. There is also a lower shelf that can be used to keep magazines, newspapers, and other daily use items.
Designer/Manufacturer: Trent Austin Design
Dimensions: 17H x 52W x 32D inch
Weight: 117 lbs
Price: $1,129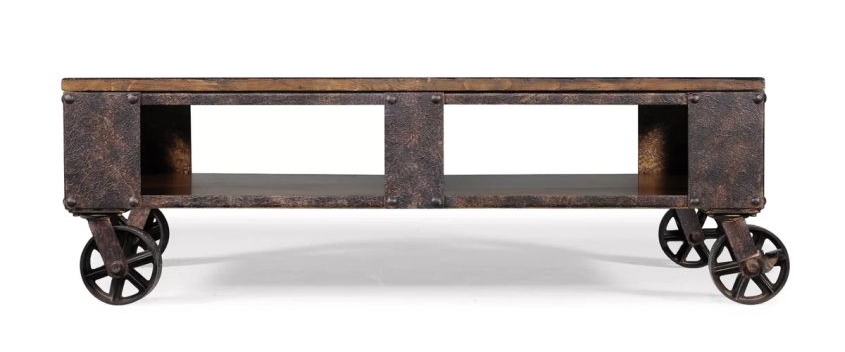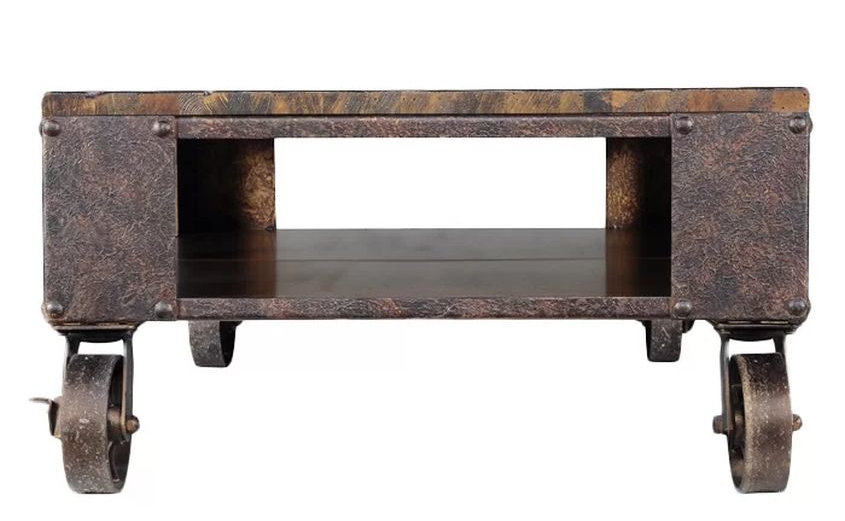 Boxy 27 Glass Coffee Table
This handcrafted round glass table with a unique mid-century wooden base is a real stunner. It comes in varied choices for wood and finishes. The table is shipped in one piece so no assembly is required by customers. It marries a modern and traditional look flawlessly.
Designer/Manufacturer: WoodArchitecture
Dimensions: 18H x 27L x 27W inch
Weight: 20 lbs
Price: $895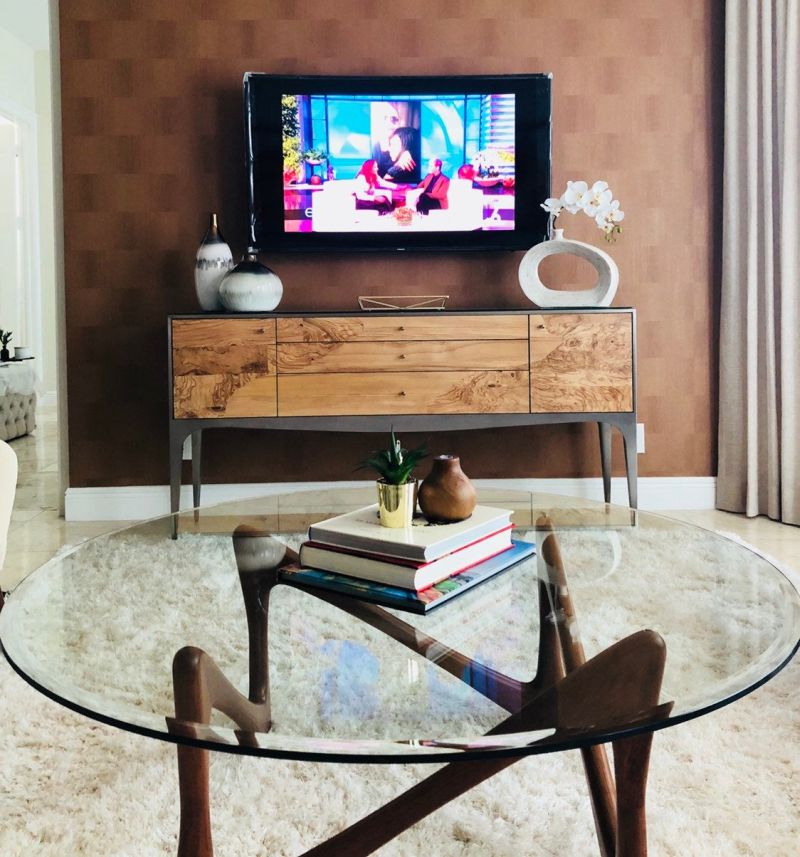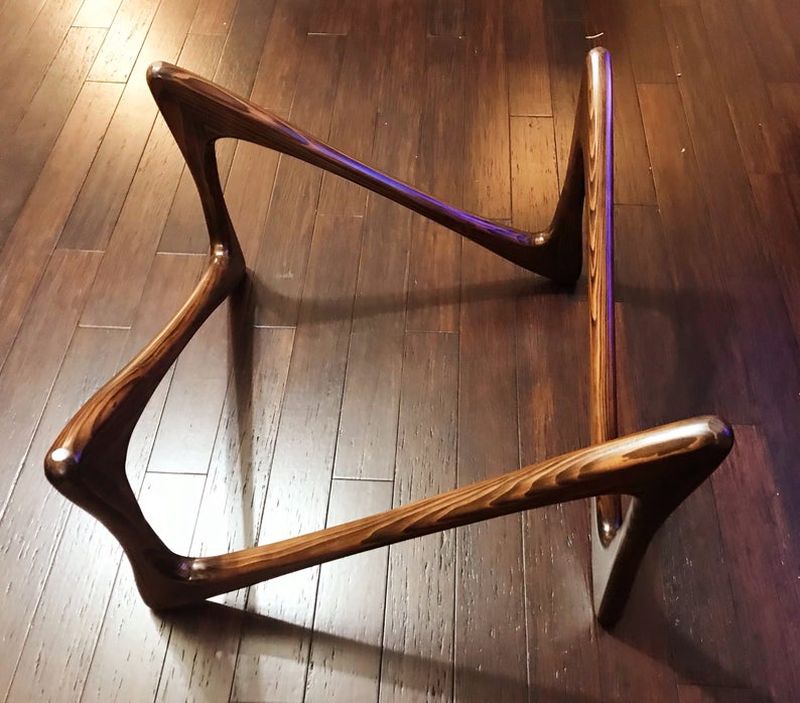 Cheswick Swivel Coffee Table
Crafted of glossy lacquered MDF finished in different hues, this distinctive coffee table consists of three tiers that swivel into different compositions to create a new display every time. The middle level also includes a storage compartment. It is distinguished by its simple and clean lines, creating a modern yet classic aesthetic appeal.
Designer/Manufacturer: Wade Logan
Dimensions: 12.5H x 35.5W x 35.5D inch
Weight: 108 lbs
Price: $1,059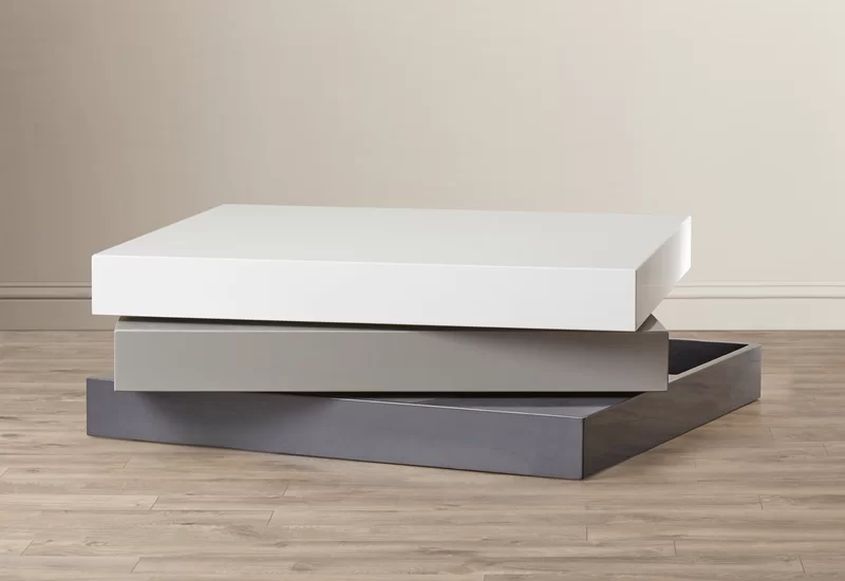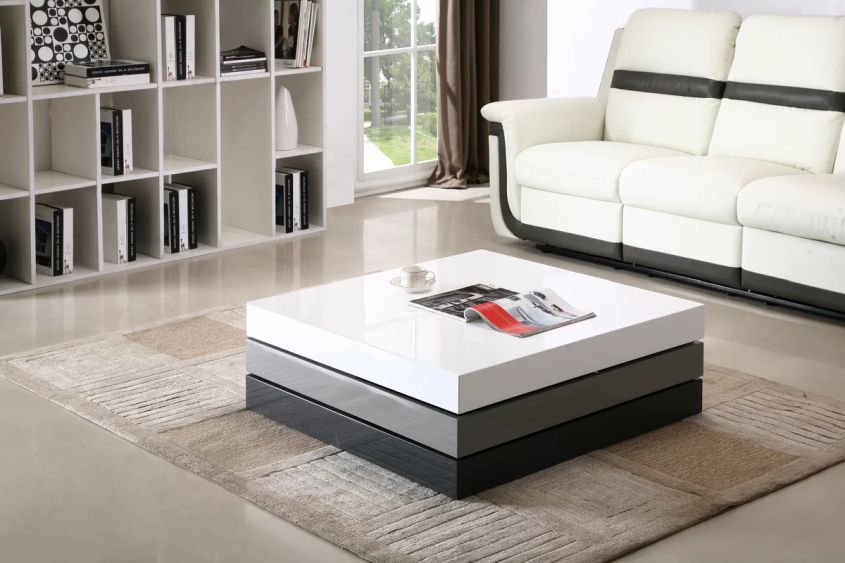 Nathan James Nesting Coffee Table
It is a set of three decorative coffee tables featuring a classy round shape and laser-engraved top. Place these stacking tables together or use separately – it's up to you. They are perfect to add mid-century modern essence to your space.
Designer/Manufacturer: Nathan James
Dimensions: 34x22x17 inches, 22x16x19 inches
Weight: 25 lbs
Price: $157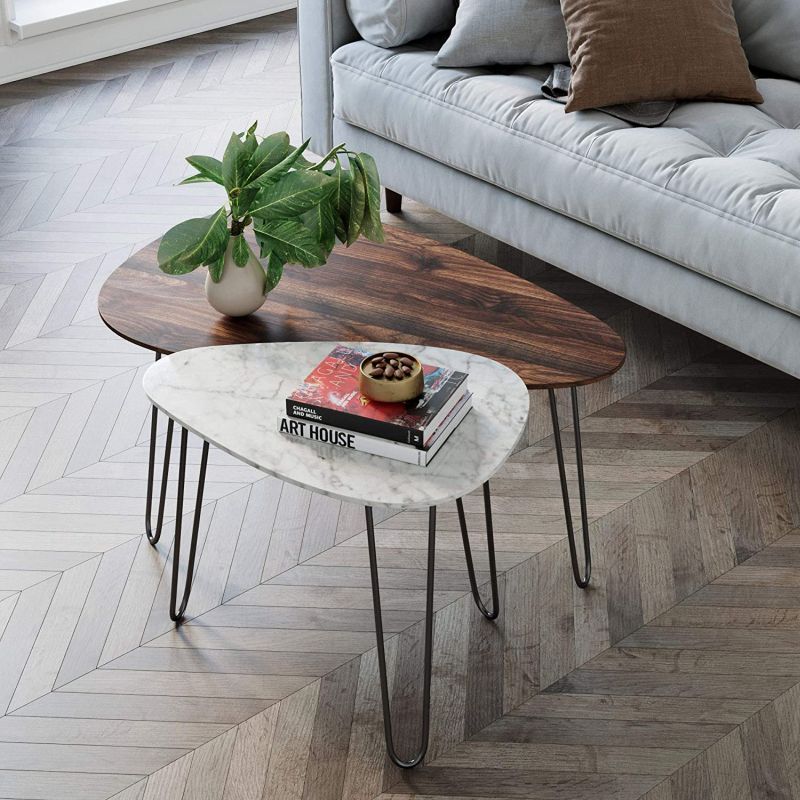 Live Edge Wood Slab River Table
These days, people are widely opting for live edge furniture for its uniqueness, warmth, and character. If you looking to buy one, this rectangular live edge coffee table is a cool choice for you. It is handcrafted from two slabs of hand-carved walnut with clear and blue resin inlay that look like a meandering river. Check out more river tables for inspiration.
Designer/Manufacturer: ThunderWoodStudio
Dimensions: 43W x 19.7H x 25D inches
Weight: N/A
Price: Starts from $439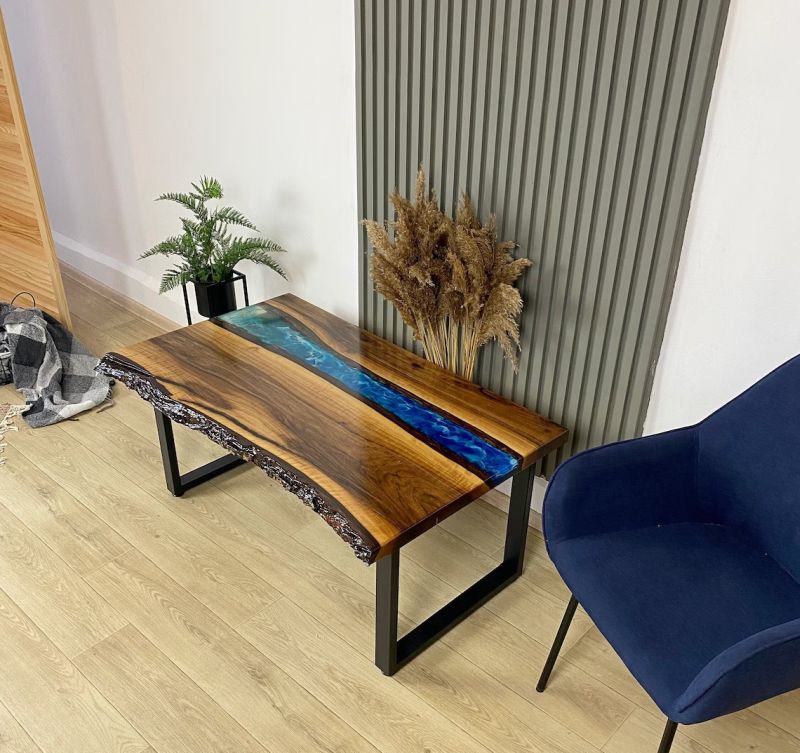 Bone Inlay Coffee Table
This one-of-a-kind coffee table features handcrafted inlay work of art done as per ancient heritage and traditions in India. Its rectangular top is inlaid in an exotic pattern. Each piece of camel bone is intricately carved and then attached to the wooden furniture frame to form complicated designs on the top. The table also has a lower shelf for storage.
Designer/Manufacturer: NewyorkhomeDesign
Dimensions: 40H x 110W x 70H cm
Weight: N/A
Price: $2,150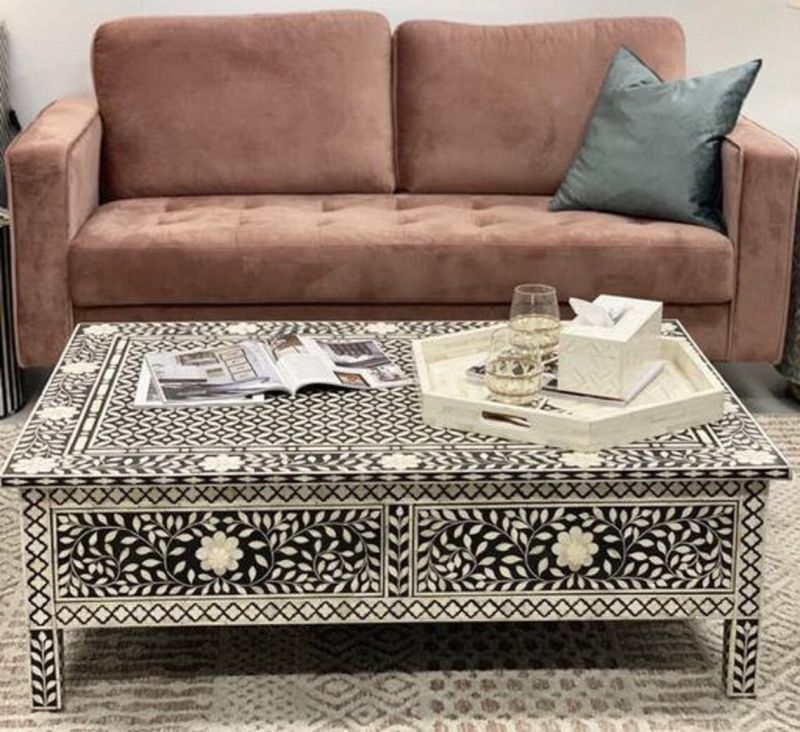 Wood Spool Table
This unique coffee table is made from electrical cable reel spools and has hairpin legs made of steel. The tables are hand-sanded smooth, stained and sealed with a clear polyurethane layer. Each spool has different imperfections which add a lot of personality and character to the table. It comes with separate legs and marks on the bottom of the table for easy installation.
Designer/Manufacturer: MidwestWooderness
Dimensions: 20 inches diameter by 14 inches tall
Weight: N/A
Price: $129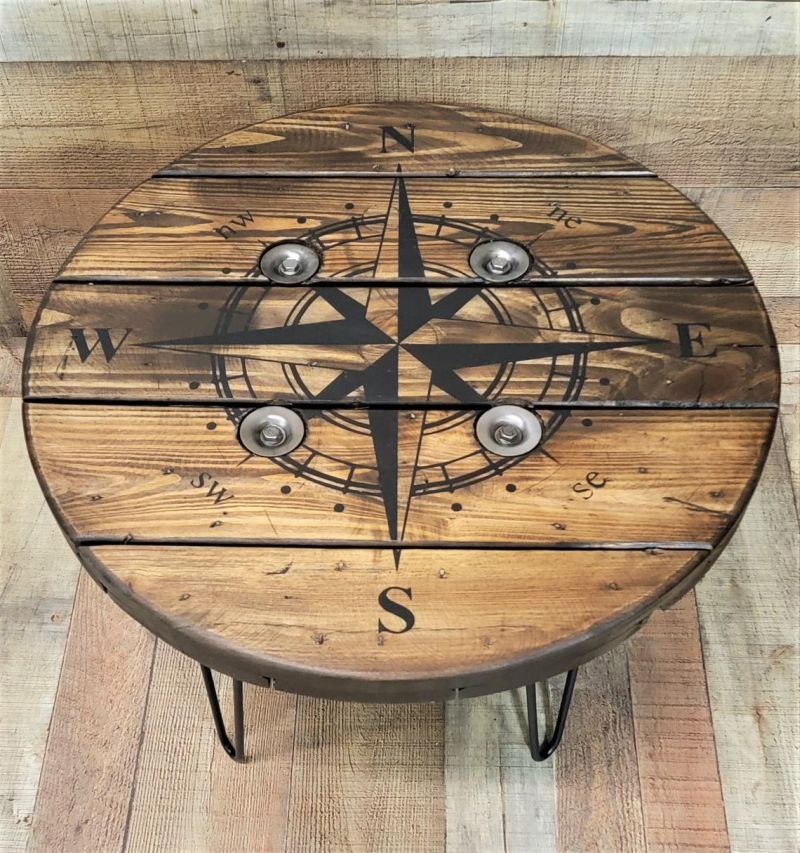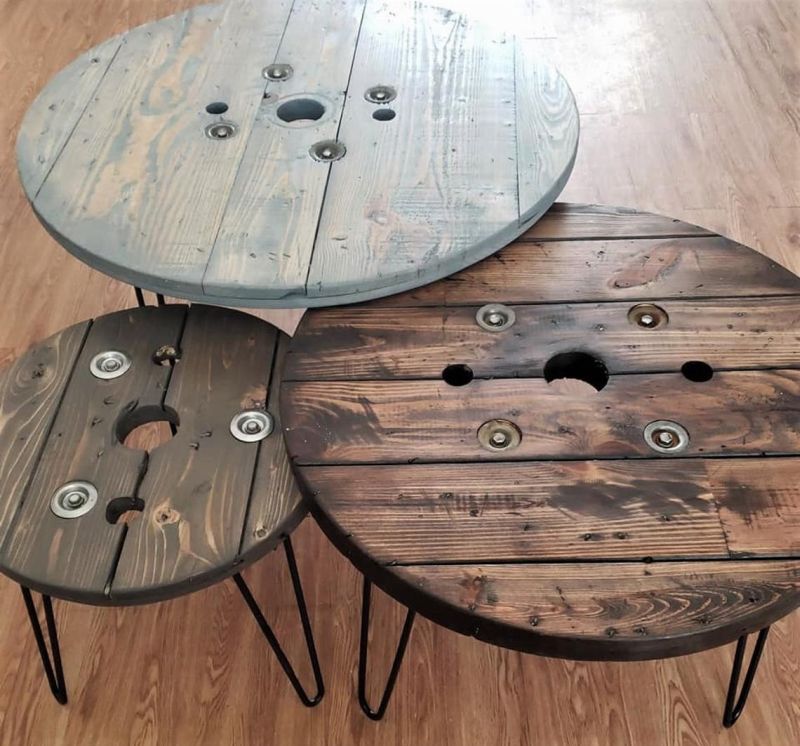 Vintage Wood Crate Coffee Table
This Zoria crate coffee table with metal dividers will add industrial-style essence to any living room. Vintage crates are repurposed as drawers. It features a tabletop made of 100 years old Barn wood. There are no knobs but can be installed additionally to facilitate an easier pull.
Designer/Manufacturer: The Crate People
Dimensions: 54L x 24W x 17H inch
Weight: N/A
Price: $1,399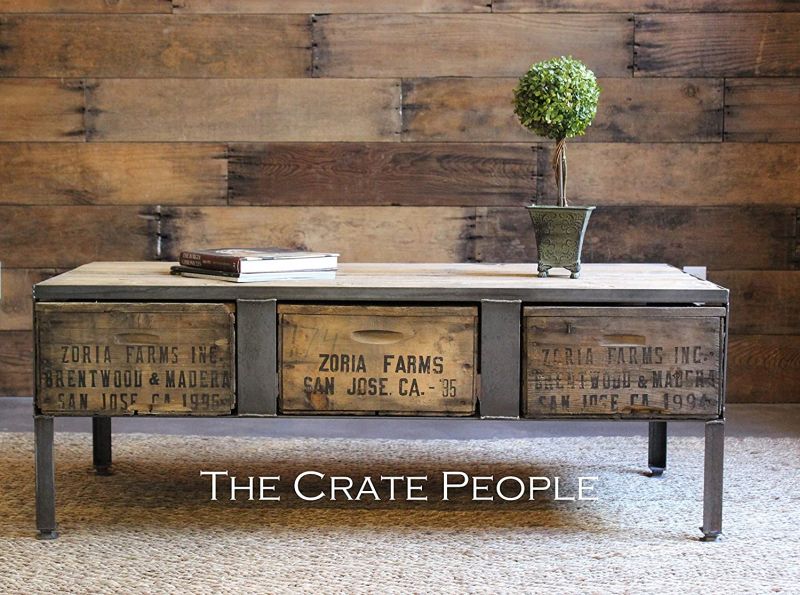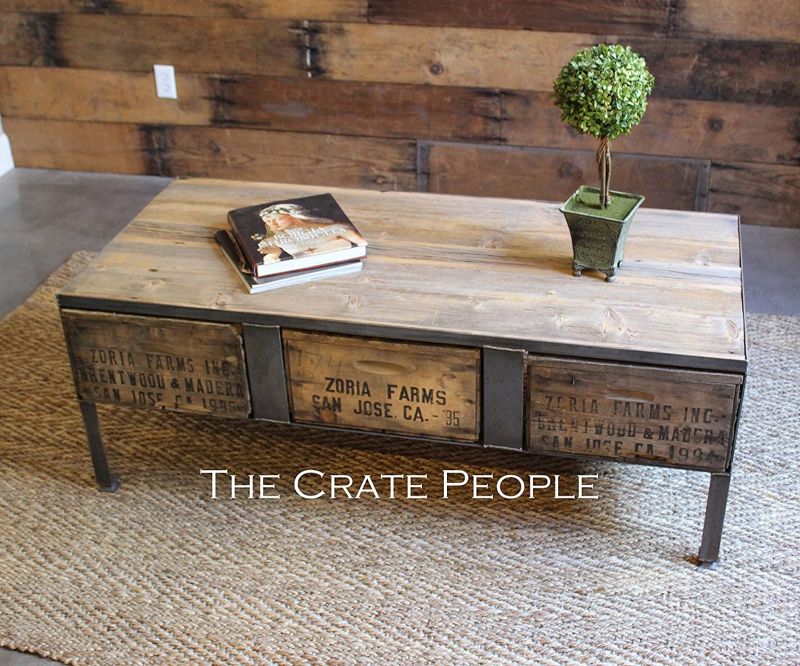 Antique Chinese Coffee Table
Made from core of Elm wood with beautiful wood grain, this antique Chinese Kang Table is handcrafted by using Ming Furniture workmanship of "Round Wrapped Round" Style. The legs of the table are used in one single plank of elm wood and the sides are also intricately carved for a stunning look. It is structured with wooden pegs and a tenon structure.
Designer/Manufacturer: AntiqueByZRM
Dimensions: 19D x 31W x 9.5H inch
Weight: N/A
Price: $759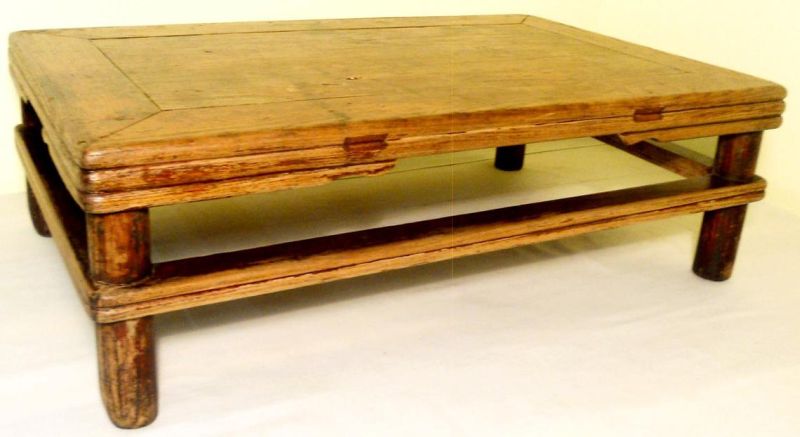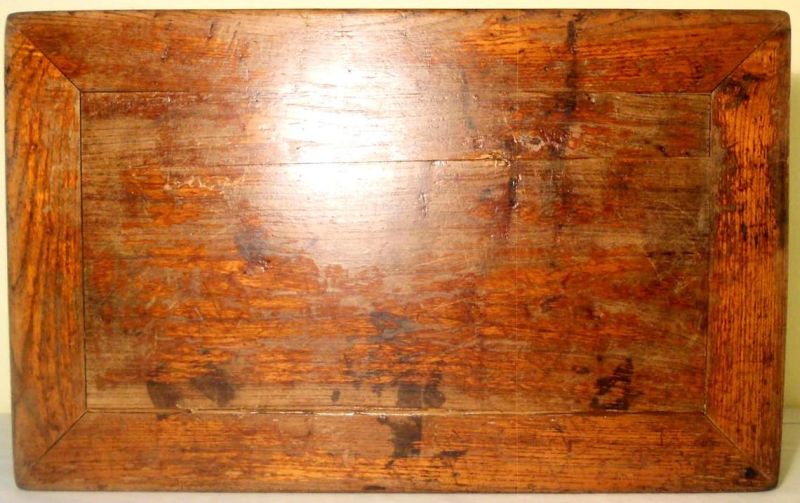 Concrete Table
Made from cement and recycled Styrofoam, these chromatic side tables are lightweight, durable and stain-resistant. They are perfect to add a pop of color into any space. Combine one of these to serve as a coffee table.
Designer/Manufacturer: CraftsManhattan
Dimensions: 16D x 16W x 19H inch
Weight: N/A
Price: $475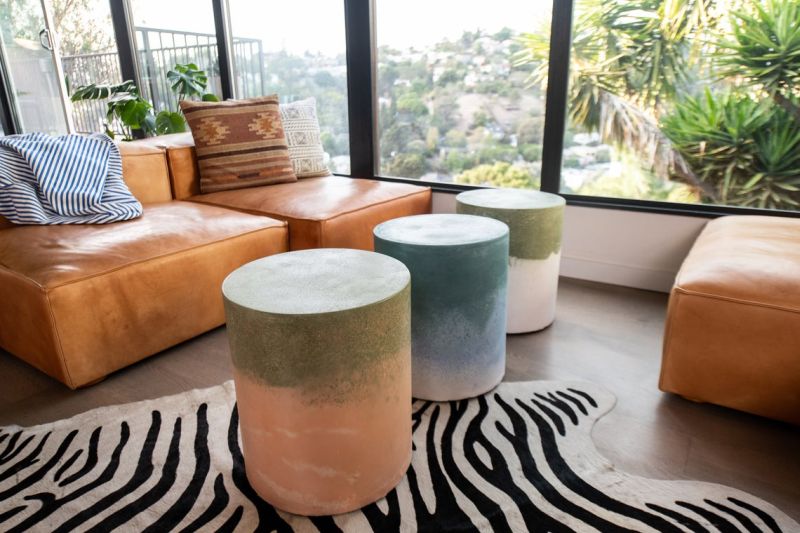 Marble Coffee Table
This elegant table made of solid oak or walnut features a marble top. It has wheels which makes it easy to move around the house. There are drawers and space below the top that can also be used to keep remotes, coasters, magazines, etc.
Designer/Manufacturer: Habitables
Dimensions: 23.6D x 39.4W x 9.1H inch
Weight: 121 lbs
Price: $3,144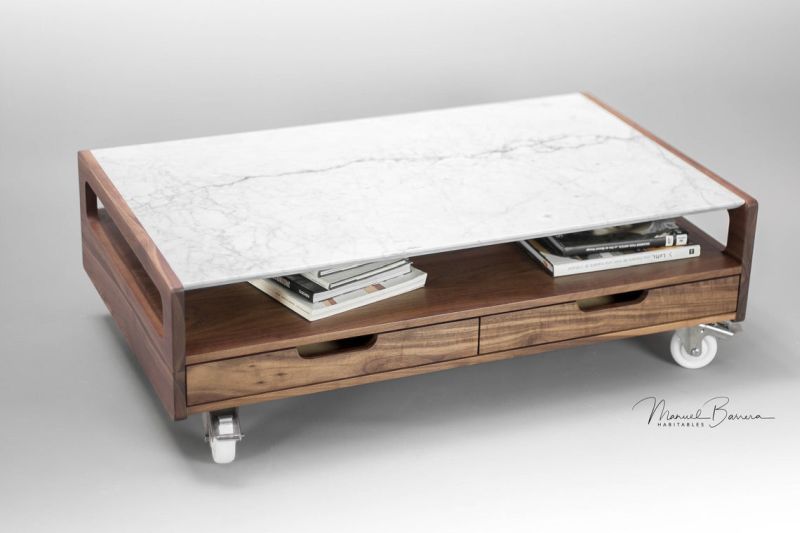 Driftwood Coffee Table
Made by Duff Powell, the main aesthetic of this table is the rugged-look wood it is made of. It is made from driftwood discovered off the coast of Maine and the surrounding Islands. The table is absolutely stunning and a great centerpiece for a modern-coastal style living room! It is a large table that shouldn't be moved once placed.
Designer/Manufacturer: DriftwoodTreasures
Dimensions: 18D x 34W x 16H inch
Weight: N/A
Price: $252