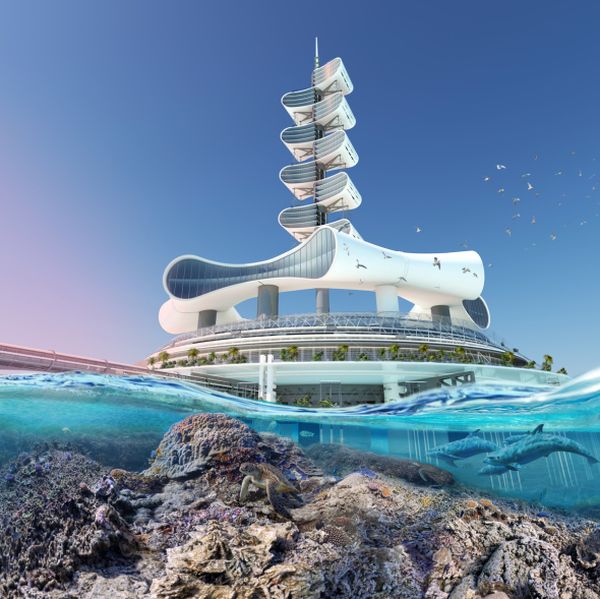 Do not be befuddled by all the imposing structures and the futuristic forms of the Grand Cancun. Conceptualized by Richard's Architecture+Design, this luxury eco-tourism resort will actually be the world's first hospitality establishment that 'positively' delves into green technologies for collective provision of clean energy and water treatment. Envisioned for the year of 2020 (for the 50th anniversary of the resort city of Cancun), the spiraling shape of the main structure symbolizes the Mayan serpent god of 'Kukulkan', as it rises from the ground into the 'infinite' space. This awe-inspiring construction will actually become the first marine platform entirely supplied by positive energy. In simpler terms, it will offer more ecological advantages to the environment than the initial resources expended in its conception.
These advantages will be borne out of some bold architectural decisions, like the entire Grand Cancun mega-structure being built on a platform instead of an artificial island, thus resulting in the creation of more flexible space albeit with lesser impact on the marine environment. Spatially, the gargantuan construction will comprise of a myriad of user oriented zones, including hotels, convention centers, shopping malls and even movie theaters. All of these commercial eco-systems will be powered wholly by renewable energy generated by integrated solar panels, vertical wind turbines and tidal and wave energy systems.
Grand Cancun will have zero-carbon footprint, while its advanced green credentials will remarkably provide the city of Cancun with city clean drinking water and energy (from unconventional sources). Finally, as a grand testament to the utilization of positive energy, the project will also help clean the surrounding sea by progressive filtering of floating solids and hydrocarbons from the water base.
Via: GrandCancunIntl