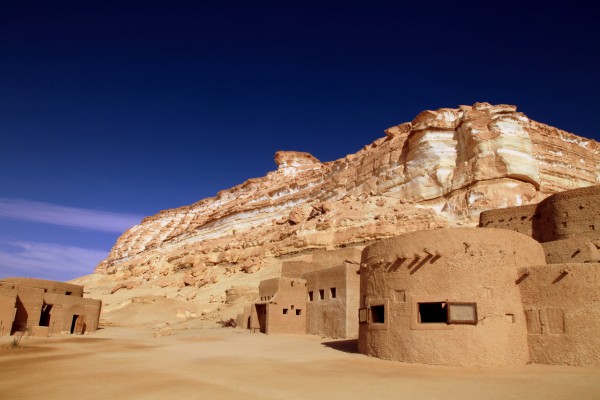 We have harped about green architecture before, but the above pictured conception seriously stupefied us with its 'uncompromising' essence of sustainability! Christened as the Adrere Amellal Hotel, this wondrous architectural piece is a part of the Siwa Initiative, which in itself pertains to guidelines of building with local and traditional materials, while also making use of contemporary green techniques. In this regard, the eco-resort is located deep inside the Siwa Oasis, Egypt (across the Siwa Lake), with its utterly vernacular structure jutting out from the base of the imposing 'White Cliffs'. As a matter of fact, the whole resort is built from traditional earthen materials like salt rocks and clay, which allows it to seamlessly blend into the austere landscape of the surrounding.
Coming to its ridiculously low carbon features, the roofs of the rooms are actually supported by palm trees, while the doors and windows were built from the wood harvested from yearly grown olive trees. And, as expected, the hotel doesn't give you the comfort of electricity, thus nigh stoically cutting down on the energy requirements and costs.
Of course, this doesn't mean that the resort corresponds to 'backward' techniques of architecture. For example, according to sources, the building features an advanced plumbing system, which allows waste water to be treated in a papyrus marsh for further filtration. Such state-of-the-art utilities are further complemented by the minimalist rooms bedecked with locally available decor.
All images are courtesy of Omar Hikal and Nina Wessel.
Via: Architizer