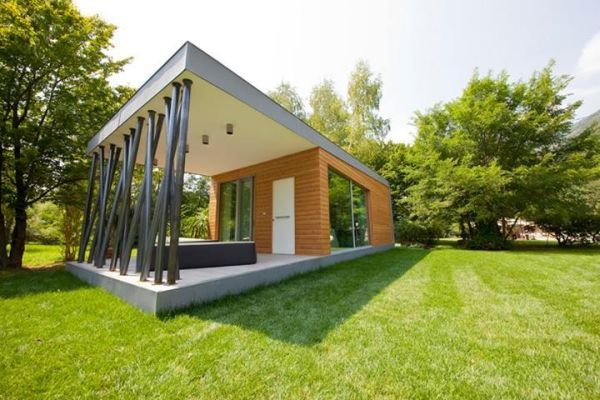 Italy has been long known for its tourism industry; and as such a few trends have developed overtime to boost this already healthy sector of the country. One of these trends entails the concept of 'widespread hospitality' in which old and existing buildings scattered across rustic villages and countrysides are 'recovered' to double up as holiday homes for tourists. Architect Daniele Menichini has taken inspiration from this convenient yet innovative scope to design the Green Zero, a modular housing unit wholly dedicated to hospitality. Envisaged as a living module, the unit comprises of a 60 sq m area entirely defined by an eco-sustainable shell.
According to the architect –
The (Green Zero) project is aimed at giving life to a new system of hotel accommodation strongly connected with the territory, combining different types of modules, from bungalows to two-room suite, allows to increase the quality of the global tourism scene.
So the scope pertains to the flexibility of a pre-fab house, with the modules exhibiting a simple C-section arrangement of floors, walls and roofing. The user oriented zones of the Green Zero consist of a bedroom, a bathroom, a utility room, all complemented by semi-private veranda offering good views of the sylvan surrounding. Furthermore, the outer skin of the unit is predominantly draped in wood, thus improving upon its 'seamless' credentials with the rustic environment.
Coming to its green features, this is what Menichini had to say –
The outer cover is made with the integration of a new thin solar panel that enables you to provide the electricity needed to operate the entire plant system, and this panel is combined with a skin laminate of titanium zinc whose easy processing allows you to follow perfectly the curved surfaces of the module.
However, the Green Zero's 'green' credentials are not just limited by generation of clean electricity. The modular unit also incorporates a dedicated mechanism for recovery and treatment of rain water.
Via: DanieleMenichini