Grohe AG, Europe's largest manufacturer of sanitary fittings, is known for their acclaimed SPA series of bathroom utilities. And, now with the chimes of Salone del Mobile ringing at all corners, the company has decided to notch it up a level. They have unveiled the hi-tech F-digital Deluxe, a range of accessory modules that upgrade your showers (including SPA showers) in every possible way. This collective upgradation will include visual, sensory and even auditory features, to transform your whole experience of bathing.
Basically, the F-digital Deluxe entails an ambient controller that can regulate and combine various attributes of your advanced bathroom space. For example, from the visual perspective, the system changes its light color to give the user an unique taste of 'chromo-therapy'. This is achieved by the integrated LED modules of the F digital Deluxe.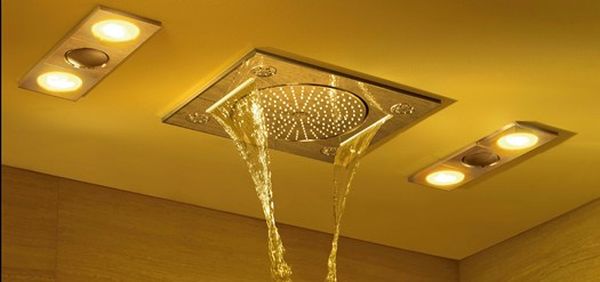 Also, as we mentioned before, there are other interesting features – like a steam control attribute that literally changes your bathroom into a home spa, by initiating a warm and relaxing jet of steam. However, the most innovative feature would certainly be a full fledged docking station for Apple's iPod Touch 4G. This allows you change your music, and thus setting the tone (with combinations of lighting and steam) for a refreshing bath after a hard day's work.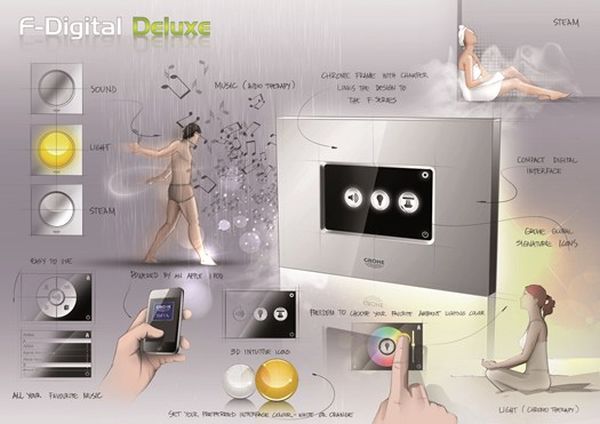 Via: Grohe