Harry Potter fans it's time to rejoice! You can rent your dream holiday cottage, which is inspired by Hagrid's home that's seen in the Harry Potter movies. Situated high up on England's North York Moors, Hagrid's hut leads to stunning views of Yorkshire coast.
The Harry Potter-inspired cottage includes three interlocking circular rooms, with medieval-looking turrets, squat, and mismatched stained-glass windows. All these elements remind the guests of the gothic demeanor of Hogwarts School of Witchcraft and Wizardry. The stooped doorway has been lit by lanterns and you can see abundant fields around this holiday cottage.
Interior decor is rustic and designed similar to the theme of the movie. In the kitchen, you can see pans, pots, and lanterns hanging from the barn-like ceiling. There is also a log burning stove, a quill and ink pot, as well as a 17th-century chest to match the whole wizardry theme.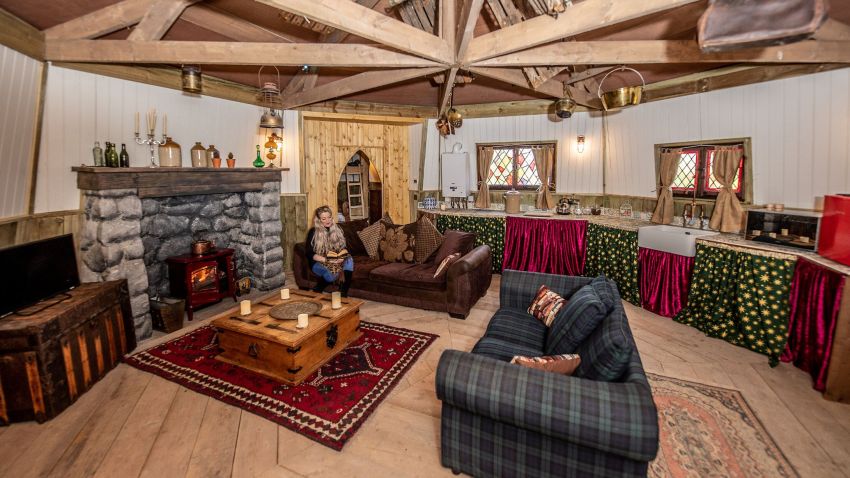 The open-plan living area is constructed next to a bedroom that includes a double bed and bunk bed fashioned out of wooden beams. While everything in his holiday home is magical, the bathroom has a totally different feel. This bathroom is not something that's shown seen in the movies. Although there is a Hogwarts-style toilet (just like an old school toilet), the sink and bathtub give an industrial touch to the lavatory. The sink is made out of an old oak barrel, whereas the centerpiece is the freestanding copper bath.
Owner of this magical holiday cottage, Carol Cavendish, is herself an avid Harry Potter fan herself. She always wanted to live in a similar environment as shown in the franchise. Now that she owns her own Harry Potter-themed cottage, she likes the idea of her guests discovering new things in the hut while enjoying their stay. The Guests can even bring their adorable pooches along, yes the cottage is dog-friendly.
Carol's family includes her five children. She bought this six-acre North Shire farm nine years ago, ever since she has been creating her own fantasy world with this cottage, shepherds' huts, gypsy caravans, etc. North Shire's other cottages include Potts Corner that resembles a Hobbit house with a round doorway and turf roof. There is also the Storybook Cottage, which includes a Narnia wardrobe that leads to a hidden bedroom.
Read More: Spend a Night in The Lord of the Rings-Inspired Hobbit House
The other inhabitants in the farm are goats, miniature ponies, Gandalf the cockere, black cats, and peacocks called Guinevere and Merlin. The farm also has an on-site cafe called the Green Dragon, where homemade cakes and Yorkshire pies are served. The outstanding Ground Keeper's Cottage was built by Billy Cessford, a local screen prop and stage maker and set designer from Redcar, North Yorkshire.
If you love the idea of spending a few days in this magical Harry Potter-themed cottage, you need to spend £195 (approx. US $254) per night to stay in this cottage that sleeps six.
Via: Teesside Live