These past couple of years have been really difficult for people who love moving out of their houses and wander in the wild. Although now when the situation looks a little better, Renault teases a Hippie Caviar camper van for travel junkies.
The camper van is set to mark its first presence at the Caravan Salon 2021. This Hippie Caviar camper van can easily transform into a Hippie Caviar hotel. In simpler terms, the camper arrives as part hippie bus and part high-end glamping setup.
One gets to enjoy all the luxury of the five-star hotel in this RV. The van offers high sanitary standards in light of continuing pandemic and also offers a lot of space to enjoy your vacation as it turns into a perfect paradise for couples. There are a couple of rooms available in this particular van and the RV is also equipped with a terrace to enjoy sunbath in the mid-afternoon.
Besides the basic features, Hippie Caviar has both driving and camping modes. The camper, in addition, has a folding rear bench which successfully transforms into a near-queen double bed.
In addition, the bed can also be featured to use as an outdoor lounge to get the feeling of a five-star motel. To make your vacation more fun, Renault also provides you with a drinks table and a set of removable backrests to create lounge chairs.
Also Read: CyberLandr Transforms Tesla Cybertruck Into Ultimate Overlanding Camper
As far as the interiors of the van are concerned, the driver's cab is docked up with a wicker-effect dashboard with contrast leather. The rooms are adorned with exotic wood trim and natural fibers like linen and wool to give it an exotic shape. In addition, if something is required while stay, it can be taken care of via drone delivery.
As of now, it is unclear whether the camper offers a kitchen or not but things will get more clear once it makes debuts at this year's Caravan Salon, which begins August 27.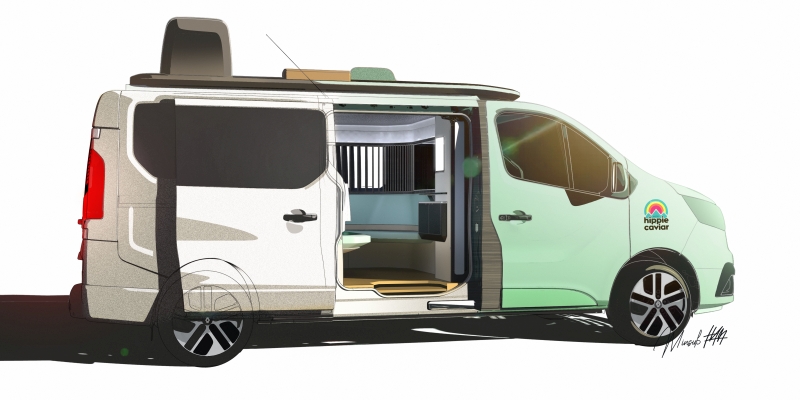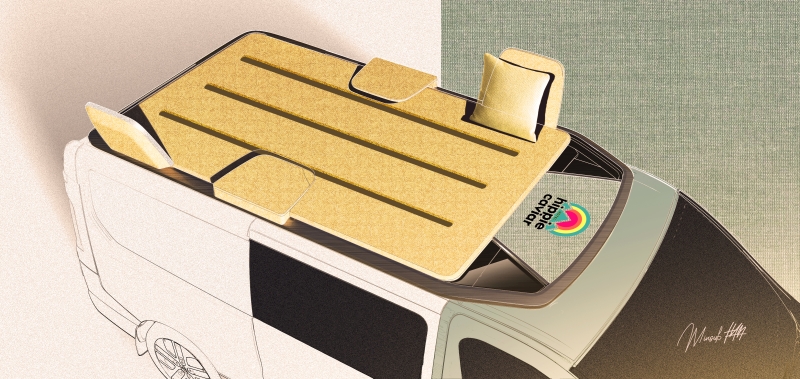 Via: New Atlas