Wall-to-wall carpets are not for everyone, especially if you have beautiful hardwood or tiled floors to show off. However, having a bare and exposed hard floor can feel a little cold in the winter months. Larger living areas or open plan spaces with bare floors can leave a room feeling a little empty, with sound echoing around the space. It makes area rugs a perfect choice. An area rug can make feel your living room cozy and inviting; but how and what you choose is of utmost importance.
An area rug is essentially a piece of carpet that is much smaller than the dimensions of the room. It is generally placed centrally or to zone off certain areas, leaving the hard wood exposed around the edges of the room or in high-traffic spaces, while providing a soft and luxury feel where it is most needed.
Area rugs can create zonal living spaces, add warmth and texture and also act as a style statement. However, there are numerous things that you need to bear in mind when choosing a rug for your living space.
This guide to buying area rugs aims to cover everything you need to know about how to buy the right area rug for your living room, ensuring you make the right choice for your floor and maximize the potential of your space.
Size and shape
Perhaps the two biggest considerations when buying area rugs are size and shape. The rug needs to be smaller than the dimensions of the room (otherwise it simply won't fit) but big enough to cover the area of the living room floor without looking dwarfed. If you need an area rug for your seating area, then ideally it should be in relation to the size of the floor space, sofa, and chairs.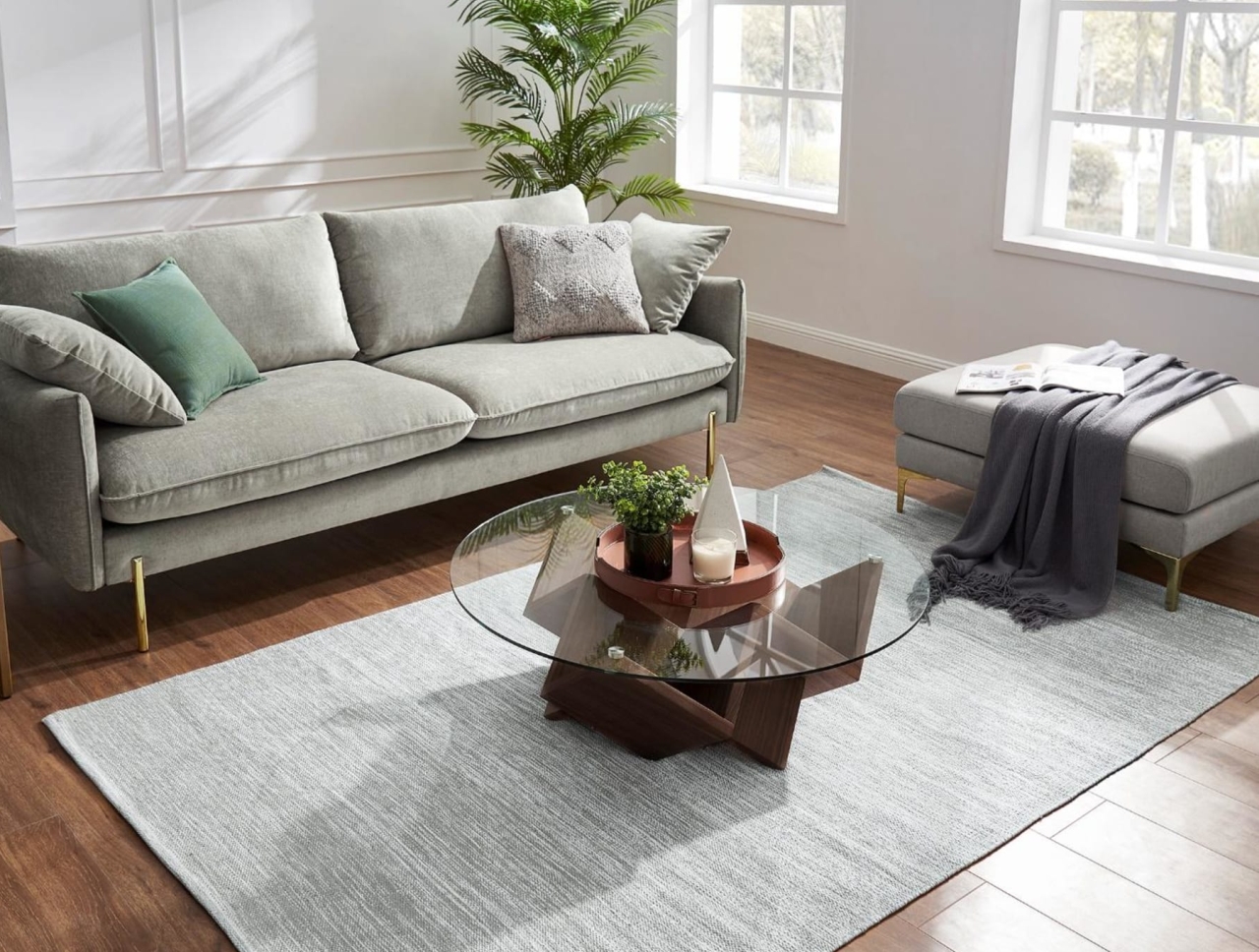 Rugs come in several standard sizes, including 6×9 feet, 8×10 feet, 9×12 feet, and 10×14 feet. However, this is only for rectangular rugs (they do come in a variety of other shapes) and there is always the possibility of an antique rug that does not conform to these scales or even a handmade rug in bespoke sizes.
It may help to measure the room itself, then the area you want to cover with a rug. This will helpfully give you a better idea of what size bracket you should be looking at. The rule of the thumb is to leave 4-8 inches of bare floor on all sides of an area rug, with all the legs (or at least the front legs) of all the furniture sitting on the rug.
Moreover, you can opt for a rectangular, square-shaped, round, or any other geometrical shape to compliment your current layout.
Colors and patterns
Once you know what size you require, you need to start thinking about the stylistic and design elements of your rug choice. The two most pressing concerns are color and pattern. Area rugs come in a huge range of color choices and design schemes, from plain block colors to ornate and complex geometric patterns.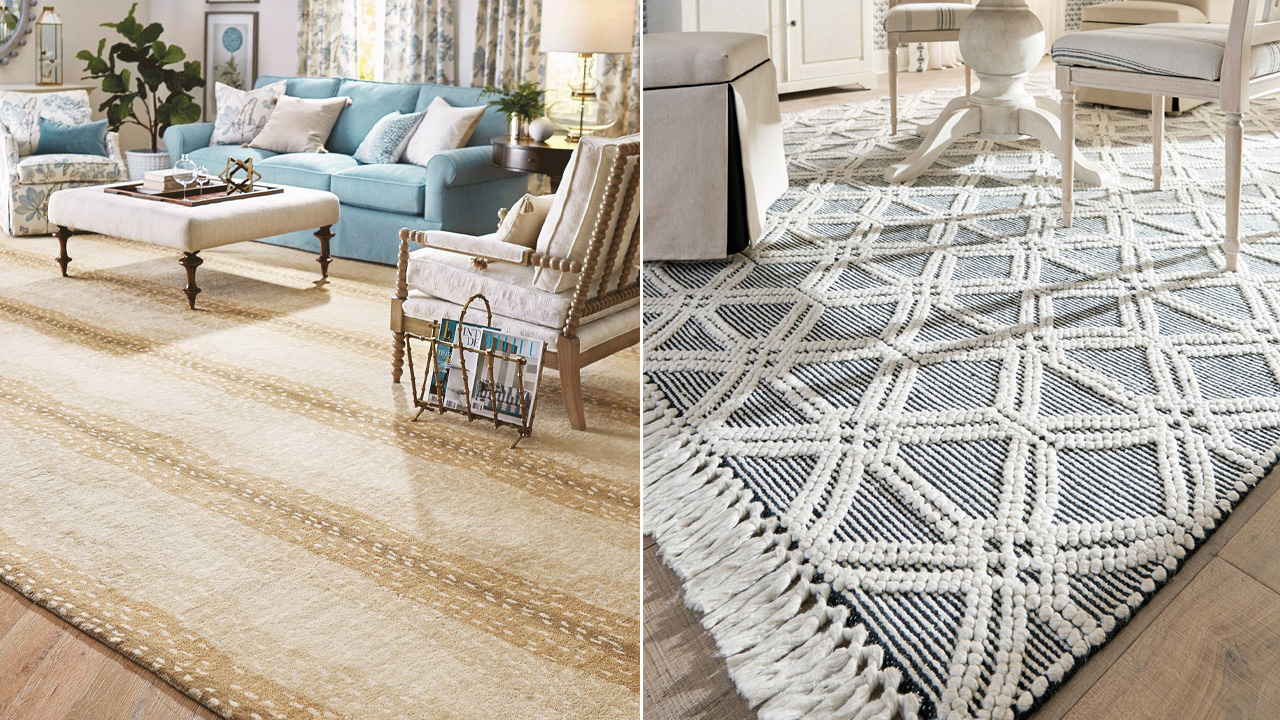 Ideally, your choice of color should be made while keeping in mind the overall design and color scheme of the room. Use your rug to complement the color of the sofa and chairs, picking out other accent colors in the soft furnishings such as cushions and curtains.
If a block color rug is not your thing or you want your area rug to be more eye-catching, then you can choose patterns. These vary enormously, so it is really down to personal preference. Oriental rugs tend to be ornately decorated with bold colors but there are also striking geometric patterns or more subtle designs to suit almost any living space.
Material and texture
Another key part of your choice should be the material and tactile nature of the rug. For example, do you want a rug with short or long fibers? Long fibers can be more cozy and warm to touch but are harder to clean than short fiber rugs. You also need to decide whether you want a rug with textile detailing such as tassels.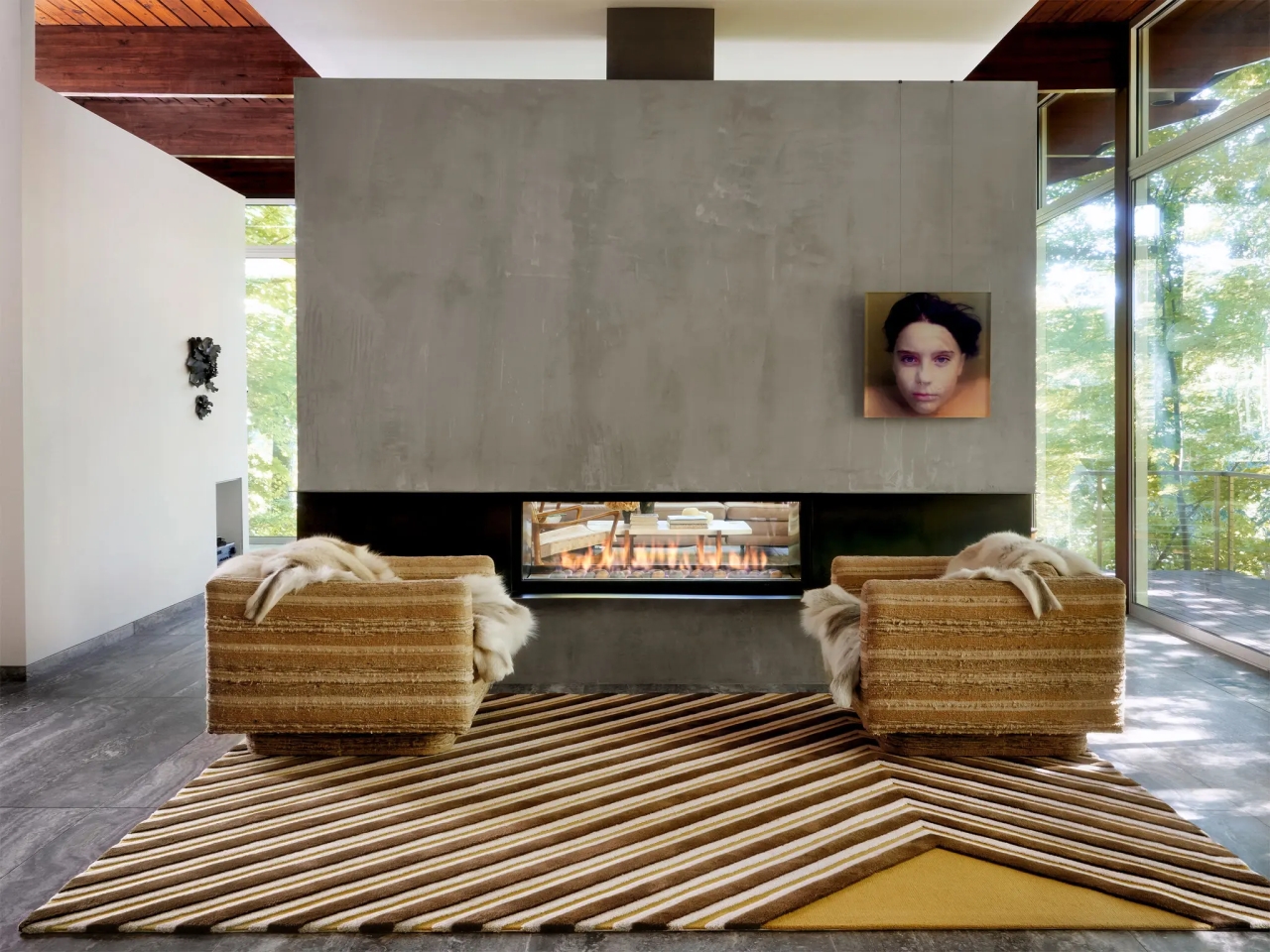 The material choice can also range widely in both manufacturing methods and cost. Natural fibers such as wool are more widely used in handmade rugs and a great choice but will be significantly more expensive than the machine-made, floor mat style rugs with synthetic materials. Again, this all depends on your personal preference, as well as the size of your budget.
Also Read: What Furniture and Wall Colors Match with Gray Flooring
Consider costs
Perhaps, ultimately, the most important consideration for most people is the cost. Handmade rugs will be much costlier than machine-made ones, with natural fibers also costing more than synthetics. But it also boils down to whether the rug is a designer piece from a high-end homeware store or a more mass-produced rug from a high street chain.
The amount you are willing to pay can influence your choice but should also be affected by the nature of your home. For example, busy family home with kids and pets is probably not the ideal location for a handprint rug, wool rug, or antique rug. You also have to factor in the wear and tear element, as rugs will wear out over time – especially in high-use areas like the living room.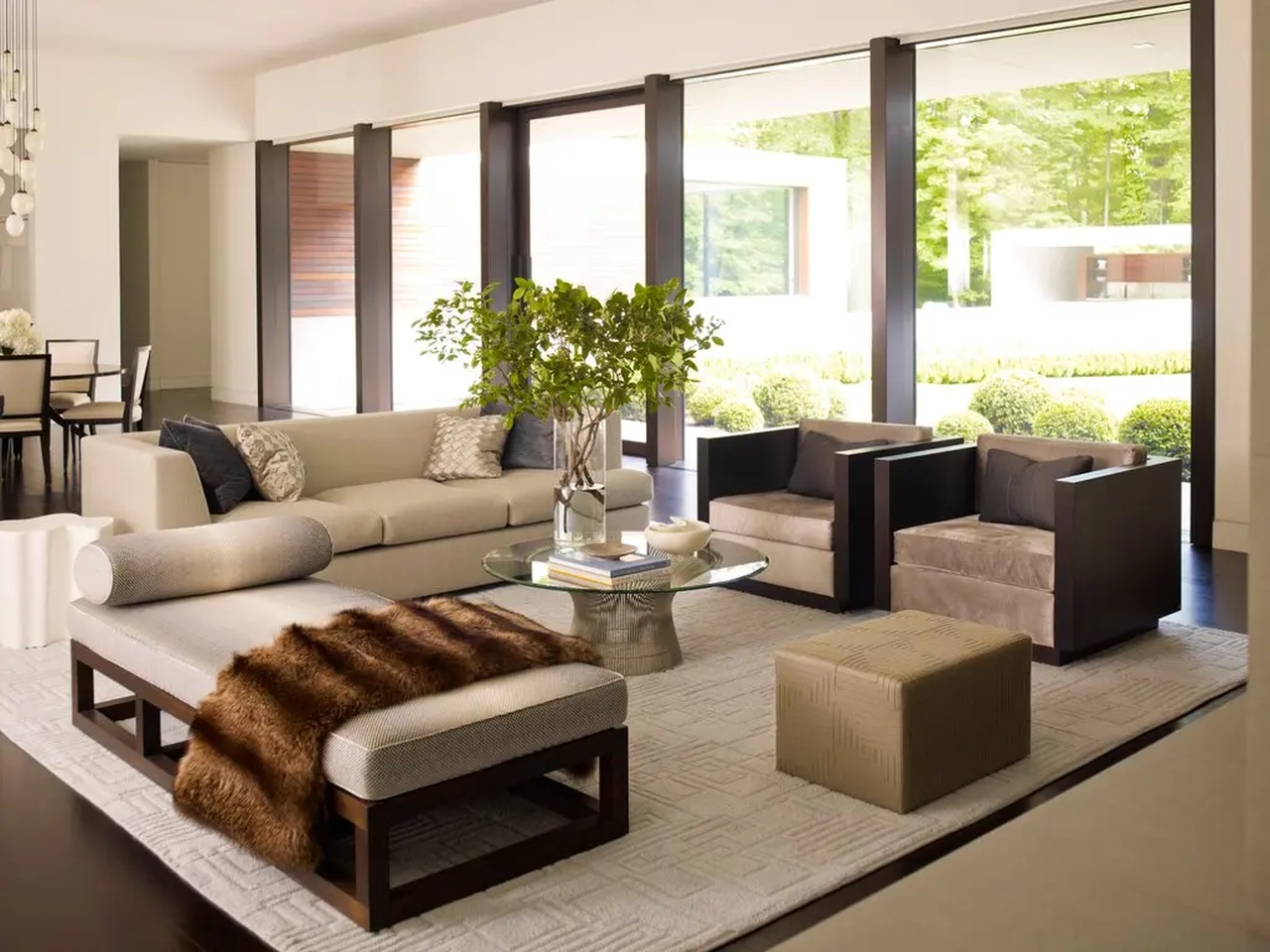 Moreover, you should consider maintenance costs as well. You need a quality vacuum cleaner and a bunch of products and tools for a deeper and more efficient clean. Additionally, you may need to consider the extra charges for any potential spills and stains that are more damaging and need a professional rug cleaner.
Things that are strict don'ts
There are certain things to keep in mind when choosing an area rug for your living room. While we have listed the things you should do, here are a handful of things that you should strictly not do.
Don't pick a rug too small: The size of your rug does matter. If you choose a rug that is too small, it will make the room feel fragmented. An area rug should be 4-8 inches shorter than your entire floor area.
Choose the same colored rug as your couch: Be mindful when picking out the color of your rug. But do not make the mistake of choosing a rug that is the same color as the count and other furnishings in the room. It will make the room look stuffy and boring.
Rug with the same texture as furniture: Another common mistake is choosing a rug that has the same texture as the furniture in your room. By adding a different texture, you introduce playfulness and sensory pleasure to the room.
Too bold and busy pattern: You should not pick a rug pattern that is too bold and busy as it will create a loud and overwhelming layout, which will draw focus from other items in the room. You must balance the furnishings to offer a visually soothing space.
Maintenance tips for living room area rug
While adding rugs to your home can elevate the design layout and offer soft texture under your feet, they do demand devoted maintenance time. The care that goes into maintaining your area rug mostly depends on the material, weave, pile, and color of the rug.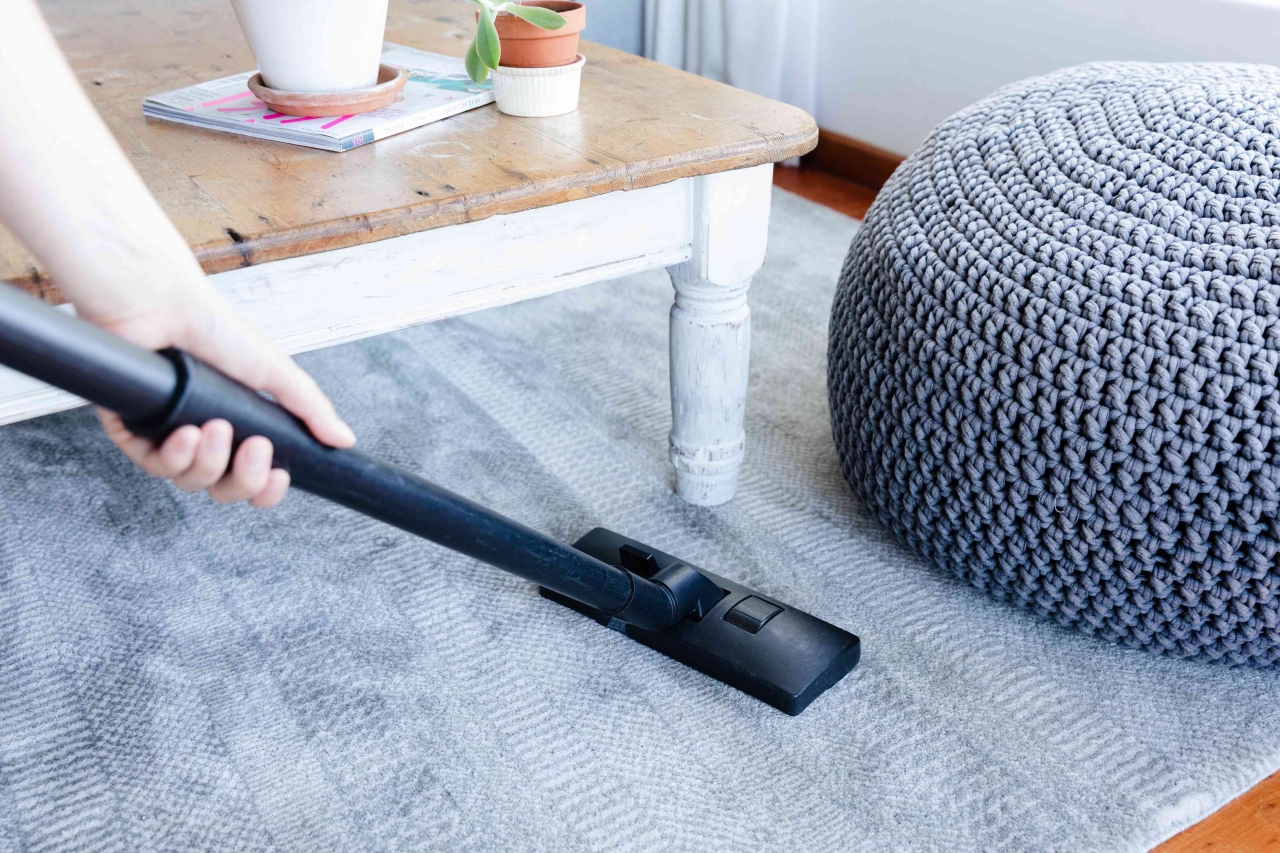 Rugs with flat weaves are easy to vacuum and also can be taken outside to beat out the old-fashioned way. High-pile rugs, on the other hand, are difficult to clean, and some need to be cleaned out by professional cleaners. Another factor that determines the maintenance frequency of the rug is the placement and amount of foot traffic it will witness.
These things decide how often you should vacuum the rug. Synthetic materials are easier to take care of and can be easily cleaned with appropriate chemical stain removers; while wool rugs demand more care and time, though no chemicals should be used on them lest you damage the fibers.
FAQs about living room area rugs
What is the best size rug for a living room?
Living room rugs come in a choice of standard sizes including 6×9 feet, 8×10 feet, and 9×12 feet. However, it is also possible to get rugs in customized sizes. Antique rugs are also often found in unusual sizes. Plus, it is harder to get accurate sizes for unusual shapes. The right size for your room depends on the available space. The rug should not be too big or too small as it can make your space look either too cluttered or too empty.
Where should I put my rug?
If you're thinking about the best place to put your rug in the living room, you must work around the existing furnishings around the space. The rule of the thumb is to leave 4-8 inches of bare floor on all sides of an area rug, with all the legs (or at least the front legs) of all the furniture sitting on the rug. However, an area rug need not always be placed in the center. Make sure that it visually complements the dominant furniture piece in the room.
Should my rug be the same color as the couch?
A rug can be the same color as the couch, but this may make one color more dominant than it should be. Use the rug as an opportunity to add some contrast, or tie in with the color scheme from other soft furnishings such as curtains and cushions for a more coherent design theme.
What kind of rug should I purchase if I have pets at home?
If you have pets at home, you may want to customize your rug choice to the animals you have. A low pile rug bodes well with pets as it doesn't have an intricate weave where pet fur and other debris can hide away. On the contrary, the weave of a high pile carpet can spell disaster if you have a cat or a dog. People with pets should opt for synthetic materials such as polypropylene.
How often should I clean a rug?
The frequency of how often you should clean your rug mostly depends on the material, weave technique, and whether you have kids or pets in your home. Regardless, you should have your rug vacuumed once or twice every week and deep cleaned at least twice a year. With kids and pets, make sure to get the rugs deep cleaned every other three months.
For more help, you can also check out our guide on how to place area rugs on hardwood floors.