Flooring is an important element of our home interiors, it is imperative we spend time choosing the right material, color, and style. Of all styles and colors, gray flooring is an all-time favorite for its capability to match with new and classic trends and its ability to provide warm tones.
It is frequently used by professional interior designers and homeowners to give the interiors an elegant, modern feel. Owing to the fact, gray floors are absolutely a trend, besides texture, material, durability, and aesthetics.
Gray, being a strong yet subtle color, tends to work well with most colors, regardless of the dark shade or light hue. But this doesn't mean that you should pick any random color for your walls and furniture, here are our picks to help you choose.
What Wall Paint Color Matches Gray Flooring?
Walls need to complement the flooring. With gray floors, you have two options – either go monochrome which most people choose to do, or you can prefer to paint the walls with a mild touch of color.
Gray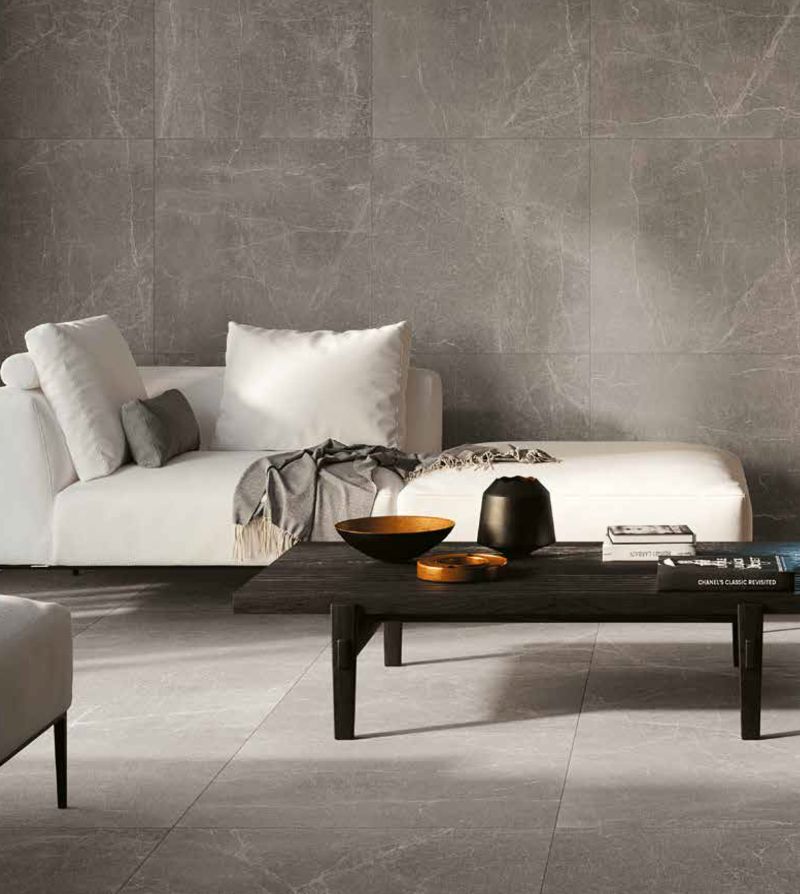 When going monochrome, it is ideal to not use plain gray flooring with walls of similar color as it might result in an abundance of gray in the space. It's better to use different shades of gray diluted by undertones. You will find that gray works well with white or yellow undertones.
White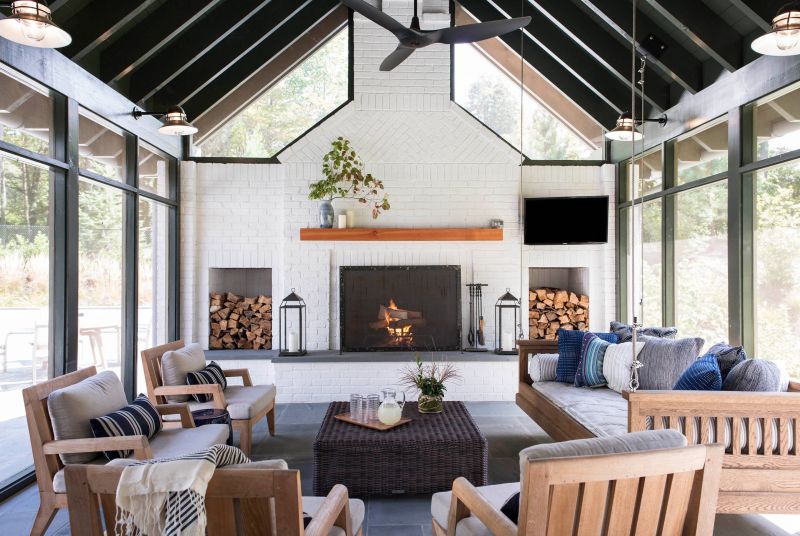 When talking of white, we are not attributing the white you would find in an Alfred Hitchcock or a Stanley Kubrick movie. Actually, what you want is a white that eases the environment and guides your eyes the moment you enter. It should be a shade that fills the spaces in between the furniture units in the room most impactfully. In short, a warm white with light brown or beige tint to hit that perfect cream color.
Blue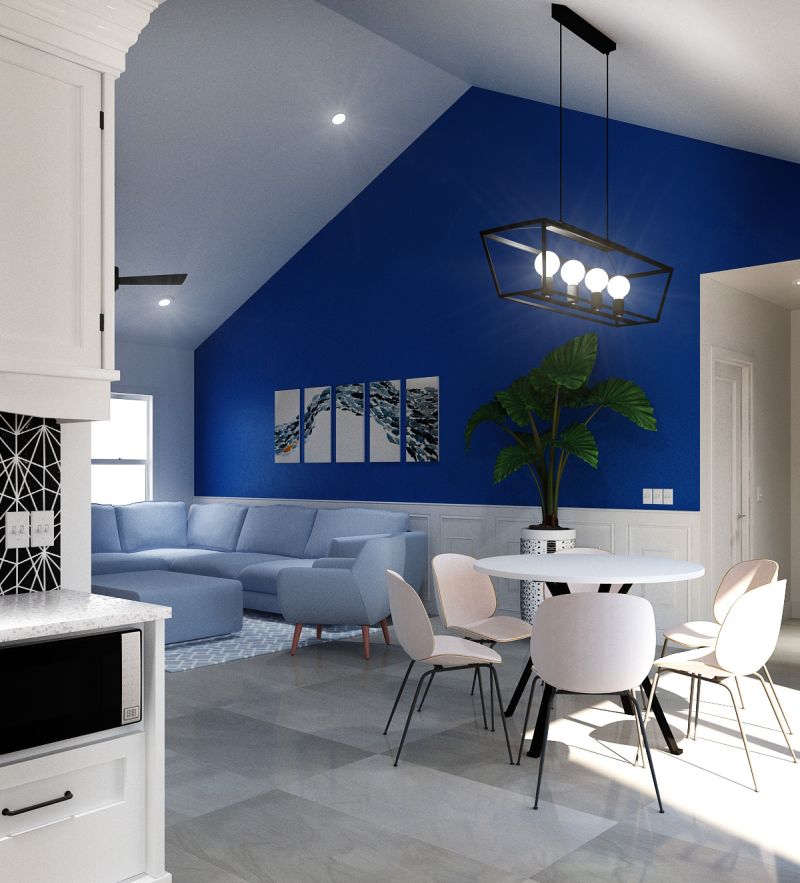 Blue might seem like an odd choice but it will surely surprise you by its capability to blend with its surroundings. Apart from being a soothing color that fills a room with a sense of tranquility, it creates a distinctive look any other color can not.
Yellow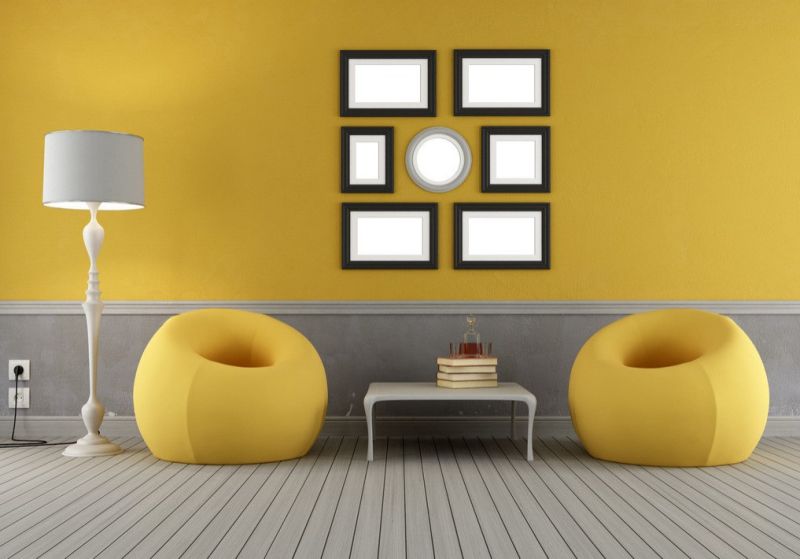 It is not a color many of us prefer. But if we take artistic standards into consideration, gray or white undertones are usually the way to go when working with yellows. It makes an easy color palette that conveys a feeling of serenity.
Also Read: How to Clean Floor Tiles and Grout with Homemade Solutions
Green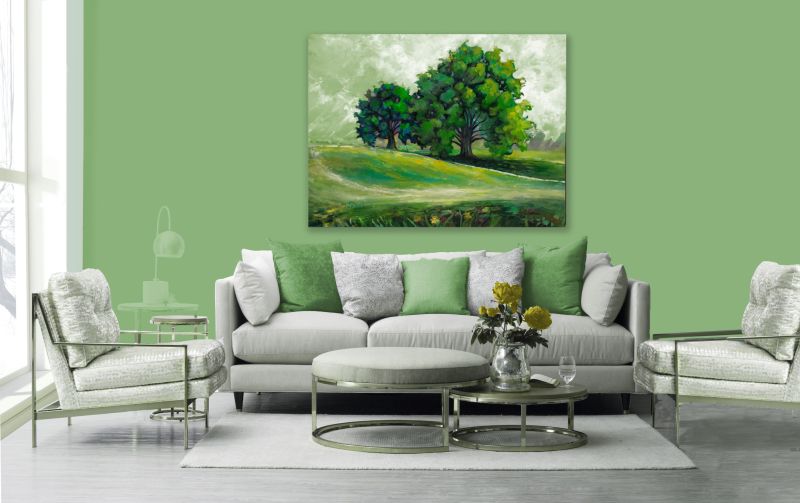 Mint green gives a cool, futuristic, and a homely feeling to a room with gray flooring. Dim green walls bring the most out of the gray on the floor. As a bonus feature, you get walls that can always be amplified or accentuated by houseplants. All in all, it can give a fresh, nature-inspired look to your room.
What Color Furniture Goes with Gray Flooring?
Unlike walls, the aim of furniture is to shed light on the undertones to make sure they aren't overlooked. That's why most interior designers add certain items that stand out from the background to clearly add dimensions to the room with a distinguishable foreground.
Basically, you have to identify the undertone of your flooring and then locate it on a color wheel – which you can find anywhere online – and try to incorporate the color directly into your designs.
Brown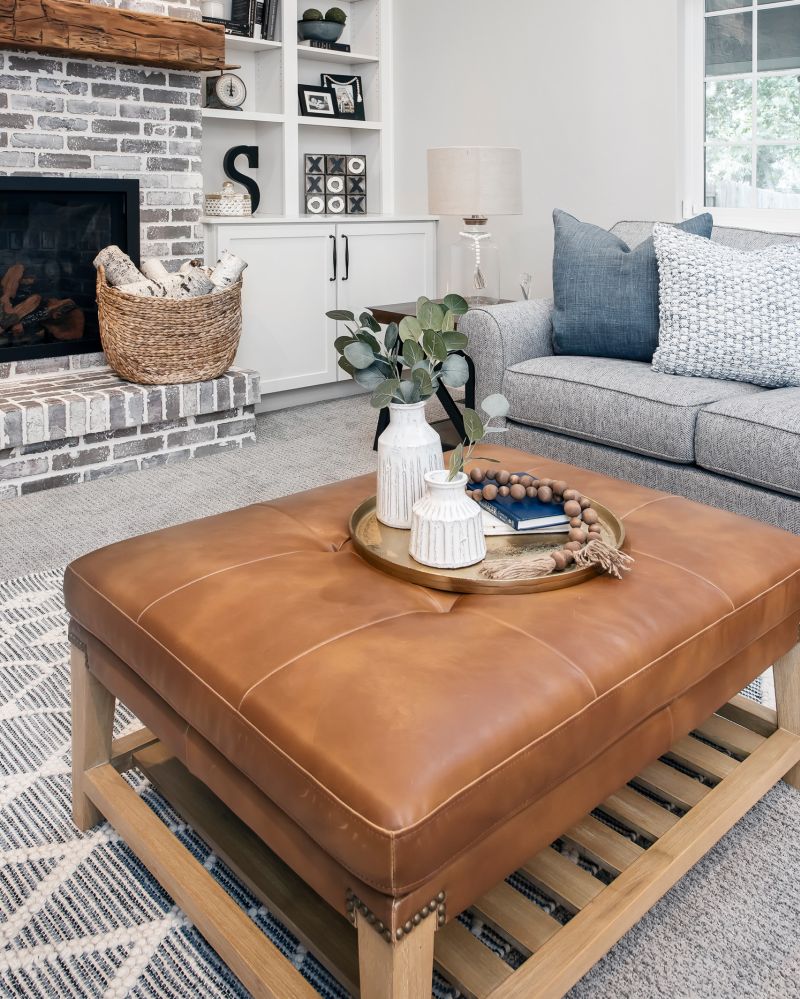 Adding brown furniture with a gray floor is not a bad idea. The neutral colors pair with each other but you have to choose the shades carefully. The gray flooring amplifies the warmness of the brown and takes the spotlight in space. It will bring in the feeling of a forest lodge or a wood cabin in a snowy area.
Black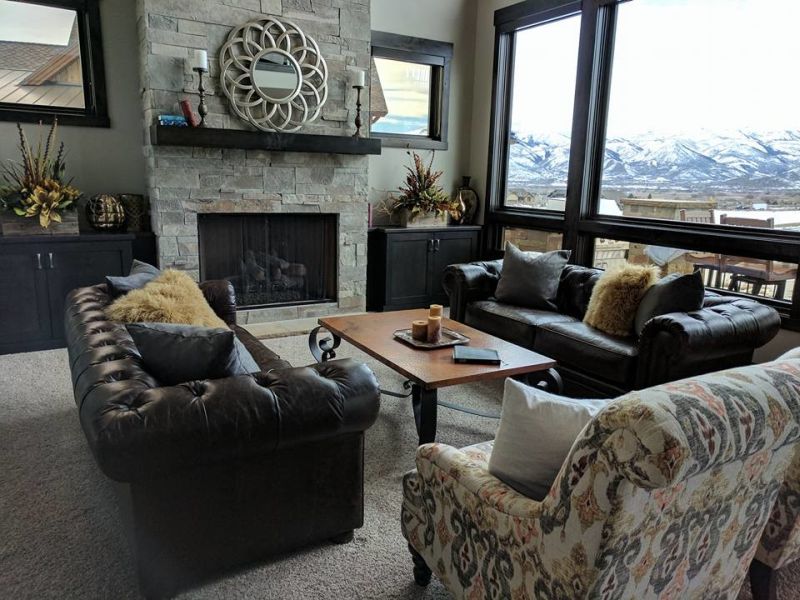 A black couch makes a cool, modern combination with gray floor. It is going to be a centerpiece that will really stand out. Red and yellow accents will help create a perfect room that feels comfortable from the word go.
White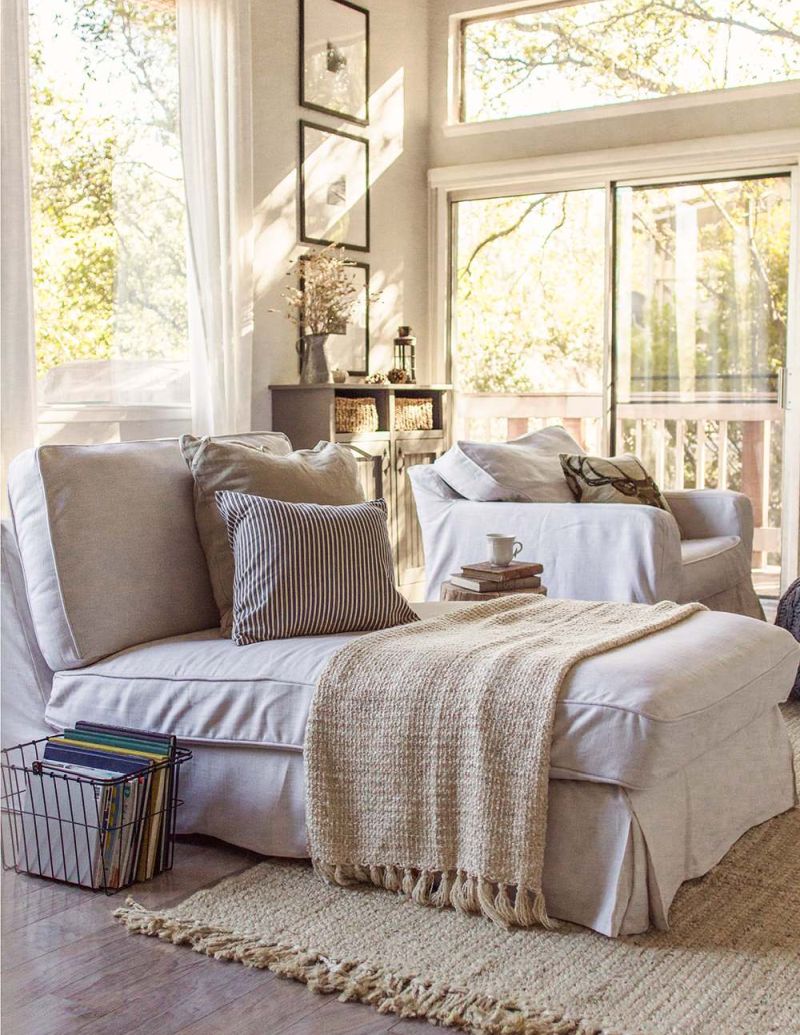 The combination of white furniture and gray floor creates a clean, stylish and chic look. A white sofa is classic and can easily match any space, any style, and any look. It's like a blank canvas you can decorate with different colors of pillows.
Also Read: Ways to Add Veri Peri 'Pantone Color of the Year' to Your Home Décor
Green Undertones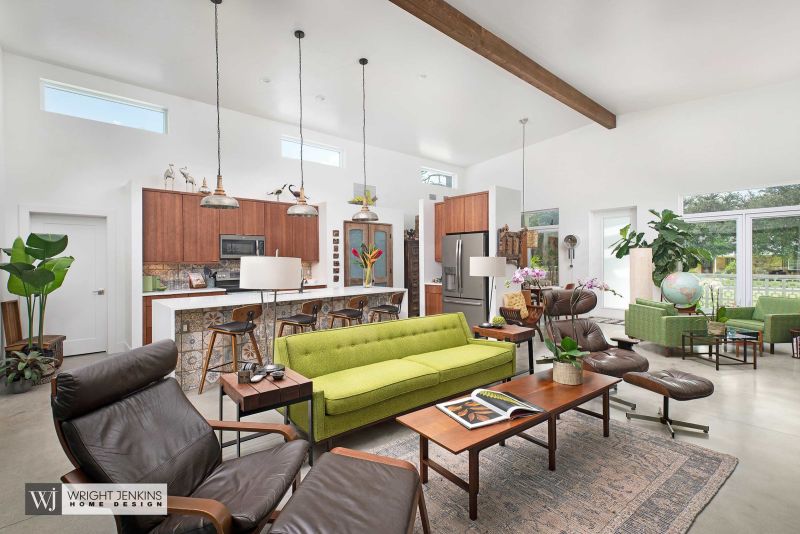 You can make use of the color wheel to find the corresponding mint green colors to match your gray floor. A bright mint green sofa or cabinet will create an interesting contrast. It will help bring the freshness of green into the space.
Blue Undertones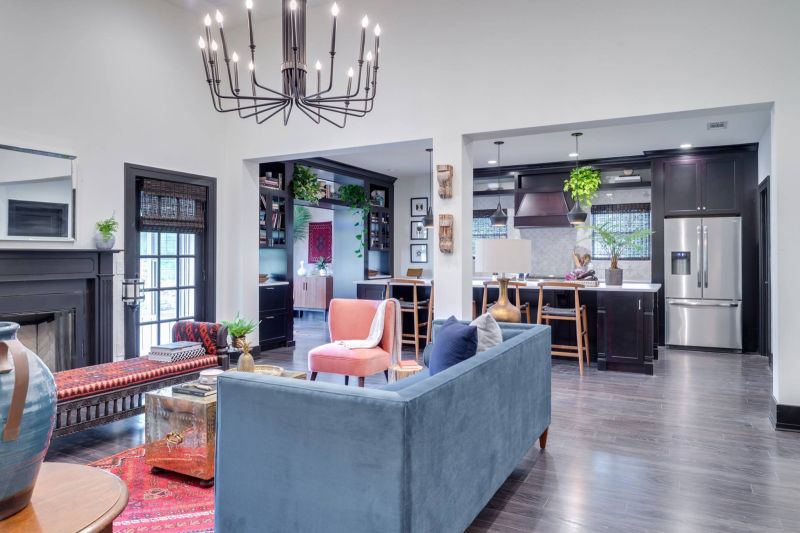 Keeping on with the cool theme of the gray floor using colors like teal or turquoise is a good idea. It gives an icy, sharp look to the room and at the same time draws people's attention to the faint bluish tone of the flooring.
Red Undertones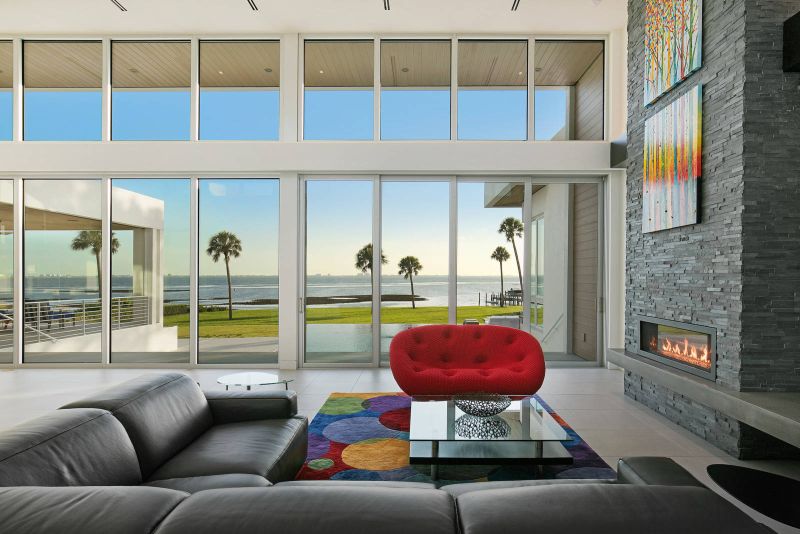 In a room decked with gray laminate flooring that already contains red undertones, it is ideal to have furniture with muted shades of light red. This shifts the balance away from the coolness of the gray as red is on the warmer side of the color spectrum.
You can also experiment with toned-down pink, vermillion, or even salmon in different areas and furnishing including curtains, picture frames, and flower vases. After you've added reds, a bit of yellow can also be used to tie everything together.
Finishing Touches
If you want to design a room that makes you feel special every time or is simply beautiful, professional designers suggest that you should think of a place, song, or a certain movie scene and then start furnishing the room around the memories from the scene.
Start with arranging all the elements of the room together to best convey the image in your head. Also, remember sometimes less is more; you don't need a lot of colors, you just need ones that harmonize together. It is critical that you enjoy the designing process because, at the end of the day, the whole process revolves around your happiness and enjoyment.