Whether printed or knitted, sweaters are our rescuers from cold winter winds, while enhancing your style statement. But what do you do with your old sweaters? Probably throw them to the moths. Instead of discarding the old sweaters, you can recycle and turn them into warm and colorful pillows.
Here's a small tutorial on how to cut and sew your retired woolen sweaters into stylish and cozy sweater pillows for your couch.
Materials Required:
Old sweater from your closet
Pillows
Measuring tape
Scissors
Needle/thread
Sewing machine
Embellishments (optional)
Step 1:
Select the sweaters as per your preferences- whether you want your cushions in same colors or different. Wash and dry your selected sweater that you'd like to convert into a warm pillow.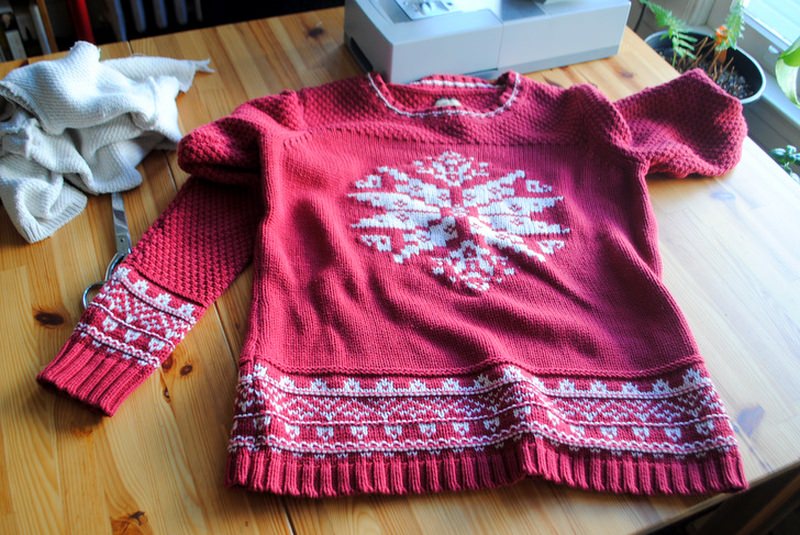 Step 2:
Take out a measuring tape, place your pillow form onto your sweater lining up one edge of the form with a side of the sweater. Mark the points that you need to cut to create a warm pillow cover.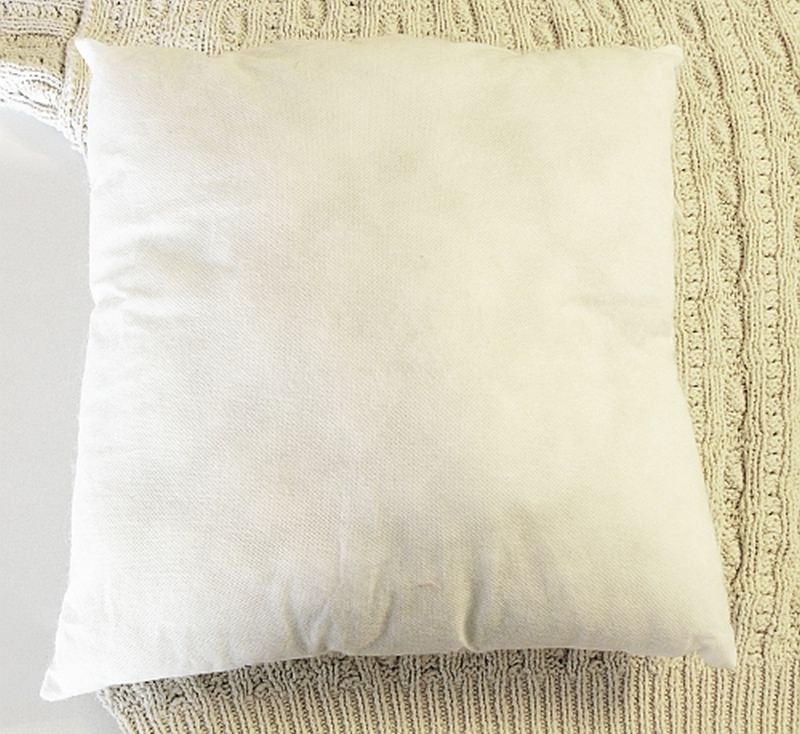 Step 3:
Using scissors, you can cut the selected sweaters, but be careful while cutting. Make sure you don't stretch its hems; otherwise it won't look too good to look at.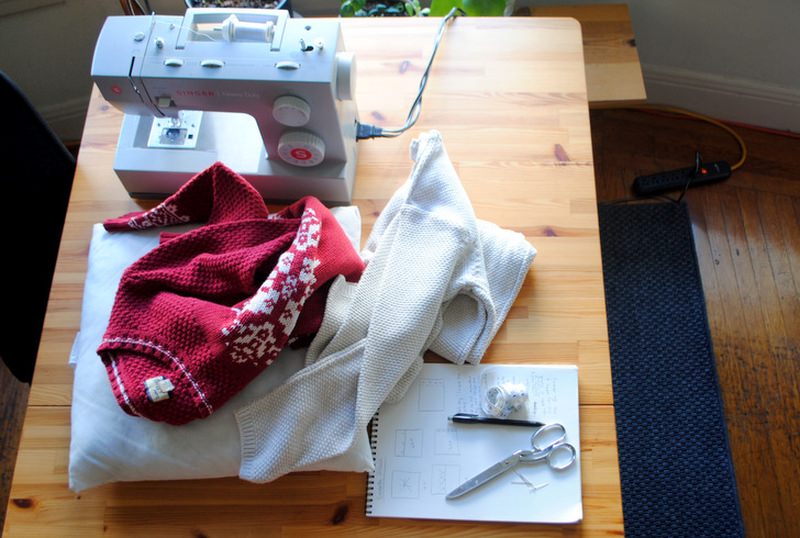 Step 4:
Once you've cut out the complete square, finish the newly cut seam edges with a zig-zag or overlock stitch. This way you can keep the sweater seam from unraveling.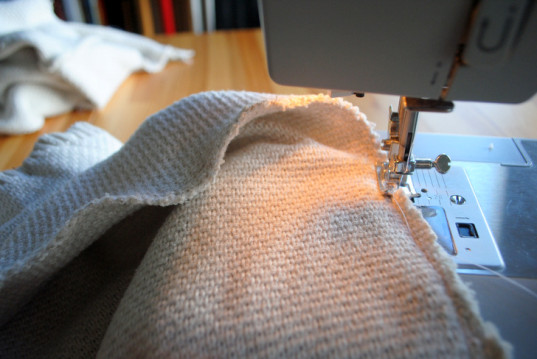 Step 5:
Now, with the help of a needle or sewing machine- attach the square parts of the sweater together, around the pillow. You can create three different versions of the sweater pillows: enveloped styled pillow, hem-styled pillow, and completely stitch the sweater around the pillow.
1. Enveloped Style: You can create an enveloped style pillow, by first creating its back and stitching it with the full front section.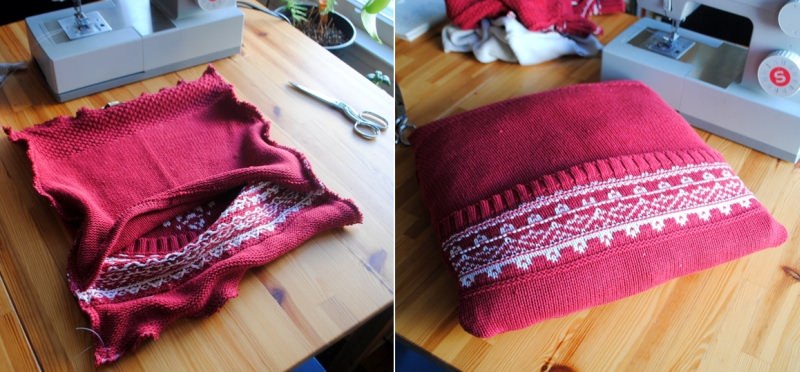 2. Hem Style: Second style is to create a hem-styled pillow- for this style you have to stitch all three sides of the pillow cover and leave one side open. The open side can be lined with fancy buttons for closure.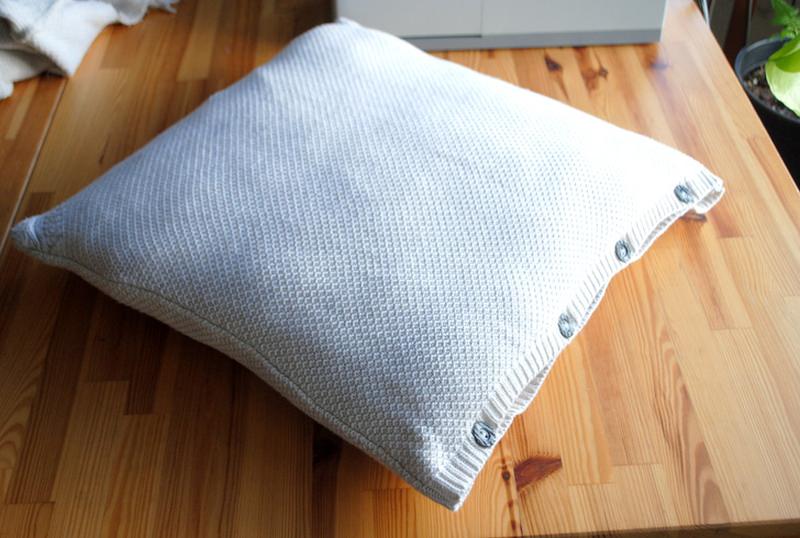 3. Completely Stitched: Third one is to completely enclose a pillow inside cut sections of a sweater. This way you'll form a complete pillow without having to remove its cover. But for this style you need to select a pillow that includes washable foam inside. So, you can easily clean it whenever required without even removing its woolen cover.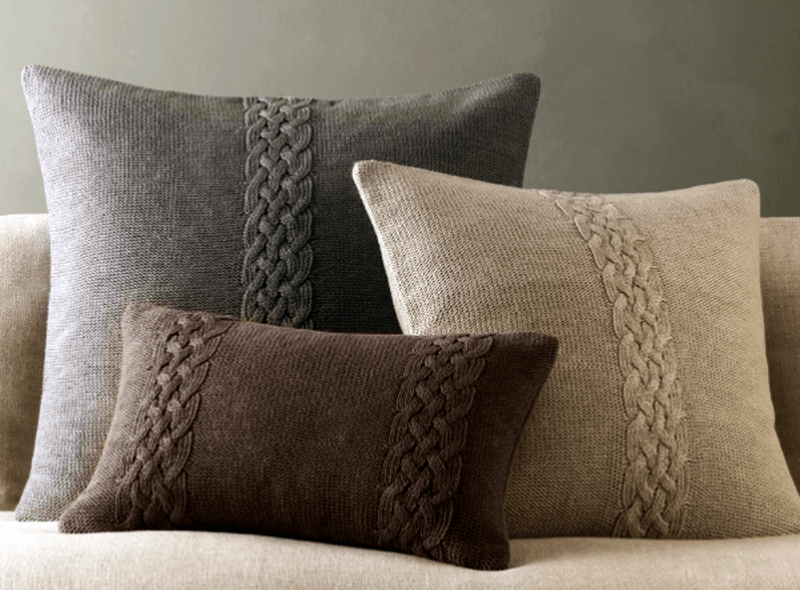 Step 6:
The last step is to embellish the sweater pillows with flowers, ribbons or buttons. It's optional, so only if you want to really decorate the cushions then go ahead. Otherwise, keep it simple yet stylish.