Aging or damaged caulk simply spells trouble. The browning material along the edges as the caulk gets brittle and cracked not only tarnishes the bathroom aesthetic but offers an opening to stubborn mildew and mold. Either that or water begins to seep through to turn the wallboard moldy and mushy. Regardless of your thoughts on the matter, mold always shows up in bathtub caulking, sooner or later.
You can hire a professional to recaulk your bathtub, but it's a fun thing to do on your own as well. Caulking is a relatively easy project if you have done thorough research and have the proper tools. To help you do a seamless job without making an enormous mess in your bathroom here is a DIY on how to remove the old caulk out and recaulk a bathtub.
Tools and Materials Required
You need to pick the most comfortable tool to first remove the existing caulking. Once you scrap the old, moldy, and damaged caulk, you can get started on the project of recaulking. But before that, you should have all the required tools and materials at hand. Most of these items are easily available at home centers.
Tools: Caulk gun, oscillating tool, rags, putty knife, plastic razor scraper, and utility knife.
Materials: Caulk containing mold and mildew prevention additives, caulk remover, masking tape, mineral spirits, non-abrasive sponge, and paper towels.
Also Read: Comprehensive Buyer's Guide on How to Choose a Bathtub
How to Recaulk a Tub?
Caulking is a simple DIY skill. Once you learn how to do it, it is stress-free and fairly predictable without the use of extra devices. Nonetheless, before you dive into the process, you need to make sure your tub is dry and remove the old material. Here are five easy steps to follow.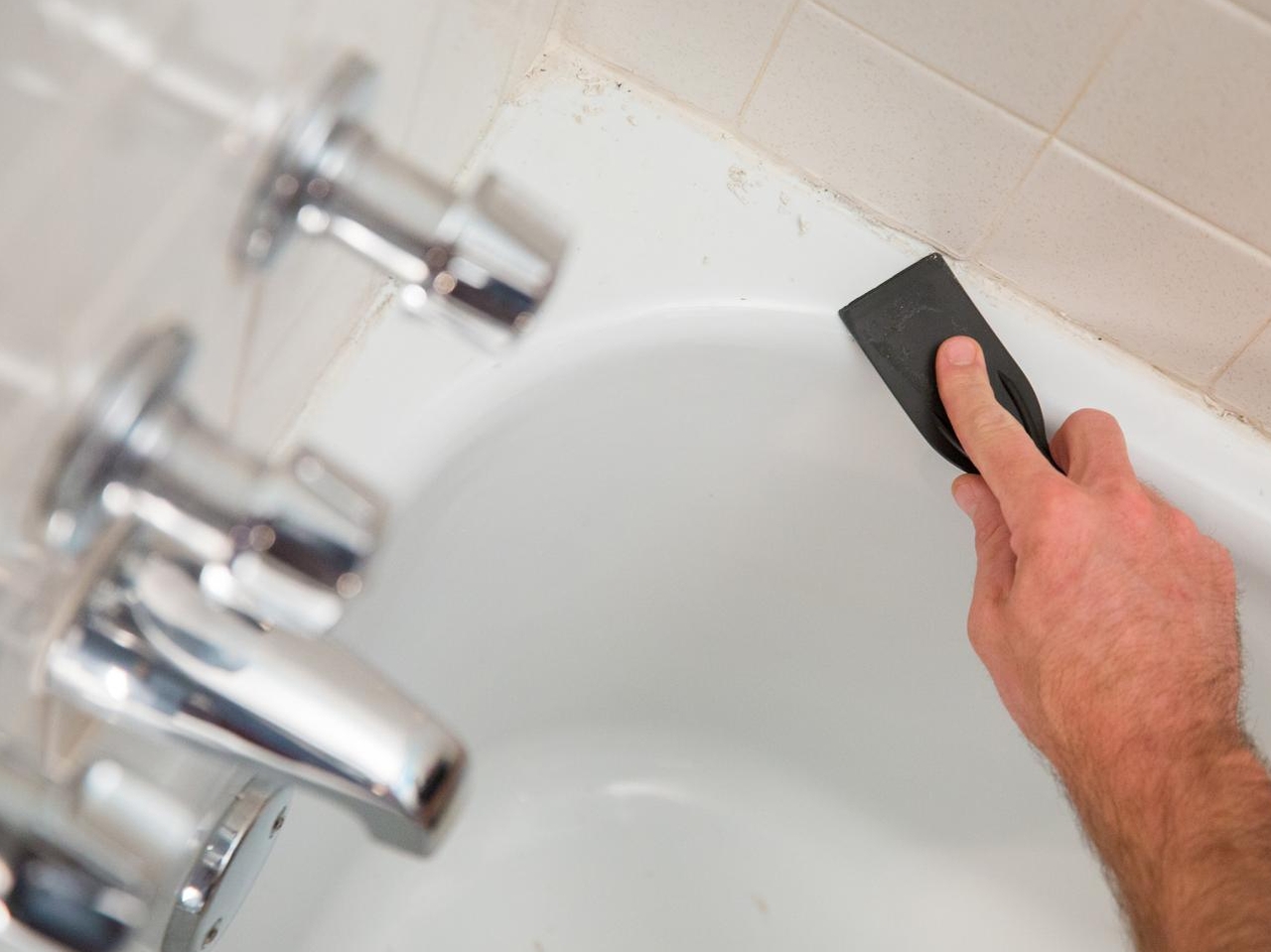 1. Remove old bathtub caulking
Close the pop-up drain in the tub and cover the entire tub with a drop cloth to protect it from scratches, etc. Then take a plastic razor scraper or a plastic putty knife – instead of metal blades to avoid scratching – to carefully pry the old caulking off the bathtub. Make sure to get it all out or the new caulking will not stick.
2. Preparing the bathtub for process
Once it is removed, scrub any caulk and mold residue with a soft rug or a non-abrasive sponge dampened in mineral spirits. You can also use liquid caulk remover, bleach, or white vinegar to clean the surface. Then wipe down the area and let it dry to prevent future mold outbreaks.
3. Tape off the area
Taping off the area that you are planning to caulk helps achieve a straight and smooth line. It makes cleanup faster and easier, so don't skim on this step. You can lay parallel strips of painter's tape to keep the bead uniform and off surfaces where it shouldn't be.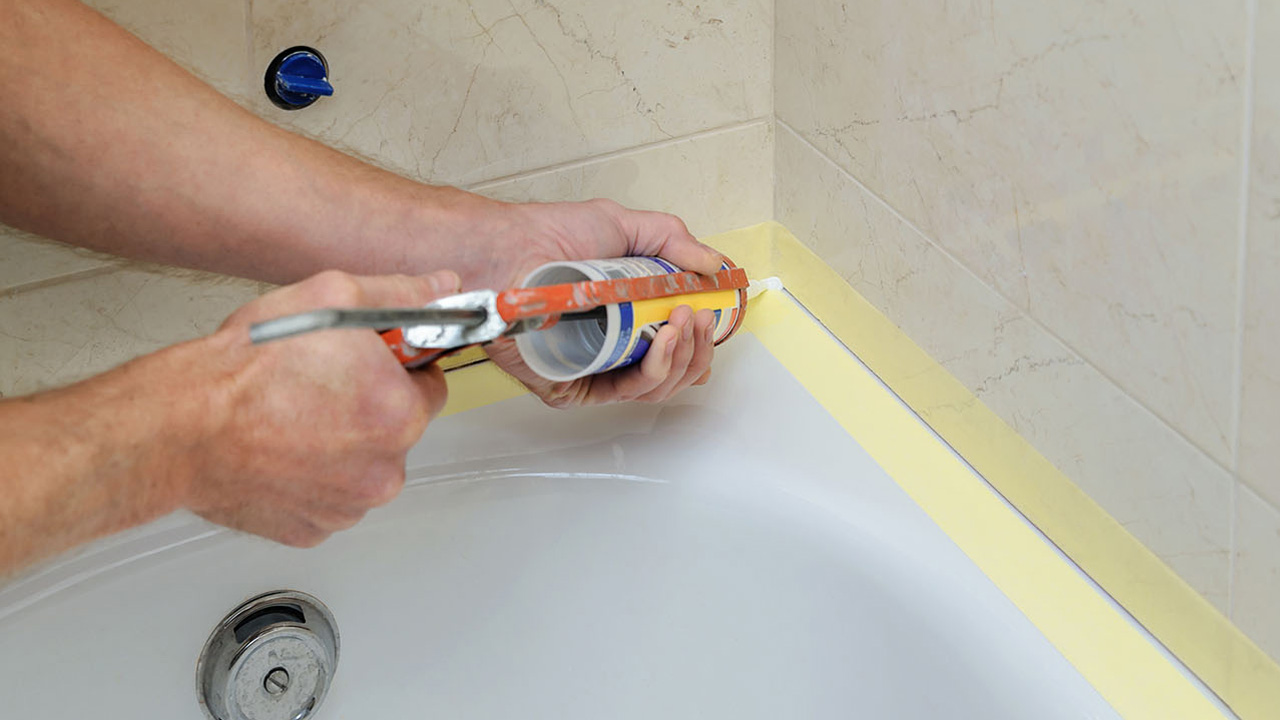 4. Recaulk the bathtub
Once you know the work surface, you can load up the caulk into the gun, and spread the caulk along the tub seam with steady pressure. If you go too slowly, the material starts to pool; if you go too fast, the caulk stream is thin and breaks. The key is to apply the caulk at an even pace along the entire length of the seam.
5. Smoothen out the caulk
As soon as you are done applying the material, you need to dampen a lint-free rag, paper towel, a wet finger, or an ice cube to smoothen and squeeze out any excess caulk. Make it work in one continuous motion to shape the freshly used caulk into a concave bead. Then, remove the tape without touching any of the fresh caulk.
Video Tutorial on How to Recaulk a Bathtub:
Best Bathtub Caulks to Buy
There are two main kinds of caulk that you can use to recaulk your bathtub – silicone and latex. Silicone is perfect for slippery, nonporous surfaces such as glass, ceramic tile, and metal; whereas latex is best for rough, porous, or mismatched surfaces including stone tiles or wood trim. Here are the four best bathtub caulks you can purchase from Amazon:
Flex Shot Rubber Adhesive Sealant Caulk
Flex Shot is a thick rubber sealant that creates a watertight barrier without running or dripping. It is shrink-resistant, mess-free, fills huge cracks seamlessly, and prevents severe leaks.
Buy: $17
Gorilla Sealant Caulk
This extremely thick rubber sealant is capable of caulking and bonding almost everything. This 2-pack, 100 percent silicone sealant does not fade, shrink, or crack over time. It is also mold- and mildew-resistant.
Buy: $15.69
Momentive Performance Materials
With GE advanced silicon, this adhesive is mold-free and keeps the cured caulk mold clean for years with proper cleaning. It can be used for most materials, including ceramic tile, porcelain, glass, metal, plastic, and wood.
Buy: $10
Liquid Nails Super Caulk
This latex caulk contains vinyl acrylic caulk with silicone to provide a waterproof and mildew-resistant seal. It is an excellent adhesive that works brilliantly on plastics and other surfaces.
Buy: $16