Bathtubs are soothing, offering a meditative reprieve and a truly personal experience. There are so many health benefits of taking a dip in the tub, but you need to find one that suits your needs and complements the layout as well. Therefore, you must know how to choose a bathtub. You need to plan your budget, decide which type of bathtub to get, and also determine the tub size and material.
This comprehensive guide on how to choose a bathtub will clarify the process and ensure that you pick the right tub for your bath space, your budget, and your lifestyle. So before you go bathtub shopping, here are the five key things you must consider:
1. Types of Bathtub
There are a handful of bathtub styles that are suitable for just about any bathroom with each type elevating the design layout. However, the amount of installation space profoundly impacts your choice of bathtub type. For instance, while you may want to have an oval-shaped freestanding tub, your space might allow for a round bathtub. Here are the most popular kinds of bathtubs that you can choose from depending on your affordability and available space.
✦ Freestanding Bathtub
A freestanding bathtub is possibly one of the most popular styles and for obvious reasons, too. With four sides exposed, this tub sits directly on the floor with no feet or platform supporting it. It offers a more vivacious centerpiece for your bathroom aesthetically compared to its counterparts. A freestanding bathtub can seamlessly fit in any space and offers you the flexibility of placement.
Buy on Amazon.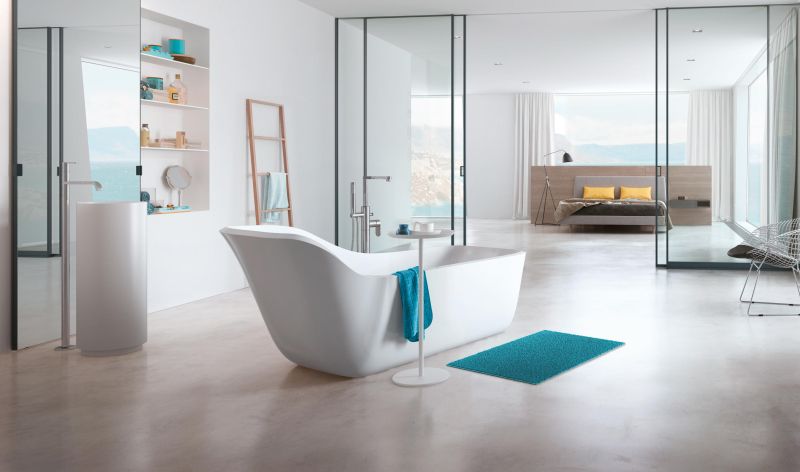 ✦ Drop-in Tub
A drop-in bathtub is "dropped in" to a frame or structure known as a surround. It is installed by dropping in a carved-out area and then sealed in, so the rim is more visible. The surround can be tiled or built out of wood or other materials. The drop-in tub saves space and comes in many different styles and materials. You can have it fitted with powered jets for a more relaxing bath experience or combine it with a shower for multipurpose use.
Buy on Amazon.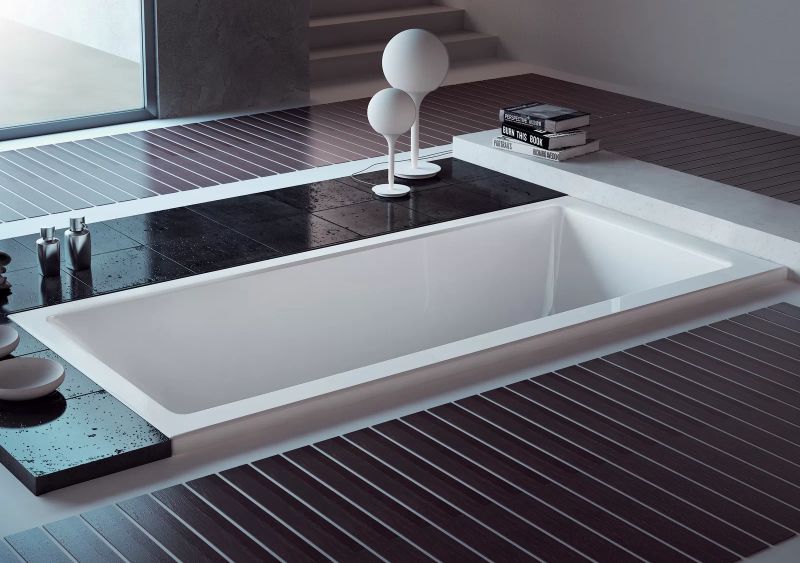 ✦ Oval Bathtub
The oval bathtub remains a very classic and a common choice. It is similar to the rectangular tub in every way other than its shape, which provides a softer and more natural design. It can fit into almost any bathroom and comes in a wide range of sizes. Oval bathtubs are a popular choice for apartments or smaller homes where space is crucial.
Buy on Amazon.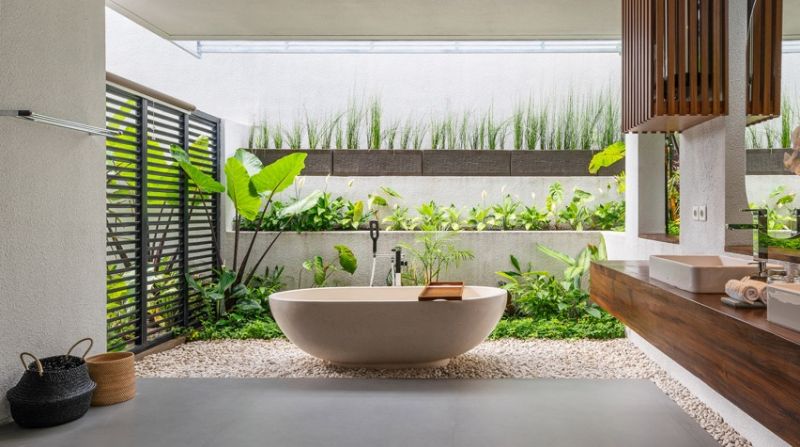 ✦ Corner Bathtub
When your bathroom space is small, you have to use it smartly. You can install a corner tub that is shaped to fit into corners so you would not have to compromise on your floor space. It is most commonly three- or five-sided but comes in different shapes and sizes. It is a brilliant way to use up an awkward layout, not to mention stylish. A corner bathtub can fit in spaces that are inaccessible for traditional bathtub designs.
Buy on Wayfair.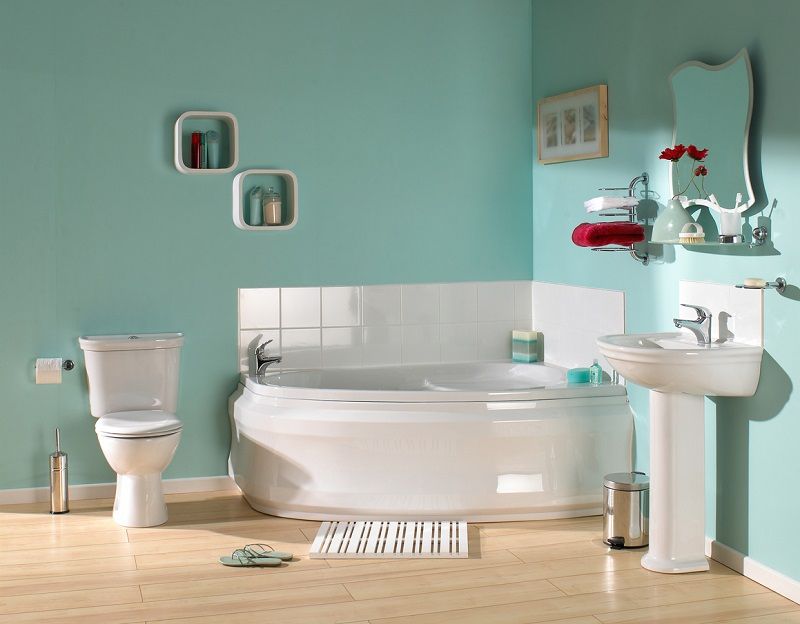 ✦ Soaking/Japanese Bathtub
A soaking tub is a freestanding tub that is usually oval or round in shape with a depth for total submersion. The purpose of this bathtub style is to cover your entire body with water, to offer a soothing spa-like experience. It can increase the appeal of your bath area while relaxing any sore muscles.
Buy on Wayfair.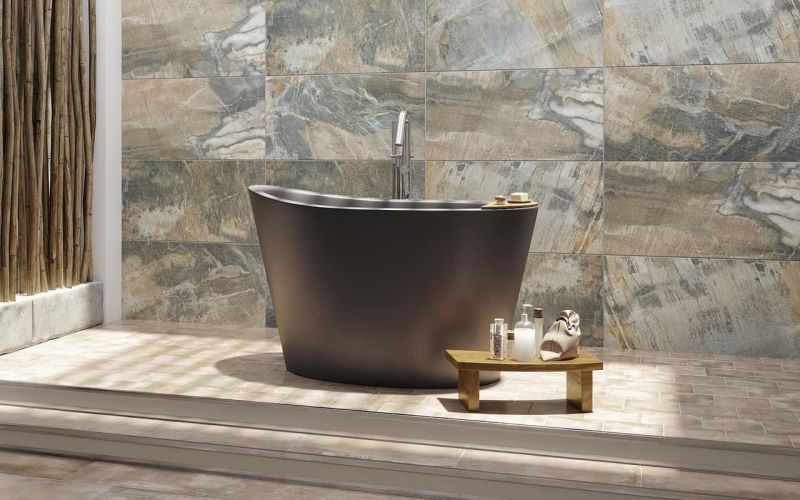 ✦ Clawfoot Bathtub
Perhaps the most attractive of the bathtub styles, a clawfoot tub is a freestanding kind with four claw-like feet. This type is a classic and has stood the test of time. The ageless design dates back to early Victorian era bathrooms and is still a popular choice. It is attractive, elegant, and works equally well with vintage or modern styles.
Buy on Amazon.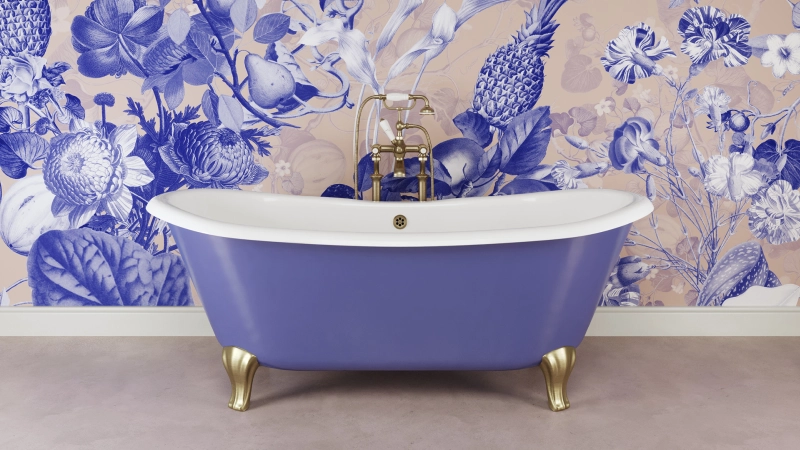 ✦ Alcove Bathtub
Another common bathtub style is the alcove bathtub, which is surrounded by walls on three sides with one finished side. It features right and left-handed drain options to accommodate your bathroom configuration. Nicely shaped and symmetrical, you can also pair an alcove bathtub with a shower combo.
Buy on Amazon.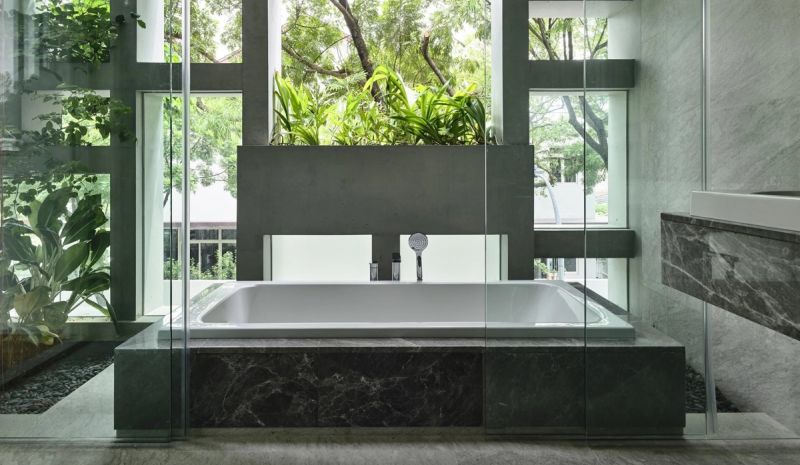 2. Tub Materials: Cost and Durability
Once you decide which bathtub style you want, you must pick the right build material. In our opinion, natural stone is one of the most alluring bathtub materials, but there are several other options to explore. A good tub can be pricey so before buying one, you should do your research.
With every material offering a different texture and look, it is important to test out which is the most comfortable and suitable for you. Here we have listed the most popular tub materials with varying cost, weight, texture, and durability.
✦ Fiberglass
Fiberglass is the cheapest bathtub material, which is made from reinforced plastic sheets molded into the shape of a tub. Although prone to fragmenting from dense impacts, the material is lightweight and quite long-lasting. It is also porous, meaning it will absorb water regularly, which can result in the warping of the material over time. It can cost somewhere from $200 to $800.
Buy on Amazon.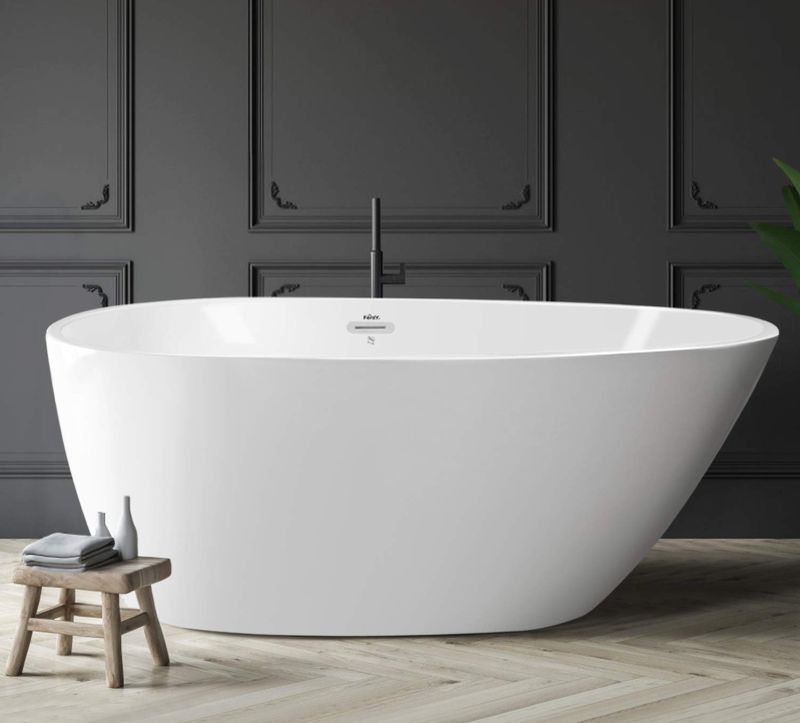 ✦ Porcelain
This material is created by layering cast iron or stamped steel with a layer of porcelain enamel and a mixture of crushed glass, and then the layer is heated into a durable coating. Consequently, the material makes the bathtubs durable and non-porous. However, the porcelain coating is sensitive to heavy impacts, meaning if you drop something heavy on them, they may crack or get damaged. The average cost of a 60-inch standard porcelain bathtub ranges from $350-$2,000.
Buy on Amazon.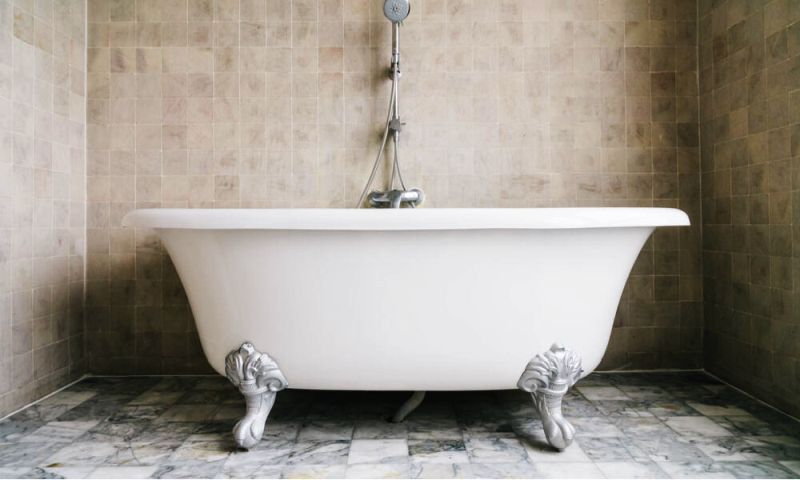 ✦ Acrylic
Acrylic is similar to fiberglass and is made by heating a solid sheet of petrochemicals, stabilizers, resin and dye, and molding it into a tub that is then reinforced with fiberglass. Acrylic bathtub is lightweight and comes in a variety of styles and sizes, making it a popular choice for both drop-in and freestanding bathtubs. It can cost between $300 and $14,000.
Buy on Amazon.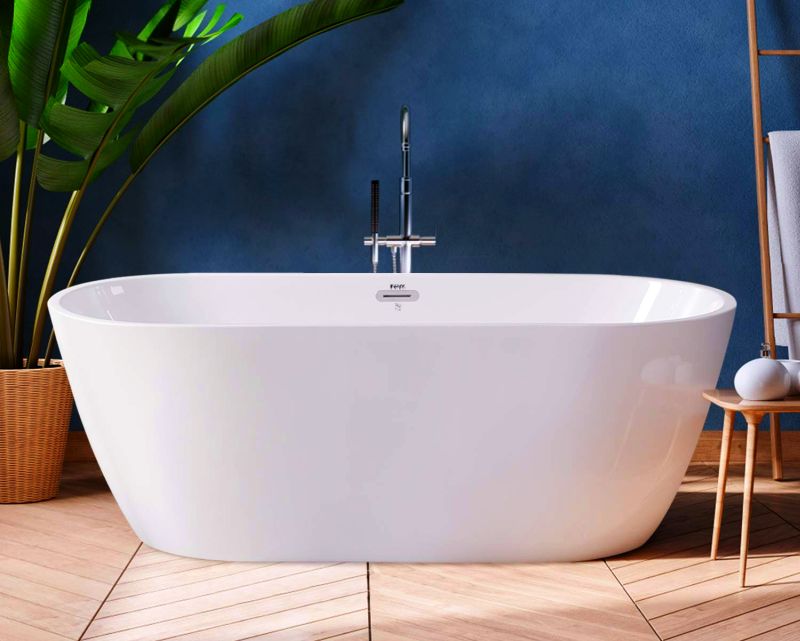 ✦ Ceramic
Formed by molding ceramic tiles together until hardened, the ceramic bathtub features a clay-like formation and comes in various styles and sizes, which is more than any other material on the market. However, it requires frequent maintenance or it will eventually deteriorate and get damaged. Ceramic tubs can cost somewhere between $5,000 and $10,000.
Buy on Wayfair.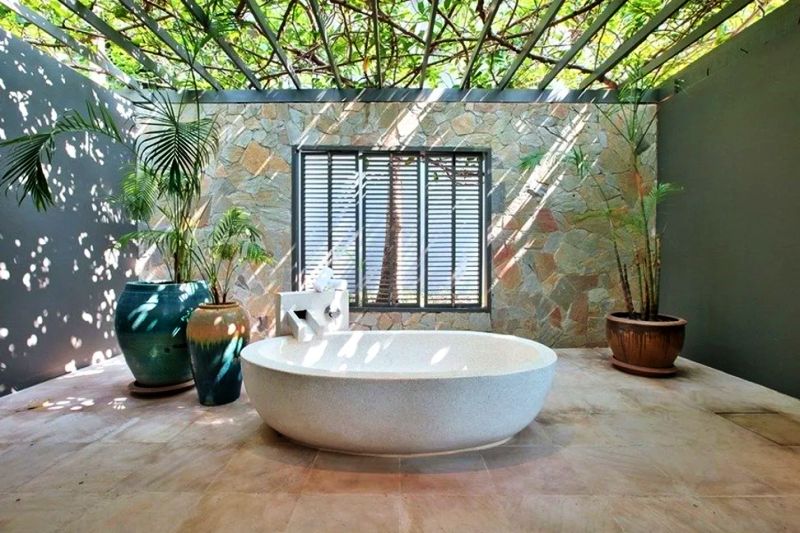 ✦ Stone Resin
Stone resin is made from crushed natural stone bound together with adhesive to give you a composite material that boasts the look and feel of natural stone without the heavy weight and added cost. Stone resin bathtub offers brilliant durability and heat retention. It is a non-porous material and is affordable. It costs around $1,200-$3,000.
Buy on Wayfair.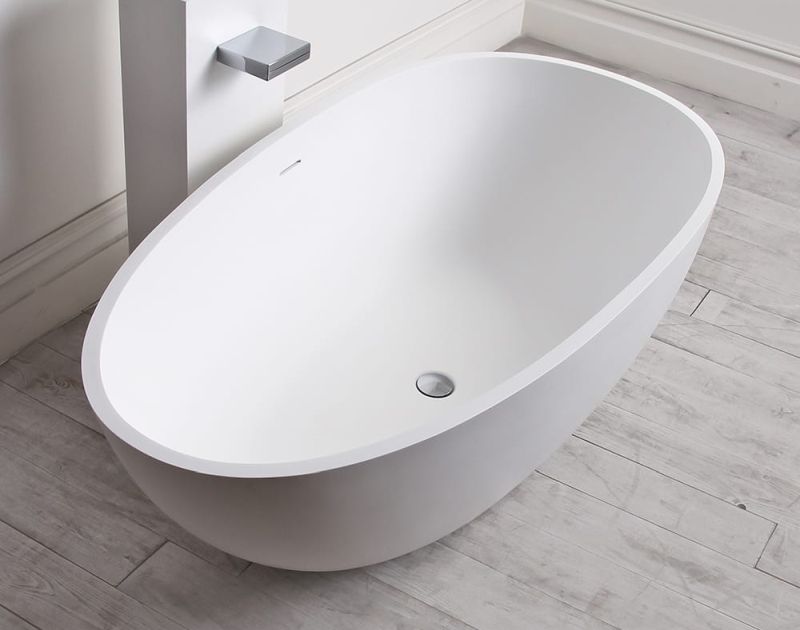 ✦ Cultured Marble
Cultured marble is made from crushed limestone and resin. A cultured marble bathtub retains heat very well and is durable with an excellent shine. It is quite similar to marble in terms of price, weight, and care, which keeps it from being very popular. If you fail to provide it with the proper care, it will start to discolor and ultimately, damage. It costs around $1,500-$2,500.
Buy on Wayfair.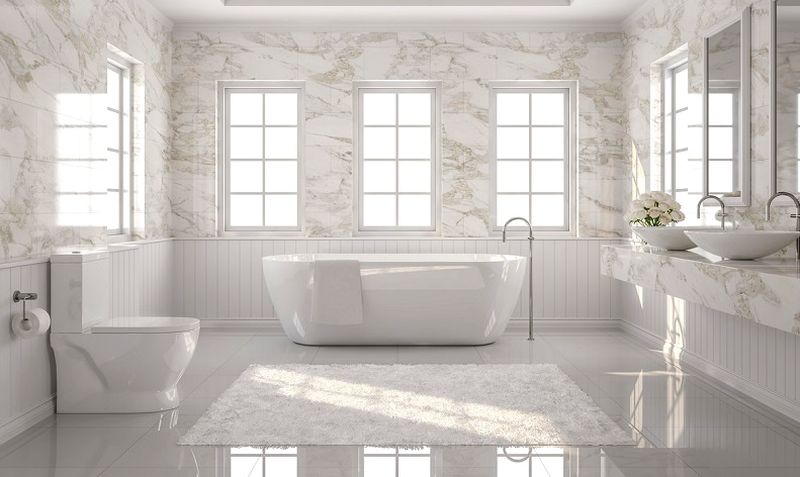 ✦ Copper
Although quite more expensive than their counterparts, copper tubs are the embodiment of a luxury bathtub. Incredibly durable, the copper bathtub can hold heat and requires absolutely no extra maintenance other than consistent water use. It is aesthetically pleasing and is 2-3 times more expensive than other bathtub materials. It costs around $2,000-$5,000 and more.
Buy on Amazon.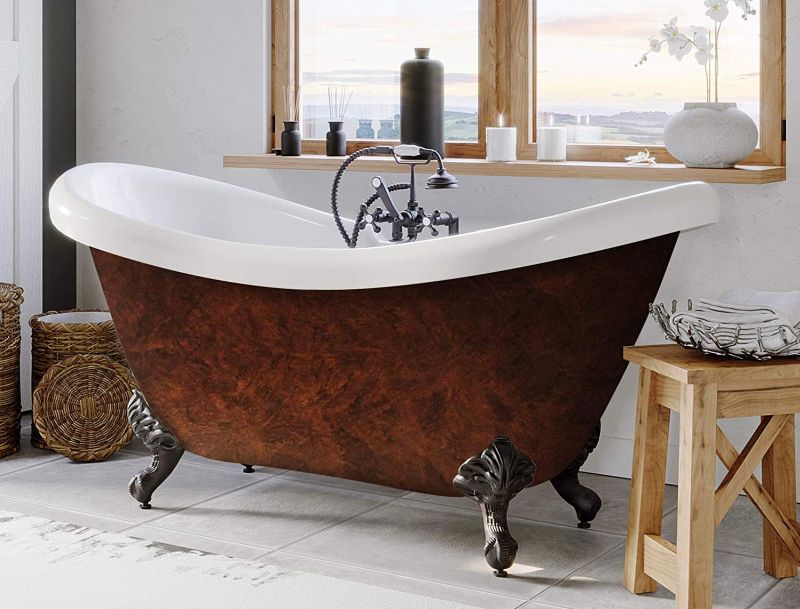 ✦ Wood
Like copper, wood is a rustic bathtub material and is incredibly beautiful. Made from natural wood and sealed with water-resistant wax, a wood bathtub is highly-priced at around $2,000. The wax can hold for several years but is vulnerable to cracks with regular use, which makes it not as lasting as the similarly priced copper tubs.
Buy on Archiproducts.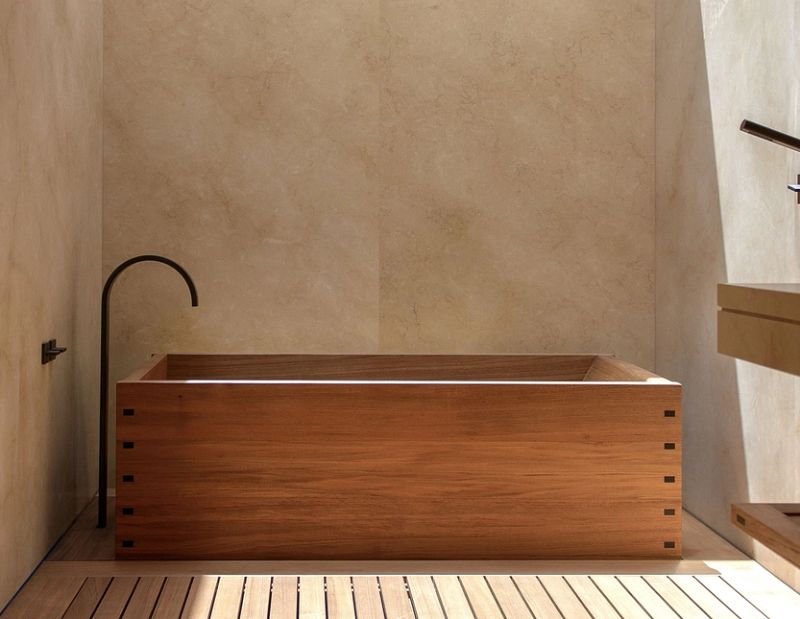 ✦ Cast Iron
Durable and sturdy, the cast iron bathtub has excellent heat retention, allowing you to enjoy longer soak times. Not to mention, it looks exquisite in any layout. The material is quite heavy and expensive. It requires additional support and reinforcement. A standard 60-inch cast iron tub can cost somewhere between $500 and $2,000, excluding installation.
Buy on Wayfair.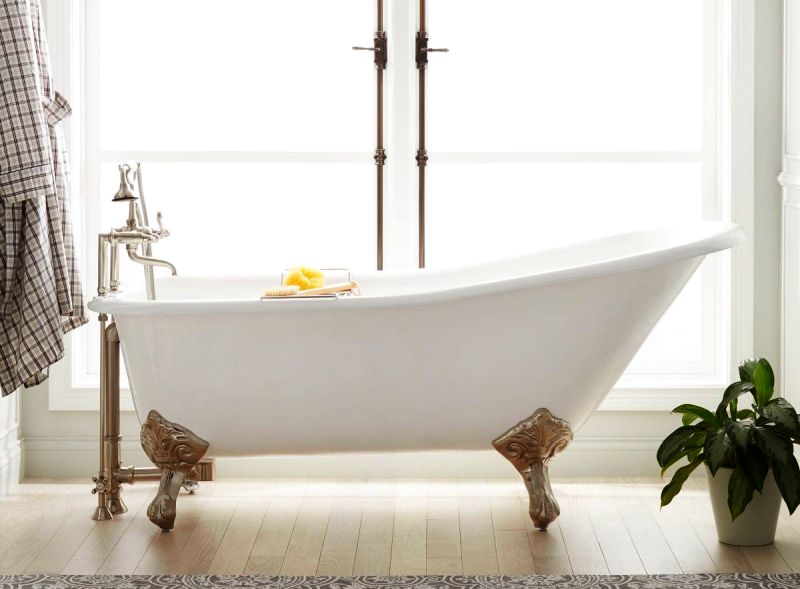 ✦ Steel
A steel bathtub is a sleek addition to any modern home. It is similar to cast iron, minus the back-breaking cost and weight. However, the material is quite susceptible to wear and tear and can create a lot of noise when the tub is filled. The average cost of a 60-inch enameled steel tub can be somewhere around $300 to $2,000.
Buy on Wayfair.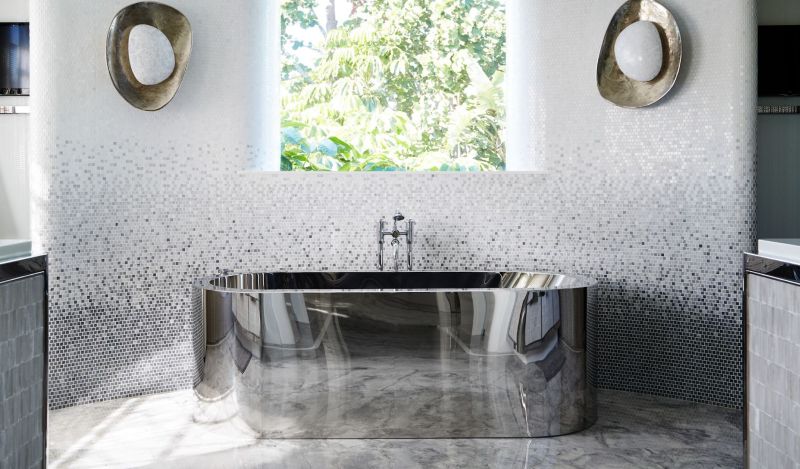 3. Evaluate Shape, Size and Weight
After deciding the type and material of the bathtub for your home, you need to consider its size, shape, and weight that would accommodate your budget and current layout. You need to decide what size and shape will fit your space as bathtubs are available in a wide range of different sizes, shapes, and colors.
If your home can support it and you have the space, a larger tub is recommended in freestanding style. However, for smaller spaces, alcove, drop-in, and soaking tubs are the more suitable choices. The most common depth of a standard tub is 14-20 inches.
Also Read: 15+ Unexplored Places to Position Bathtub Around the House
Similar to size, the weight of your tub is a crucial factor to consider before you choose. It will determine where you can place the bathtub. You must know how much weight your floor can support and whether your water heater can handle a larger tub. If the material of the tub is too heavy, your floor may not be able to support it once it is filled with water, which is the case with some of the more quality materials like cast iron, natural stone and copper.
Additionally, the shape of the bathtub is also an important factor. Round, oval, rectangular, bowl, swirling or any other shape will ultimately define the layout of the bathroom and regulate your comfort level.
4. Consider Available Space and Budget
Many bathroom designers advise people to write down their budget before going shopping for a tub. Remember, your budget must include the cost of the tub, its installation, and any fixture expenses like a drain, overflow drain, tub spot, faucet handles, and/or showerhead.
This way you create a budget frame in which to adjust the expense of a suitable tub and the hidden and often expensive costs of installation. Going overboard with the budget can make a big hole in your finances, so better stick to it.
You can create a rough blueprint for your bathroom, which can be done using a computer program like CAD or drawing a simple version of your space on graph paper. This way you will know what the dimensions of your space are and how much other fixtures like the toilet room and vanity will take up.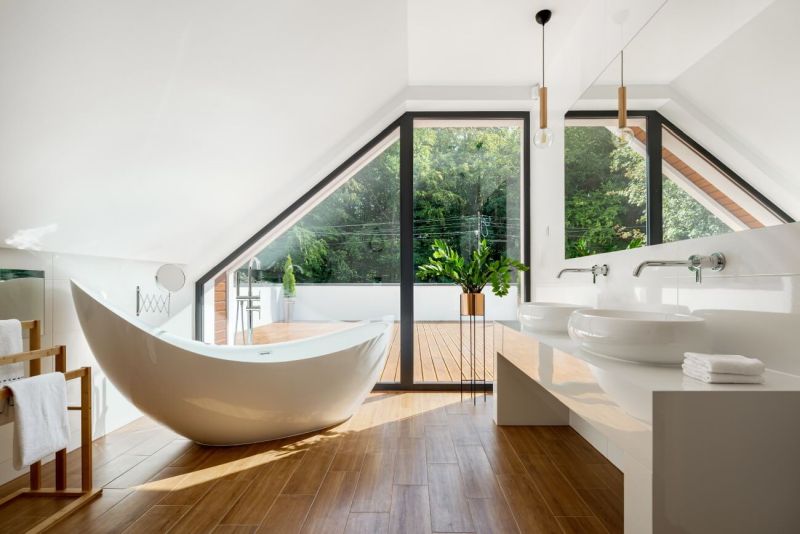 5. Factor in Installation Cost
While the cost of your bathtub can be surprising, installing it can also be a hassle depending on the size and shape of the tub. Generally, alcove and drop-in bathtubs are easier to install than freestanding and corner tubs. These tubs should be installed by a licensed plumber who might charge you $45-$200 per hour. It takes about 6 to 9 hours to get a new tub installed, which can cost you somewhere between $270 and $1,800 in labor. Read on to get a wider perspective of installation costs for different bathtub types.
✦For Freestanding Bathtub
A freestanding bathtub can be installed almost anywhere in your home, provided you have a working drain and water source in that space. However, as these bathtubs are the largest, they can be really heavy. Therefore, when installing a freestanding tub, you must consider whether your floor can handle the additional weight of water once they are filled. For freestanding bathtub installation, you will need additional help, costing you an extra $500-$1,100 for other expenses such as bathtub costs and plumbing tools.
✦For Drop-In Bathtub
Drop-in bathtubs are probably the easiest to install compared to their counterparts. They simply drop in a place, hence the name. They can be placed in an ingress or carved-out area, which needs to be connected with the requisite plumbing before placing down. To install this bathtub, the installer must build a deck first, which can be made from various materials including wood and concrete. Then, the tub can be hung, caulked into the spot, and plumbed; all of which can cost around $950 and $1,700.
✦ For Alcove Bathtub
An alcove bathtub is fitted against three walls with one finished side. Generally, you would have ingress or an alcove space ready that you would simply place your tub in, which should be connected to the required plumbing. As they are not heavy, you can install them with just 1-2 people. It costs around $750 to $1,450 for alcove installation, depending on the tub type, including corner bathtubs.
How to Choose a Bathtub: FAQs
Q: Is a bathtub necessary?
A: No, a bathtub is not a necessity but a luxury. Bathtubs serve brilliantly when you need to unwind after a tiring day and soothe your muscles in a warm bath. Whether you need a bathtub in your home is debatable as most modern homes or apartments don't have enough bathroom space for a tub. However, if your space permits, you must consider installing it. It will not only proffer therapeutic benefits but will increase the value of your home as well.
Q: Which bathtub is the best?
A: Your circumstances determine which bathtub is the best for you. If you have a tight budget and a tight floor plan, a straight bath is best suited for you with excellent value for money, functionality, and durability. For those with a slightly larger than average bathroom and a big budget, a freestanding bathtub is the best choice.
Also Read: 35+ Stone Bathtubs that will Rock Your Bathroom
Q: Do bathtubs come in different sizes?
A: Yes, bathtubs come in a variety of shapes and sizes. You can choose one depending on your budget and available space. The bathtub size you choose is also determined by your floor's weight supporting capacity. A standard tub has external measurements of around 60-inch-long, 30-inch-wide, and 14 to 16-inch-high. A soaking tub, on the other hand, measures between 60-inch-long and 72-inch-long.
Q: Which is cheaper – a bathtub or a shower?
A: Generally, a shower is cheaper than a bathtub in terms of installation and water usage. A shower can be installed without any additional help, while you will need a couple of extra hands to help you lift and install your bathtub which is much heavier. However, you can go as expensive as you like when you are shopping for a new bathtub or shower.
Q: What should you look for in a bathtub?
A: There are several things to consider when you are looking for a bathtub. The size, shape, color, material, and style of the bathtub matter significantly. Moreover, these factors will be determined by the available space and your budget.
Q: Do you need a bathtub-shower combo?
A: A bathtub-shower combo is a great idea if you are looking for a flexible bath area. You can choose the bathing option that suits your schedule best. This design layout is recommended for homes with just one full bathroom, as they provide the most functionality in a limited space.
Q: How hard is it to install a bathtub and do you require help?
A: Installing a bathtub can take a couple of hours and even half a day. If you are hiring professionals to accomplish the task, you merely have to loosen up the purse strings a little. But if you are doing it yourself, you will need to carefully prepare and work with a helper to complete the project in one day.
Q: What is a tub surround and do you need it?
A: A tub surround is a vertical surface material that protects the walls just above a bathtub or bathtub-shower combo. The surround is important as it provides an aesthetical purpose and functions as a buffer for any extra water from the frequent shower or bath use and structural integrity between the walls and your tub.