This is a totally personal opinion so don't @ me for this, but I absolutely hate it when someone reckons camping trailers just for roadside adventures. I even hate it more when they are only boasted for their parking ease. Camping trailers are rugged RVs designed for rough conditions. They are like that buddy horse of yours who you could take countryside on a dog track adventure but not to a Salon del Caravan fest.
Boasting a stylish exterior and featuring a long slide-out compartment, comes one such camper trailer dubbed as Campervan RAPTOR XC. Easily towable by any mid-size SUV or 4×4 off-roaders, RAPTOR XC is a 15.7 feet camper trailer from Turkish builder Hunter Nature Caravan and is a perfect Christmas present for the outdoorsy.
The highlight feature of the trailer is its rear expansion which allows the trailer to be more spacious and adds an entire room that could accommodate up to four people. Once fully stretched out, the size of the camper increases from 15.7 feet to 22.6 feet with an addition of nearly seven feet. The extension is manually operated as standard but can be equipped with a remote-controlled motor system.
Once fully expanded, the trailer expansion area provides adequate space for two adults to sleep in a principal bedroom. Both interior and exterior comprise aluminum walls sandwiching an XPS insulation with a doorway separating the bedroom from the main cabin which features an indoor kitchen and a dining area.
The kitchen comes stocked with a dual-burner gas stove, sinks, 75-L fridge and L-shaped stainless steel counter. Next to the kitchen, Hunter Nature has cleverly squeezed a wet bath that houses a sink and a shower. Guess what, a solid door will provide you some privacy in the bathroom which is very rare in case of camper trailers. In addition, there is plenty of storage space available in both sections of the trailer.
Also Read: Flip90 VW Truck Camper Offers 90-Degree Rotatable Extension
One also need not compromise the outside views as both the cabin and the slide-out section are equipped with panoramic side windows which allow the user to see the scenic beauty of the outside world and also allow light to pass through.
Weighing around 1260 kg, RAPTOR XC comes powered by a 120-Ah gel battery wired into a 160W solar panel on the rooftop. In addition, there is a touchscreen panel that provides system information and control of various onboard components. Moreover, the trailer carries fresh water in a 120L stainless steel tank and wastewater in a 100L aluminum tank. With all these features loaded, one can expect the price of the camper to be around $43,900.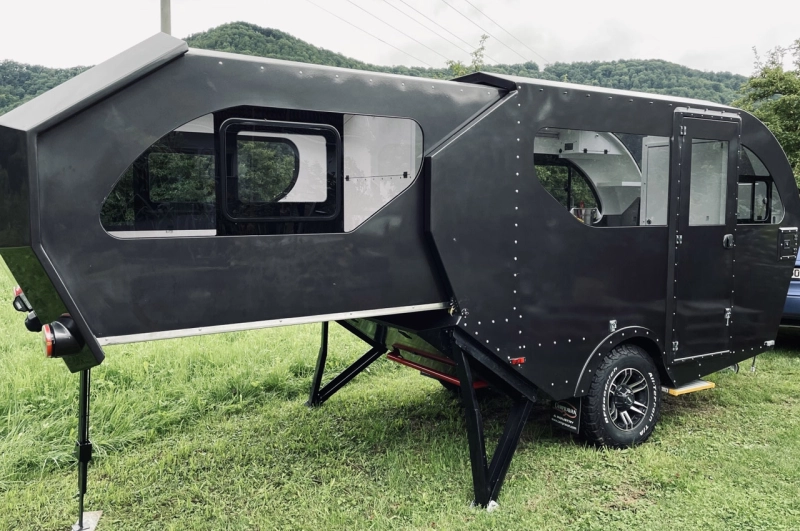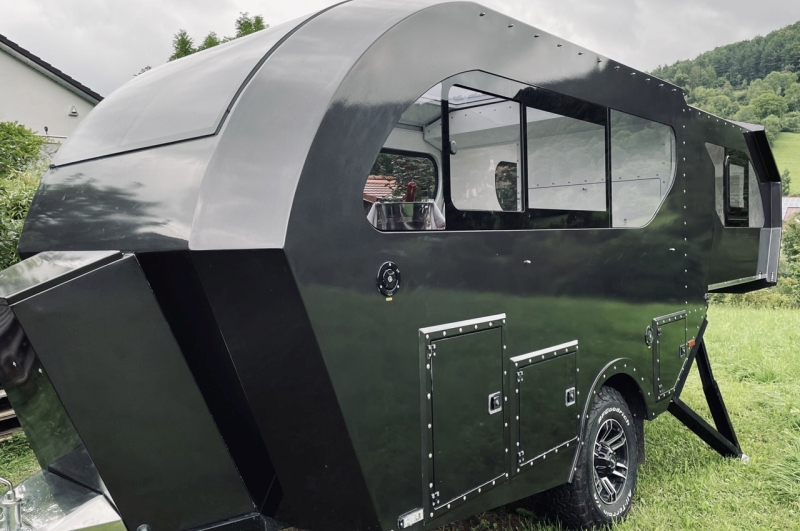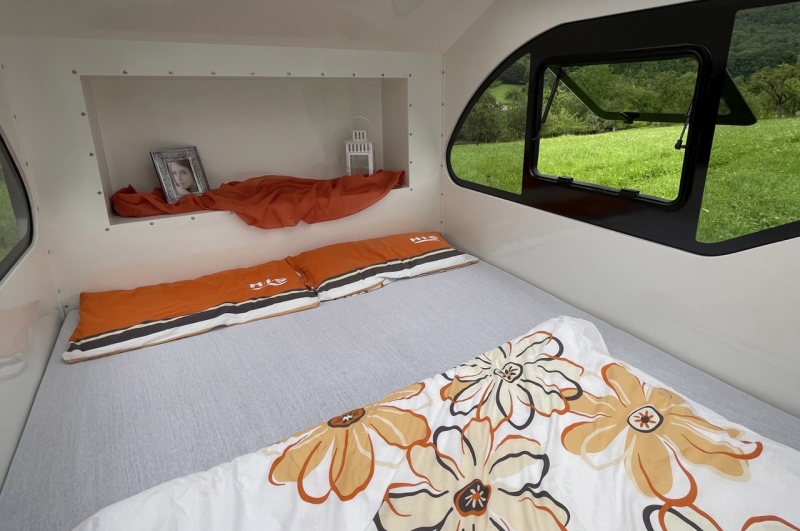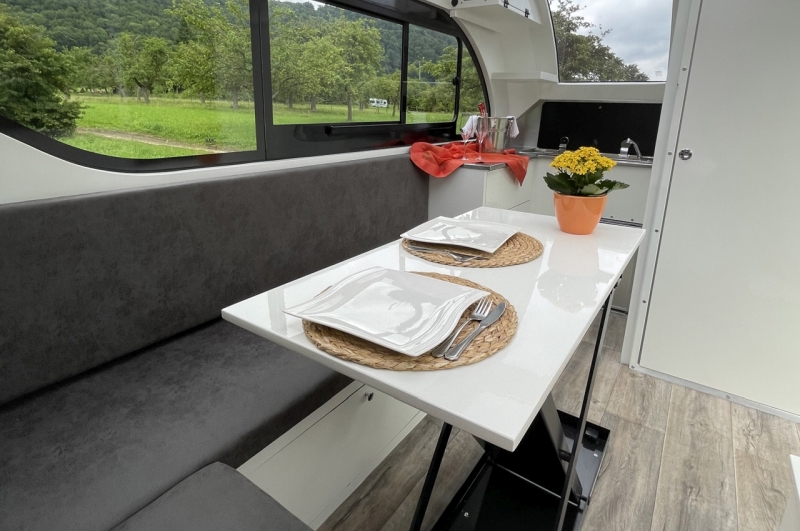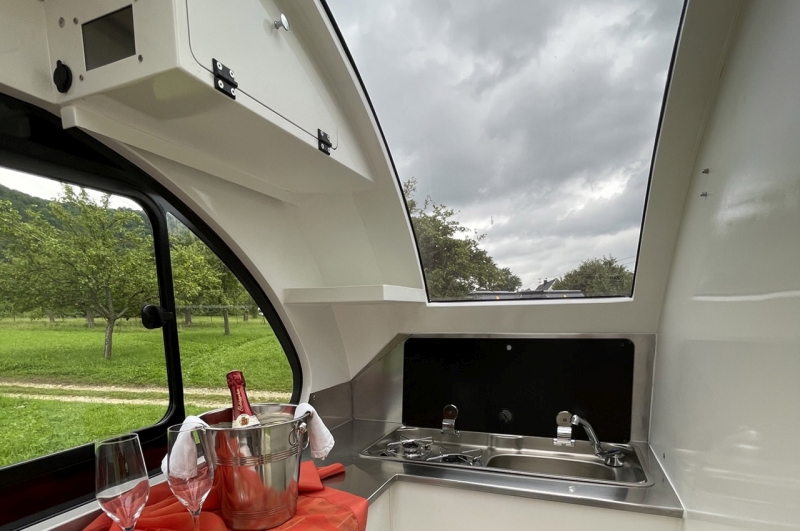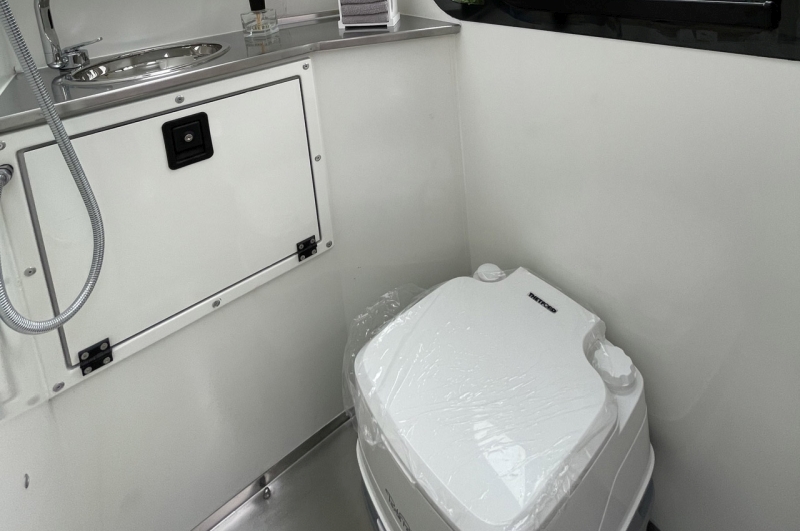 Via: NewAltas