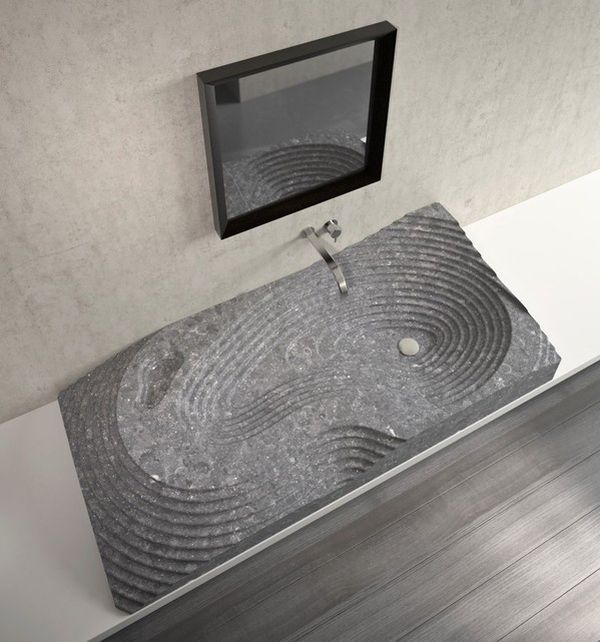 Our last post dealt with Davide Vercelli's Aggregates space. And, now we have come across another conception from the Cersaie 2013 exhibition with the same designer's pedigree. We are talking about the classy Igiemme 2.0, an evolved version of the namesake Igiemme, a stylish stone sink originally designed by Vercelli. This new version is created by design studio Purapietra, with more streamlined design considerations. These modifications include a manageable cut-down size (for moderate spaced bathrooms) and an unobtrusive weight, albeit complemented by a similar aesthetic scope.
In terms of the aesthetic arrangement, the Igiemme 2.0 sink displays the exotic Nero Marquina variety of marble, a black stone with exquisite white and silver veins. These intricate lines over the dark surface plays their part in upholding the fluidity of the sink design. This essence of finesse serves as a contrast to the very 'primordial' nature of the stone, especially accentuated by the sleek cuts and streamlined shape of the sink.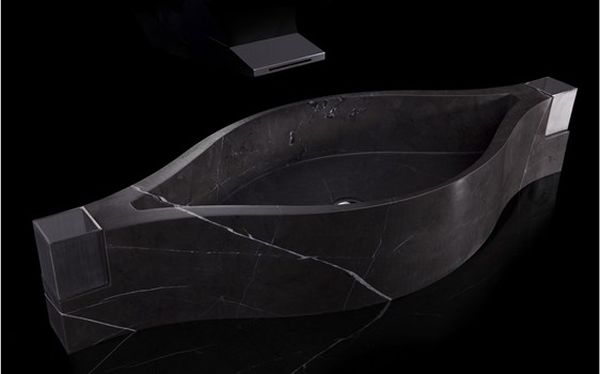 Purapietra also had other conceptions to showcase in the exalted platform of the Cersaie 2013. These included new collections of floor coatings – Key , Wing and Way (all contrived and signed by Manuel Barbieri). Conceived exclusively for home decor, they will offer the users various possibilities of customized compositions to bedeck their interior walls. The studio also introduced their indigenous collections of decor, including brands christened as Barrique and Trapez.