A couple of months back, IKEA came up with Batteries and Chargers Camouflaged as Books. In the latest development, the Swedish furniture giant has added a $40 wireless charger that attaches to the underside of a wood or plastic table and instantly transforms the tabletop into a wireless charging pad.
Now if you are pondering that IKEA already has a collection of wireless chargers, you're absolutely right about it. The IKEA Sjömärke Pad, a wireless Qi charging pad is different from the contemporary ones found online. The Sjömärke sits under the table and delivers charge from the surface.
Fancy isn't it, you get to hide your charger beneath the table. Moreover the charger suits any surface from wooden to plastic. You don't need to buy any additional furniture as the Sjömärke wireless charging pad works with any kind of furniture you own.
Unfortunately, the only restriction is the metal surface blocks the signal and will cause a hindrance in charging, so the charger will best work with wooden or plastic surfaces. Additionally, the table surface should be less than 22.8mm thick and more than 8mm to deliver a successful charge. IKEA is all set to launch the wireless charger next month and will be available for sale soon.
The seven-inch by three-inch charger made from aluminum, synthetic rubber, and plastic works through plastic or wood and can be brought to use with the help of a double-sided tape that sticks and binds the charger under the table. IKEA charging pad comes with temperature and power monitoring and does not overheat easily. However, it provides just 5watt of supply to assist charging and is a letdown when it comes to fast charging.
Also Read: IKEA Launches First Smart Air Purifier Dubbed STARKVIND
One simply needs to tape the charger underneath the table surface and then plug it into a power source. The next step includes keeping your smartphone on the table surface and aligning it in the correct position with the charger below. To make it easy for you, IKEA includes an 'X' sticker that you can stick on to the tabletop to indicate where the charging spot is. The LED will indicate charging status and you will feel like the desk is charging your phone.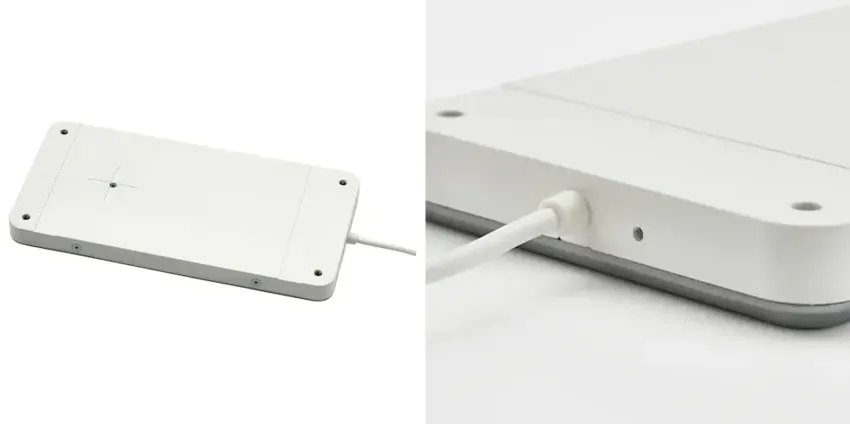 Via: TheVerge