"VERK is as much a messenger as it is a furniture company." This detail on the Swedish furniture company's website indicates its commitment to sustainability and how the outfit aims to inspire others in the industry. Embracing the Scandinavian spirit of minimalism and sustainability at the heart of its design philosophy, VERK is spreading its roots in Scandinavian countries with stunning furniture designs.
First launched in February 2021, the firm creates furniture by utilizing Swedish raw materials and local manufacturing without compromising on durability, traceability, functionality, or design. We got in touch with Simon Anund, the founder of VERK, to glean the functionality of the brand, its vision, and the unique aspects of it all.
Upon asking about the origin of VERK and setting it apart from other furniture studios, Simon Anund says, "We are the only furniture producer in Sweden that produces everything locally with local materials. We don't ship outside Nordic countries except for interior projects or larger-scale orders. VERK has emerged from many years of conversations and discussions about how one can continue to manufacture furniture with a clear conscience in a time when a new product is actually both unnecessary and stressful on the climate."
Birth of VERK
He says that the brand and the people involved are passionate about furniture and design, with an ambition to create high-quality furniture designed by the country's leading designers produced in Sweden exclusively from Swedish raw materials. That is the brand's core principle and the most sustainable way to go.
After many years in the industry, Simon realized that little is actually produced in Sweden and few use Swedish raw materials. "The fact that it says Made in Sweden on a product often means that the product is assembled in Sweden, nothing more than that," he shares. It soon became clear that a large chunk of the industry thinks that it is not possible to function with an all-Swedish production. This belief discourages many to explore avenues of local production, consequently increasing the footprint.
Also Read: Woodworker Nourhan Rahhal is Inspiring Arab Women to Break the Norm
VERK decided to take on these challenges head-on and establish itself for its locally sourced materials, and locally designed and created sustainable furniture. Among these challenges, Simon Anund and his team had to deal with a lack of being taken seriously and the difficulty of building a network of suppliers and manufacturers for VERK. He said, "I was constantly met with skepticism, but now it's a completely different story. We have a big community that believes that we are on the right track."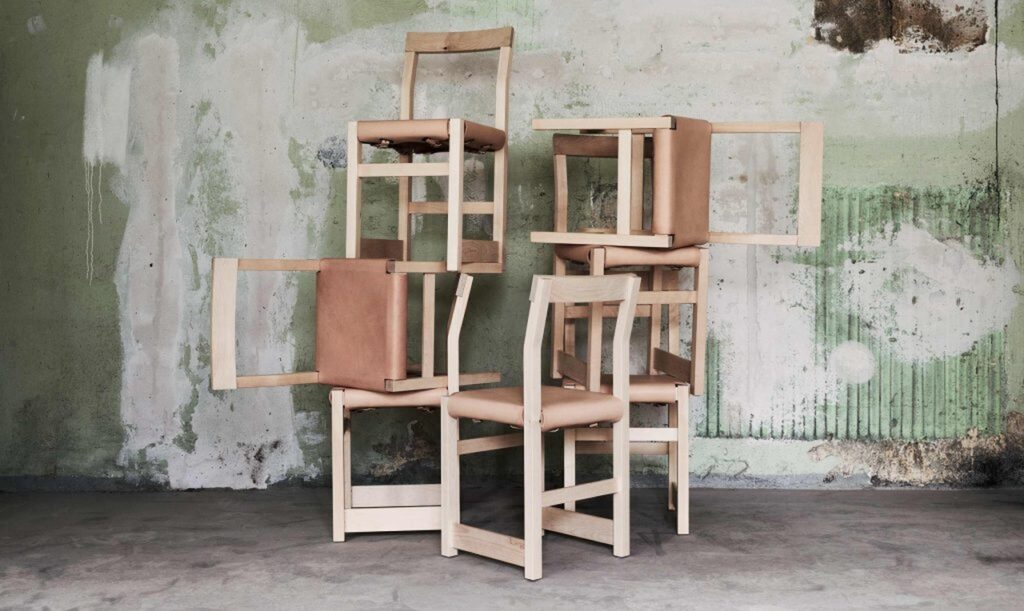 Swedish Materials and Production
VERK has succeeded in its ambition of complete use of Swedish wood, Swedish leather, Swedish wool, and Swedish surface finishes in its furniture production. The team is constantly on the lookout for new raw materials and materials produced in Sweden to adhere to its goal of being sustainable.
Simon shares, "We can no longer outsource production to countries run by fossil fuel. Greenhouse gas emissions are increasing in all sectors and over the past decade, average greenhouse gas emissions were higher than ever before. However, the rate of increase has slowed. There are already technical solutions to halve the 2019 emissions by 2030."
He illustrates this with the example of Poland. "Many Scandinavian furniture brands have outsourced their production to Eastern Europe and several of them ended up in Poland. Poland has an energy mix that is dominated by fossil fuels, 83-84%. This problem is huge, nevertheless we rarely even mention this issue in the Swedish furniture industry. We can no longer outsource production to countries run by fossil fuel."
To reduce their carbon footprint, many manufacturers are employing several low-emission technologies that have become cheaper with a faster introduction. To that accord, VERK has quickly and swiftly established itself as a pioneering sustainable brand in the Scandinavian region. It now provides beautiful sustainable furniture while acting as an informant of the ups and downs of domestic production.
Also Read: Meet Dyslexic Designer who Rattled Architectural World With Expandable Cabin
The company shows its true intent of sustainability through Environmental Product Declarations (EPD). VERK hired a trustworthy technology consulting company to make an EPD of one of its chairs to compare the carbon footprint based on where the chair was produced.
As per the conclusion from Bengt Dahlgren AB, "the result shows that the climate impact for life cycle stages A1-A4 is 1.88 kgCO2e/chair for V.DE. 03 and 6.54 kgCO2e/seat for the corresponding product manufactured in Poland. This means that VERK's chair has approximately a 70% lower climate footprint than the Polish-made chair. The main reason for the increased climate footprint for the chair manufactured in Poland for the Swedish market is the longer transport distances and the fuel mix of the energy used in sawmills and in the production of the product."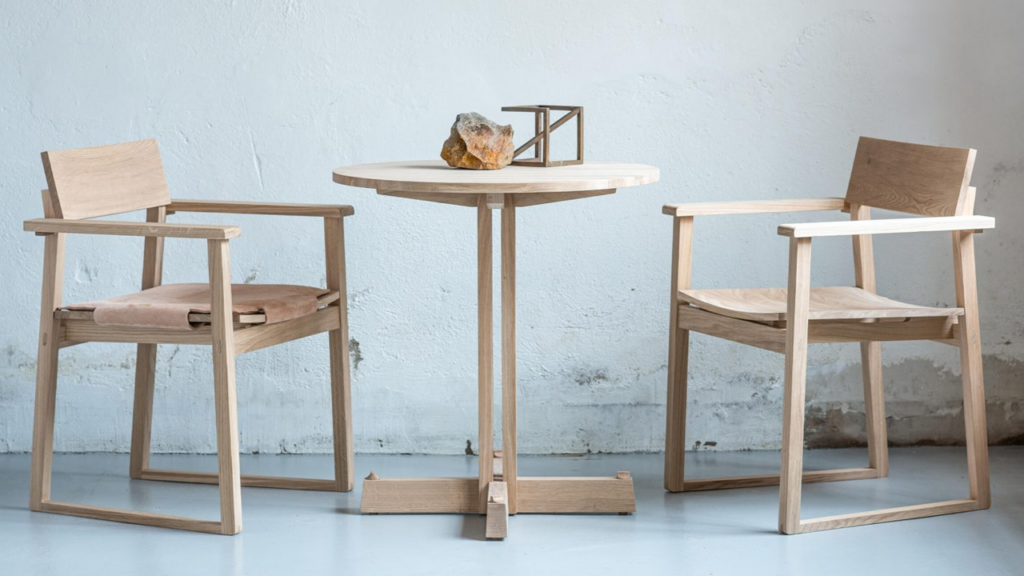 This result is clear evidence of how locally produced products can have a relatively small impact on climate. It also comes down to the type of material chosen for a particular design. Simon says he has very little to choose from, so that decision is often very simple. The team tries to avoid metal, which makes wood the main choice of material.
Sustainability at Front
If you are going to create an all-inclusive sustainable furniture brand, you must find creative ways to utilize low-emission materials. VERK is aware of this fact and has been coming up with inventive solutions. It created VERK-screws out of Swedish steel to minimize the footprint and highlight the country's problem of outsourcing metal components, despite having a large-scale iron-mining industry.
Talking about his recent experience in Stockholm Design Week, Simon says, "We had a fantastic week during the SFF, we met a lot of people and got very nice feedback also from other producers and media of course. We feel very humble for the overwhelming amount of compliments."
He also shares that after the recent release of a large number of new products, the brand is focusing on establishing and presenting them to architects and buyers. With sustainability at the wheel, VERK does not believe in producing for the mere sake of trends.
Upon being asked how big a role will sustainability play in the future of furniture design, Simon replies, "A huge role, at least I hope so. We clearly see an increasing interest in sustainability, also on a political level. It will be very interesting to follow the development of the new European taxonomy. There will be new harder regulations in a near future and you better be prepared, at least we are."
We thank Simon Anund, founder of VERK, for taking out the time to satiate our inquisitiveness!