"Arab females are fighting every single day to prove themselves as successful businesswomen in the workforce. Despite some nations that still control women's lives and decisions, we are taking baby steps to break out of boxes, and I strongly believe we will get there soon," Nourhan Rahhal, a Lebanese designer discloses in an exclusive chat with Homecrux. Nourhan rose to fame with the Vee chair she exhibited at the Dubai Design Week 2022.
Born and raised in the UAE, Nourhan is an interior architect by profession. She grew a great passion for furniture designing and fabricating at a very early stage during design school. With the multicultural society of the UAE having a great positive effect on her approach to design in general, she stands tall as a representative of women woodworkers in Arab nations.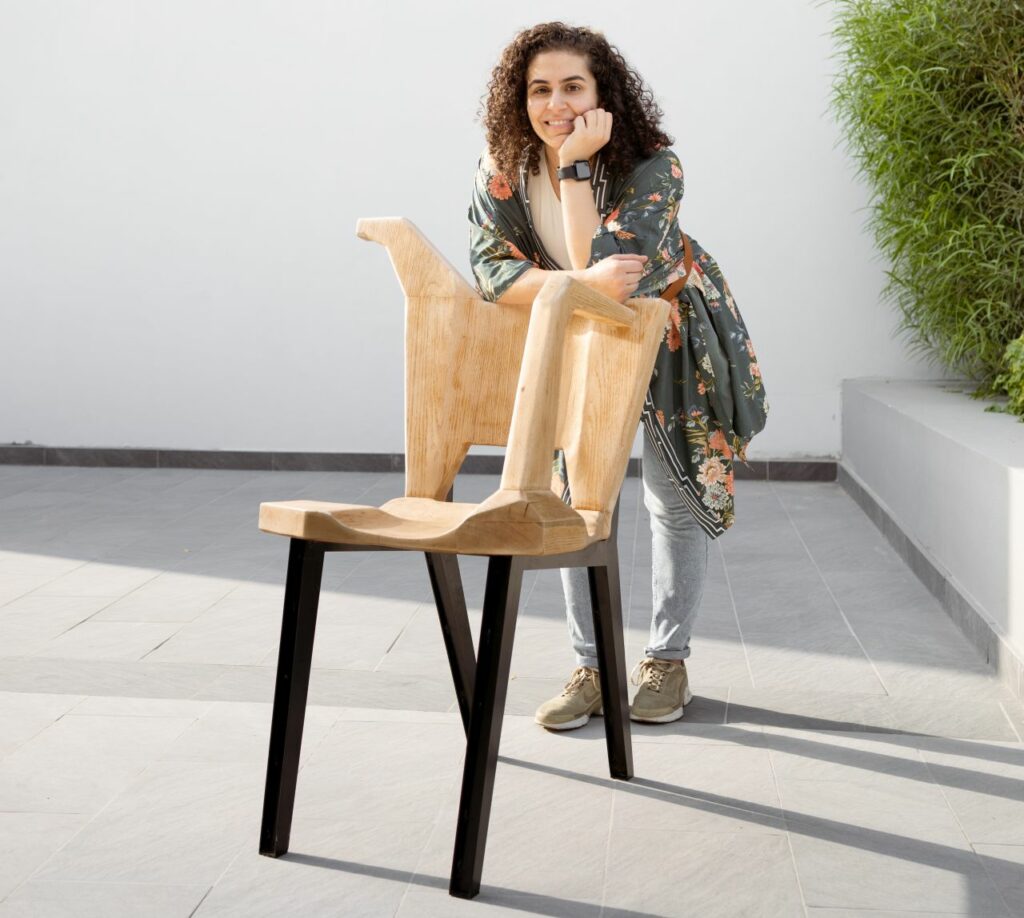 "I was 22 when I first worked as an usher in Art Abu Dhabi," said Nourhan. The place hosts a lot of art exhibitions and welcomed artists from around the globe. Struggling to find a job after she graduated from design school, with no experience in baggage, she was checking tickets at the entrance.
"In my head, I believed that one day I will enter the same doors as an exhibitor. Almost seven years later, here I am with the Vee chair that serves as a seating piece while the ultimate goal is to function as a statement piece," she noted.
The chair replicates a proud powerful presence that allows one's natural strength to manifest itself through the details of the chair. It mainly educates the user on the importance of posture and how it affects psychology and self-confidence, thereby allowing the user to experience a form of a power pose. It was one of the top highlights of Dubai Design Week.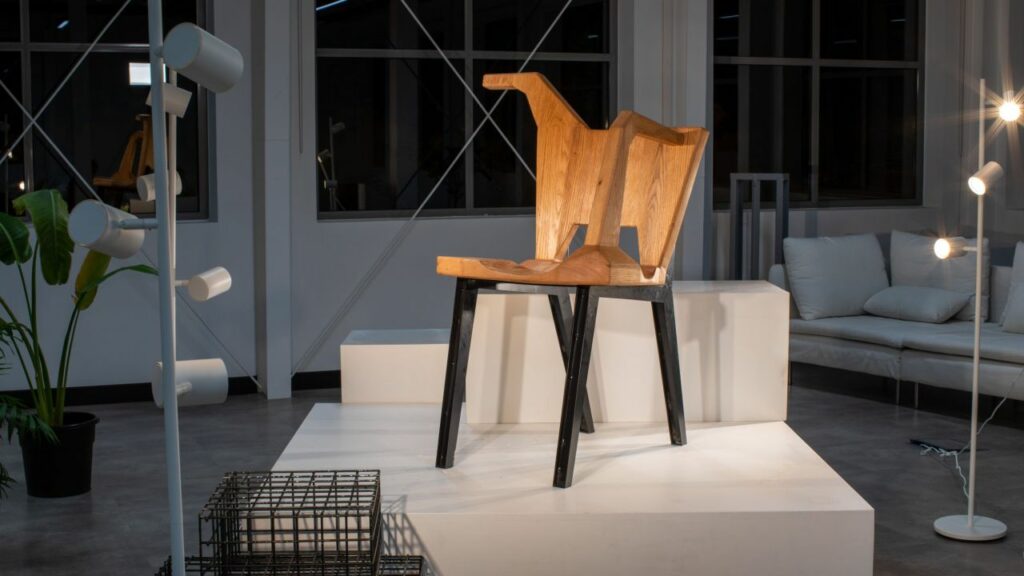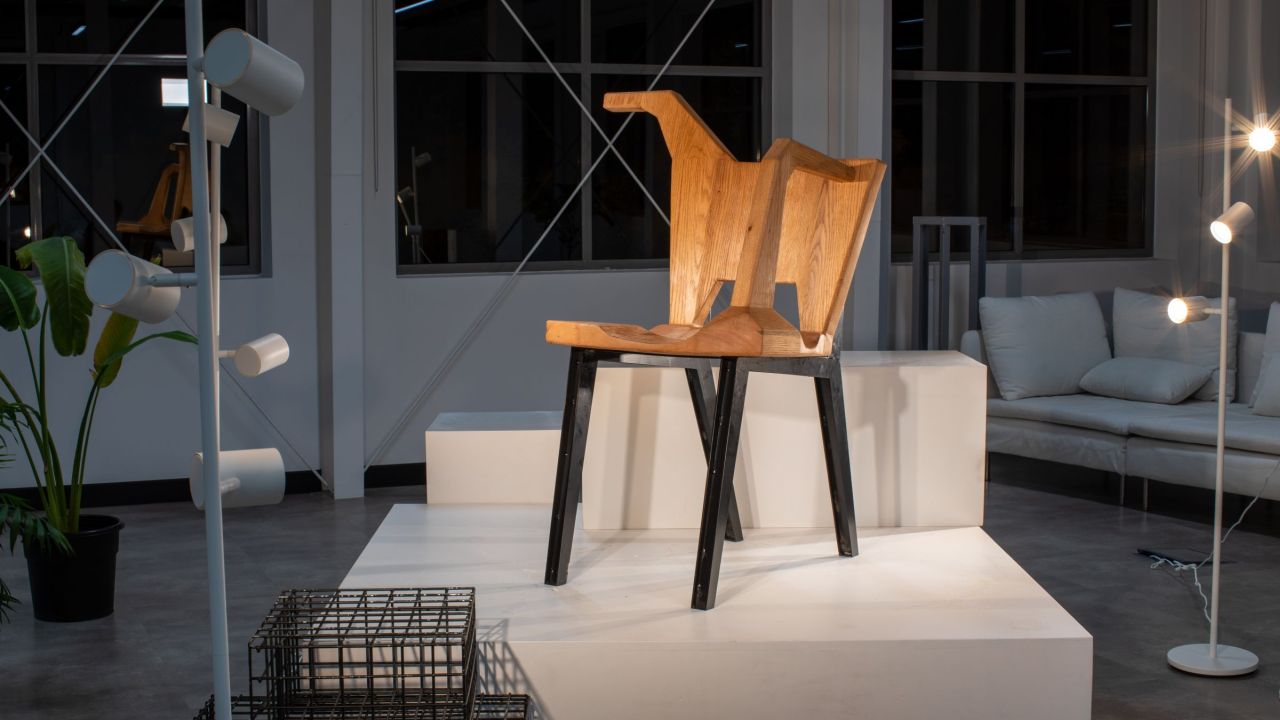 Boasting a proud and powerful presence, the wooden chair with metal legs features excellent carving details. As a result, one has to sit in a stretched-up position, thus allowing the user to experience a form of a power pose. "Currently, I focus on experimenting with psychological states of mind and how furniture and posture can affect one's state of psyche."
Apart from acting as a furnishing item, the chair is specifically aimed to reconstruct the norm of how young females are taught to sit and almost curl up when they should be able to comfortably stretch their bodies. Nourhan further told us, "I tend to aim at triggering emotions through the furniture I design. To me once human emotions are triggered somehow, they tend to have a memorable experience that would stick with them for a longer period of time hence making an experience unique."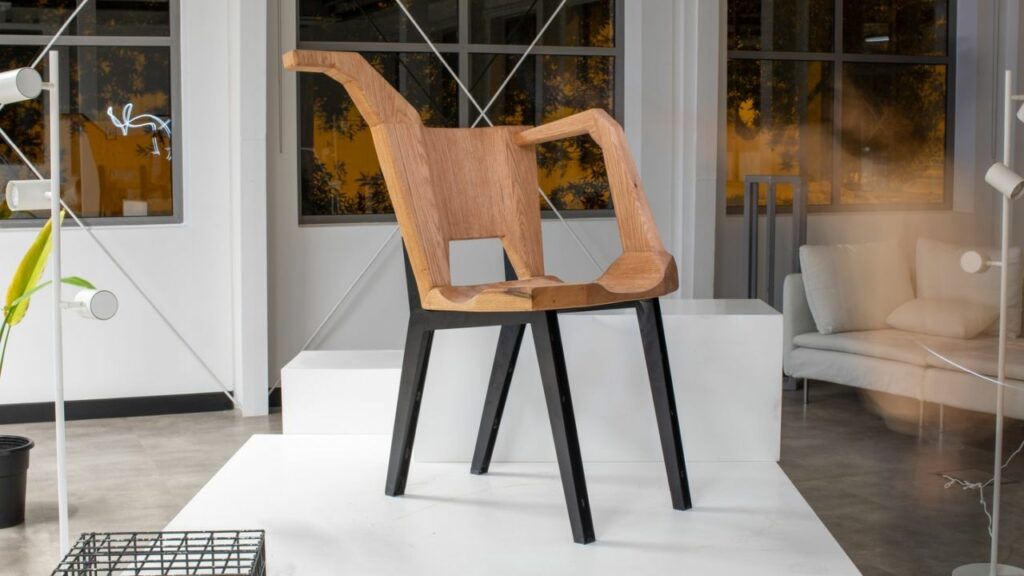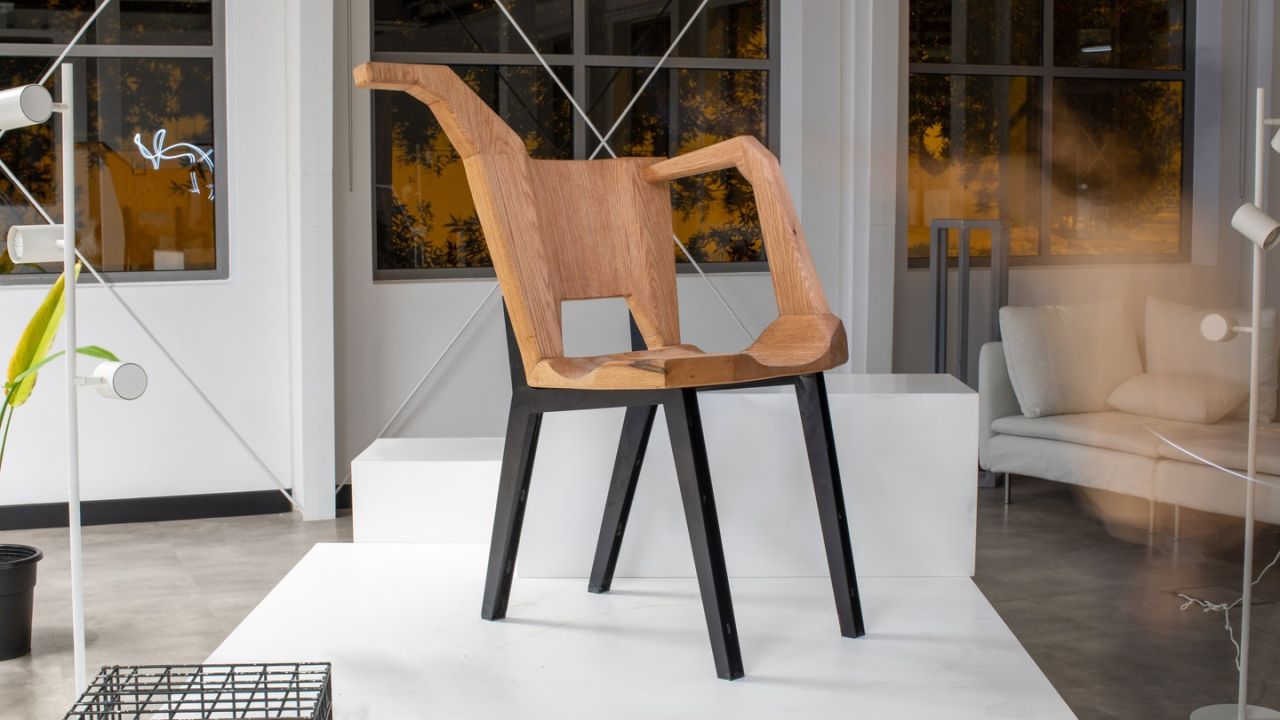 Commenting on her journey from usher to exhibitor she said, "It is interesting and challenging at the same time." In UAE, most factories or workshops are in industrial areas, hence ones that are male-dominated. More importantly, women's role in fabrication and woodworking is still not a very common thing in this part of the world and is also not acknowledged.
"It has been quite a challenge to get things done; especially to find places with machinery I can use. I've been part of the design and fabricating world for around nine years now and I still enjoy the reactions I get from people when they know I'm a female woodworker. The reaction is either sincere shock or mere impressiveness. I don't think I'll ever get over that reaction until I succeed in my long-term plan which is making female woodworkers a new norm in this part of the world and help inspire Arab females in general and young ones in specific, to break out of boxes society has forced on them."
The designer considers exhibiting Vee at Dubai Design Week a huge milestone in her career. Apart from being a wonderful experience, it gave her the platform to connect with many other names in the field. Nourhan further stated, "While I do think that we do have some nations that still control women's lives and decisions, not only in the Middle East or the Arab world but also in what is considered developed countries such as the United States of America (criminalizing abortion in parts of the country), I prefer to look at the positive side of things and focus on some accomplishments."
Also Read: Most Inspiring Women Architects and Designers
Further commenting on the state of women designers in Arab nations, she said, "If one were to compare the status of women between 50 years ago and today, one would recognize that women are now being more and more indulged in the workforce of many economies in this part of the world." Vee aims to give a sense of strength to all those women who are still tied in the shackles of misogyny.
She recently captioned one of her Instagram posts, "Create your own norms; make your own rules, then break them." Rules are made to be broken is the mantra of the Lebanese designer who is inspiring more and more women to stand up against injustice and misogyny while being a torch bearer for women, life, and freedom.