While Salone del Mobile and Paris Design Week enjoy a separate cult following of design lovers, there are other important festivals that I believe are worth seeing. Commemorating its 8th anniversary Dubai Design Week 2022 was held from 8-13 November 2022 in the Dubai Design District, the city's regional hub for design and creativity.
Celebrating contemporary design, the event showcased some of the most prolific and impressive furniture designs which are built around themes of sustainability and conscious design. Here we look at eight such furniture designs that were absolute showstoppers from this year's event.
Gaar Chair and Stool
I don't know the literal meaning of the term 'Gaar', but I am pretty sure it has got something to do with the aesthetic. Designed by Nareg Krikorian, the GAAR furniture collection includes a chair and a stool. The distinctive bow-motif armchair is hollow which makes it lightweight.
As far as the stool is concerned, it features a solid wooden top. Taking inspiration from the constructive features of leather bags, both the chair and stool are adorned with stitched leather boasting black color. Completely handmade, these luxury leather furniture items are most suited for your living room.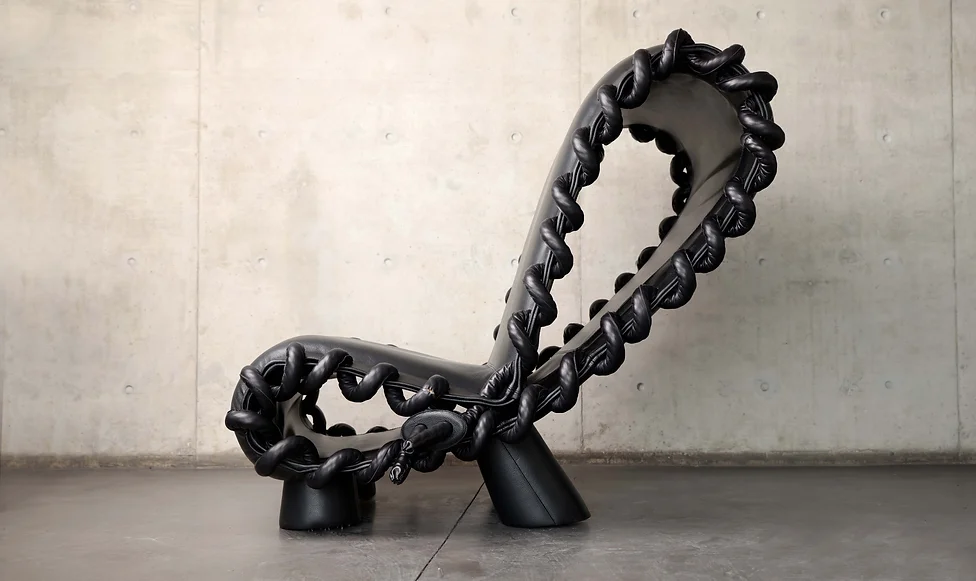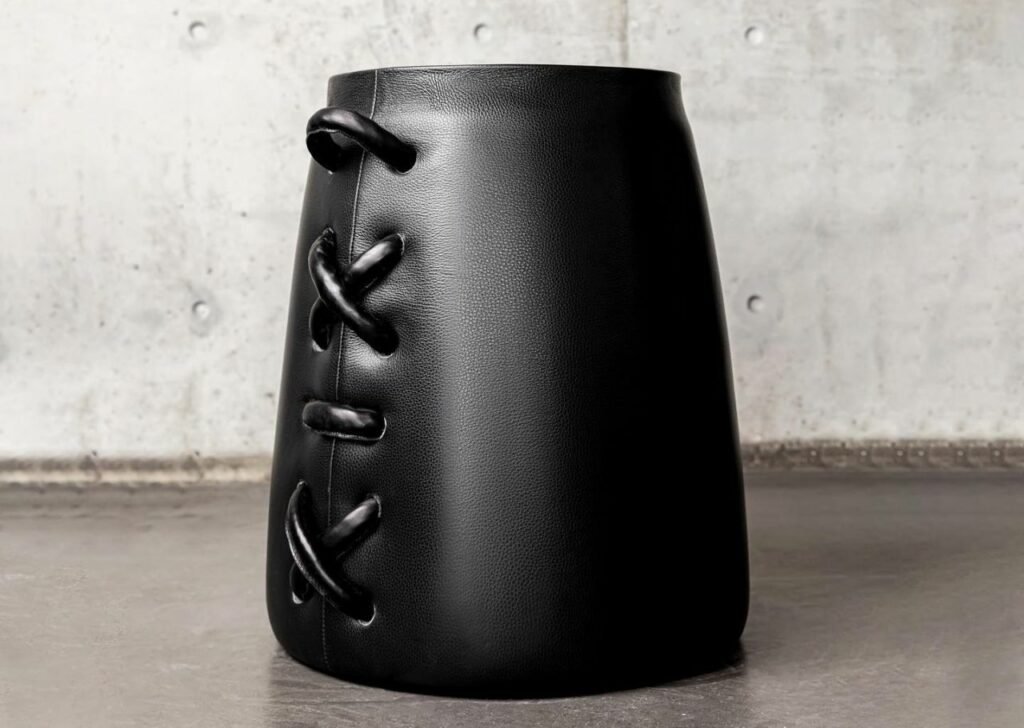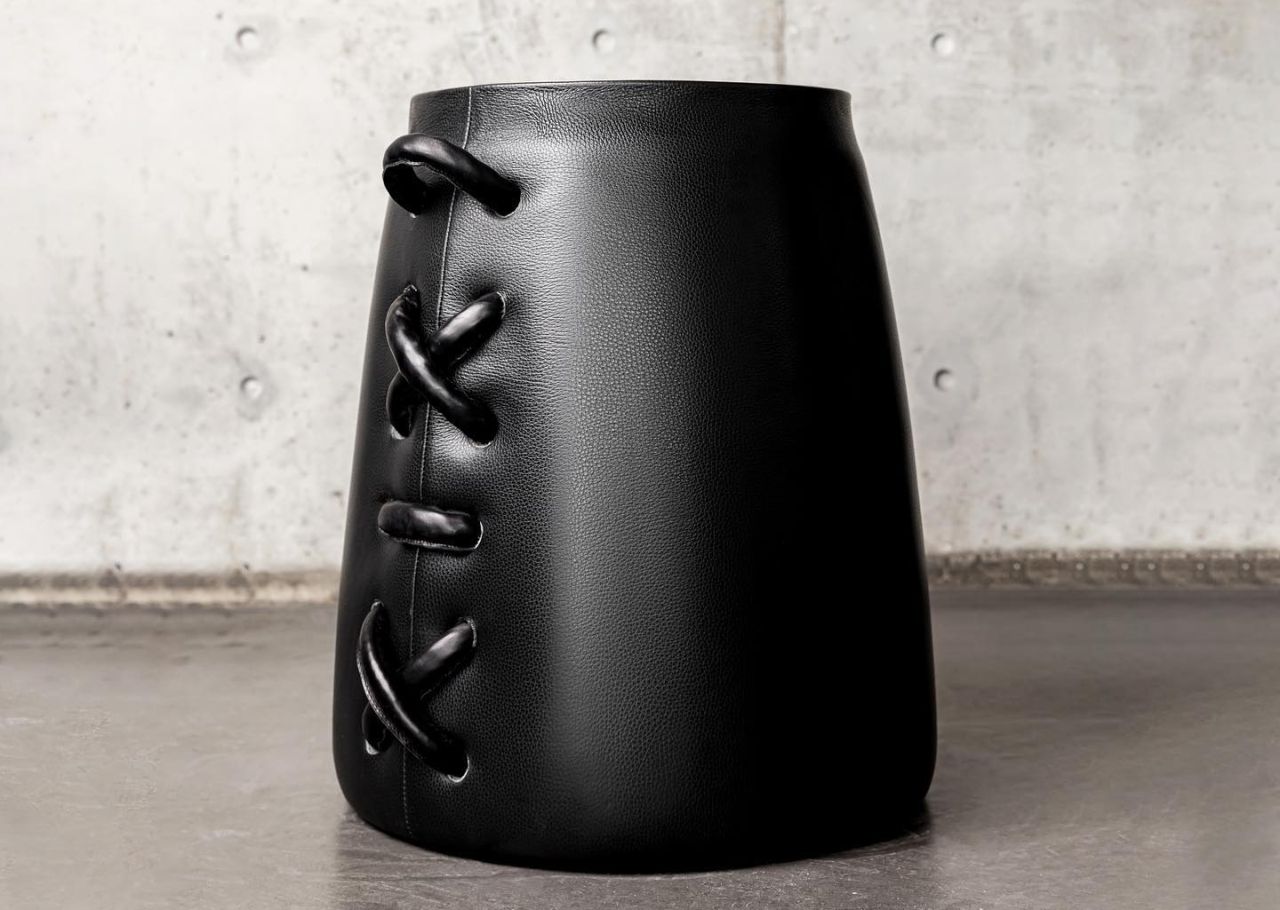 Love Chair
Boasting a curvy design, the wood-framed chair is made by the design studio Zufa. Exhibiting beautiful art, and high craftsmanship, the Love chair is designed in a manner that two chairs are complimentary as a pair.
It's like two pieces of a jigsaw puzzle that fit together. With curves fitting together, the Love chair is a unique soulful piece that is made from the heart jumping straight to your home.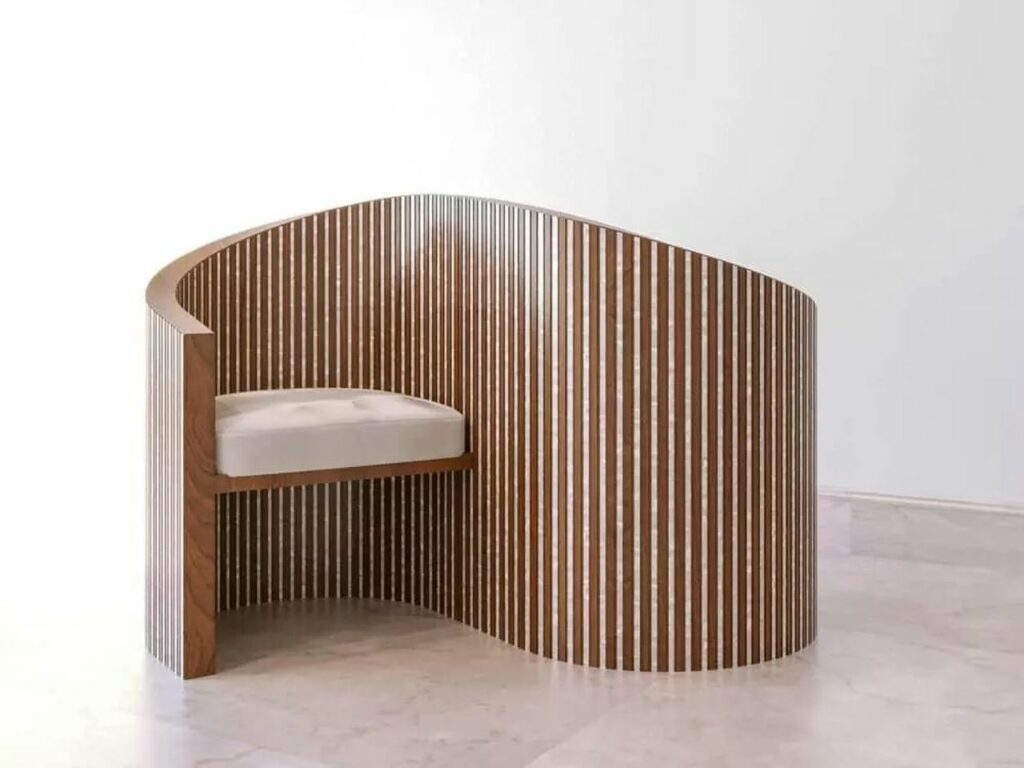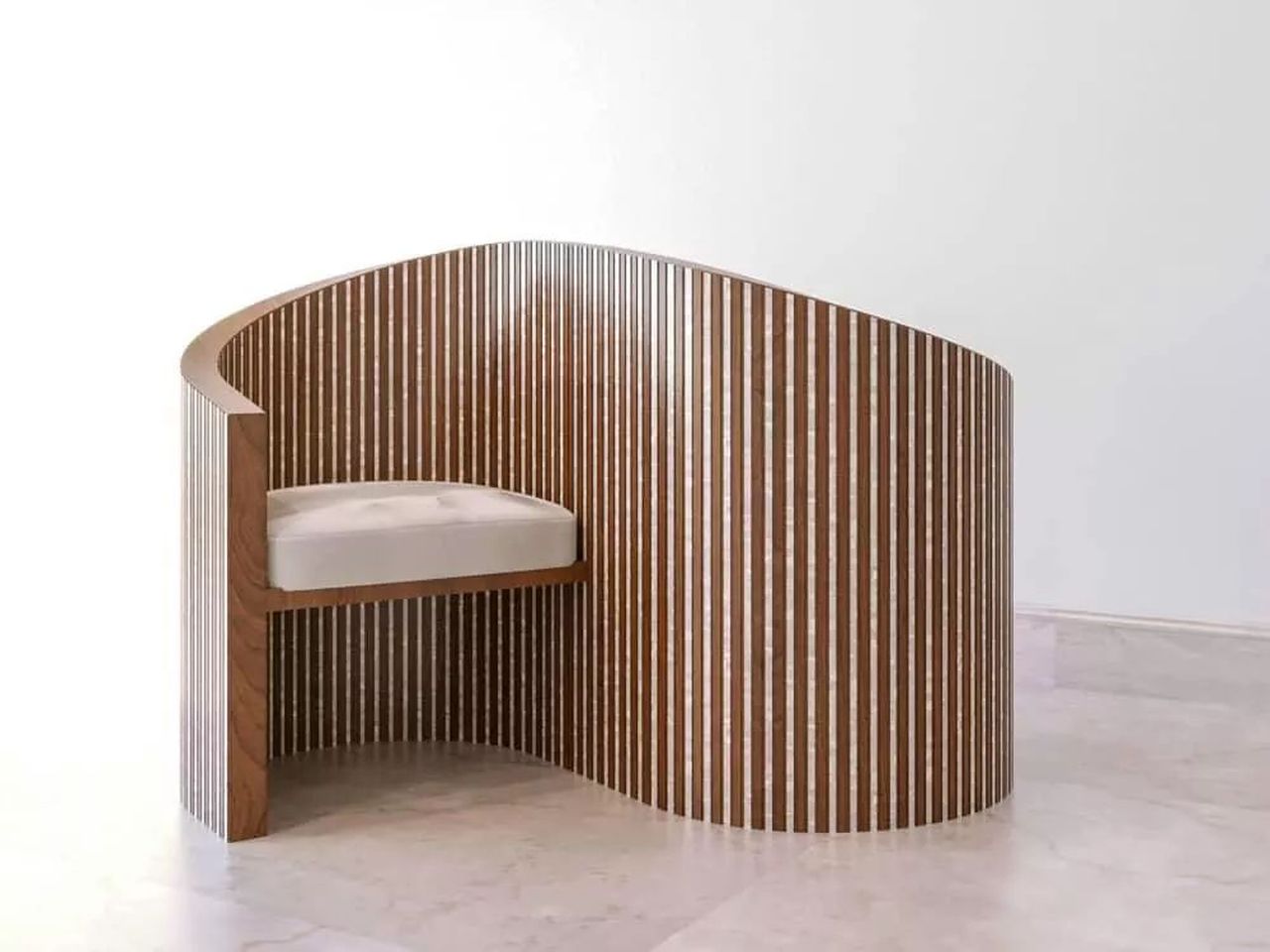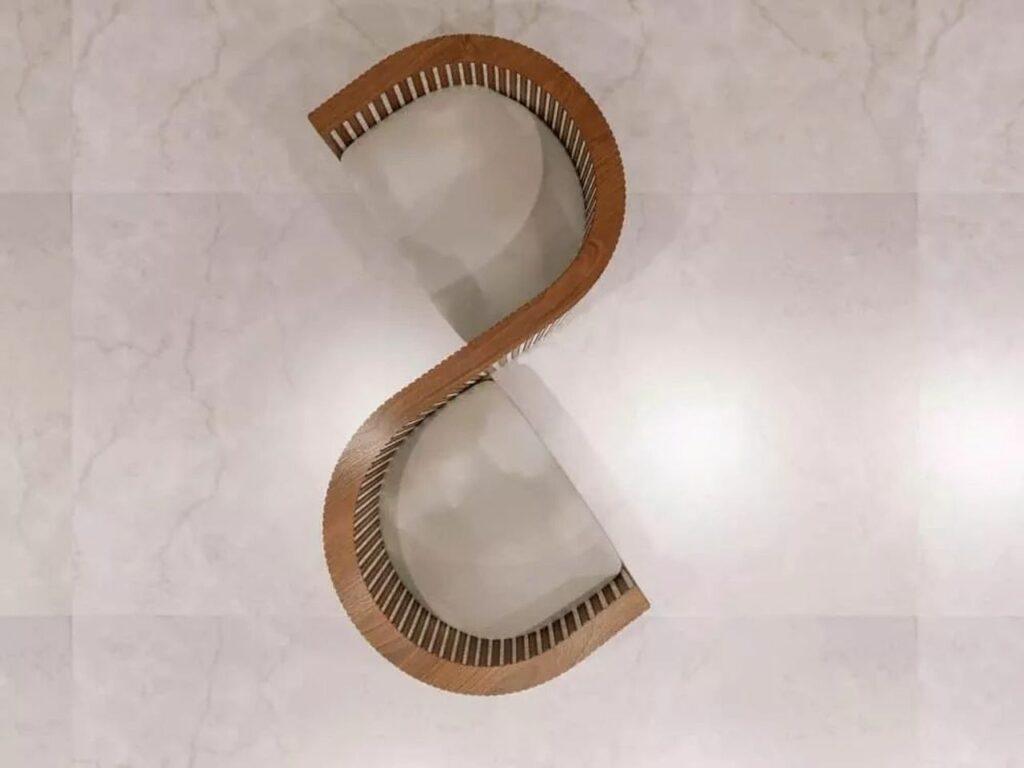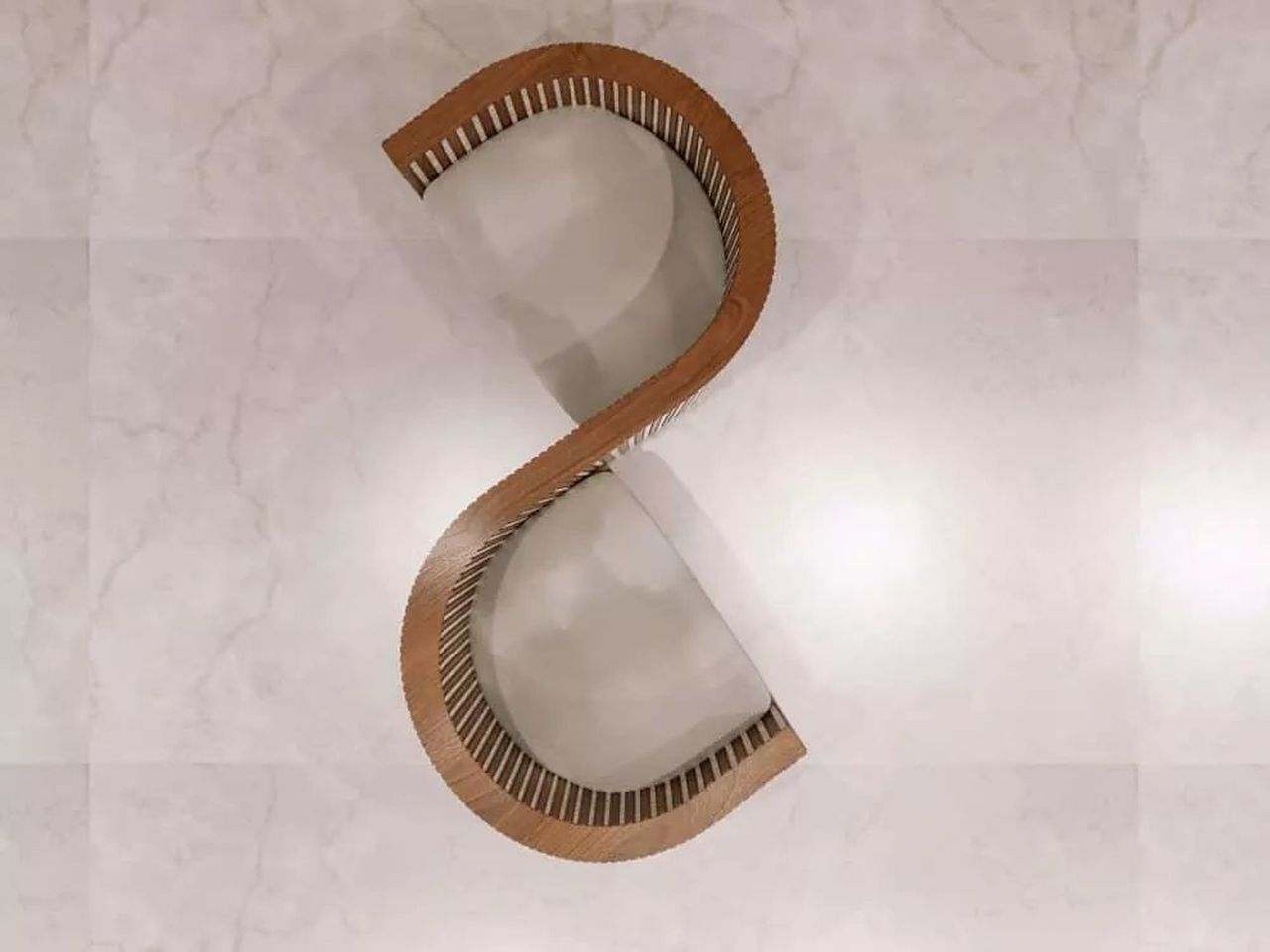 Pieces of Past and Present
There are very few furniture designs that have their roots delved into the architectural history of the region, and the 'Pieces of Past and Present' by Amna Alshamsi is just one of those. Inspired by the historic architecture of Dubai's Al Shandagha district, the coffee table design features seven segments that can be joined together to form a grand coffee table. The coffee table was 3D printed using plastic and fiber and is completely hollow from the inside, making it easy to move.
If deconstructed, the small portions can even be used as small tables or stools. The abstract design of this furniture piece boasts vibrant colors like gradient orange, yellow, and magenta.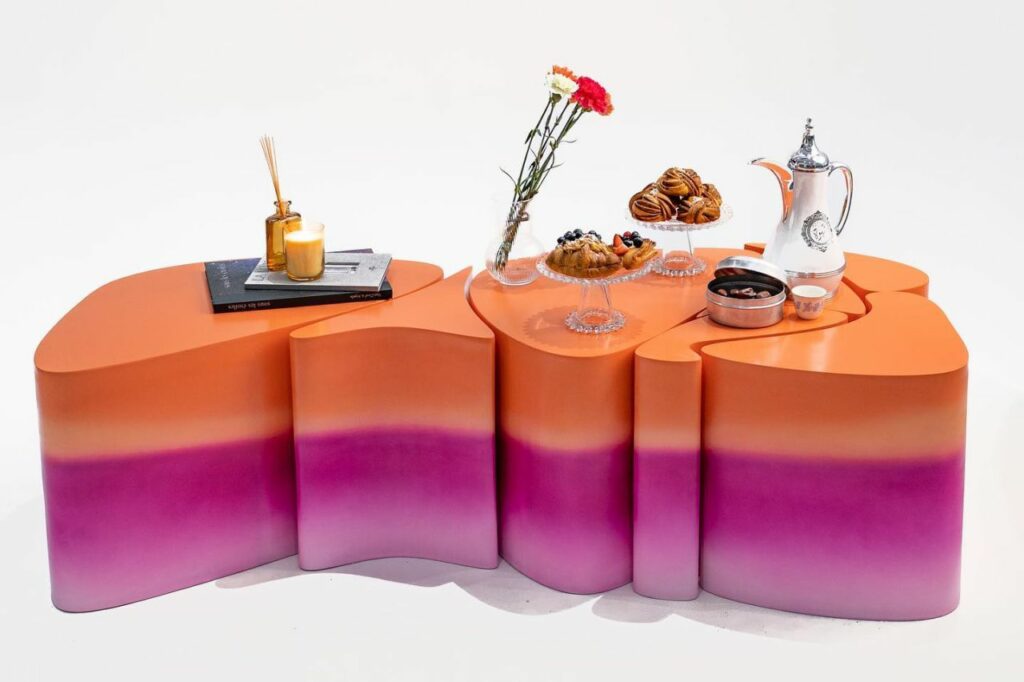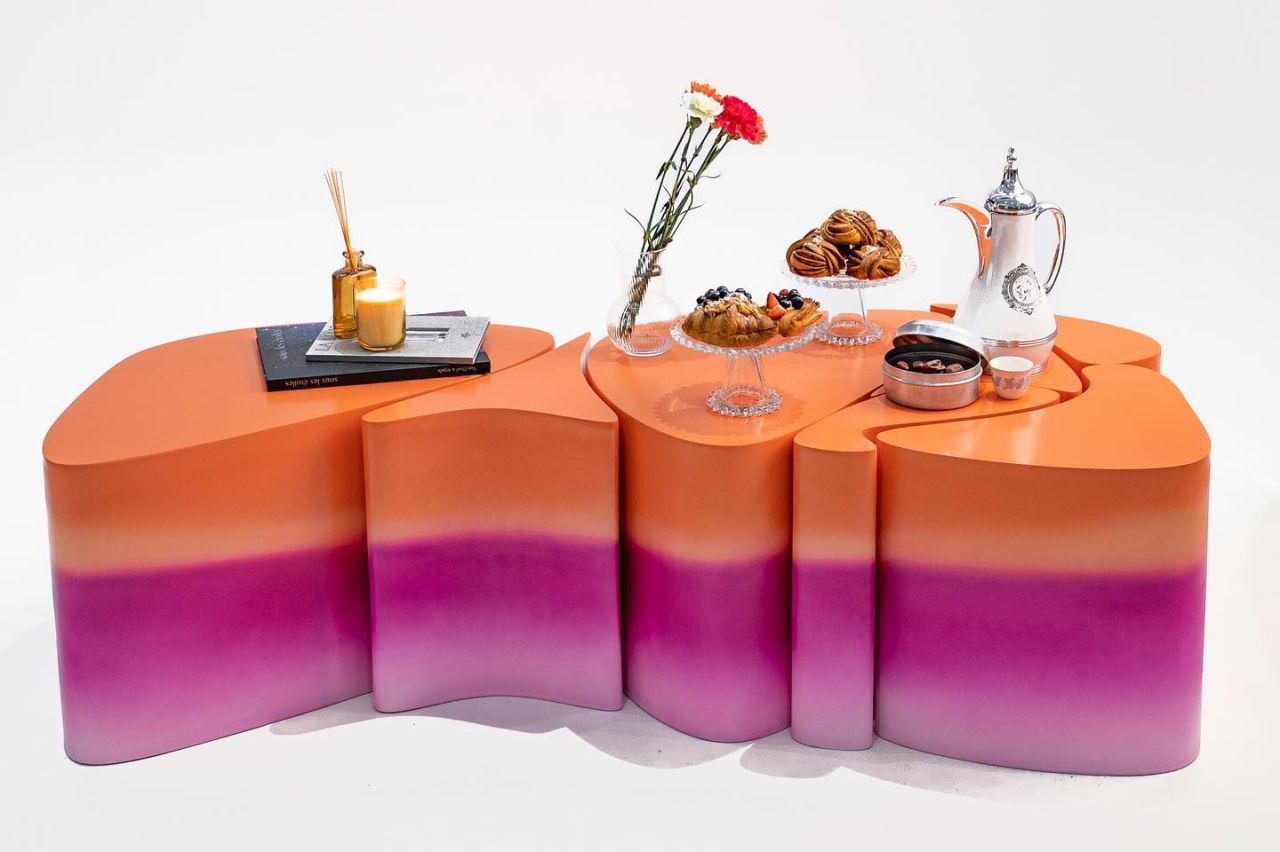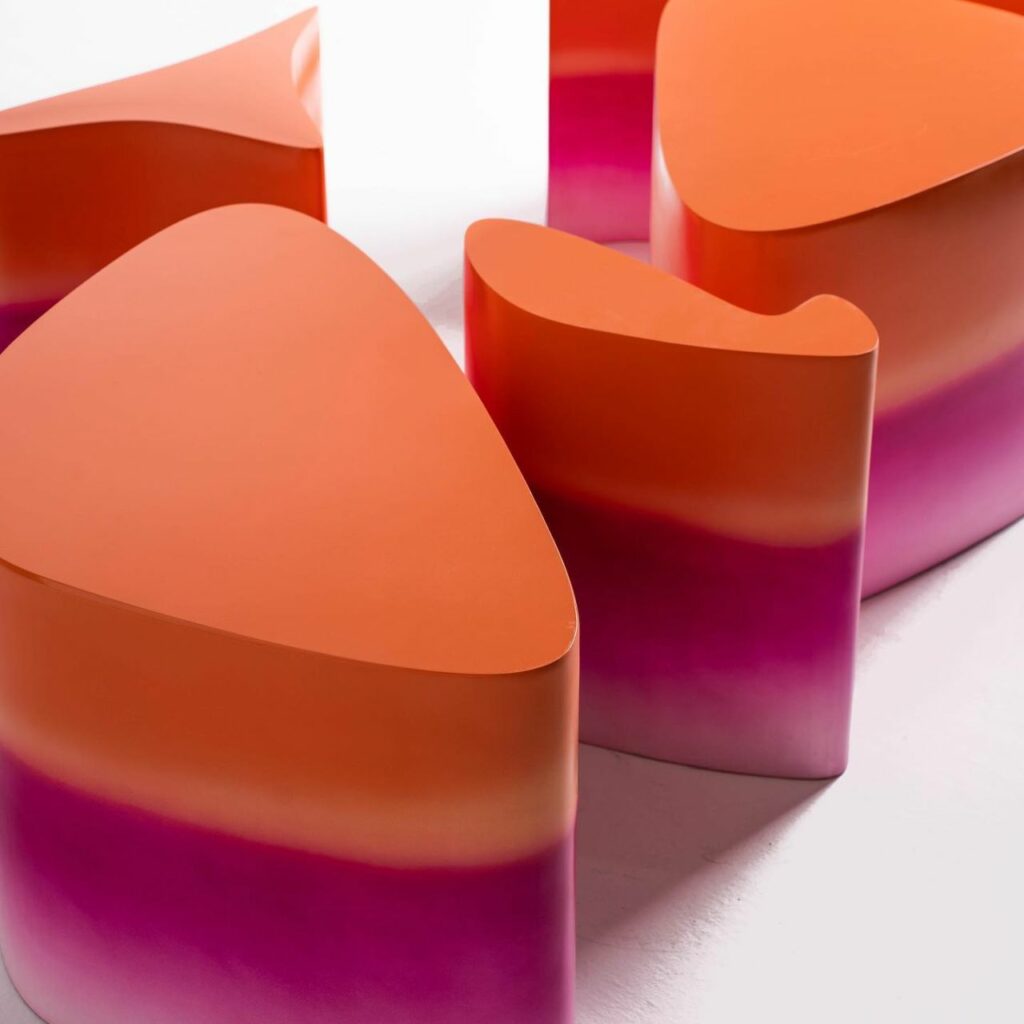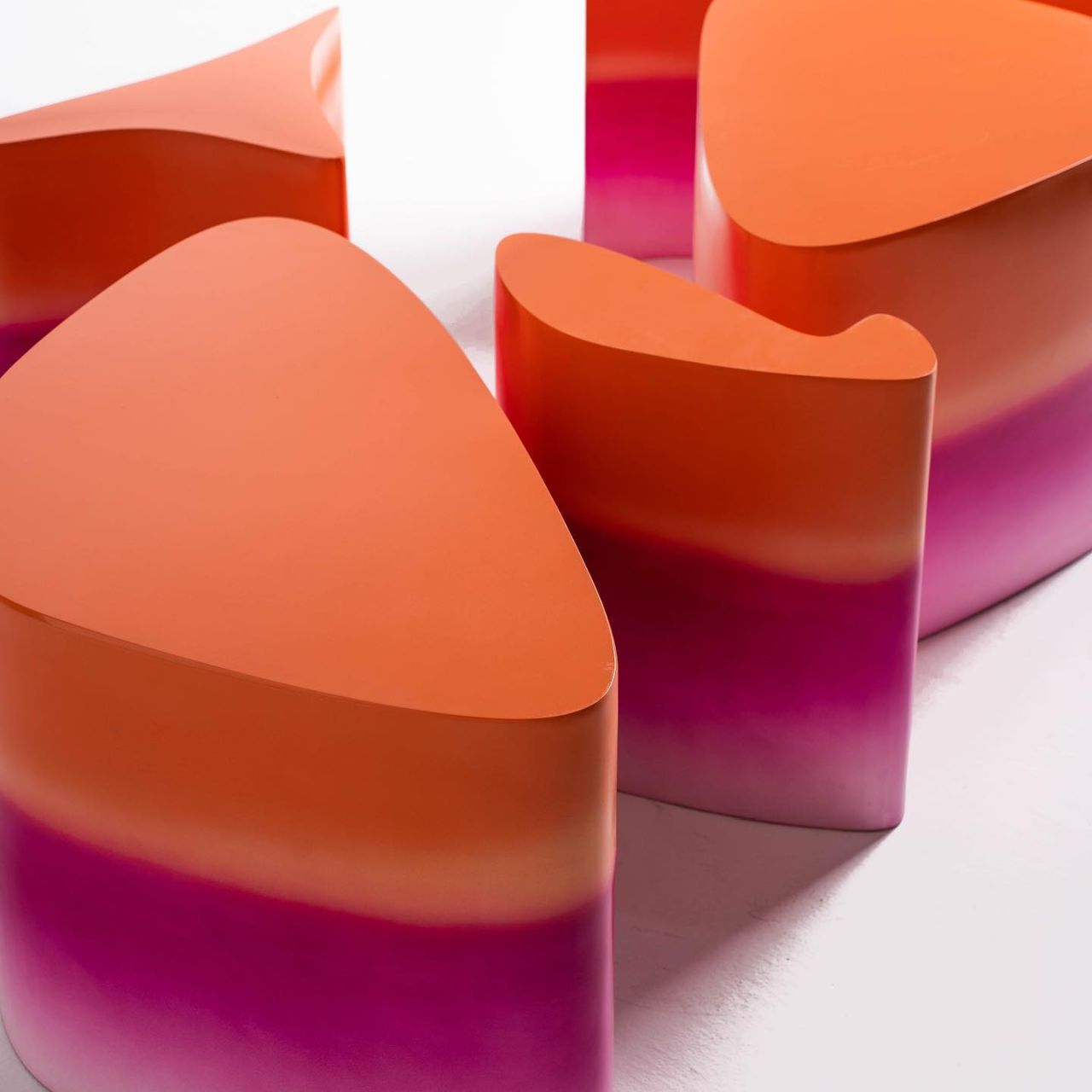 Moonsrise Lounge Chair
As aforementioned, the 8th anniversary of Dubai Design Week emphasized sustainable design, and the Moonrise collection by Anqa Studios ascends to expectations. Promoting the usage of sustainable materials alongside top-quality construction, the Moonrise collection could elevate any given space to the next level.
The collection features a chair, mirror, and coffee table alongside other items but the major highlight of the cluster is a lounge chair. Available in various shades of pink, the chair features symmetrical sides that are made out of recycled plastic while the elegant seating area is made out of cactus leather. Two brass rods support the faux leather and make it an environmentally conscious design.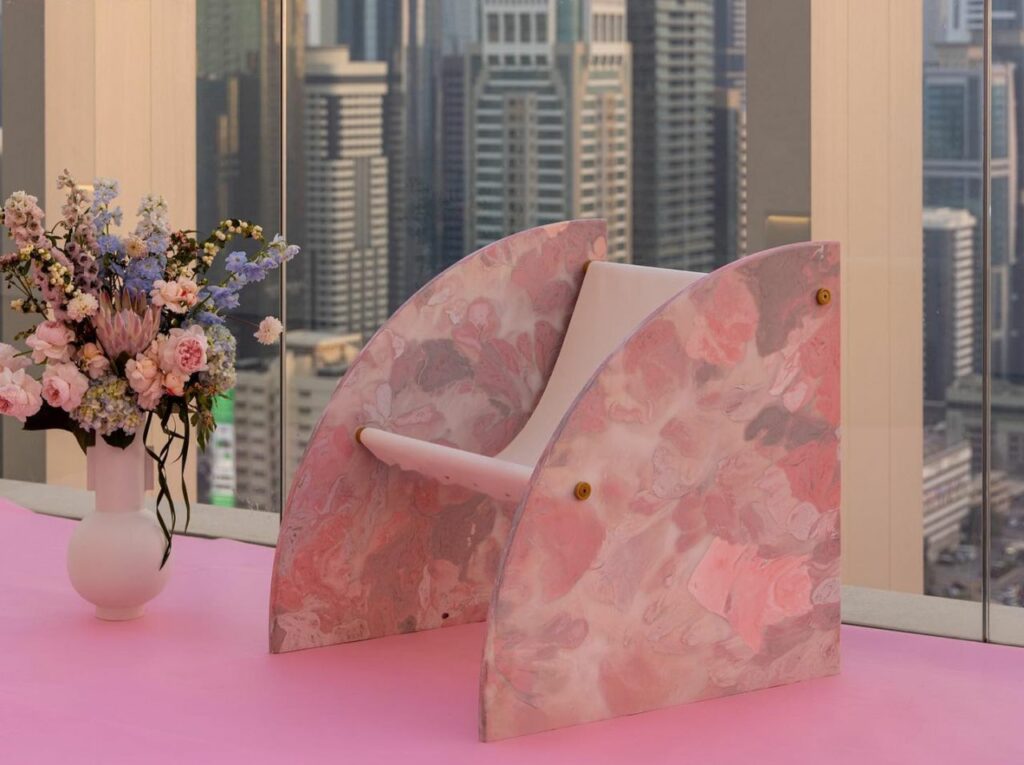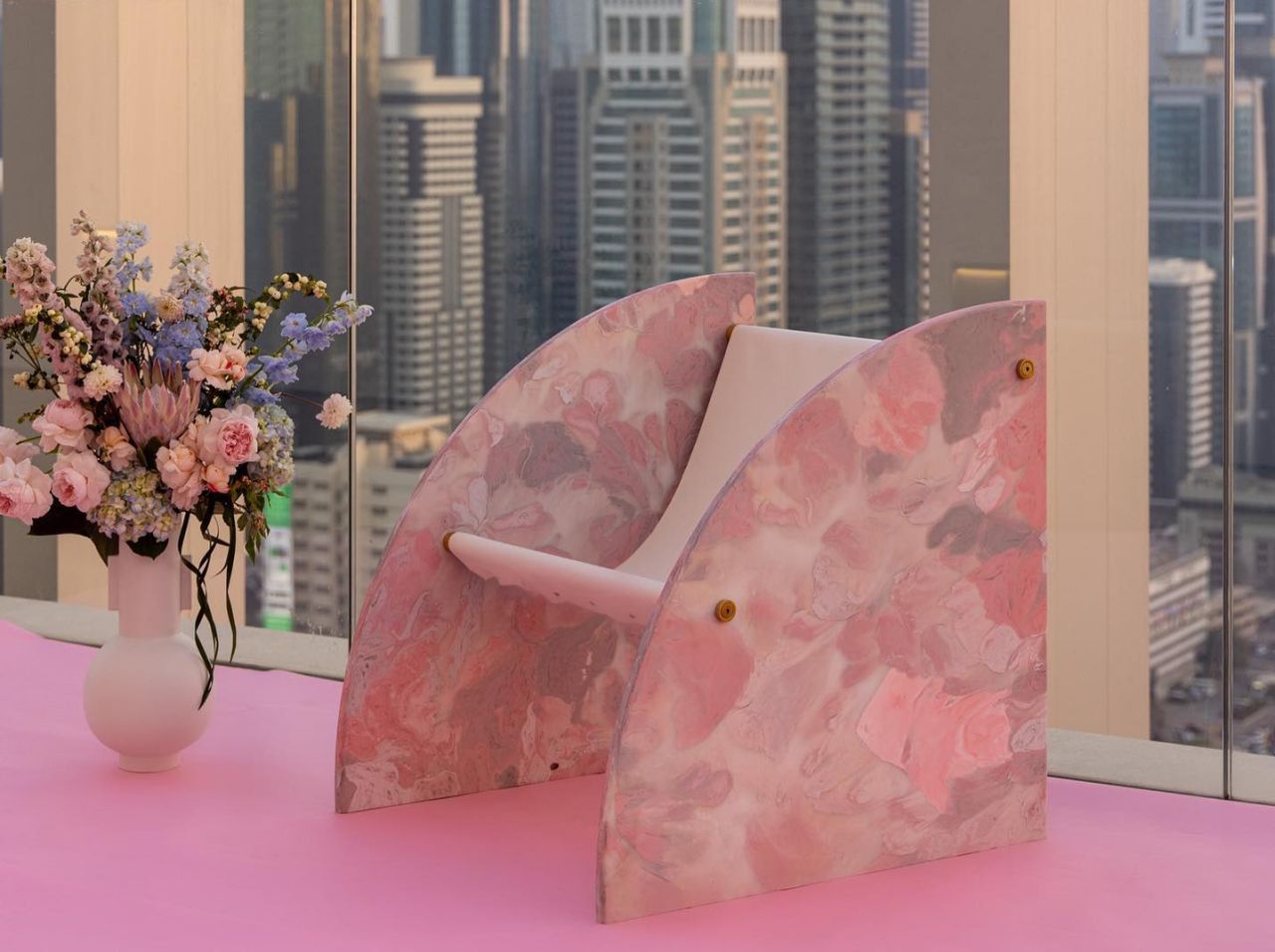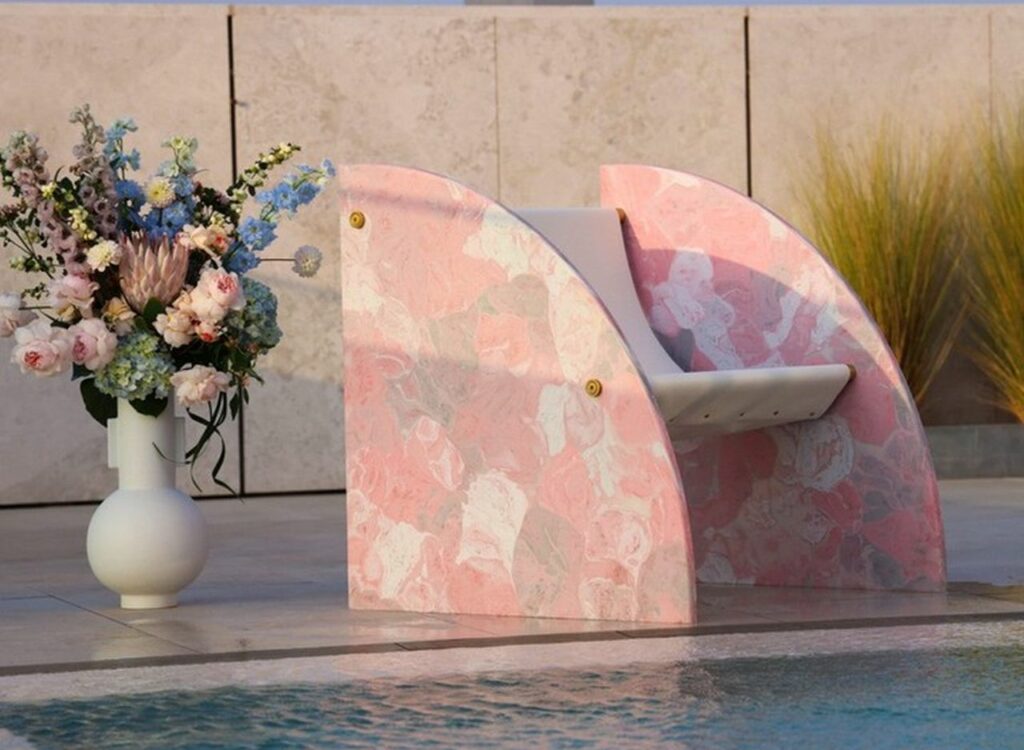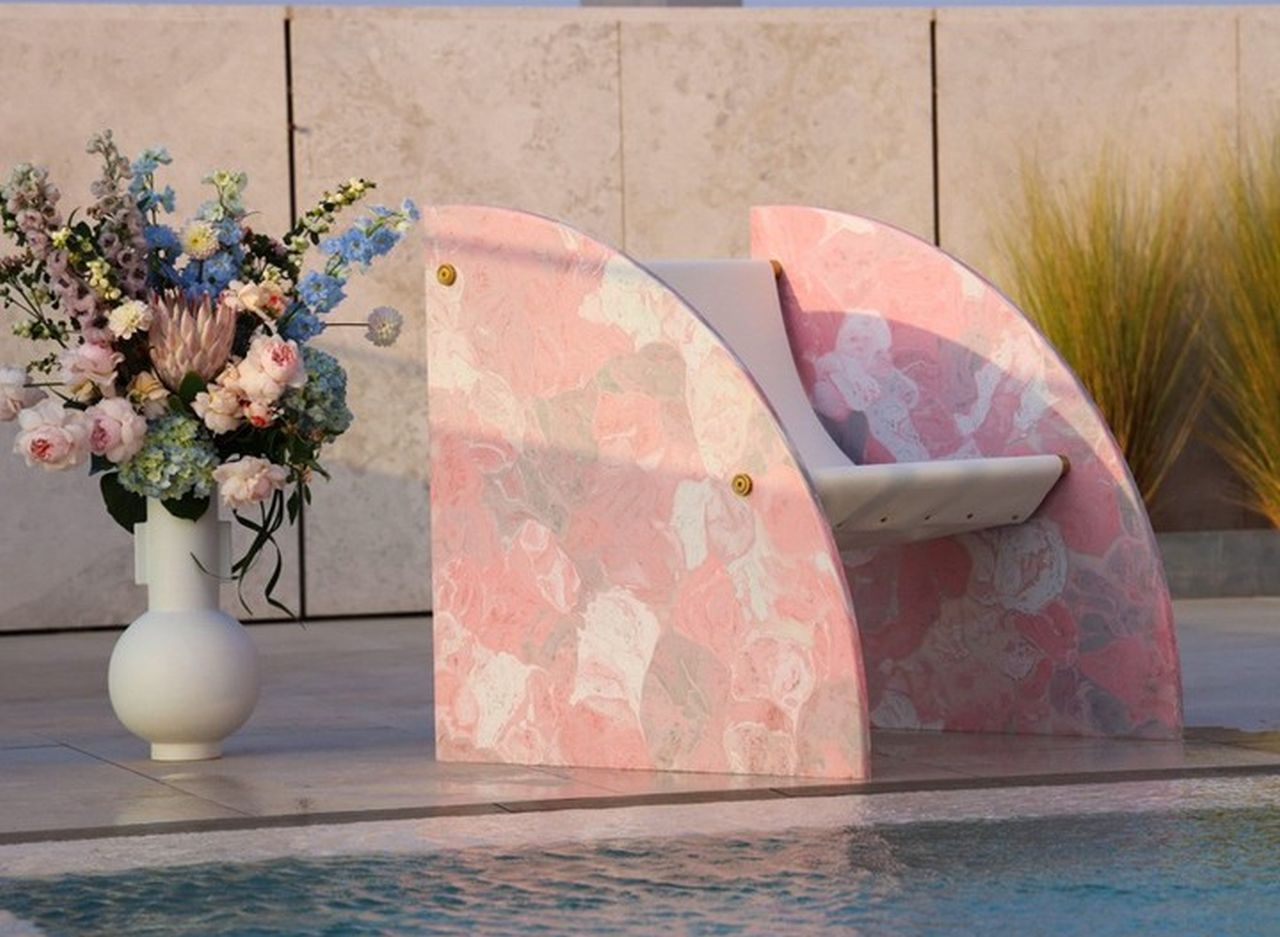 Fratelli Chair
If you are looking for one furniture piece that could transform spaces, to be more meaningful for those who reside in them, Fratelli should be your ideal choice. Coming from the land of snake charmers (India) Fratelli lounge chair is designed by Mario Gagliardi. Boasting multiple vibrant colors, the chair looks attractive and pretty comfortable to sit upon.
It is indeed a charming piece that blends well with your interior. The wood-framed lounge chair comes with an upholstered seat and back that not just looks comfortable but is soothing for the eyes too. Coming from an Indian studio, I assume it to be a heavy piece but worth adding to your home.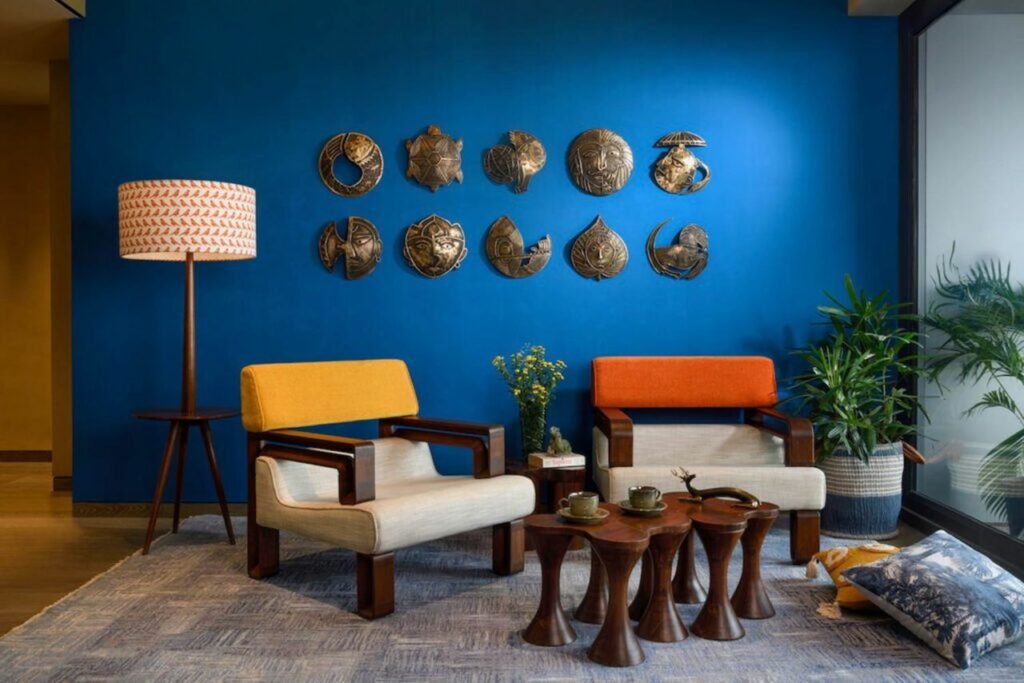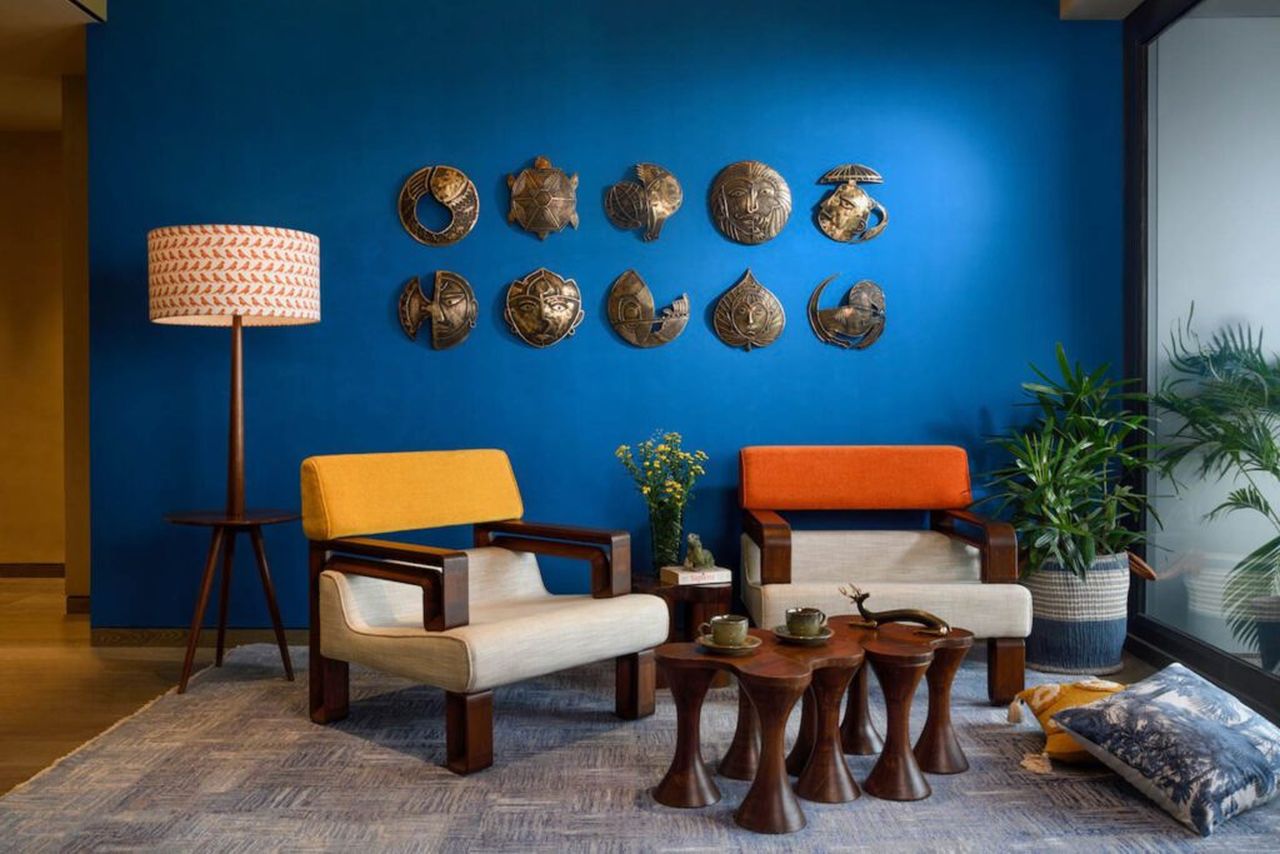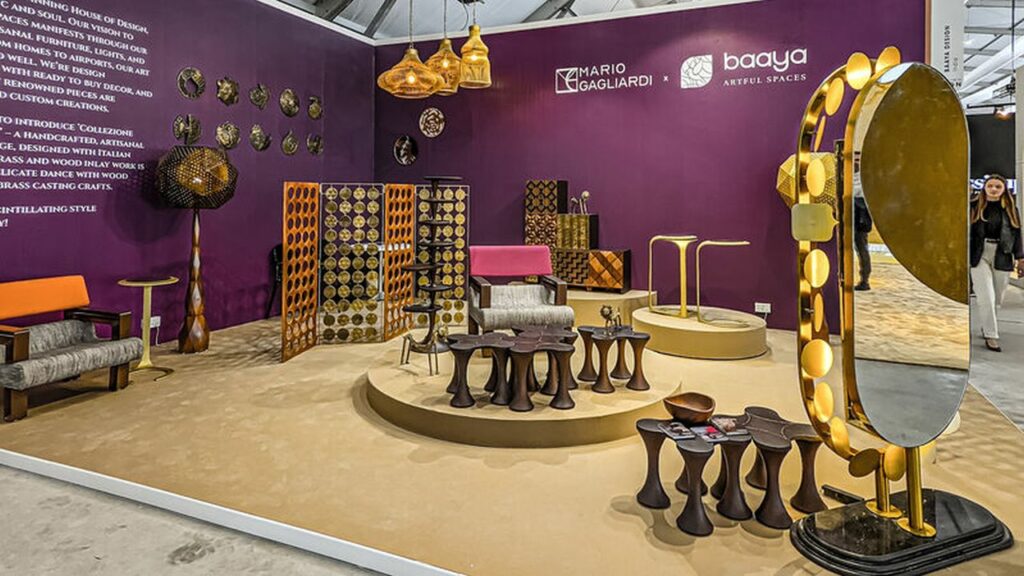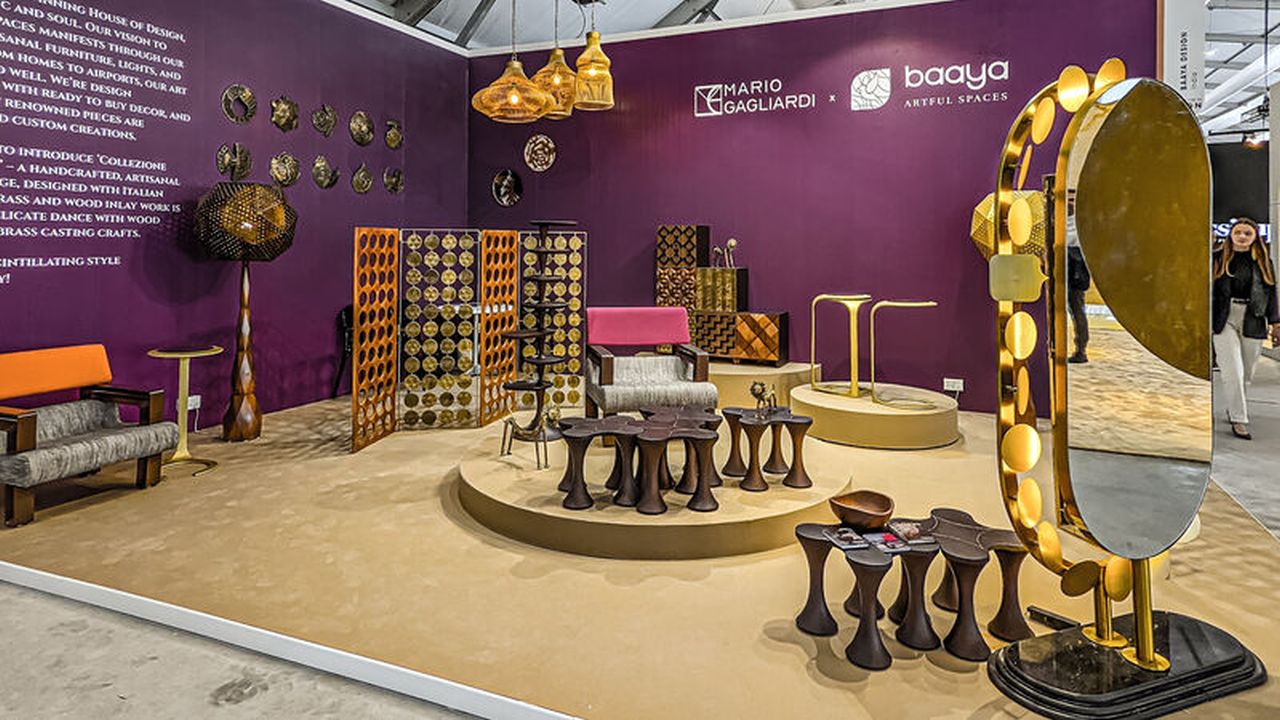 Markabs Coffee Table
I may sound a little biased but the entries I have updated you on are much better than what we have seen in other design fests. If given more exposure, they could steal the limelight at events like Salone del Mobile too. Markab is one such elegant side table that deserves the limelight.
Designed by MADA, the hand-carved side table is inspired by the laws of Arabic calligraphy. What impressed me most about the structure is its three wooden legs that conjure in a magical way to create a petal-like top, further outclassed by the glass top which makes the table an absolute peach.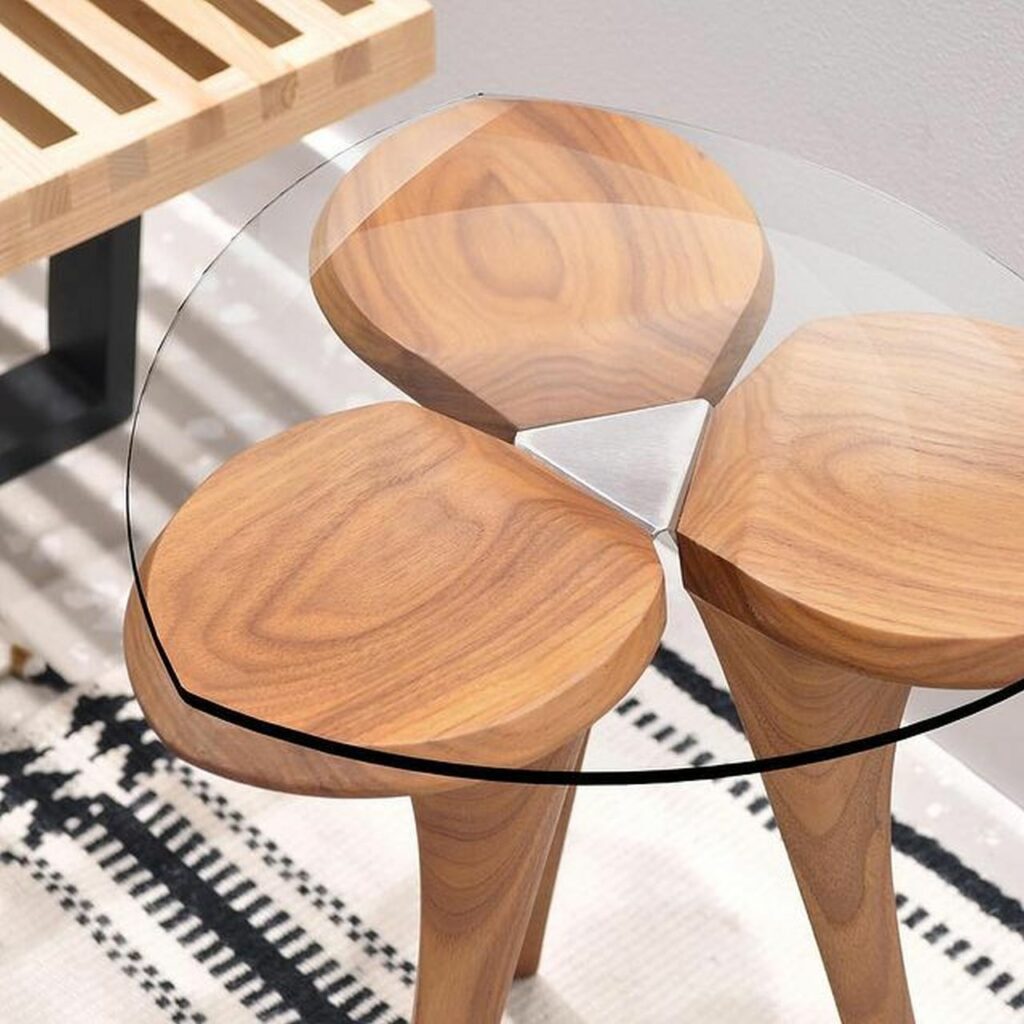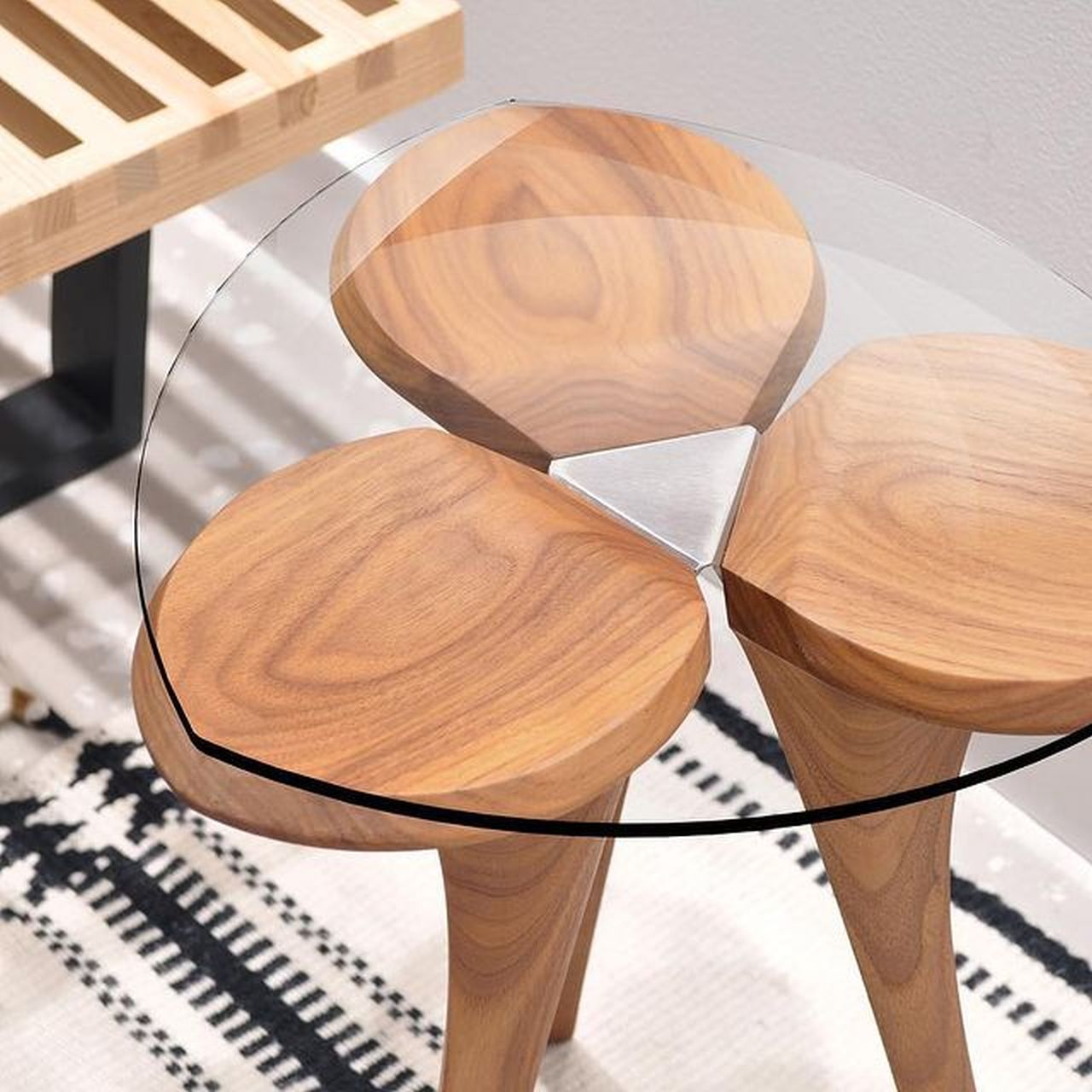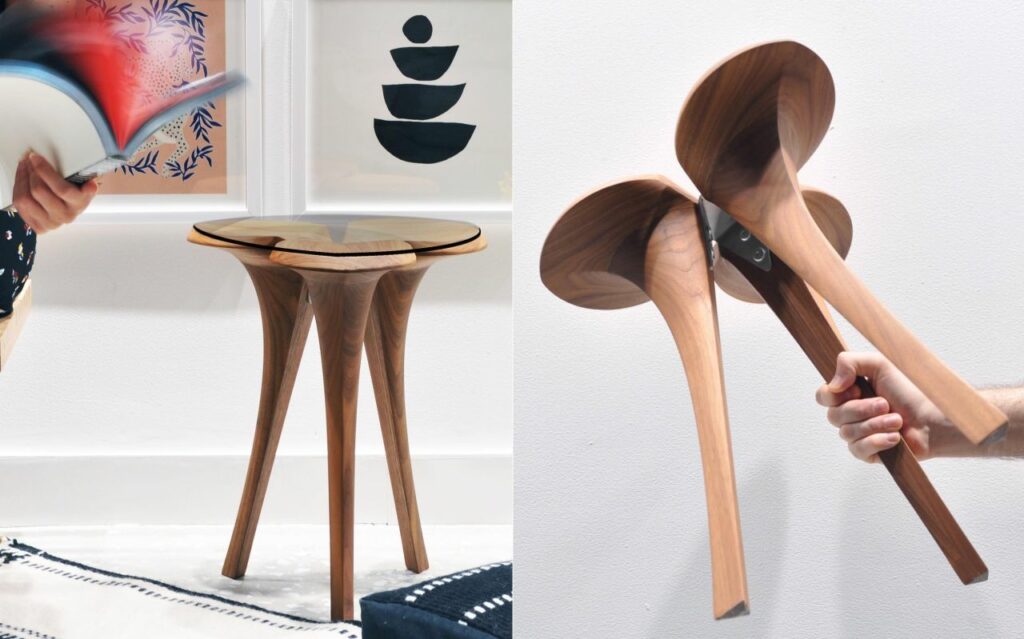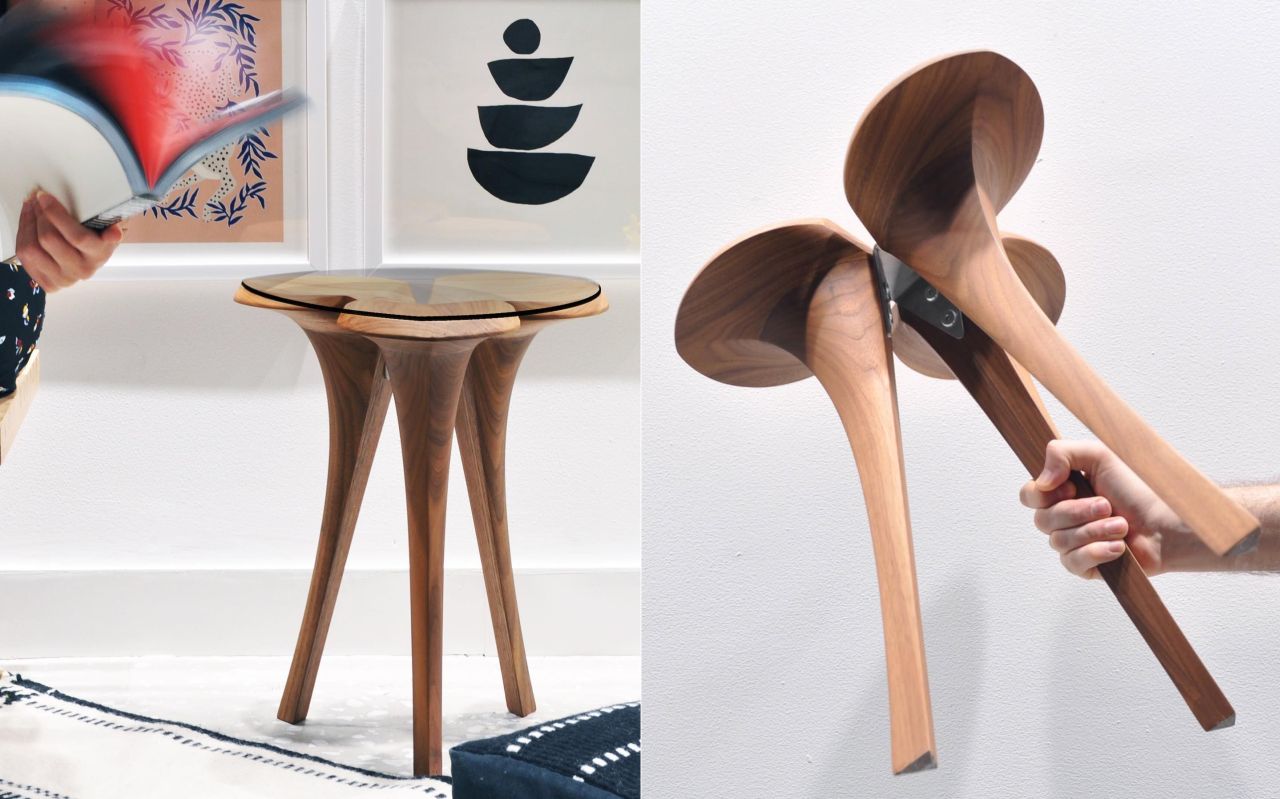 Also Read: Furniture Designed for Pets and Humans Lets Both Live in Utmost Synergy
Vee Chair
How seldom do we come across furniture (chair) that serves two purposes? The first motive of the item is to serve as a seating piece while the ultimate goal is to function as a statement piece. Vee chair by Nourhan Rahhal fits into both the category. As per the designer, "Vee replicates a proud powerful presence that allows one's natural strength to manifest itself through the designed details of the chair."
Talking of her design, the Vee chair emphasizes educating the user on the importance of posture and how it affects psychology and self-confidence. Evaluating a proud and powerful presence, the wooden chair with metal legs (I assume) features excellent carving details. As a result, one has to sit in a stretched-up position, thus allowing the user to experience a form of a power pose.
In addition to this, it is a statement piece for those who dictate women to sit in an almost curled-up position, just because they are women. Fighting the misogyny, Nourhan's Vee chair promotes individual choice of being able to sit comfortably while stretching their legs.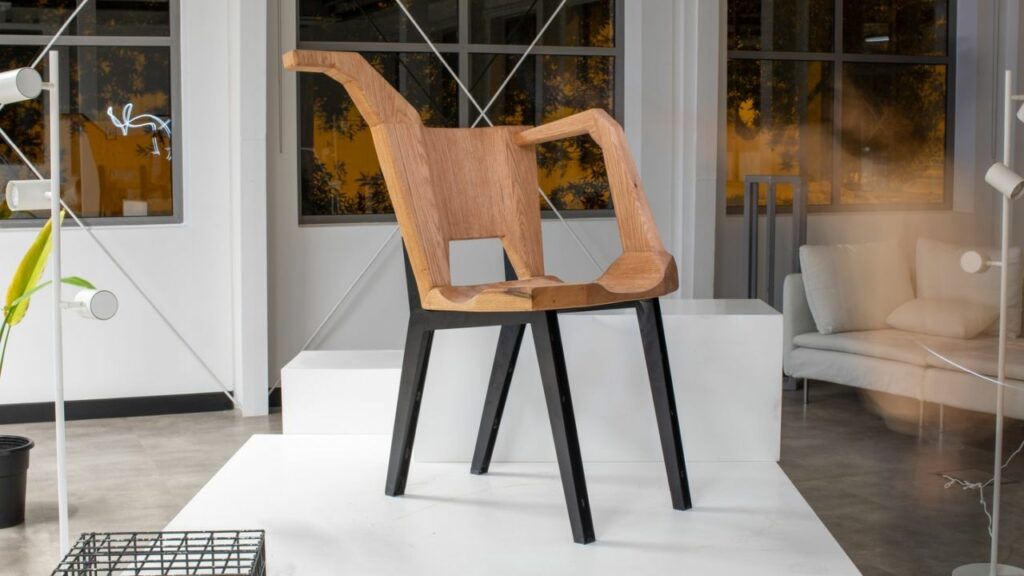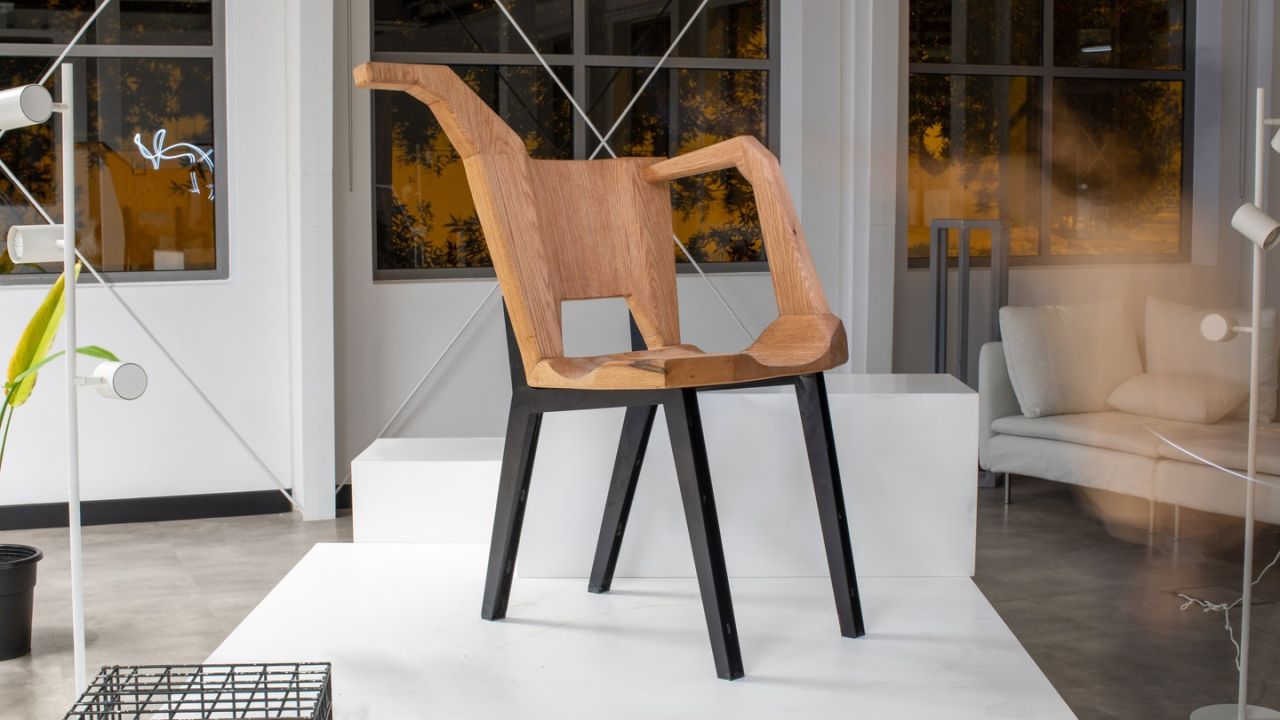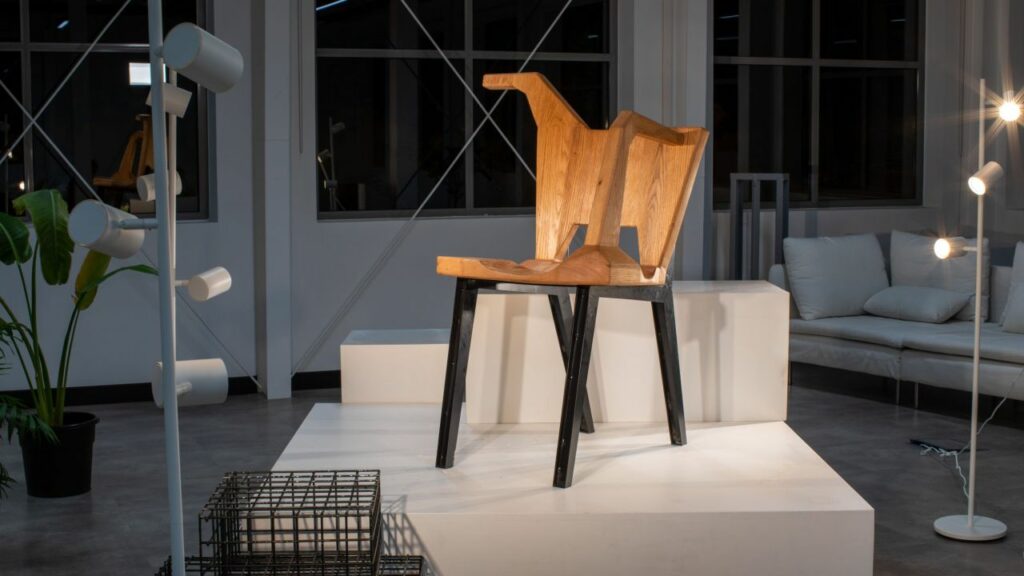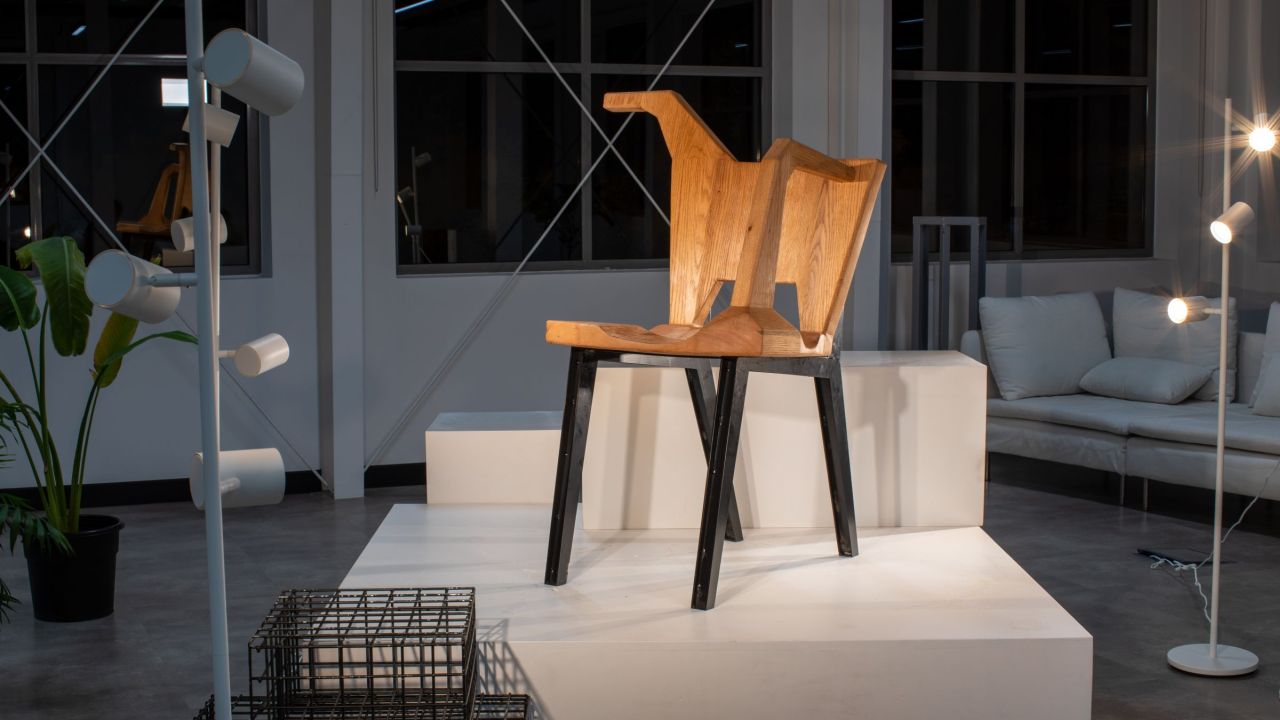 Kaseeriya Bench
Kaseeriya bench by designer Ebrahim Assur is another design that focuses on sustainability. The design revolves around recycled cork and camel leather accents, both featuring the body of the bench. Kaseeriya's design embodies the essence of simplicity and elegance and signifies unity, strength, and togetherness.
Inspired by the exoskeleton structure of palm trees found across the UAE, Ebrahim Assur uses the fractal shape as part of his research work while finalizing the product. Combining his studies of the natural environment together with scientific research and a strong design narrative, the Kaseeriya bench was born.