When you have a pet at home, you always want to give it the best. Be it food, toys, or even furniture, you only desire perfect things for your furry friend. Imagine if you could have a piece of furniture that can be used by both, pets and humans. It will surely make your life easier.
Here we have compiled a list of furniture designs that are ideal for both pets and humans. You can use them even after your pet outgrows them.
Some of these furniture units cater dual purposes. For instance, Sharing Joy lounge chair also serves as a cat tunnel, giving you and your feline a comfy place to relax together. Others, like a dining table with a cat hole are useful and fun for both the pets and hoo-mans.
Most of these furniture pieces seem to make your home interior a coexisting space for you and your adorable pet. Without further ado, let's have a look at some of the best pet and human-friendly furniture designs.
Igloo coffee table doubles as cat bed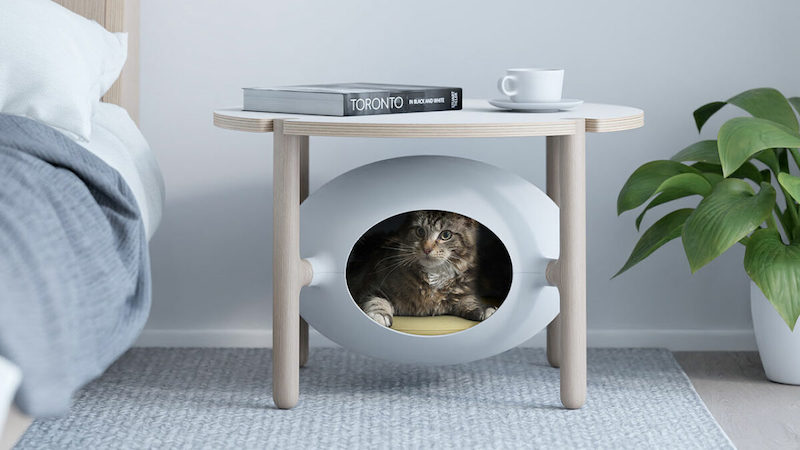 This Igloo coffee table comes from the collection of Portuguese designer Joao Teixeira. Nestled on four wooden legs, this table boasts a spherical dome under the tabletop to provide a comfy bed for your tiny cat.
Coffee table cum cat bed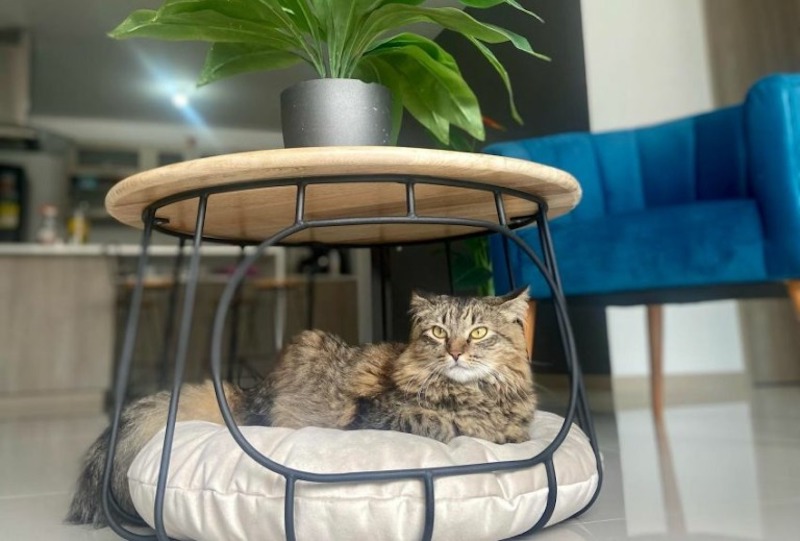 Here's another piece of cat furniture for your kitty. This Turkey Centerpiece is a coffee table for pet owners and a cat bed for their felines. While humans can use the tabletop for keeping their magazines and coffee mugs, their cats can chill underneath.
Dining table with cat hole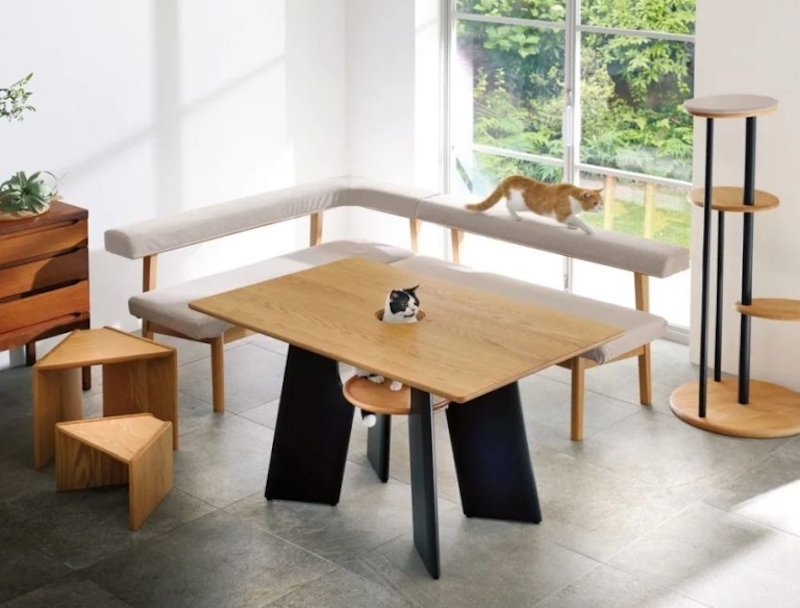 This unique dining table is by Japanese retailer Dinos. It comes with a hole right in the middle of the tabletop to let your cat sit and keep an eye on you while you enjoy your meals. If you don't want your cat to peep out of the hole when your guests are around, you can close the hole with a lid. When the lid, the dining table looks like any standard furniture unit.
MYZOO Studio's cat chair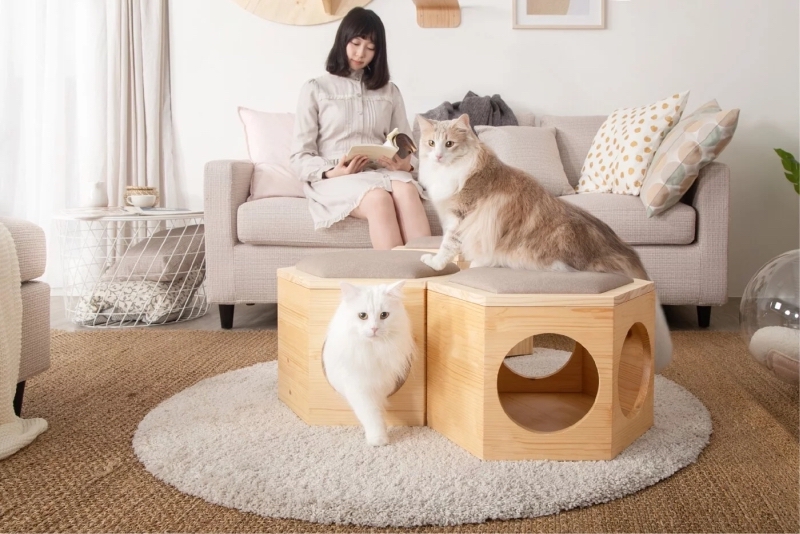 Taiwanese pet furniture brand MYZOO Studio has created this kitten-friendly Cat Chair. This chair is more like a floor bench with big holes underneath to allow your cat(s) to sleep and play, depending on their mood. It even comes with a cushion on the top to offer a seat for humans too. Moreover, you can use it as a small table or ottoman to keep your coffee mug or books while relaxing with your cat.
Lounge chair with cat tunnel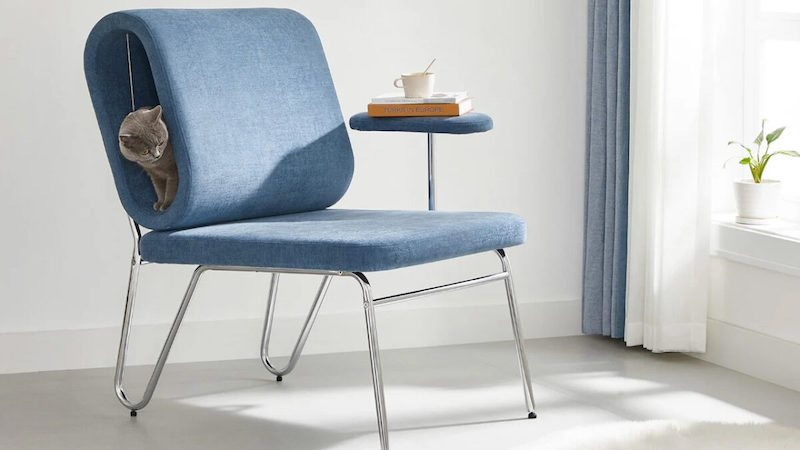 Sharing Joy by designer Zhe Gao is a dual-purpose lounge chair that caters to the needs of both pets and humans. It boasts an O-shaped space, or a cat tunnel if you will, in the backrest for felines to relax along with their favorite human.
Rocking chair for you and your pet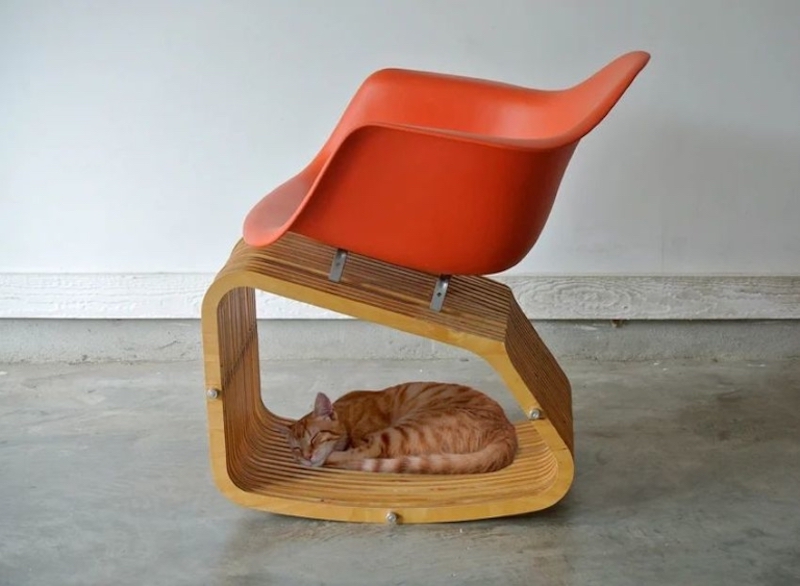 Paul Kweton from Austrian/American Studio PAULBAUT has created this pet-friendly rocking chair. Aptly named 'rocking-2-gether chair 3.0', its upper part is for humans while the lower section is great for your pet to enjoy the rocking motion together.
Also Read: 20 Designer Cat Beds You and Your Cat Will Love
House-shaped cat tower with storage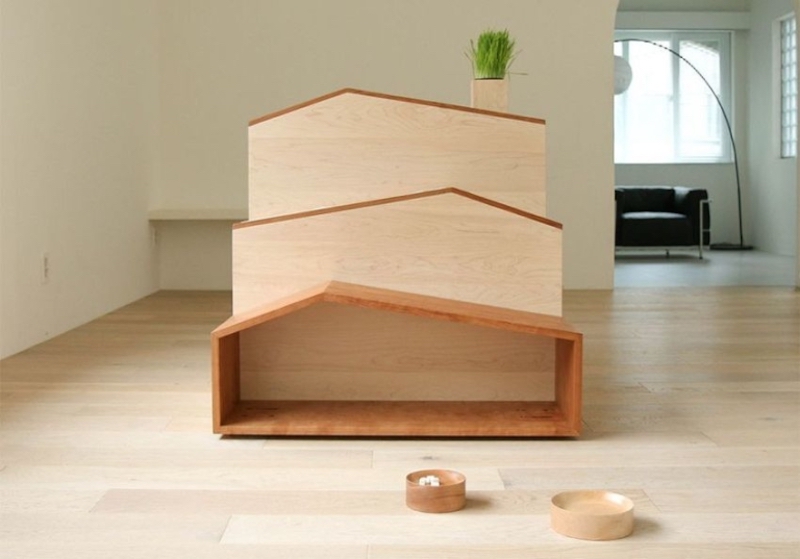 The house-shaped cat tower by the "one/75th" brand is great for accommodating several cats at once. This tower consists of three wooden units for cats to play, rest, and keep a close watch on you. There are scratches on the rooftop to keep the kitties from scratching other furniture. It is also great for home storage as the upper two units of the tower open up to store pet essentials or other belongings.
Armchair with cat running wheel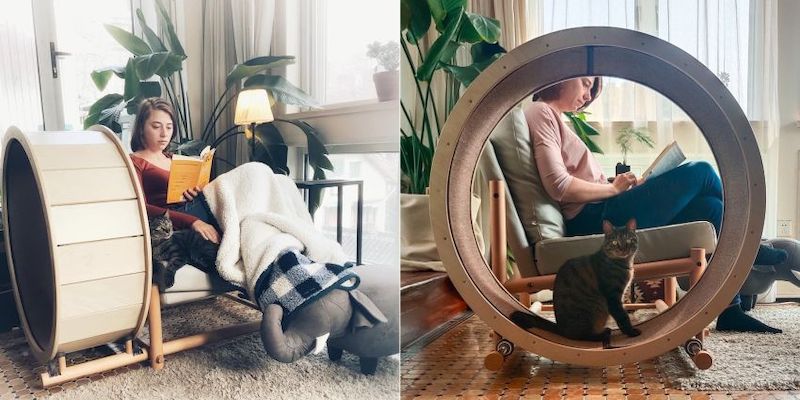 Dubbed Loveseat, this armchair by furniture brand Catham City comes integrated with a cat running wheel. This furniture is great for you to sit and relax while your cat can play alongside you. You get ample time to accompany your kitty as you both unwind after a long day.
DIY companion chair for pets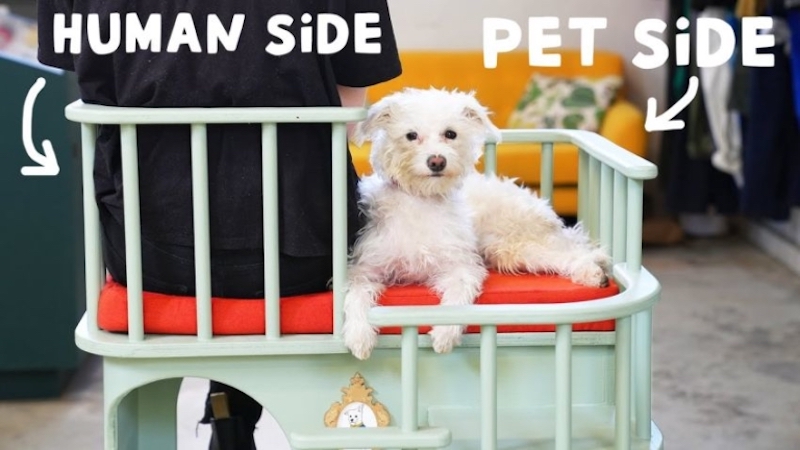 YouTuber Simone Giertz has created a DIY companion chair to spend quality time with her furry friend. It is a standard chair made of plywood and has steps to let her three-leg dog easily climb up to the comfy seat. It even has a wide seat to let the dog owner sit next to the pet. If you have some DIY skills, consider creating it yourself.
Wooden bed with playful labyrinth for cats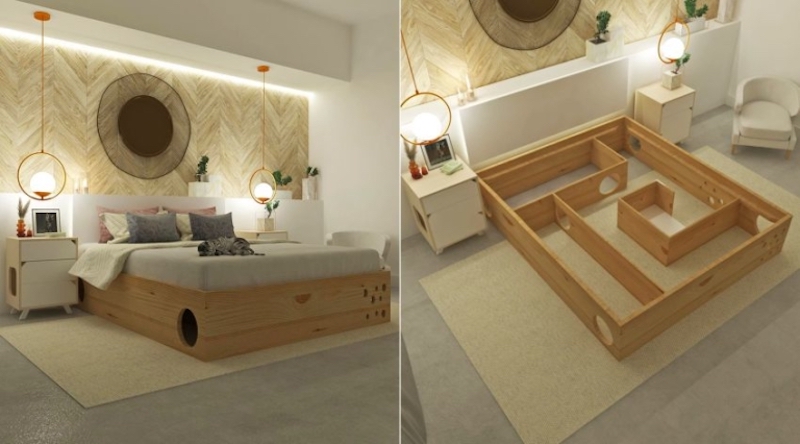 For curious and playful cats, Colombian brand CatLife has created the Gatrimonial bed that's also suitable for their owners. The owners can sleep on the bed while the cats can enjoy themselves in the bottom labyrinth. This bed includes a labyrinth along with a maze and several holes for a cat to easily get in and out. Surely, your kitty would love to play inside this bed.
Cat Library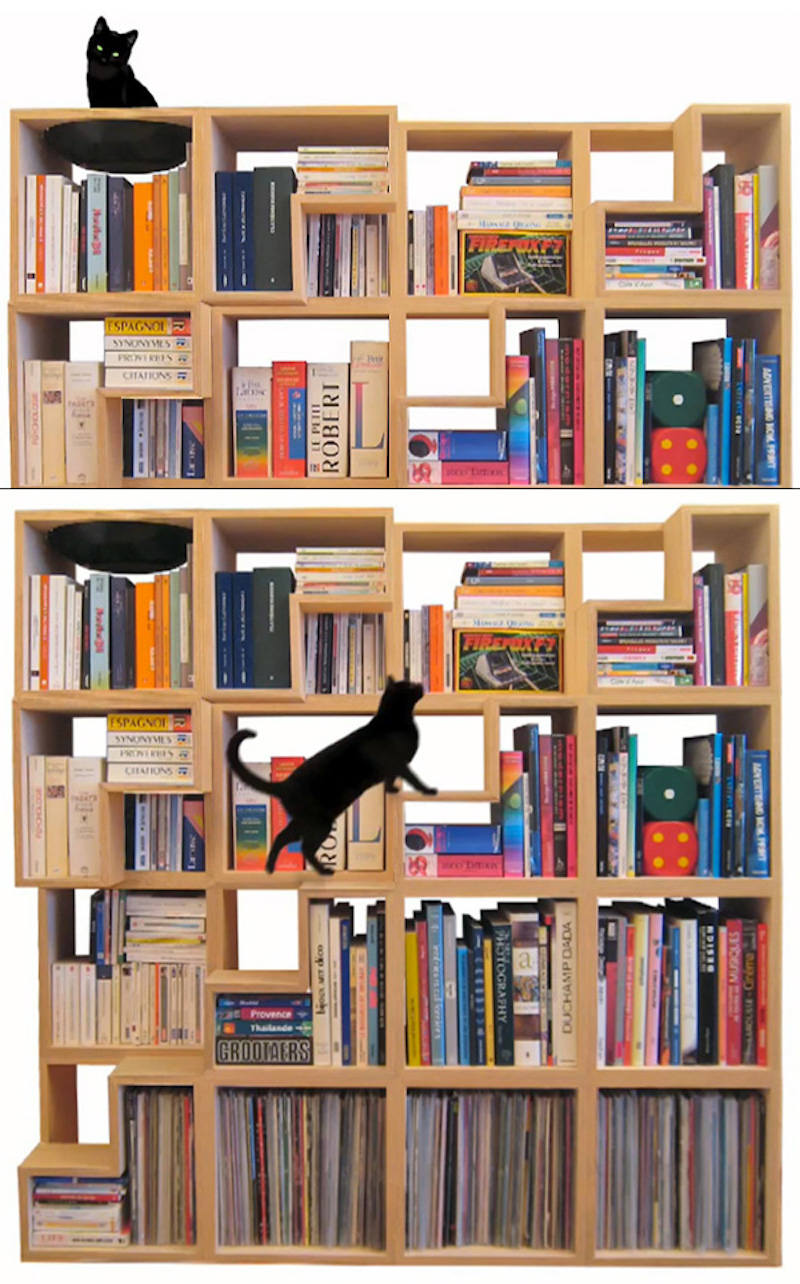 If you are a bookworm and live with a cat, you might need this Cat Library by Belgian designer Corentin Dombrecht. It comes with modular bookshelves and has a stairway for cats to easily get on the top and enjoy playtime. Since the bookshelves are modular, you can keep moving them from time to time to keep things fresh for the felines.