There are several types of cat furniture available on the market which make it really easy to find a suitable one that blends with your home décor. You just need to spend some time searching, comparing and then choosing the one that suits your needs. From fabric to cardboard and wood, there are many different types and varieties but the decision mainly rests upon the design and size of your cat.
Cat beds, in particular, are believed to have a random and unappealing design, but that may not be true all the time. Designers from around the world are coming up with beautiful and functional cat beds that both you and are your kitty are bound to love. Designer cat beds not only ensure a comfortable environment for your kitty but also integrate seamlessly into a modern home.
Here're a few examples of designer cat beds that'll help you make the right pick for your feline friend and home.
Bamboo cat bed by Make them Roar
Covo cat lounge by Uta Cossmann
Rattan pet cocoon – Cox & Cox
Hepper cat pod
Elevated cat bed by Meyou Paris
Rondo cat tree – pet interiors
Kyali Square cat bed by MADE Studio
Double Geobed by CatissaCatTrees
Spaceship cat bed by MYZOO
Cat bed in skull print by The Cat Ball
Sherpa Moccasin cat bed by NappingJoJo
Natural wool cat bed by CommeDesMoutons
Hulumao cardboard cat bed
Window-mounted cat bed by Oster
Iron Throne cat bed by MadeForPets
Keep reading for more information:
Bamboo Cat Bed
Bamboo is a sturdy, eco-friendly and fashionable material that is being widely used in home décor. A reason, cat bed like this one designed in bamboo to make your cat feel safe and secure. Additionally, the cat bed would be perfect to show off your eco-friendly lifestyle. Available in four colors to choose from, it has soft internal foam cushion with a removable cover for kitty's comfort.
Buy: £159 (~$205)
Covo Cat Lounge
Made from bent plywood, Covo Cat Lounge is designed by Uta Cossmann for MiaCara. It creates a cozy protected space for cats to curl up and sleep, while its striking circular form makes it perfect for design-conscious cat parents. A specially designed foam cushion is also used to ensure optimal comfort.
Buy: €499 (~$560)
Rattan Cat Bed
Designed like a cocoon chair, this rattan pet cocoon paired with a cozy cushion is ideal for cats to doze off and also great to add natural essence to a living space. It is suitable for cats and small dogs.
Buy: £95 (~$125)
Hepper Pod Bed
Hepper Pod Bed is designed for optimal comfort while still being aesthetically pleasing. With white hairpin-style legs and a grey-colored fabric cat bed, it makes a hip impression. The non-slip rubber pads under each leg ensure stability.
Buy: $80
Elevated Cat Bed by Meyou Paris
Meyou Paris offers contemporary cat furniture that makes a statement. This lofted designer cat bed is one of their best selling offerings that gives your cat a comfortable vantage point. Made from 100 percent pure wool felt, it is raised 30cm above the ground on wooden legs allowing a cat to observe its surroundings from an elevated position. The cat bed is available in three beautiful colors.
Buy: €300 ($336)
Rondo Cat Tree
If you want to treat your kitty with a luxury condo, the Rondo cat bed is a perfect option. Perched on a metal pedestal base, it stands elegantly in any home, more than that, it is a comfortable den for cats with a cotton crocheted sleeping area and soft cushion.  Available in 62 or 78 cm high variants, the Rondo cat tree bed can be customized to size on request.
Buy: €700 ($785)
Kyali Square Cat Bed
This cat bed made in natural ash with grey cushions offers a sleek nook for the cat, and it gels well with any home interior. There is a sleeping compartment and an open deck on the roof, which makes it all the more playful. It comes with a removable frame and washable covers, making it easy-to-clean.
Buy: £99 ($130)
Catissa Geobed
The Geobed is a cozy, stylish and ready-to-assemble sleeping module for our feline friend. It is made from natural pine wood finished with water-based paint and wax, and is furnished with sheepskin or faux fur. There is enough space to accommodate all breeds of cats and small dogs. The varied color choices allow users to match it to their interior style.
Buy: $260
Spaceship Cat Bed by Myzoo Studio
Are you a space buff wanting a spaceship for your cat, Myzoo Studio has you covered. The spaceship-inspired cat bed features a transparent acrylic window that allows cats to peep through while comfortably and safely resting inside. It is available in freestanding or wall-mounted versions, suit yourself.
Buy: $170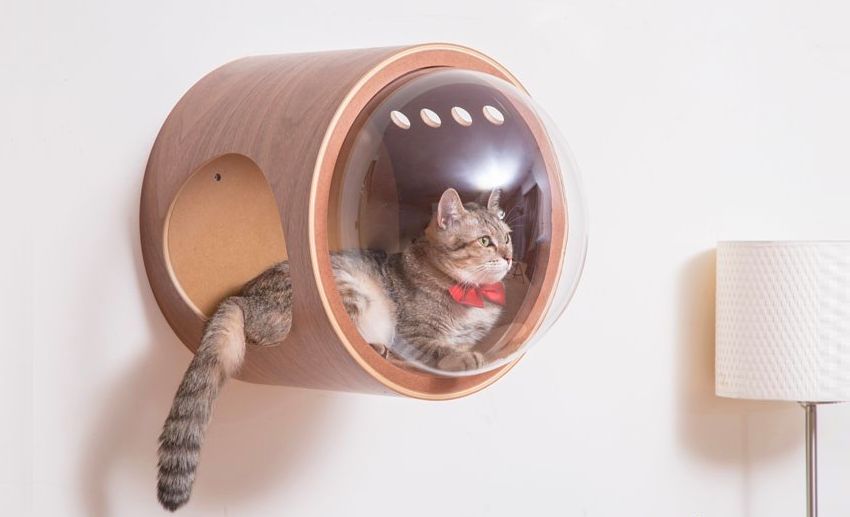 The Cat Ball Cat Bed
It is a hexagonal cat bed with two openings in different sizes. Made of half-inch thick padded cotton walls filled with foam, it creates a flexible, warm, and cozy bed for cats. Choose from different colors options and take home one that goes with your interiors.
Buy: $65
Sherpa Moccasin
A shoe-shaped cat bed would make the dream of a cozy cat house true. Made from faux Sherpa fabric and Faux Suede along with polyester filling, it ensures comfort and durability, as well as adds elegance and charm to your home decor. Perfect for a shoe lover with kitty at home.
Buy: $85
Crocheted Wool Cat Bed
This crocheted wool cat bed will be a minimalist addition to a contemporary or even a traditional living space. Its rounded shape and soft wool make it comfortable for cats, while also making it an attractive item of decor sitting in one nook of the house. It is available in different sizes and shades of grey.
Buy: $40
Hulumao Diamond Cat Bed
This award-winning cat bed designed like a diamond is made from corrugated cardboard, making it an eco-friendly and affordable option for a cat parent. Its curved bowl shape provides a comfortable space for cats to rest in. There is also a scratcher in the center of the bed that adds to the fun.
Buy: $30
Oster Window-Mounted Cat Bed
Don't have space to accommodate a cat bed in your small apartment? Get this window-mounted cat lounge to fulfill your feline's needs to relax and bask the sun. It can hold up to 50lbs and comprises a reinforced plastic frame and a removable Oxford-style polyester cover for cleaning.
Buy: $16
Iron Throne Cat Bed
A good example of creative cat furniture, this Iron Throne cat bed by MadeForPets might just be perfect for the GOT fan in you. It is made from soft foam rubber and is upholstered with soft textile. It will comfort your feline and would provoke your guests to enquire from where you have bought it. It measures 24 inches long, 17 inches wide, and 31 inches high and weighs about five pounds.
Buy: $272