Brainchild of Christopher Duffy, Duffy London design studio, focuses on combining art and function. An embodiment of its furniture-making wizardry is the Abyss table with an appearance enough to make your jaws drop. Other clever, unforgettable designs in the collection are the Balloon Table and the Reflect Chair. The innovative and quirky designs spring from the mind of Christopher and are then meticulously brought to life with hand by the team.
Boasting eco-credentials, each of Duffy's work is inspired by the concepts of gravity, geometry, and illusion. We wanted to learn more about the studio and Christopher's approach and vision of the furniture industries. So we shot him a few questions. Without further ado, here is the complete discussion. Ah! Did we say, he wants to design something for Elon Musk!
Homecrux (HC): Abyss Table is a very beautiful creation. It is famous across the world. How did the idea come to your mind?
Christopher Duffy (Chris): The idea is simply trying to recreate depth, we use layers of glass and by layering the glass it changes the color of the light flow through different thicknesses giving different colors of turquoise, blues going down all the way to almost black at the bottom.
This is the same effect that happens in the ocean as the water gets deeper colors change, the color of the water is the same at any depth, however, having a layer on top of layer affects how the light reacts with the water and how the impression of depth is changed.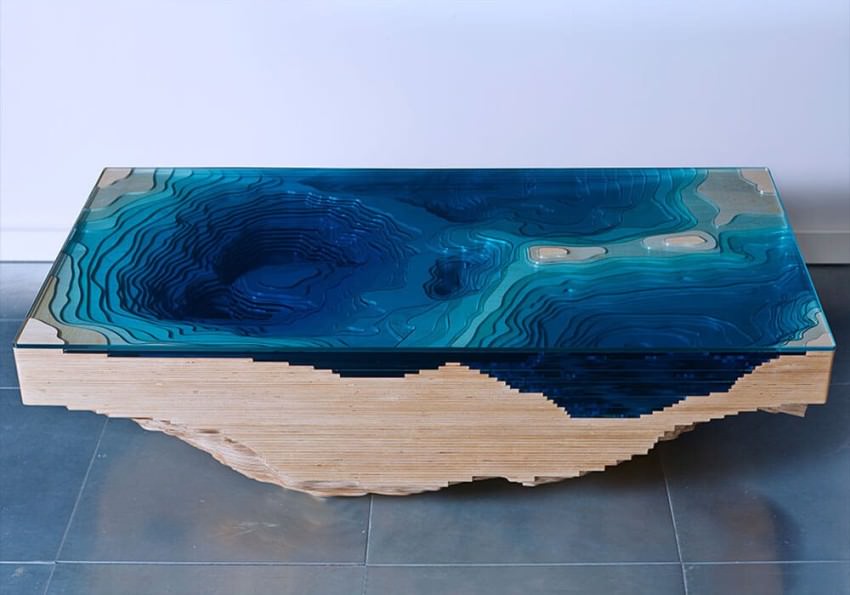 HC: All your designs are bespoke?
Chris: We have set products and designs and set additions, however, each piece is made by hand and to order. We can do bespoke versions of most of our range if customers would like different sizes, shapes, or colors.
HC: Do you receive orders from outside England? If yes, where is your major clientele located outside England?
Chris: Most of our pieces go outside of the UK, many of the pieces go to North America to places such as San Francisco, Los Angeles, Miami, New York.
A great deal goes to Europe, very popular in Paris and Southern France and we have quite a few clients in Norway, Sweden, Italy India, Japan, China, and Australia are also very fond of our pieces.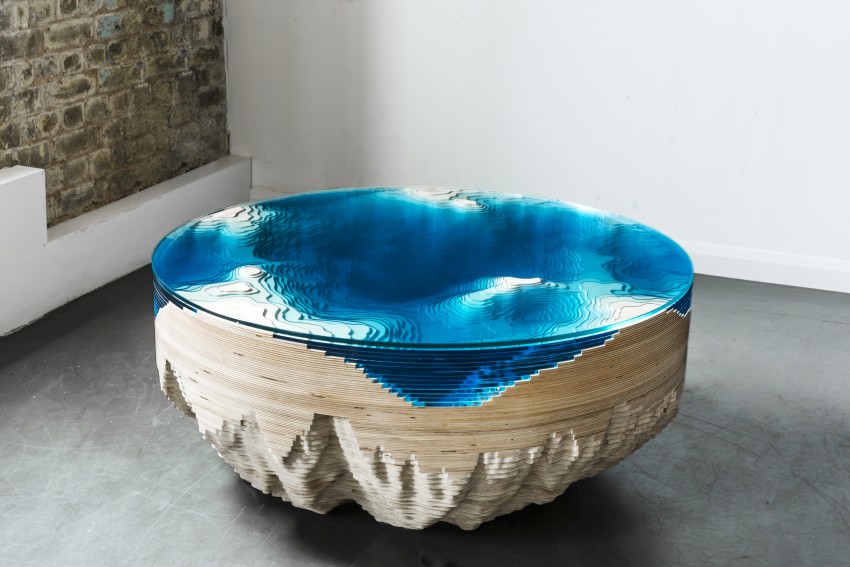 HC: How has furniture design changed over the years? How are your designs different from others?
Chris: Designs and concept ideas and execution of the designs have evolved and changed completely over the last twenty years.
The way our designs differ from others is that we tend not to design to traditional briefs or a manufacturing process or who the end-user will be, our focus is on ideas concepts and we find the best manufacturing and material to execute these ideas and make them real.
HC: Can you describe the evolution of your work?
Chris: My early work is quite traditional in the way I would design to a tight budget making lower-cost pieces more for mass-market, since then it has grown into more Art and conceptual pieces.
HC: You describe your designs as a combination of art and function, playing with the concepts of gravity, geometry, and illusion. Could you elaborate on that and the design process?
Chris: Our design process is that we perfect the concept first, we get the effect that we would like and then decide how to apply it either to a table or a chair and see what best fits.
After we launched the first piece, we would then look at other variations and versions.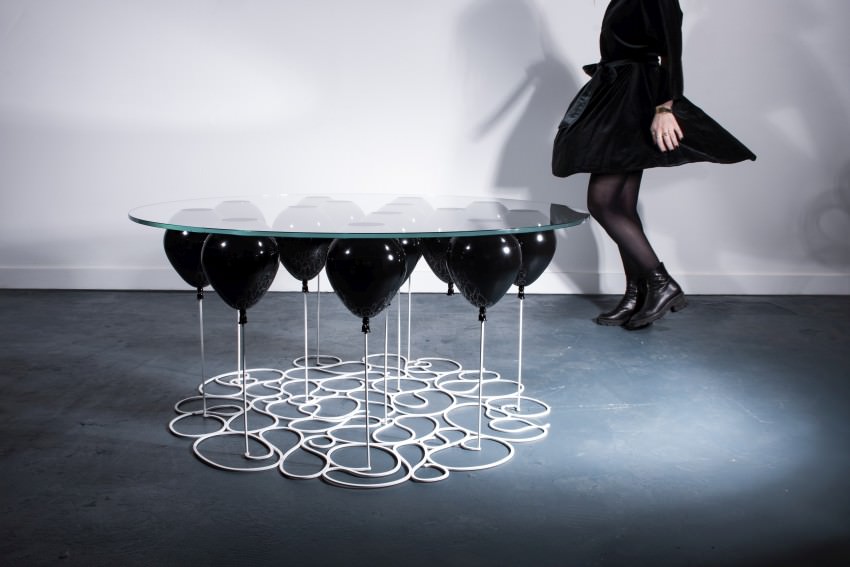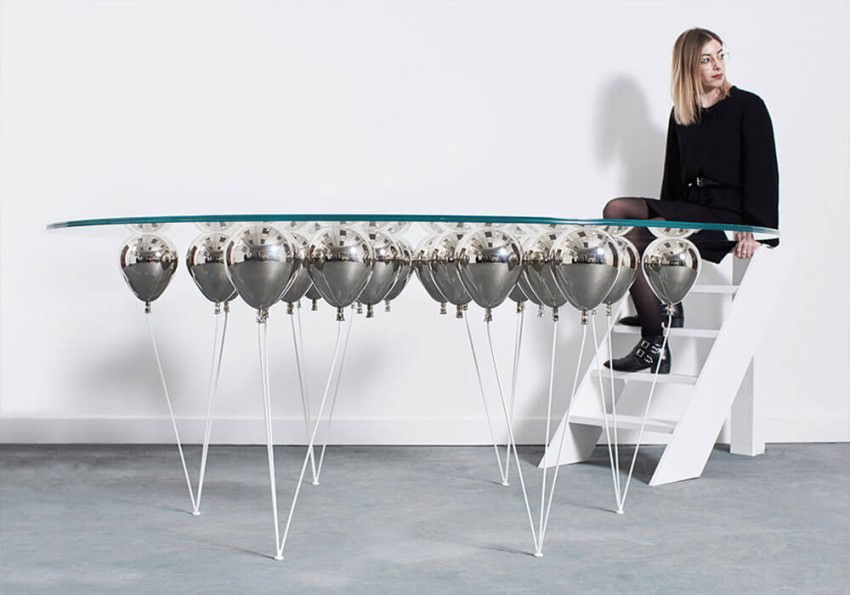 HC: Form follows function? What's your take?
Chris: Some of my favorite pieces follow the same philosophy as the original Land Rover vehicles or the Mini, focuses purely on its function. There is always a very attractive honest aesthetic around pieces that follow this way of designing.
We sometimes designed this way, it is one of the design methods we make use of, however, we use many different design methods to create our pieces.
HC: Can you tell us a little bit about the projects you're currently working on?
Chris: I can tell you about the ranges we are looking to launch in the immediate future one of which is a range of tables based on ancient temples that are carved directly out of the landscape.
We are also working on new versions and variations of our current range.
HC: Considering the present situation, how do you see the role of a designer changing?
Chris: "Necessity is the mother of invention," this has always been true and always will be. A designer is just another name for an inventor. As more difficulties arise such as environmental impacts of oil and pollution from vehicles, it adds extra layers and extra dimensions and complexity to the brief of the designer.
It only makes the design more exciting and more fulfilling. As a designer, you are simply problem-solving, finding challenges, and overcoming them.
The greater the challenge the greater satisfaction in finding a solution.
HC: Is the present situation (Coronavirus outbreak) affecting your life and business? If yes, in what ways?
Chris: There is a degree of slowing down however this just allows us more time to concentrate on new designs, new product ranges and all the exciting things that we really enjoy and love about what we do.
Being a relatively small Design Studio, we are much better protected than many other businesses that have large overheads. Not all the effect is negative; a great deal of it is very positive as we are small adaptable, and it pushes us in new ways making us stronger than before.
HC: Does lockdown foster your creativity?
Chris: Absolutely it does, it has been a long time since I had a chance to get down and create so many new designs and bring to the forefront designs we have been working on over the past two years and to take time to develop designs we have.
This has been a very enlightening time, a great time to reflect on each design and design decision that has been made up until this point, check and challenge it, and improve.
HC: Which of your project(s) has given you the most satisfaction?
Chris: They all give the same satisfaction which is to take a thought in my mind and put it down onto paper and then to see it appear in real life, particularly when this is done correctly, and the process is perfected.
It is not so much the piece itself but the process and the perfection of the process which brings the satisfaction to see something completely new you come into the world from a spark in the back of your head.
HC: Do you read architecture, design magazines? What's the source of your inspiration?
Chris: I do read architecture and design magazines; the source of my inspiration is different for every single piece. To design is like having an app or algorithm you have developed the software in your head and each new way to process thought and come out of a new design at the end, is like you programmed or downloaded a new app into your mind.
I like to believe that I have developed quite a few of these algorithms over the past 30 years.
HC: Do you have any suggestions for fellow designers and others?
Chris: When you design, make sure your ideas and concepts are as much yours and represent you. Design and the process are extremely difficult and challenging in a great many ways.
You need to know what you have designed is worth that much of your time, that much of your energy because everything will take years from start to finish and only by knowing this, you will have the passion and energy to keep going.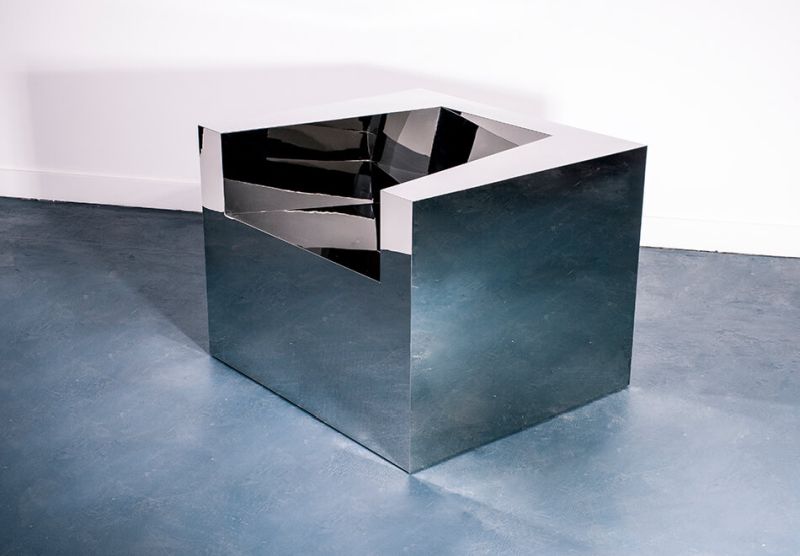 HC: Any architect or designer you appreciate a lot?
Chris: I'm a big fan of Zaha Hadid, Ron Arad, and Marc Newson. I love their work and how they have pushed the field of design into so many new genres.
HC: Who would you like to design something for?
Chris: Elon Musk
HC: How do you spend your spare time?
Chris: In my spare time, I am either socializing with friends, cycling, or visiting art and design galleries as it's not only my passion for work it is also a passion outside of work.
HC: What are you afraid of regarding the future? How will the present situation shape the future of the design industry?
Chris: I don't think I am afraid of anything regarding the future. I think people are afraid of the future if they are afraid of change however the only constant is change, and if you know yourself and know that you are adaptable and can change as required then all worries fade.
I fear that things won't change, my fear is that tomorrow will be the same as today where's I think most people fear that tomorrow will be different from today.
I'm excited by the future, I'm excited about Space X's new developments in space travel. I'm excited by the transition to solar and wind for our energy requirements.
I'm very excited by the transition from the internal combustion engine to electric power cars and all other vehicles to be converted to electricity from skateboards to Airliners.
I think these are very exciting times, probably one of the most exciting times to be alive. I'm very happy I'm here to experience and view them.
We are big fans of his designs. If you are too, check out his latest creations on his website and Instagram account.