Italians have generally excelled in design, art, and architecture. Fabrizio Batoni is also in a league of his own; he's a designer who is blurring the lines between the bathroom and the living area. The Moloco ceramic sculpture for instance is a fireplace sculpture to begin with and can in a jiffy transport into the bathroom to double as a ceramic washbasin.
Designed by Fabrizio Batoni, the ceramic sculpture gained immense popularity on the Internet recently. Homecrux decided to know more about the Italian designer behind the creation and so we got in touch with Fabrizio, owner of Studio Batoni. The designer tells us about his background, shares insights on his design philosophy and his upcoming projects.
Homecrux (HC): Thank you for taking the time to chat with us. Tell us a little about your background and your journey so far as a designer and architect?
Fabrizio Batoni (FB): I was born, live, and work in the heart of Tuscany. I graduated in Architecture in Florence and after various work experiences, I managed to open my studio, a small reality that has always stood out for its motto "always on."
Each of my projects is born from careful research on materials and technologies, but it is the heart, the love, and the passion that leads me every day to confront myself with all the realities that surround me, the real drive that leads me to do and love this profession. I have endless love for the architecture of the 20th century by the great masters of the modern movement, of the Bauhaus, of innovation that is still a source of inspiration and study for us today.
HC: Italians have a knack for design. You personally are more involved in making bathroom accessories. How does that pan out for you?
FB: In recent decades there has been a constant evolution of the concept of living and of the way of living the home: the modern bathroom has played a leading role in this process of change, showing the most significant changes, becoming not only a service environment but also an area of relaxation, well-being, and body care. For this reason, there is more space in the world of design, and bathroom entrepreneurs are more willing to invest in new research and innovative products.
HC: You launched your design studio at a time when people were rather hungry for jobs. Where did you get the inspiration from?
FB: I am a curious, eclectic type, always careful to seek and identify the ideas and needs of those around me. Before opening my studio I was collaborating with furniture companies active in brass processing, from here I became passionate about design which has become an integral part of my life and my way of life.
HC: How do people/customers perceive Studio Batoni? What has been your favorite project so far that you consider your greatest?
FB: Clients often come to my studio because they know us for our architecture and design projects, other times they are due to acquaintances and friendships. I have no favorite project or one that identifies me, each project has a story, a path and in each of them my way of being in that specific moment is depicted. My favorite project is the one I will do tomorrow.
HC: A project that pushed you to the limit?
FB: Projects never push you to the limit, you are the one who takes the project to the limit, whether it is material or conceptual. Limits do not exist except those that we impose on ourselves or that others impose on us.
HC: You are a designer and an architect. Tell us a little about how you strike a balance between two spheres? What's your creative process, and ideology to deal with feedback, especially negative feedback?
FB: I believe I am a designer, for me, there are no differences between designing an environment or an object to be included in the environment. In my works, I always have to interpret people's desires and dreams as an architect and as a designer.
There are no canonical fixed points: instinct, curiosity, imagination; these are the fixed points that from time to time help me to give life to my ideas with always different stories and that I always live with the enthusiasm of the first time, continually putting myself back in touch. After many years of work I can also manage negative feedback, one chapter closes and another opens, we must always be positive.
HC: Making sculptural art is your expertise. Please tell us about your recent project – MOLOCO.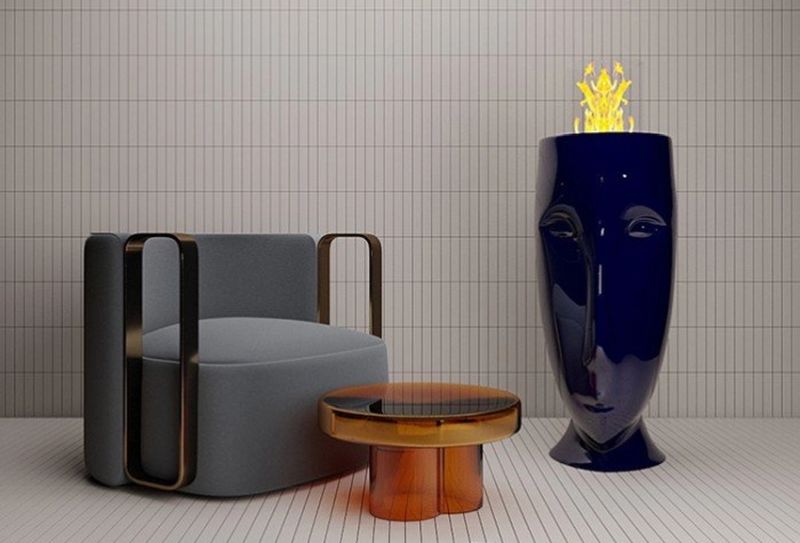 FB: Moloco is a project born with the desire to transport new concepts and new visions into the bathroom space. It was born from the meeting between two visionary people, myself as a designer and Kerasan CEO Roberto Banditelli. Transfiguring, transporting, reconverting Moloco, in addition to being a project with very high production difficulties, which Kerasan has made up for thanks to its know-how, is something that goes beyond normality. Moloco is a transversal project that moves in the home space, transforming itself from an iconic washbasin to a lamp, and then concluding its journey in a fireplace.
HC: The pandemic left every business – big or small – in shambles. How did it impact yours? What are the projects that you are currently working on?
FB: We too in our small way have undoubtedly been affected by the pandemic, working with companies we have been stationary for some time. This, however, gave us the cue to understand what the emerging needs could be, never as in times of difficulty is there a need for the strength of ideas to restart.
I am carrying out two new projects: a renovation of an old building where the concept of widespread well-being is at the base and a small wine cellar, an agricultural annex that will become a small SPA.
HC: Tell us a little about your personal life? You've been enjoying fatherhood as we see from pictures on your social media handles.
FB: Certainly family is important to me, I always try to be close to my children to share with them the joys and sorrows that life can reserve for them. I like everything that has an engine and makes noise, with a preference for 2 wheels, both clawed and smooth, I also managed to make my passion for motocross work by designing and developing protections for a company in the sector. And to conclude with a flourish, after years of riding a motocross bike, I had to convert to MTB for reasons of force majeure, with which I like to go full speed for my beloved Tuscan hills. What can I say, a life at full throttle both in work and in fun, but with "helmet on your head well fastened, lights on and caution, always".
HC: Lastly, with an experience of over 25 years in design and architecture, what message do you have for young designers and budding architects?
FB: My advice is to always be curious and look at everything, in our work we must always be amazed and amazed by the little things. The stimuli to design are offered to us by the things that surround us.