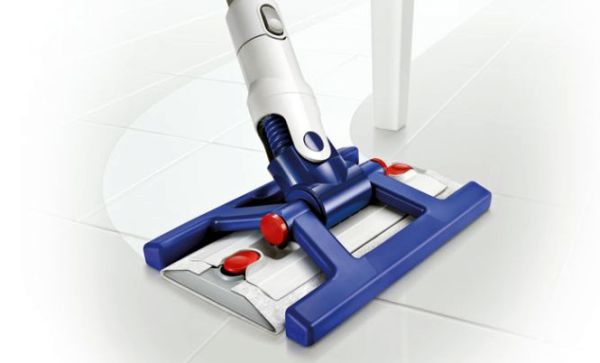 British inventor and industrial designer James Dyson is well known for his Dual Cyclone vacuum cleaner. And, now he has once again returned to the mechanics of vacuum cleaning by launching the Dyson Hard line of floor-care appliance. Touted as the ultimate cleaning mechanism for hard floors, the collection combines many indigenous technologies invented by Dyson himself – including Dyson digital motor and Radix Cyclone technology. The end result is a completely revamped product that combines the actions of both vacuuming and mopping.
According to Dyson, himself –
Cleaning hard floors is frustrating and ineffective. You vacuum, then mop – rigmarole. Propelled by the power dense Dyson digital motor, our engineers have designed a machine that vacuums and mops simultaneously. One machine, two jobs — one action.
In that regard, the Dyson Hard utilizes a double-edged cleaner head that helps in sucking up the dirt before and after the application of wet mop. There is also room for ergonomic efficiency, as the contrivance is powered by Dyson's state-of-the-art digital motor which spins at 104,000 rpm, and is yet is one third of the size of a regular motor. So, at the end of the day, the scope is all about a comprehensive solution to hard floor cleaning, which is achieved by some convincing technology fused with easy usability features.
Via: Dyson