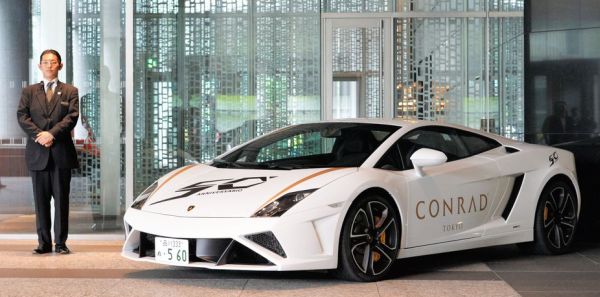 A few days ago we talked about about Denver's pop-up Hotel Rehearsal whose hospitality credentials come with $50,000 per night. But the Japanese have once again raised the stakes with their special Tokyo-getaway hotel package for two that would set you back by a whopping 50 million yen (around $500,000). Offered by the Conrad Tokyo, the ostentatious package of four days (and three nights) includes fine dining and an expensive Swiss watch, all rounded off with a 'well thought out' present of a Lamborghini Gallardo (yes; we are not kidding). As a matter of fact, the hotel officials actually hope that – 'people feel the plan has a value and purchase it.'
Christened as the Ultimate 50 plan, the costly endeavor celebrates the 50th anniversary of Hilton's foray into Japan, of which the Conrad Tokyo is a subsidiary. And, in this special occasion, the high stake items are obviously a Tourbillon Grande Date watch crafted by Blancpain (costs 16 million yen) and the Lamborghini Gallardo LP560-4 (costs another 25 million yen). But all of these are just the sweet end of the deal; the accommodations and the complementary utilities make up for the major part of the 'bargain'.
In that regard, the Ultimate 50 guests will stay at the top most 37th floor of the Conrad Tokyo's 226-m high building, in 'royal suites' that conventionally cost 600,000 yen per night. A dedicated concierge will of course take care of all your hotel bound needs from making preparation for city tours to making dinner reservations around the city. And, since we have brought the subject of tours, the Ultimate 50 package offers a classy Audi A8 sedan, driven by a chauffeur for city touring (which also entails body massaging and spa sessions).
Finally, coming to the gourmet scope of dining, the servings will start off with green tea containing gold powder, accompanied by traditional Japanese-style confections. As for high-end meals, the guests will have some options at their disposal with Japanese, Chinese and French cuisine restaurants available in the hotel (with $100,000 yen meal for two people). However, the Ultimate 50 guests will also be showered with some special attention with the grand chef concocting a dinner in front of them and serving them in their room. And, as always good liquor complements good food with the availability of some exquisite collections like Cristal champagne, Warre's port and the utterly exclusive Glenfiddich Scotch whiskey.
Via: Asahi