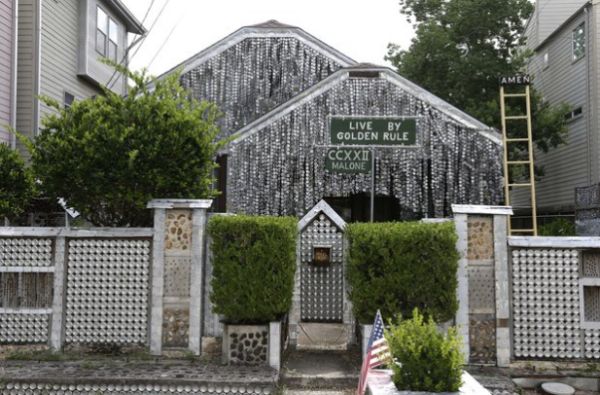 You still think drinking loads of beer wouldn't amount to anything? Well, then take a peek at John Milkovisch's 'Beer Can House' situated in Houston, Texas. Almost looking like a glittering recycled wonderland, the compound walls of the residence are draped in linear arrangement of flattened beer cans. These aluminum units are complemented by hundreds of other beer can tops that hang from the house's front ceiling, thus doubling up as glimmering curtain pieces. The method to this booze madness is also continued on the inside with sculptures, fences, windmills, wind chimes and even tree decorations created out of beer can components.
Of course, it is not often that we come across projects with such preposterous credentials. So a bit of statistical data might make it easier for the reader to come to terms with the Beer Can House. In that regard, the owner had 'decorated' his house with beer cans for more than 18 years, starting from 1968 (in other words, the unique decoration is worth 18 years of drinking beer). Also, according to Ripley's Believe it or Not, there are a whopping 50,000 beer cans used for these various embellishments in and around the residence, which accounts for more than 7 beer cans per day.
Other than his beer drinking prowess the only info we have on John Milkovisch is that he was a retired upholsterer for the South Pacific Railroad. Unfortunately, the man/beer god had already passed away in the 80's, while his wife passed away in the 90's. Since then the house had been taken over by The Orange Show Center for Visionary Art to be restored as a landmark. As of now, you can always pay a visit to the Beer Can House with an admission fee of $2.
Via: LATimes